Feature
Winners and Losers - Malaysia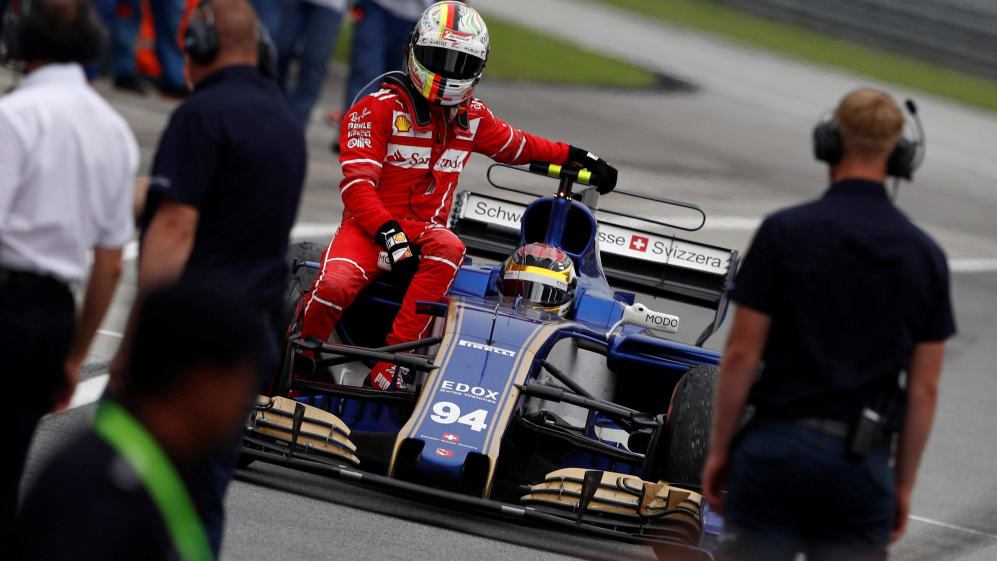 You learn to expect the unexpected in Formula 1, and at Sepang this weekend the formbook was all over the place. So whose final Malaysian Grand Prix was a hit, and who won't be missing the race come next year?
The Winners
Victorious Verstappen
He said on Saturday that he really wanted to win a race the hard way, rather than having it gifted to him as he thought had been the case in Spain last year. And in the end, Max Verstappen was granted his wish the day after his 20th birthday.
It was richly deserved.
The Dutch star has had a pretty dispiriting year, with seven DNFs and his last podium appearance in China back in April. A year to forget, he called it.
But things started to go his way when Sebastian Vettel hit trouble in qualifying and went to the back of the grid, and continued when front-row qualifier Kimi Raikkonen's Ferrari encountered similar turbo pressure problems on its grid lap, and was eventually pushed to its garage, from whence it never reappeared.
After taking second place behind Lewis Hamilton at the start, Verstappen trailed the struggling Mercedes for three more laps before slicing aggressively down the inside into Turn 1. He knew Hamilton could not afford to defend too seriously, given the world championship points situation, and once that mighty job was done he controlled the race, and himself, to score an excellent and much-needed victory.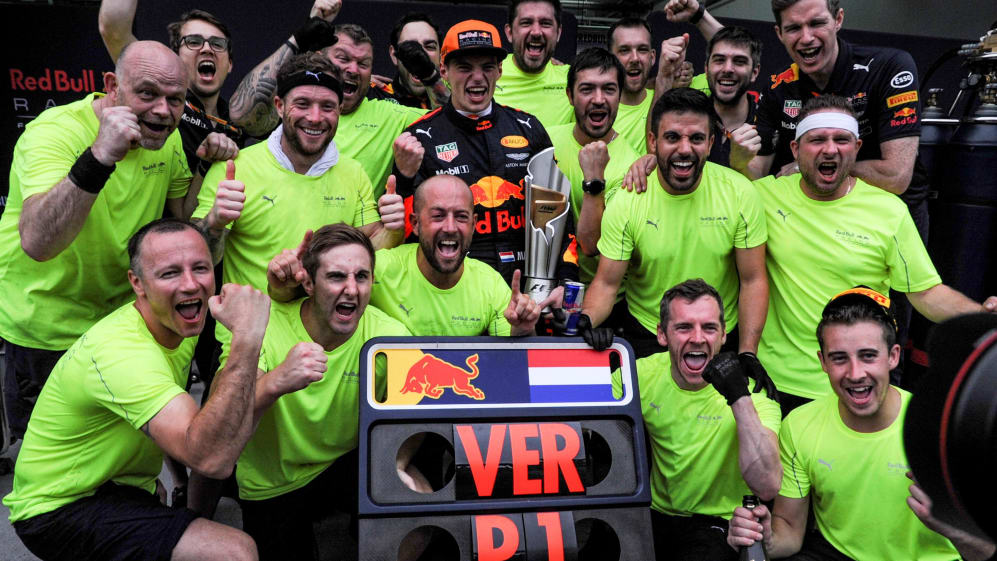 Rejuvenated Red Bull
As if Verstappen winning at last wasn't big enough headline news for Red Bull, the Milton Keynes team also had Daniel Ricciardo's third place to celebrate.
But it wasn't just the strong 1-3 result and the relief that the Dutchman would be happy again after all his recent misfortunes. It was the fact that the RB13 was good enough in Sepang to get its own back on Mercedes after their surprise superior performance in Singapore last time out.
The indications are that, since Adrian Newey turned his attention back to the aerodynamics of the car, Red Bull have turned a corner. They looked good at Monza and Singapore, besides of course Hungary, and they think they will be pretty good for the rest of the season.
That's great news for F1, if it means a third team getting into the mix. Less so for Ferrari and Mercedes, who could lose valuable points if they have a tough weekend.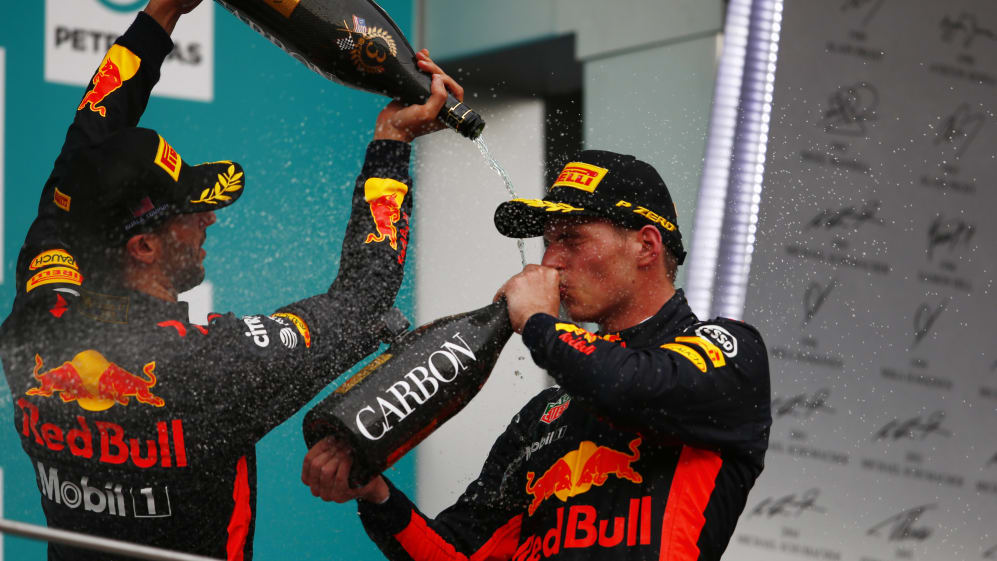 Lady luck with Lewis and Mercedes
Strictly speaking, this duo lost, as their run of three wins was halted. Yet they didn't. They turned things around dramatically after what Toto Wolff called their "worst ever" Friday, switching the Briton back to a Singapore specification aerodynamic set-up. And Hamilton won again when, finding himself in two minds after team mate Valtteri Bottas went quite well too in FP3 while retaining the new configuration which hadn't worked on Friday, he was unable to revert to it because of the complexity involved.
Come the race, that was a blessing as team mate Bottas struggled, and a strong second place was perfect damage limitation on a day when the F1 W08 lacked the sheer pace to run with Max Verstappen's Red Bull.
As a result, Hamilton increased his championship lead over Sebastian Vettel to 34 points with five races remaining.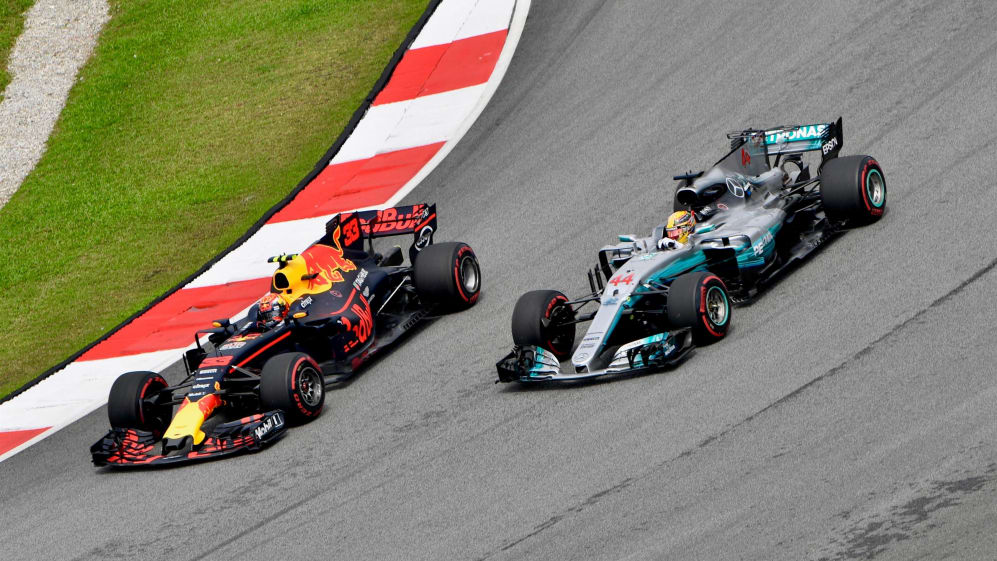 Plucky Perez
Sergio Perez drove a heroic race to sixth for Force India, considering that he had been laid low with such a nasty virus that the team had him on an intravenous drip for the previous two nights. He went into the race feeling awful, and looked utterly washed out by the finish of the most physically arduous Grand Prix on the calendar, yet he made a brilliant start and didn't put a wheel wrong the whole way.
"That," he said with feeling, "was the toughest race I have ever driven." His bright pink VJM10 certainly had better colour, as his face was sheet-white.
"I feared I would need to give up," he confessed. But he didn't. "It's an amazing result just to make it to the finish: I just kept going out of willingness to do it and I have to thank the doctors for helping me out.
"Having a good start was the key to my race and so was passing Vandoorne during the first few laps. After that, I was able to manage my race and it was all pretty uneventful. We were able to extend the first stint and manage our tyres well. I was only under pressure from Vettel, but that was not really my fight.
"We scored some more important points for the team and I am happy to come home with a good result after such a difficult weekend."
Truly, this was one of the drives of the race.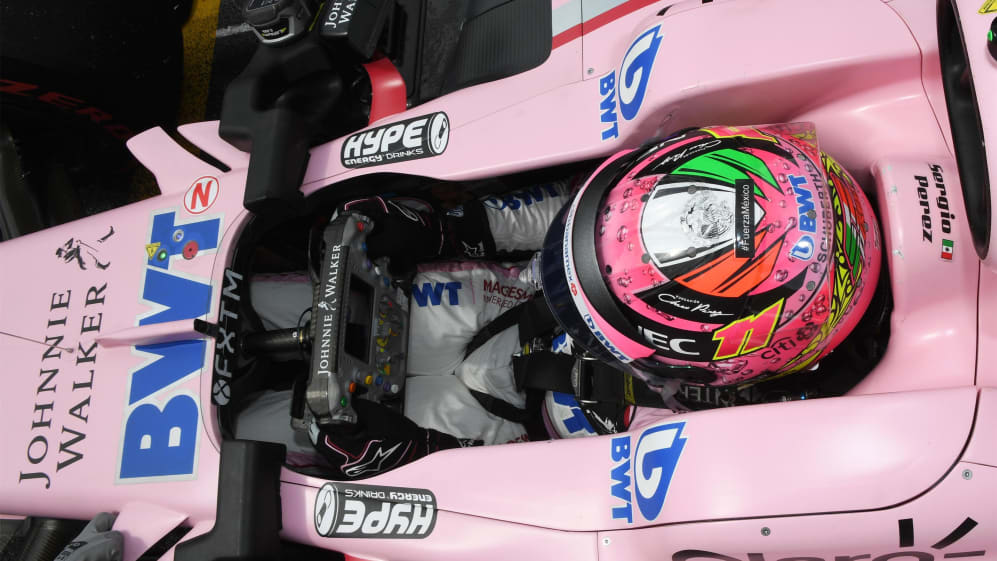 Vandoorne's demon drive
A very strong race from Stoffel Vandoorne brought McLaren seventh place on a day when Fernando Alonso could not finish better than 11th, and the Belgian had out-qualified the Spaniard, too.
"I'm very, very happy today, this definitely was my best drive in Formula 1 up until now," the Belgian said. "To finish seventh here, and to qualify seventh as well - just an extremely solid race. I had to push every lap, take care of the tyres, and bring the car home. They were tough conditions out there, but we managed the gap with Lance [Stroll] very well, so I'm extremely happy.
"The last races have been very, very good as well for me. I'm definitely working hard with the team, putting the pressure on, and it's good for the team spirit. This weekend shows that when everything falls more or less together, when we extract the most out of the car, great things are possible. And lately, even when things don't go 100 percent right, I'm still able to recover much better. All the effort I've been putting in is paying off massively."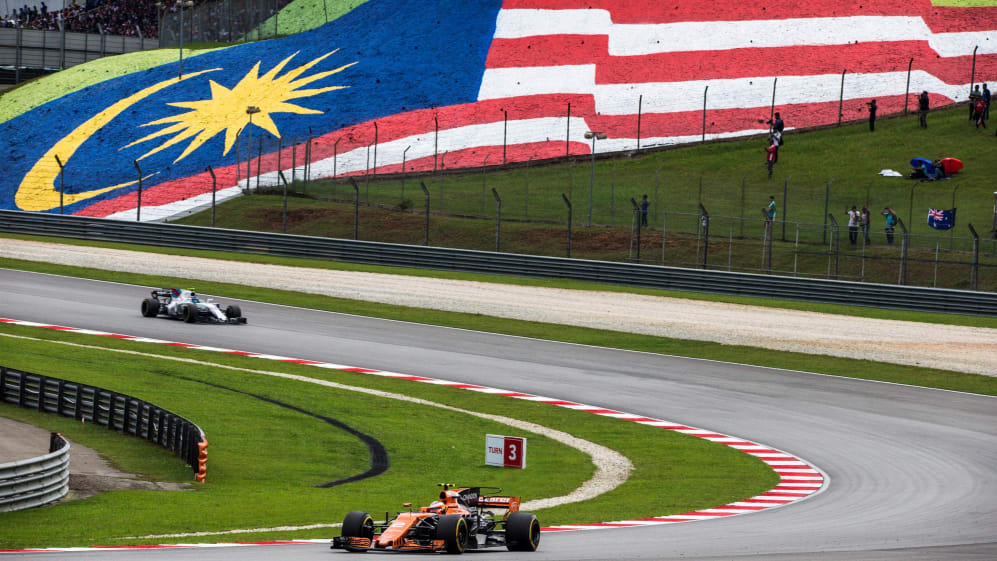 Pascal proves his worth
Pascal Wehrlein finished only 17th in his uncompetitive Sauber, but in its own way that was a victory because the German, with no guarantee of an F1 seat for 2018, set a very respectable 10th fastest lap. He had started on the soft Pirelli tyres and did not stop for the supersofts until the 37th lap, but it wasn't a case of a set of fresh tyres allowing him to do better than his fellow drivers. That quick lap came on the 53rd of 56, so that was a pretty impressive effort. Oh, and then he gave Vettel a lift back to the pits.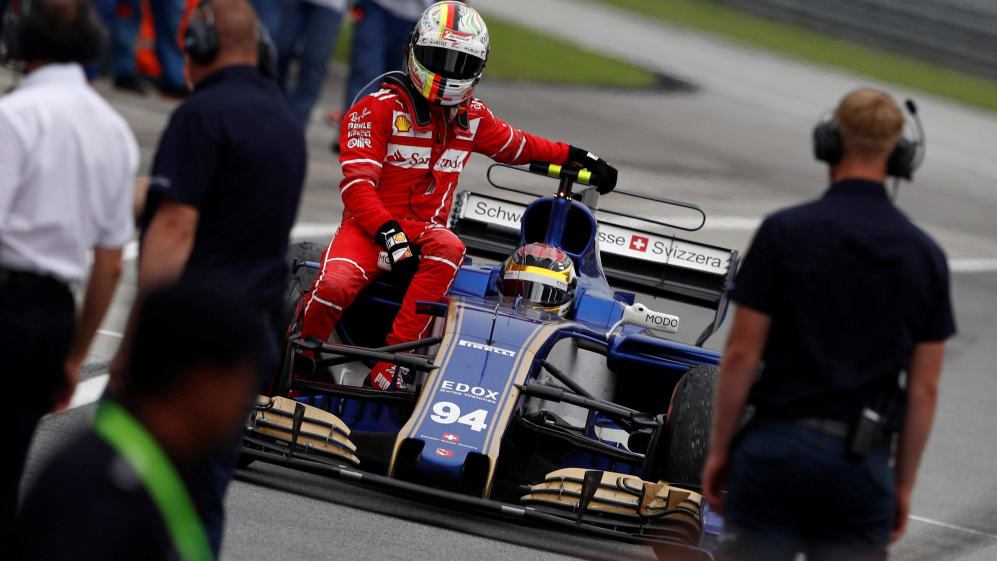 The Losers
Calamity for Kimi
Poor Kimi Raikkonen. In both Monaco and Hungary he was quick enough to win, but the team situation denied him the chance, With Vettel on the back row here, he was positively encouraged to go out and get the job done.
Instead, as he drove to the grid he felt a loss of power similar to that which Vettel had encountered in qualifying.
The team eventually had to wheel his SF70H off the grid for attention in the Ferrari garage, from which it never emerged.
Based on the speed that Vettel was able to demonstrate in his climb through the field, victory had been there for the taking for the Finn.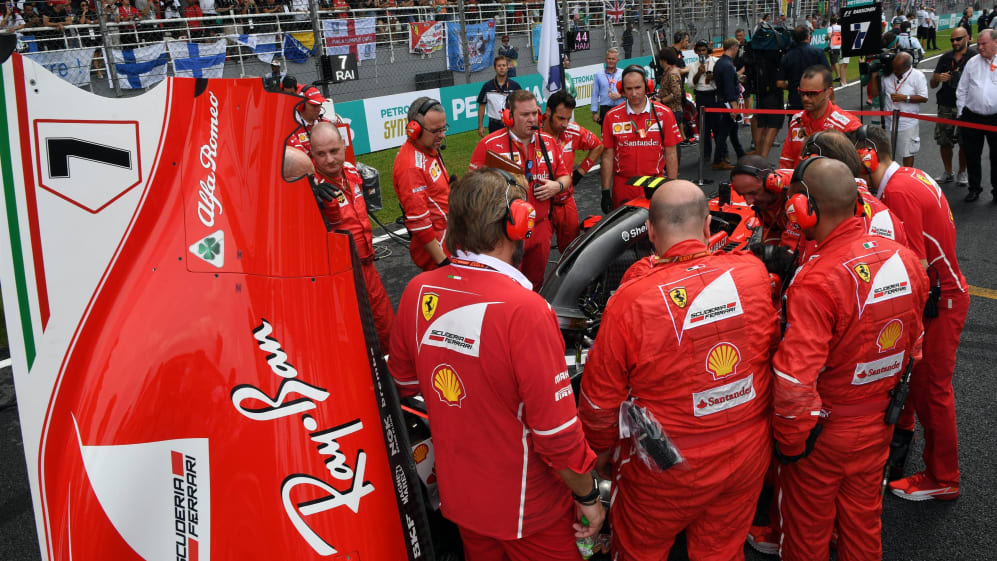 Valiant Vettel
In many ways Vettel was a winner, because of the mature way in which he handled his disappointment in FP3 and qualifying, and the sheer tiger he showed as he came storming through the field thanks to a string of fastest laps.
Perhaps he was not robust enough in attacking Daniel Ricciardo in Turn 1 on the 49th lap. Equally though, his championship position, like Hamilton's, precluded such heroics.
Ultimately, he could no longer sustain his challenge and fell back, then had that needless incident with Lance Stroll as both chose the same piece of track to gather rubber on the slow-down lap. If he needs a gearbox change for Suzuka as a result, that will mean a costly grid penalty.
He left Malaysia 34 points down on Hamilton, and now needs a fair bit of luck to pull off a fifth title, the speed of the SF70H notwithstanding.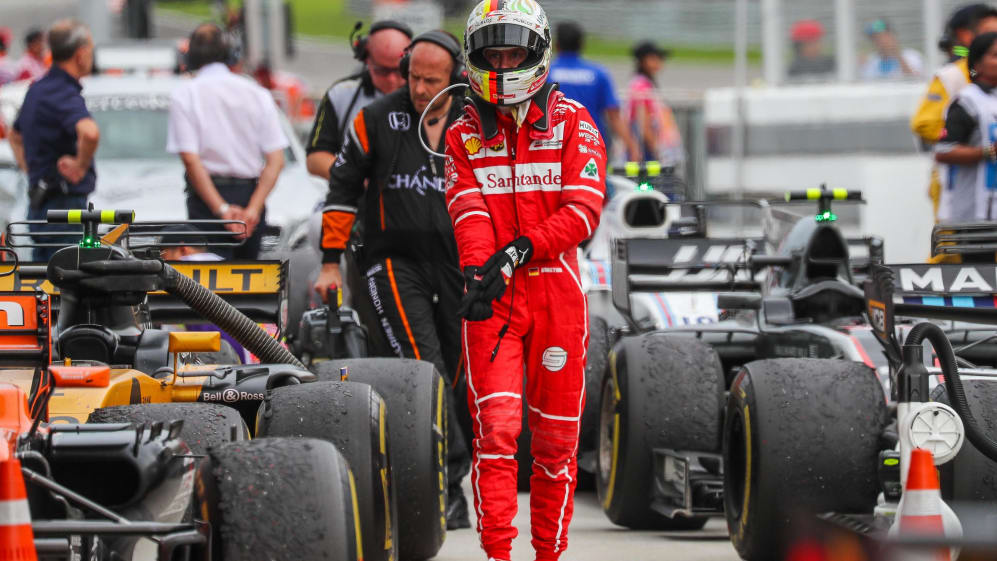 Bold Bottas in Mercedes mire
Valtteri Bottas admits that he is at the most difficult stage of his career after string of less than stellar performances followed his impressive early-season drives.
It didn't help him that he had the new aerodynamic configuration that didn't work in Sepang, but there is blame on his side too.
"Today was difficult," he confessed after the race. "I was trying everything I could, I was giving it all I had, but I was lacking pace and I was sliding around. The start was definitely the best part of the day. It was really good, I could actually attack a little bit and fight for positions."
He almost got round the outside of Verstappen for second at one stage.
"But not long after that I just started to drop down and couldn't keep up with the others. In the first stint I had quite a lot of understeer, so I was struggling with the balance. The story of the race was managing the tyre temperatures. If I tried harder, then I started to overheat the tyre and slide even more, so I had to manage everything and that's why I was so slow.
"We need to analyse the race because the upgrade package should have been quite a step forward in terms of downforce, but I couldn't really see it. There are still a lot of things we need to try to understand, we need to learn from today. For Japan, we need to make sure we choose all the right bits for the car, and hopefully we will see some cooler temperatures."
There is support for him at Mercedes, however.
In the words of team boss Toto Wolff: "A wise man once said that smooth seas do not tough sailors make."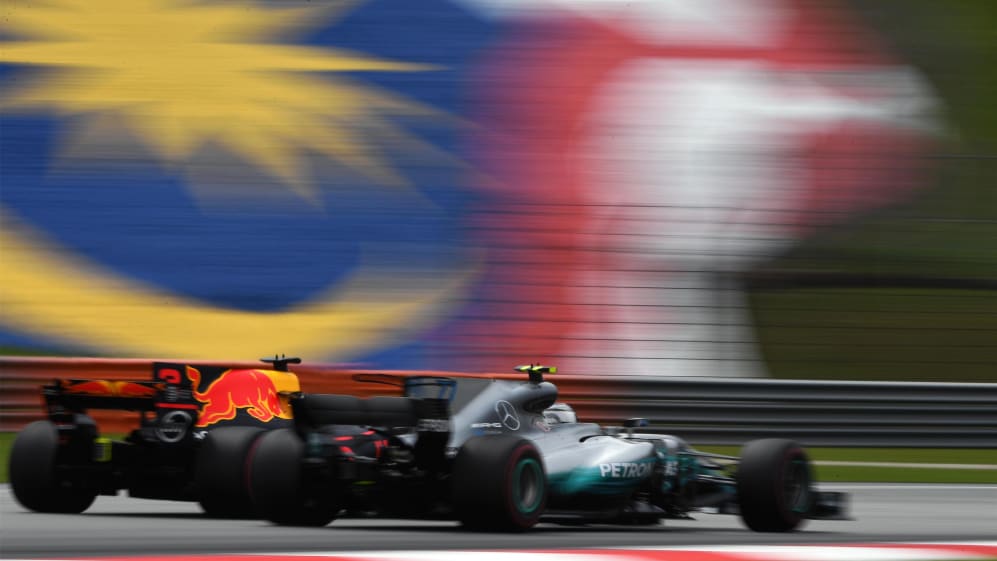 Ocon in the wars
Ocon was unlucky at the start. Force India team mate Sergio Perez made a superb one, and when the two arrived at Turn 2, Ocon found the Mexican on the inside to the left off him, and Felipe Massa's Williams to his right. He was thus the meat in the sandwich. He sustained a puncture in the resultant clash with Massa, and thus had to pit on the third lap.
That consigned him to run for 53 laps on a set of soft Pirellis, during which time he also clashed with Sainz, his right rear to the Spaniard's front left, in Turn 1 on the 25th lap. That spun him down from ninth to 12th, and meant that he could only to recover to 10th on a day when he could have been sixth or seventh.
"It's a race to forget for me because the pace of the car was strong and we couldn't maximise it," he said.