Feature
Winners and Losers - Russia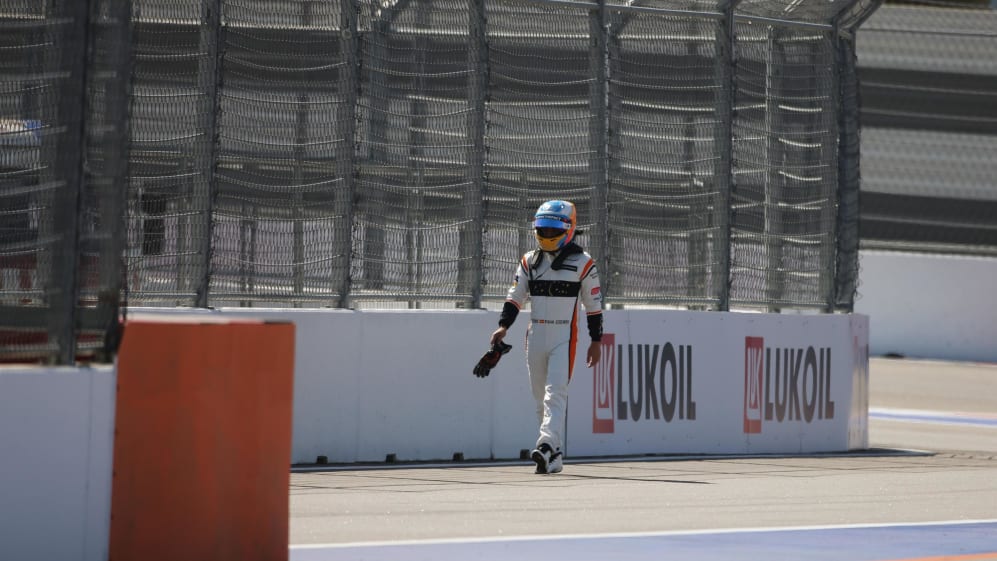 From first-lap collisions to a first-time victor, Sunday's 2017 Formula 1 VTB Russian Grand Prix had its fair share of contrasting fortunes...
The Winners
Valtteri Bottas - F1's new 'Flying Finn'
He has looked decent all season, barring that unfortunate spin behind the safety car in China, but Valtteri Bottas really delivered in the Sochi race.
He could have been on pole, but he made up for that with a strong start, a great slipstream move past Sebastian Vettel on the run down to Turn 2, and then an even better restart after the safety car went back to the pits at the start of the third lap.
He then mustered early pace that Vettel could not match, made a decent pit stop, and then kept his nerve when the balance of power switched to Ferrari on the supersoft tyres. With a four-time champion breathing fire down his neck over the last few laps, it would have been easy to make a mistake, but having learnt from a potentially costly lock-up earlier in the race, he never looked like doing so, and he ran out a first-time and very deserved and popular winner by 0.6s.
"This is Valtteri's day," Vettel said. "He did a superb opening stint and I couldn't stay with him, and he didn't make any mistakes. He was the man of the race.
"Sometimes you have to admit that somebody was better than you, and he was today. He was better than all of us."
Hamilton echoed the sentiment.
"I'm very happy for Valtteri. He is a great guy and he has settled in to the team really well, so for him to get his first win is great for everybody. It couldn't have happened to a better bloke."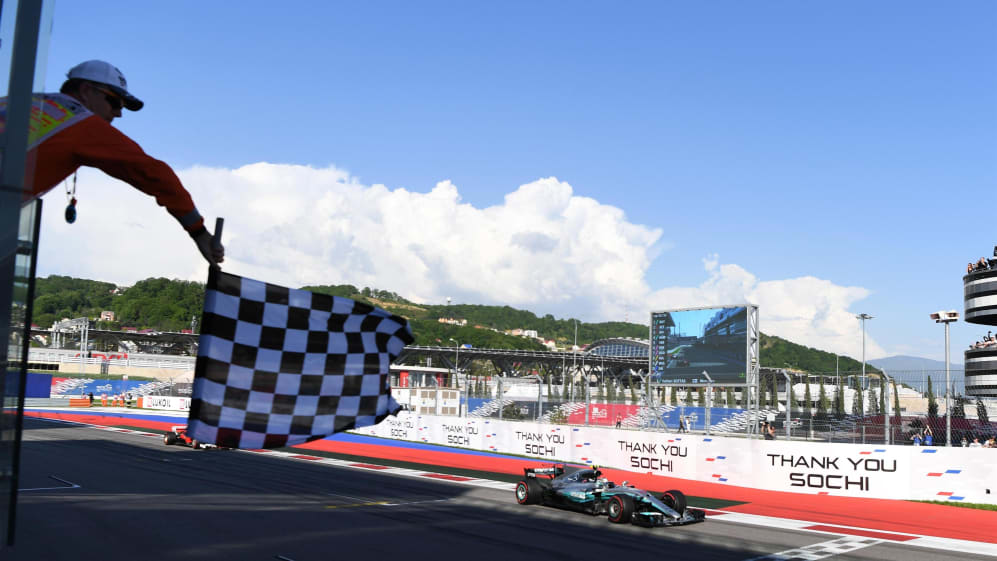 Mercedes - the 'underdog' comes good
Despite their 100 percent record in Sochi, virtually nobody expected Mercedes to win after Ferrari conquered them in practice and qualifying, but the roots of the success lay in the work the engineers did on Friday night getting the W08s working their tyres much more effectively for Saturday. That did not manifest itself in qualifying, where Bottas just didn't quite get all his best sector times together to achieve the pole that could have been possible, while Hamilton made a mistake that cost him dear, and in any case admitted that he was struggling.
But come the race Mercedes horsepower, allied to a good start and a great tow, got Bottas into the lead. What kept him there was the car's genuine race pace in the first stint, which Vettel said he had been unable to match. That's going to make things interesting in Barcelona…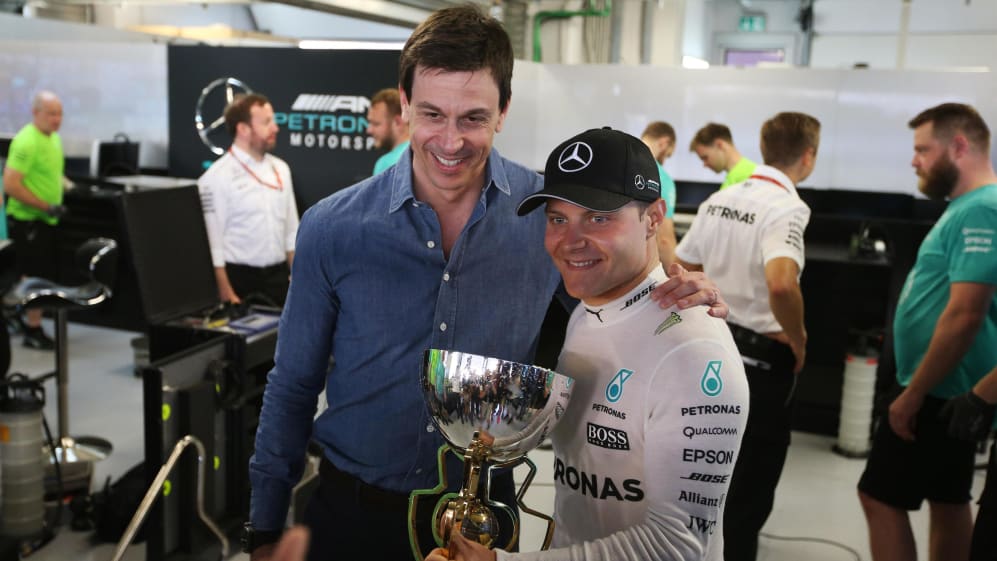 Force India - consistency epitomised
The amazing Force India duly scored their 16th consecutive points finish, and maintained their 2017 record of getting both cars into them by the flag. Sergio Perez drove one of his smooth, controlled yet lonely races to sixth, benefiting only from Felipe Massa's ill fortune, while Esteban Ocon yet again scored points as he took his best-ever finish of seventh, only 8.2s behind after an excellent afternoon's work.
"I am very happy with what we achieved this weekend," he said. "We improved in every session and never went backwards. From the mechanics to the engineers, everyone did a great job and we can be proud. I feel there is nothing more we could have extracted from the car: the only negative from the race was a poor start, but I managed to get those positions back before the first lap was over, so it was all good in the end."
"Congratulations to the whole team on another double points finish," deputy team principal Bob Fernley said. "The 14 points scored strengthen our fourth place in the championship and are a nice reward for a weekend where we maximised all our opportunities."
Amen to that. Only Ferrari and Mercedes can match the Silverstone team's 'double points in every race' record.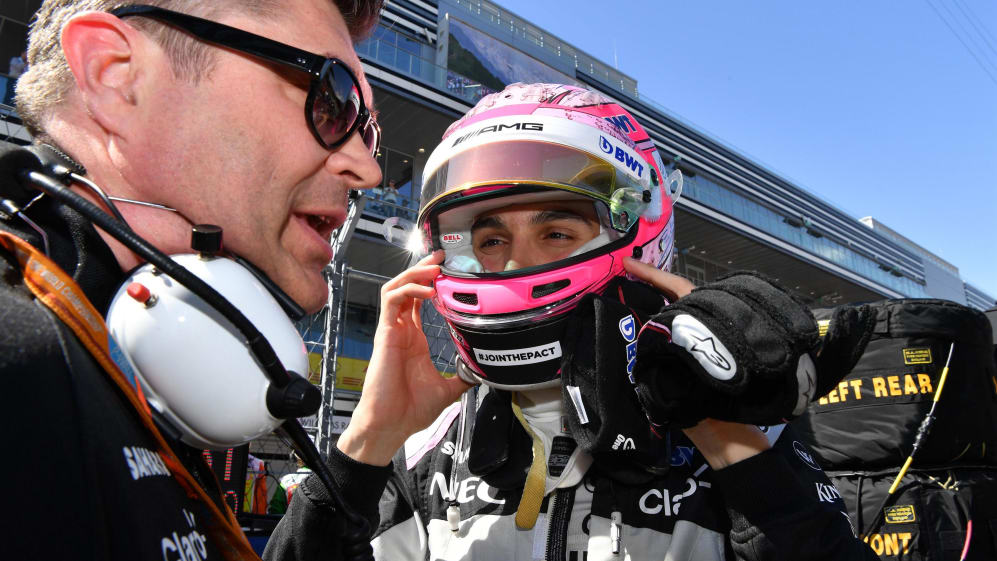 Nico Hulkenberg - marathon man
Having failed to make it past Turn 2 in each of the last two races in Sochi, Nico Hulkenberg enjoyed a solid reversal of fortune this year, using a whopping 40-lap opening stint on ultrasoft tyres to earn eighth for Renault, after Massa dropped from sixth place with a slow puncture on the 41st lap.
"I'm really happy with the strategy we ran today," Nico said. "There wasn't too much left from the tyres at the end of that first stint, but we achieved what we set out to do. I lost track position at the start so we let everyone else pit ahead of us and went as long as we could go on the first set of boots. I kept pushing and the car performed really well, staying switched on with the track improvement meaning I was able to get faster and faster. I was definitely happier with our race pace today; we've still got more work to do but we've clearly taken a step in the right direction this weekend."
The highly-regarded German may not be beating former team Force India yet, but he finished barely a second behind Ocon, suggesting he may yet have the last laugh.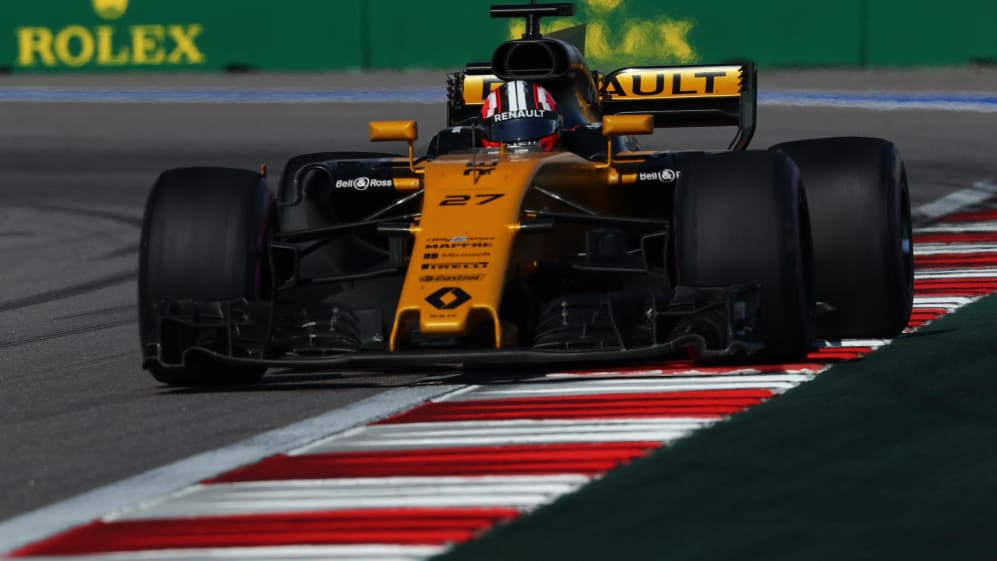 Carlos Sainz - from zero to hero
After his uncharacteristically clumsy collision with Lance Stroll in Bahrain, Carlos Sainz made amends in Russia. Toro Rosso took the final point, after yet another fine drive saw the Spaniard go from 14th on the grid to 10th at the flag - the most positions gained by any driver from his grid slot.
"What a tough race, especially as we were starting from behind because of the grid penalty," he enthused. "But today we got everything right: the start, the first lap, the pit stop, the strategy… So we can be happy! We did a good race and recovered well from P14 to P10, which I think was the maximum we could do this weekend."
If only he hadn't had that three-place grid drop for the Stroll faux pas…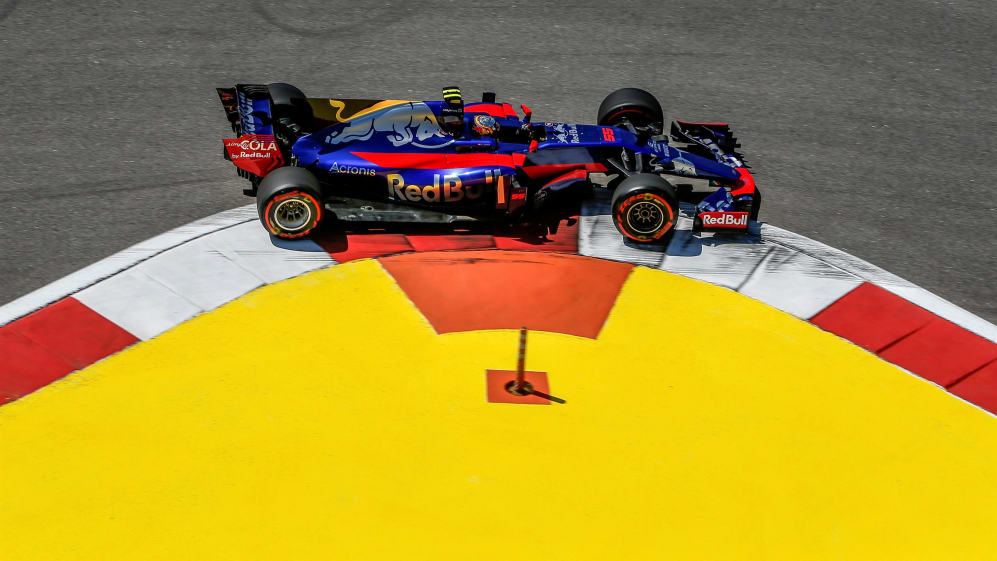 The Losers
Ferrari - close but no cigar
Ferrari should have had this one gift wrapped, based on their superb qualifying performance and the fact they their race pace is usually better than Mercedes'. But they got beaten to Turn 2 by the fast-starting and slipstreaming Bottas, and then to their surprise the Mercedes proved to have superior first-stint pace on the Pirelli ultrasofts.
As Kimi Raikkonen inevitably drifted backwards, Vettel struggled to keep the other Finn in sight, but then attacked vigorously just before his pit stop and again on the supersofts from the 38th lap onwards. Perhaps he might have found a way by had the race run to its intended 53 laps - it was shortened because of the delay caused by Alonso's McLaren expiring on the formation lap - but in the end the reds had to settle for second and third, with Vettel six-tenths shy by the flag.
A first one-two since 2010 still awaits...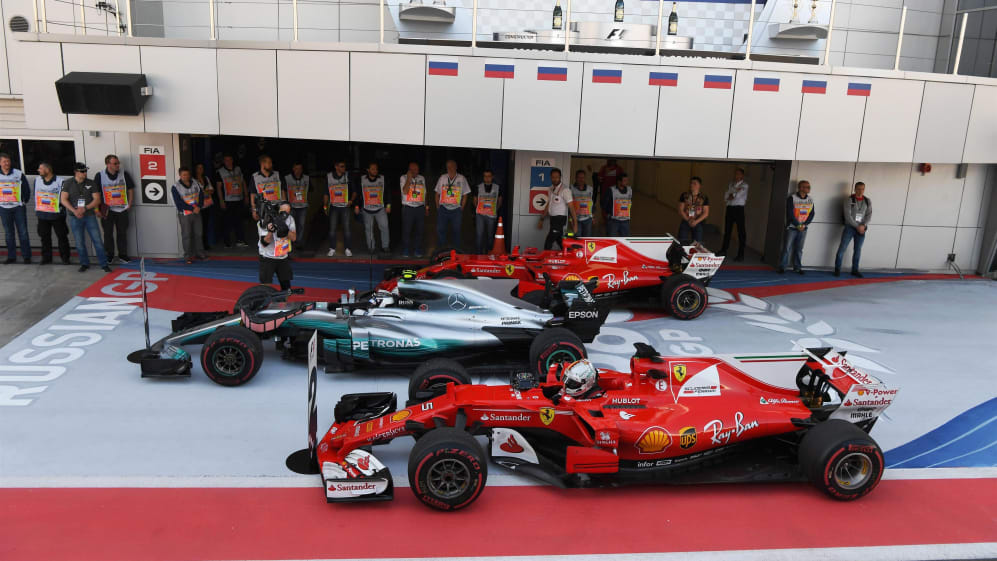 Lewis Hamilton - Sochi ends podium streak
Hamilton qualified poorly, by his own admission, and made an indifferent start – he nearly got Raikkonen going down to Turn 2, but equally only just managed to stave off Verstappen when he had to back out of his challenge on the Ferrari.
After that he lost up to seven-tenths of a second when instructed to ease off as his car started overheating, and just didn't have the pace to do anything but run to fourth place, a whopping 36.3s behind his team mate's identical car. It meant he was off the podium for the first time in nine races.
"For me it was a very tough weekend. I just wasn't quick enough," he admitted. "I've never had cooling issues like that before. At times it was costing me seven-tenths a lap as I had to ease off when I wanted to race, and it meant I was out of the race from the get-go. I think I had the pace to fight with Kimi, but the car just kept overheating.
"Valtteri and I are quite close on set-up, but we were a little bit different in the low- and medium-speed stuff where I struggled, and on the electronics side."
He complained about his differential at times, and added when asked about its electronic settings: "I don't really know the fine details, I need to ask my engineers. The direction Valtteri was able to go [with his car's set-up], I wasn't, so I don't really understand why. I'm not quite sure what else in the car would stop me going in the same directions."
Hamilton has not been off the podium for two consecutive races since 2013 - will he bounce back in Spain?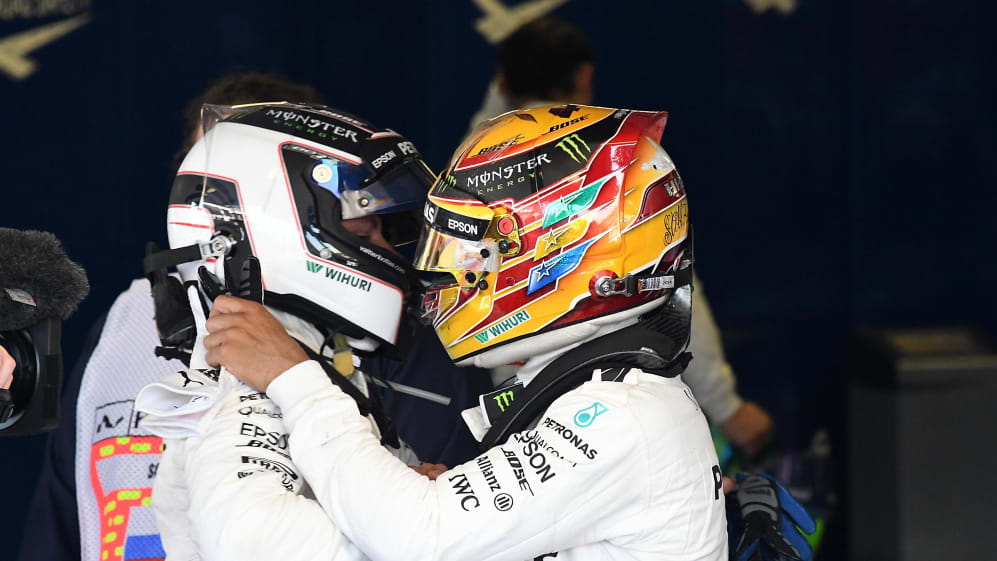 Williams - what might have been
Felipe Massa split the Red Bulls from the start and was sat happily in a lonely sixth, heading for eight valuable championship points, when he sustained a slow puncture and had to make a second pit stop on the 41st lap.
"We were just unlucky," he said. "I was really taking care of the car and the tyres, keeping the gaps in the right place, and we had a sixth position in our pocket today. It's unfortunate and painful for the team that we have lost good points, as the car felt good and was consistent with a good pace."
They were also unlucky when Lance Stroll had a first-lap spin which dropped him to the back of the field. Considering that the Canadian rookie finished 11th he should have been in contention for a point or two without that.
"I had a really good start and think I was around P8 at one point, and then I got squeezed on the kerb, there wasn't much grip and the car just got away from me. I knew I didn't have any damage, but I fell to the back," he said. "It was just one of those things that happens."
A costly mistake, but at least Stroll finally reached the chequered flag...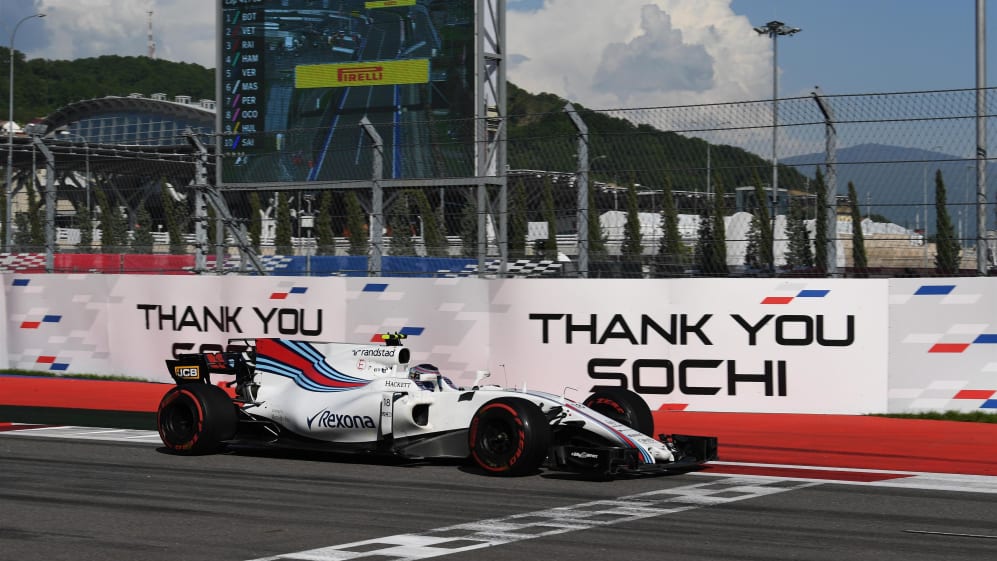 Haas - it never rains, it pours
Having complained all weekend about the behaviour of his car, Romain Grosjean threw it into Jolyon Palmer's Renault after an over-the-kerbs moment on the entry to Turn 2 on the opening lap.
Adding insult to injury, team mate Kevin Magnussen then got a five-second time penalty for a track limit violation in avoiding the incident, which dropped him out of possible contention for a point or two.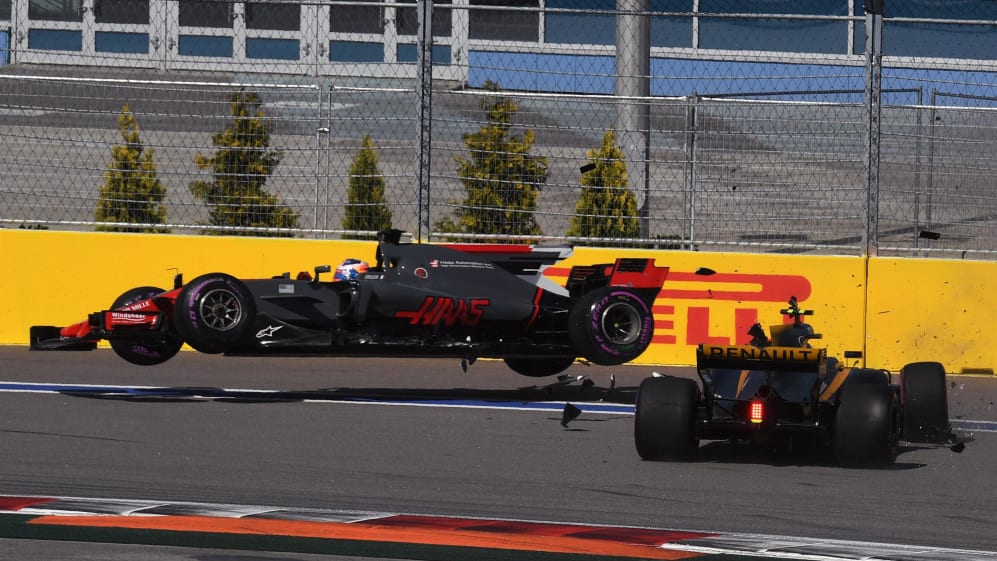 McLaren - to finish first, first you have to… start
McLaren had another appalling race, made all the worse by the false dawn of reliability from the second day of the Bahrain test, which had so raised hopes and spirits.
Fernando Alonso's body language said everything as he stalked away from his abandoned MCL32 without a backward glance even before the race had started. Yet another MGU-H problem had struck it down on the grid formation lap.
"Not being able to take part in the race today and not being able to finish any race so far this season is extremely tough," he said. "It's frustrating – every weekend is the same.
"My power unit didn't have the usual power during the formation lap, so my engineer told me to change some settings on the steering wheel. Unfortunately, that didn't work and towards the end of the lap the engine shut down. My race was over before it started."
Stoffel Vandoorne had a poor race too. One could argue that he was perhaps unlucky to get five-second penalty for a track limits violation on the opening lap as he avoided the Palmer/Grosjean melee in Turn 2, but it said everything about his race that it made almost no difference. He had a lonely afternoon thereafter, offering no threat to anyone ahead. He finished, and at least in front of both Saubers, was the best that could be said.
"You cannot hide behind a result like this," racing director Eric Boullier admitted.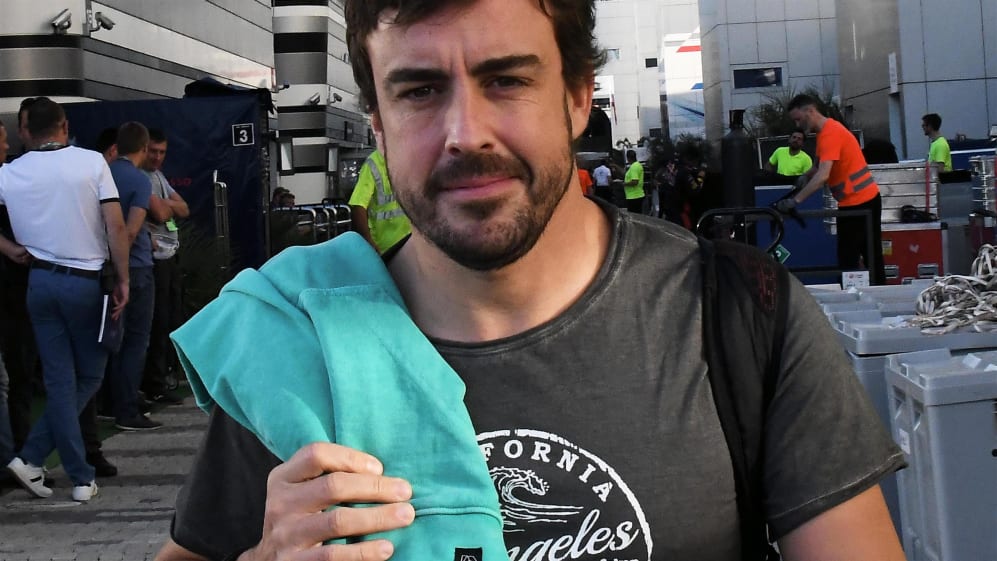 Jolyon Palmer - a weekend to forget
His car broke its exhaust on Friday, resulting in sufficient heat damage that it had to be rebuilt around a new monocoque. He missed FP3, then crashed in Q2 after trying too hard to make up for lost time by taking too much kerb in Turn 4. His exhausted mechanics rallied round again, only to see him collide with Grosjean on the opening lap, and pitched into retirement.
Palmer has now completed 94 fewer laps than team mate Hulkenberg in 2017, and is being outscored six-nil having also failed to outqualify the German. A trouble-free weekend can't come soon enough for the Brit.