Feature
WINNERS AND LOSERS – Russian Grand Prix edition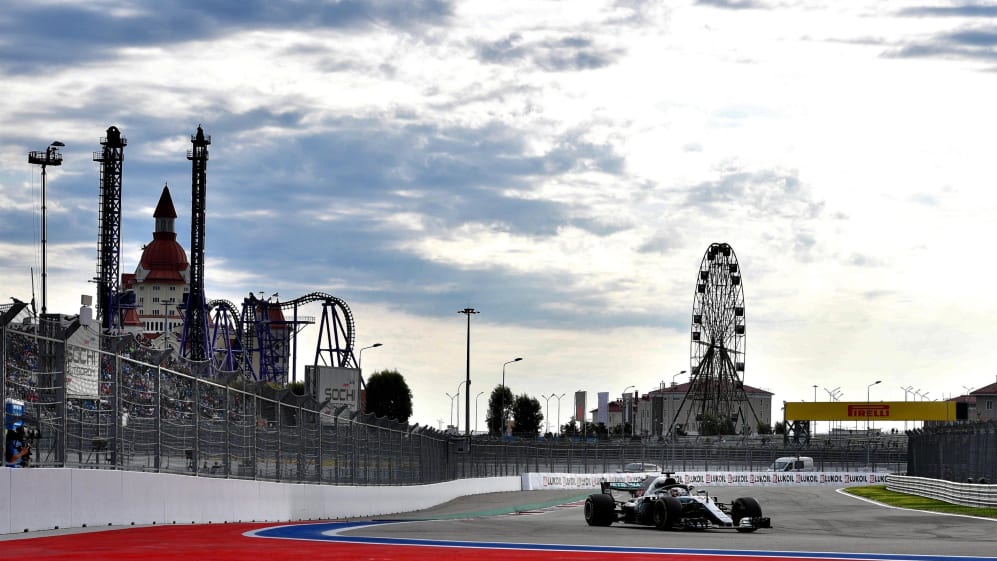 After one of the glummest Mercedes one-twos of all time following the team's strategic call for Valtteri Bottas to hand Lewis Hamilton the race win, we look at the good and the bad from the weekend in Sochi.
Winners
Mercedes' team work
"There's not many team mates who would do something like that." Yes, Lewis Hamilton was only too aware that, although his name will stand in the history books as the 2018 Russian Grand Prix victor, he was only the second best Mercedes driver this weekend.
The team were forthright in their repositioning of Valtteri Bottas and Lewis Hamilton in the race, giving the Finn a clear call to move aside on the radio and even telling him at which corner he should do it for good measure. But arguably, what choice did they have? In a title fight that's been bitter at times with Ferrari, Mercedes simply activated the logical side of their brains and made the call.
"It's deflating for a driver, and it's deflating for a team," said Mercedes Team Principal Toto Wolff, "but there is a harsh reality also that, on such a day, you can extend the lead by seven points more. For a championship that has been very tough and very difficult at times, and here you have to take it and this is what we did today."
Deflating, yes. But can you imagine the backlash that Mercedes would have faced if they hadn't made the call and Hamilton lost the title by seven points or less to Vettel? Harsh on Bottas, yes – but the only call that Mercedes could realistically have made.
They now lead both championships comfortably - and they maintained their 100% Sochi win record in the process.
Magic Max
In 30 years' time when people are reflecting on great moments in Max Verstappen's career, the 2018 Russian Grand Prix may well join the ranks of Belgium 2015, Brazil 2016 and his daredevil last lap overtake of Kimi Raikkonen at the 2017 United States Grand Prix (deemed illegal afterwards, but hey…)
Starting P19 and on the hardest yellow-walled soft tyres, Verstappen spent the first few laps marauding through the field like they were standing still. And yet rather than knackering the life out of his softs, Verstappen somehow managed to keep them alive and hold a comfortable lead in the race all the way through until his eventual pit stop for softs on lap 43, matching and often bettering the lap times of the Mercedes and Ferrari cars behind him on their newer softs.
In that pit stop, Verstappen changed for the ultrasofts, emerging back in P5. And although he struggled to turn those tyres on and get after Kimi Raikkonen, fifth was still a worthy reward for the Dutchman's efforts, as he finished 48 seconds up on his sixth-placed team mate (albeit that the Aussie had been hobbled after running over debris earlier in the race).
All in all, it was a pretty great way for Verstappen to celebrate his 21st birthday.
Super Charles
Charles Leclerc was all at sea on Friday in Sochi. As the 20-year-old repeatedly slewed off track in the first two free practice sessions of the weekend, his radio messages back to Sauber started to sound increasingly desperate, as he struggled to get himself dialled into the Sochi Autodrom. He was shaded by Marcus Ericsson in FP2, while in FP1, Antonio Giovinazzi ended the session three-tenths clear of Leclerc on only his third outing in the C37 this year.
But Leclerc rebooted himself on Friday night and in Free Practice 3, he was comfortably best not only of the Sauber drivers but of the whole midfield, posting a time for P7 that was some eight-tenths faster than he'd managed the day before. He'd match that P7 in qualifying – albeit that he was outgunned by Haas' Kevin Magnussen and Force India's Esteban Ocon, who were able to claim fifth and sixth in the absence of the Red Bulls – while in the race, he was magnificent, holding on around the outside of Turn 3 against Magnussen before going on to finish seventh, recording his seventh points finish of the season.
"The Sauber came from nowhere and beat us massively today," said a rather shell-shocked Sergio Perez after the race. "I think they've done an incredible job. I just saw [Leclerc] on the first lap and then he disappeared, so massive surprise."
It's fair to say that it looks like Ferrari have bet on the right horse to join the Prancing Horse for 2019, with Leclerc once again demonstrating his speed, resolve and maturity in what was only his 16th Grand Prix start. Impressive stuff.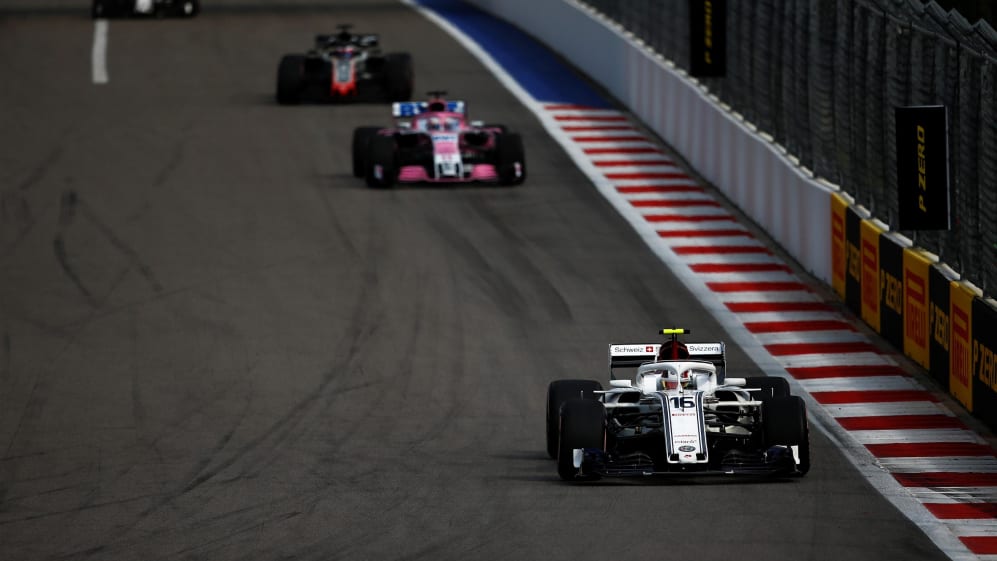 Kevin Magnussen
So impressive had Charles Leclerc been in the Q1 and Q2 segments of qualifying that few were paying much attention to Kevin Magnussen in Q3 when he came from nowhere to bang in a lap that put him P5 on the grid, matching his efforts from Austria and Germany this year.
Although Magnussen would end up being pipped by Leclerc in the race, he did a great job to keep the two Force Indias of Esteban Ocon and Sergio Perez at bay, managing to hold on for P8 on a day when team mate Romain Grosjean finished 11th and out of the points.
Crucially the Dane's efforts – with Renault failing to score – saw Haas move within 11 points of the Anglo-French team's fourth place in the constructors' championship. Little wonder that Haas have opted to retain Magnussen's services for 2019 – even if some on the grid still aren't enamoured with the Dane's elbows-out driving style...
Daniil 'Third chance' Kvyat
Yeah, yeah, we know he wasn't on track at the Russian Grand Prix. But really, who's come out the weekend a bigger winner than Daniil Kvyat? This time last year, Kvyat's Grand Prix career looked in tatters, as he prepared to be dropped from the Toro Rosso team he'd been demoted back to by Red Bull the season before.
But life is a funny thing, and Pierre Gasly's movement up to the senior Red Bull team for next year, coupled to the dryness of Red Bull's junior talent well at the moment, meant that on Saturday morning of Sochi, Kvyat was pulled back into Toro Rosso for next year.
It's quite the career arc, given that Kvyat is still just 24 years old, and the Russian will be desperate not to repeat the same mistakes he made first time round as he prepares himself for what will be his third stint with Toro Rosso.
"I've learnt a lot, and I now feel stronger and better prepared than when I left Toro Rosso," said Kvyat when the announcement was made. "I never gave up hope of racing again, I am still young and I have kept in good shape to always be prepared in case another opportunity presented itself. I will give my best to deliver what the team expects from me and I can't wait for everything to start again."
Losers
Renault's long-game strategy fails to pay off
In Singapore, Fernando Alonso used his P11 starting position to great effect, running a long stint in the race to shore up seventh position come the chequered flag. It was a tactic that had worked for Carlos Sainz in Singapore too, the Spaniard turning 12th into eighth at the race end, both drivers having used their free choice of tyres to their advantage.
Renault fancied a bit of that in Russia too, opting not to send out either Sainz or Nico Hulkenberg in Q2 given that both drivers were guaranteed to start 11th and 12th once Daniel Ricciardo, Max Verstappen and Pierre Gasly had been turfed to the back of the grid with engine-change penalties. Both drivers duly lined up on the grid with yellow-walled soft tyres bolted on their cars, ready to go deep into the race to try and claim track position when those in front dived into the pits.
In the end, however, the characteristics of the Sochi circuit meant that Renault couldn't get the strategy working for them. Nico Hulkenberg wound up P12 after failing to have enough performance in hand to get after the Haas, Force India and Sauber cars in front of him once he'd changed onto the fresher ultrasoft rubber. Sainz, meanwhile, made contact with the Williams of Sergey Sirotkin on the opening lap of the race, leaving the floor and side of his R.S.18 "destroyed" before he limped on to finish 17th.
"Overall, a weekend to put behind us," was Team Principal Cyril Abiteboul's summary of Russia. "We knew we would struggle here and we gave it our best so we move on to Japan." And while it's true that open, quick circuits tend not to suit Renault's car, there was a grumble of frustration from Hulkenberg on Saturday evening about why the team had been unable to challenge the midfield this weekend.
"It's a lack of development," he told reporters. "If you snooze you lose in Formula 1."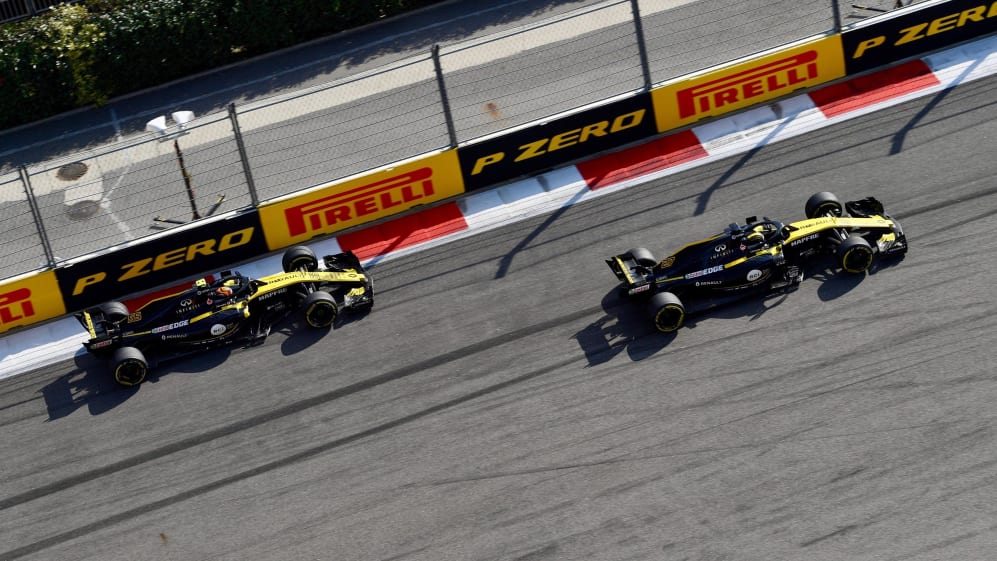 Mercedes' reluctant wingman
Valtteri Bottas looked like a balloon that had had all the air sucked out of it when he eventually pulled into pace ferme after the race. The confidence-starved Finn had delved deep inside himself to produce a stunning sixth pole position of his career in Sochi, and had Mercedes' championship position been different, the Finn would have recorded arguably the most impressive win of his career.
As it was, during the race he was instructed to let Lewis Hamilton past. He selflessly obliged, holding out a slim hope that at the race end, he'd be moved back into the lead once Sebastian Vettel's threat had been neutralised. The switchback never came.
Vettel himself called Mercedes' tactics a "no-brainer", and when the adrenaline levels have gone back to normal, Bottas will doubtless see that handing victory to Hamilton was an inevitability – and ultimately, for the best in terms of team dynamics. Still, for a driver who's desperate to notch up his first win on 2018, it was a hard pill to swallow.
On the other side of the coin, though, Hamilton is now a full two race wins ahead of Sebastian Vettel in the drivers' championship, while a dominant Mercedes display moved them further clear of Ferrari in the constructors' standings. The greater good, then, eh Valtteri?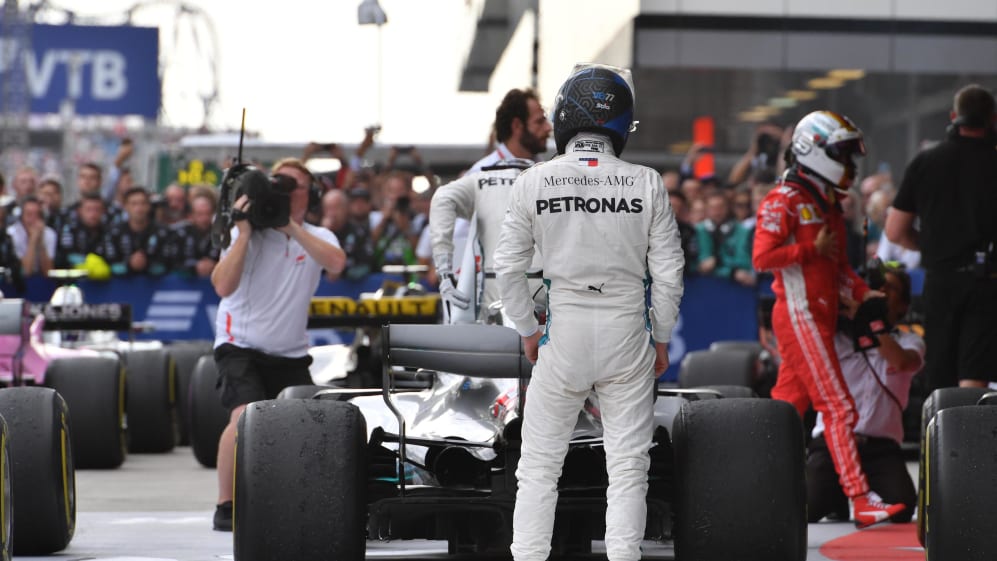 Brakes put on Toro Rosso's progress
Toro Rosso's pace at recent events has been uninspiring, with the team not having taken points since Pierre Gasly's unexpected ninth place in Belgium in August. Then they arrived in Sochi with a Honda power unit upgrade, and suddenly Gasly found himself right at the pointy end of the midfield, claiming P8 in Free Practice 2 just 0.015s behind the Mercedes-powered Force India of Sergio Perez.
Toro Rosso ended up taking the upgrade back off the car – they said engineers had spotted something in the data - but still, it had been a positive start to the weekend for the Italian squad, something they hadn't enjoyed in a while.
But from Saturday onwards, things didn't go well. Both drivers knew they would start at the back of the grid as a penalty for running the new Honda units, making qualifying effectively a non-event – although for the record, Gasly outqualified Brendon Hartley for the ninth time in a row to increase the growing pressure on the New Zealander. Then in the race, Hartley and Gasly were seen to spin badly at Turn 2 early on in the race, with the problem diagnosed as terminal brake issues on both cars, putting the two STR13s out after just four laps. Gasly was also clonked on the helmet by some debris on lap one to compound matters.
A shame, yes. But you'll be wanting to keep your eyes peeled on the Toro Rossos once they get that upgrade back on the car in Suzuka. From the evidence of Friday's running in Sochi, they could be very rapid indeed.
Flagging Ferrari
Ferrari have been a large red thorn in the side of Mercedes at races this year where the Silver Arrows have previously dominated. Montreal, Silverstone, Spa – all were won by Sebastian Vettel in 2018 to upset the run of form. Yes, the momentum had been with Lewis Hamilton following his victories in Monza and Singapore, but surely an on-song Ferrari could prevent a repeat in Russia?
Sadly for the tifosi, it wasn't to be. Unlike Monza and Singapore, nothing particularly went wrong for Ferrari in Sochi. There were no first lap tangles, no run programme-interrupting wall-banging, no tactical errors on the pit wall.
Quite simply, Ferrari just spent the weekend being outpaced around Sochi, the low-drag Mercedes clearly in its sweet spot around this circuit. First, Bottas and Hamilton locked out the front row on Saturday – the first time they've done that since Hungary this year – before the two Silver Arrows streaked away at the front in the race, even having enough in hand to calmly swap their drivers and optimise their title chances.
"[We were] too far away and not quick enough, so we need to settle with third-fourth today," a resigned Vettel said after the race. "Obviously it was better today than yesterday in terms of pace – the car was good so I think we tried."
Barring a miraculous turnaround, the title seems destined to be heading back to Brackley once more...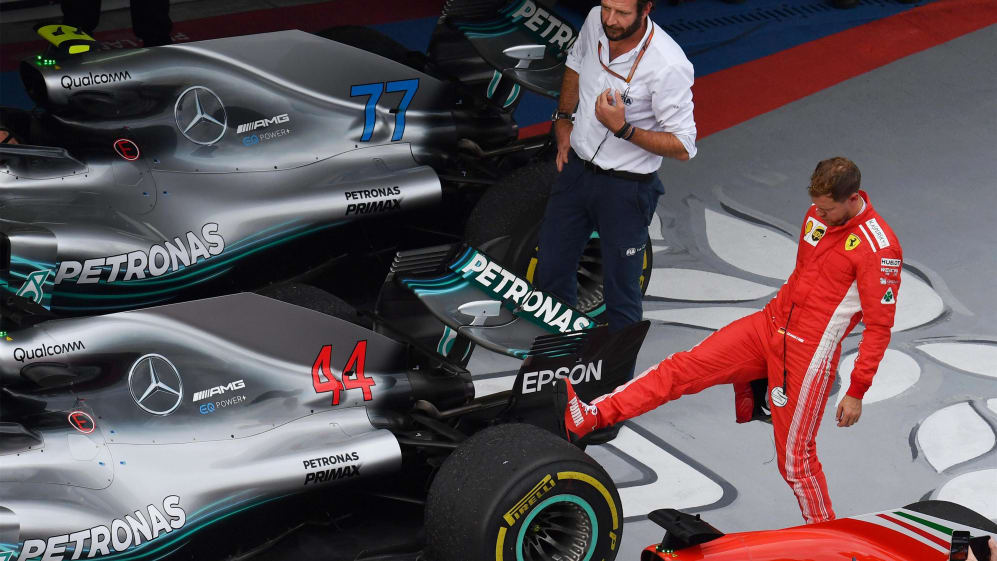 McLaren's 2019 new boy
It's all gone a bit wrong for Lando Norris in his first and last season in Formula 2 before he becomes a McLaren driver in 2019. Trailing George Russell in the standings heading to Sochi, he needed a good weekend in Russia to keep his championship hopes alive.
Instead, he had a complete disaster. Having spun in FP1 while on F1 duties on Friday, he retired from the F2 feature race on Saturday after a catastrophic pit stop, where he first drove into the wrong pits, before driving out of his box before his front-right wheel had been attached properly.
Then in the lower points-awarding sprint race, he was judged to have been out of position on the formation lap, receiving a 10-second stop-go penalty. With little chance of scoring top eight points, Norris' only hope rested on taking the fastest lap and the two points that go with it. But that dream went out the window when Russell claimed that just before it started to rain. And then, just to rub some salt into Norris' wound, he got a puncture. Ouch.
A point-less weekend therefore knocks Norris out of the title hunt, with only Alexander Albon now in a position to halt the impressive Russell. Still, at least Norris isn't fighting to get an F1 seat next year…
Oops! Error retrieving Twitter post