'You make your own luck' – Wolff frustrated after claiming Mercedes had the pace for Las Vegas podium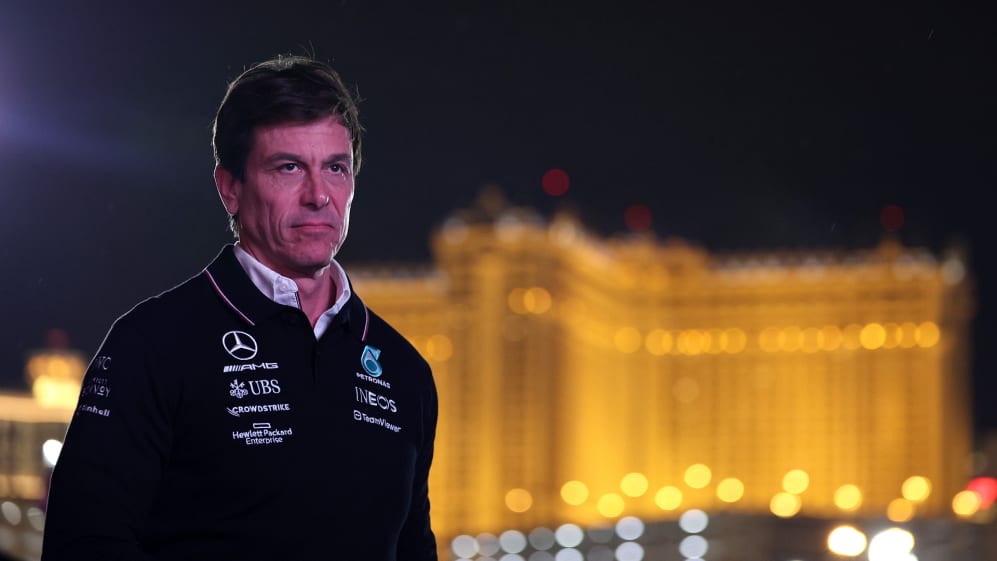 Toto Wolff cut an unusually frustrated figure on Saturday night after the Las Vegas Grand Prix had concluded, despite seeing both his cars come home in the points. But a lowly seventh and eighth for Lewis Hamilton and George Russell respectively was scant consolation on a day Ferrari closed the gap to the Silver Arrows in the championship.
That fight for second place is now down to just four points heading into the final round of the season, and possibly explains Wolff's less than cheerful demeanour. That, and the fact he felt his team could have finished much higher up the order.
"Would have, should have, could have," was Wolff's summary after the race. "We looked at the pace in free air and we had the pace of the leaders. When Lewis had no traffic that was pretty much where [Charles] Leclerc was racing in terms of lap times.
READ MORE: 'What more can you ask for?' – Horner reflects on Perez sealing Red Bull's first 1-2 in drivers' championship
"It summarises the season. You make your own luck, but we had more bad luck and today. Seventh, eighth – the two cars could have been on the podium, but they weren't."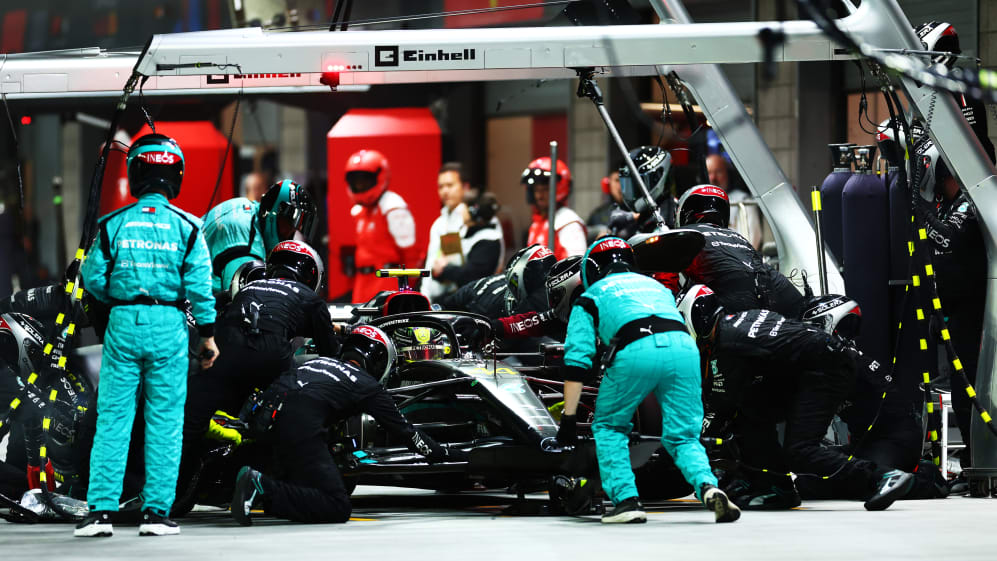 Hamilton was caught up in the first corner melee, carrying damage after Carlos Sainz slid into the side of his car.
He was then involved in a racing incident mid-way through with Oscar Piastri, which caused a rear wheel puncture. The unfortunate Hamilton only felt the tyre begin to deflate as he drove past the pit lane exit, and thus had to complete a full lap at slow speed before finally making it back to the pits – at the second longest track on the calendar.
As for Russell, he was handed a five-second time penalty for a collision with Max Verstappen, which he later acknowledged was his fault. With the field bunched up, fourth across the line became eighth once that penalty was applied.
READ MORE: 'Story of my season' – Russell 'lost for words' after missing out on Las Vegas podium but shoulders blame for Verstappen collision
"That race summarises our season, a quick car that is able to fight for the podium," continued Wolff. "George, I think once he got the penalty for the incident with Verstappen, that was pretty much game over but I think [we had] pace for the front; maybe not Max but behind. It is what it is."
With Leclerc grabbing second and Sainz sixth, Ferrari out-scored Mercedes by 16 points to close the gap to just four points in the fight to be second in the constructors'. And while P2 wasn't what either team hoped for at the start of the year, it still carries weight in terms of extra prize money and thus, is important for the future financial health of the team.
READ MORE: Leclerc 'disappointed' to miss out on Las Vegas victory but insists P2 'was the best' Ferrari could do
"I think we're going there on pretty much equal points [with Ferrari]... then let's race," said Wolff. "It's all down to the last weekend. They are very quick, they've done a good job. I think we could have been on par today but the result shows something different, so let's race.
"To be honest, it's good to have P2 as a positive to finish the season, but P2, P3 for me, there is little… it doesn't make me particularly cheery anyway. How do you say – it doesn't make [this year] better for me."