Your top overtake of 2016 - a case of Max beats Verstappen!
Last week we asked you to vote for your top overtake of 2016 via the official F1 Facebook and Twitter feeds, with eight of our 10 favourite passes from last season battling it out over quarter- and semi-final stages in order to reach the grand final.
The contenders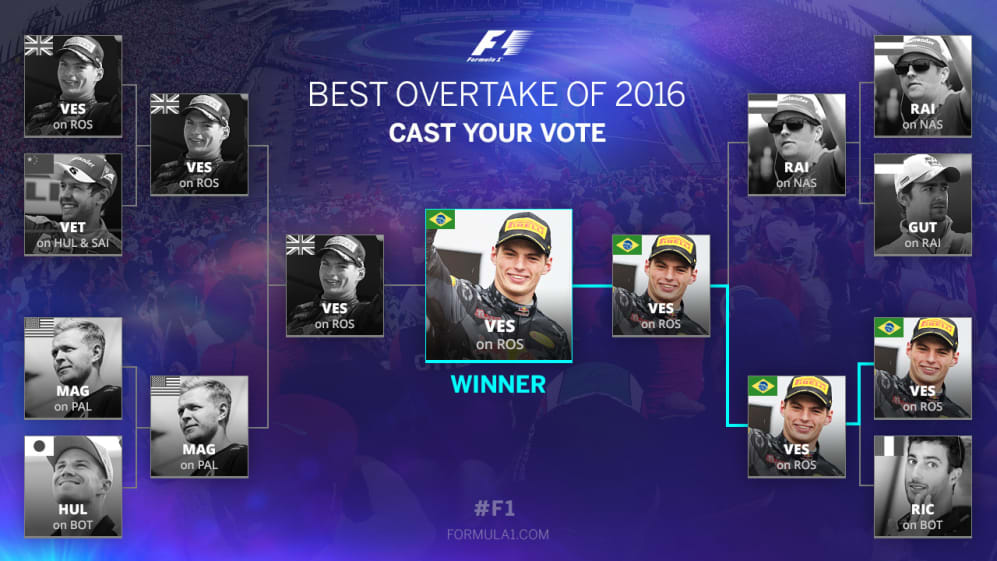 Max Verstappen had not one but two moves in the draw, and after overcoming all comers in the preliminary stages, Red Bull's teenage sensation ended up facing himself in the competition's ultimate showdown.
In both of his overtakes it was none other than 2016 world champion Nico Rosberg that Verstappen was getting the better of, but would fans prefer his around-the-outside pass in treacherous conditions in Brazil or his similarly audacious overtake in Great Britain?
The end result was emphatic - when the thousands of votes were tallied, Verstappen's Brazilian pass was the overwhelming winner, 82% to 18%.
You can see both of the Dutchman's sensational move - and our other eight picks from last season in voting order - in the video below.
Here's to more of the same in 2017!