Interview
Zak Brown Q&A: McLaren bringing out the racer in me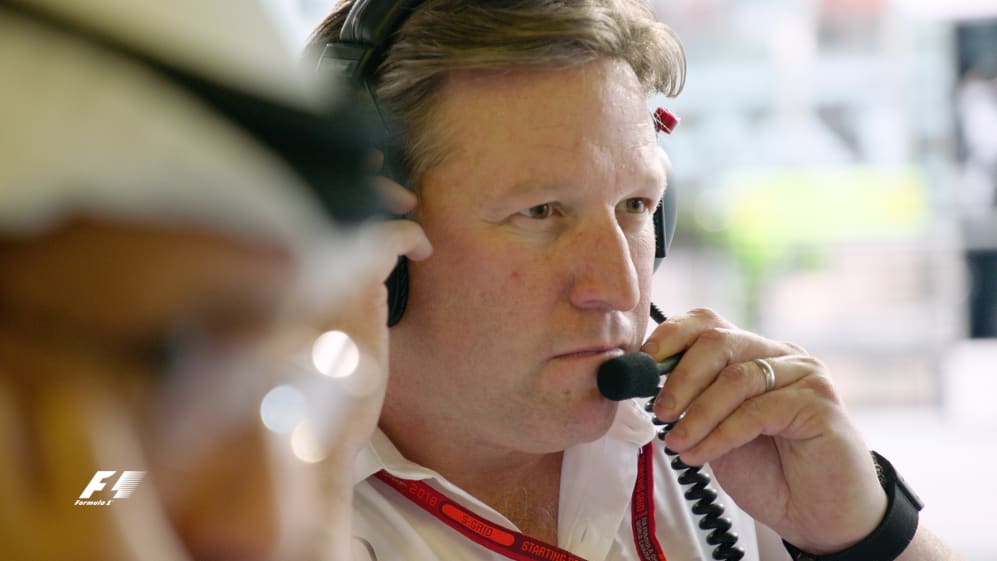 Zak Brown once dreamed of becoming a professional race driver. That dream may not have materialised, but Brown is no stranger to success in motorsport - success he intends to continue in his new role with McLaren, as Executive Director of the McLaren Technology Group. As he approaches the start of his first full season with the Honda-powered team, we caught up with him for an exclusive chat about their 2017 car, their new driver line-up, and the recent changes at the top of Formula One racing…
Q: Zak, you are still some way off reaching your first 100 days in office, but what have you learned so far from running a team like McLaren?
Zak Brown: I'm learning all the time. Every new person I meet, I learn something from. The depth and breadth of experience within the McLaren Technology Centre are incredible.
But, you know something, I've also learned something about myself. When I decided to take the McLaren job, I had a few other options. I'm not necessarily referring only to some of the high-profile positions I was linked with in the media - I considered other roles too. But my heart was always pulling me strongly towards McLaren.
And, in the short time I've been here, I'm absolutely certain I made the right decision. Why? Because I'm a racer - racing is my life - and working for McLaren has made that even more crystal-clear to me than it was before.
Here's an example. The other day I was walking from my office to the staff restaurant, and I couldn't help stopping to ogle some of the cars I was passing on my way: ex-Niki Lauda cars, ex-Alain Prost cars, ex-Ayrton Senna cars, ex-Mika Hakkinen cars, ex-Lewis Hamilton cars, et cetera, all of them world championship winners. I don't mind telling you: it makes the little hairs on the back of my neck stand up. And, of all of them, it was the ex-Ayrton cars and the ex-Mika cars that got my attention the most. Alongside Mario Andretti and Nigel Mansell, those two guys are my two biggest ever racing heroes.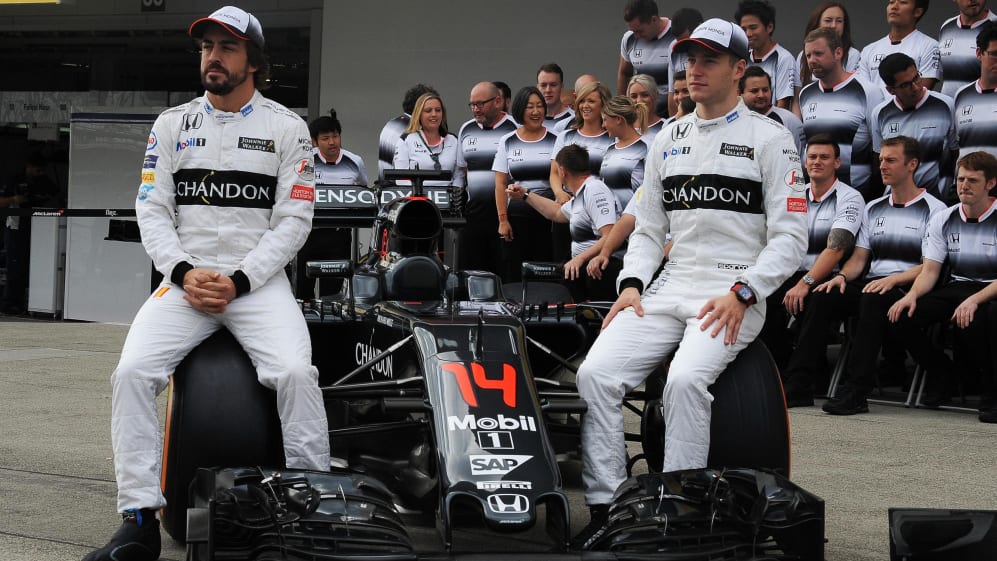 Stoffel faces a serious test. But, guess what, I think he'll pass it with flying colours
Q: McLaren have had two tough years. What indications are there that you won't have to add another at the end of the 2017 season? Is engine and chassis finally coming together?
ZB: I'm in constant touch with both Jonathan [Neale] and Eric [Boullier], and our senior engineers too, and I think our 2017 chassis will be a decent one. I'm not going to make any precise predictions - I'm not that dumb - but all the indications are that, relative to the targets we thought were realistically attainable under the new regs, our guys have done a very good job. And, by the way, while you've been interviewing me, Eric has texted me to tell me that our new car has now passed all its FIA crash tests, which is always a good moment for any Formula One team.
Also, let's not forget, Honda is a fantastic power-unit partner. No company in the world manufactures more engines than Honda does - absolutely none - and the Honda engineers have a tonne of knowledge about turbocharging.
We all know that 2015 and 2016 were learning years, and we won't be at the front of the grid in 2017 either. But we're working incredibly hard, together, as one team, and the progress is clear to see. We finished a lowly ninth in the 2015 constructors' world championship, and we improved that to sixth in 2016. We know we'll win together in the end - we don't know when so don't ask me to make that prediction - but as I say we're making progress and that's the important thing.
Q: Your 2017 driver line-up is definitely one of the more interesting ones: Fernando Alonso the double world champion - but disillusioned at times - and a hungry rookie, Stoffel Vandoorne, who tasted his first success last year when deputising for Fernando. Will old beat new - or the other way around?
ZB: First of all, I want to correct you: I don't see Fernando as disillusioned at all. I don't know him well yet, but I've met him a few times, and phoned him too, and I can tell you that he's buzzing. Also, even though our car wasn't fully competitive last season, some of his drives were stunningly good. Look, I'll be frank: I reckon he's the best driver in the world, period.
Bearing that in mind, Stoffel faces a serious test. But, guess what, I think he'll pass it with flying colours. Our personal trainers tell me he's probably the fittest driver we've ever had, and he's incredibly focused and determined. He's fiercely intelligent too - you never have to tell him anything twice.
His Grand Prix debut in Bahrain last year was sensational - he out-qualified and out-raced Jenson [Button] despite having minimal time to prepare for the weekend. In fact he only arrived in Bahrain on the Friday morning, straight off a long two-flight journey from Japan via Dubai.
I think Stoffel will surprise a few people. He's the real deal.
Q: Formula One racing is gearing up for a fantastic new season, with not only exciting new regulations, but now new owners as well. What feelings come with that news, being a newbie in your role at McLaren and never having had the famous Bernie Ecclestone 'carrot and stick' treatment?
ZB: Well, I may be a newbie in my role at McLaren but I'm certainly not a newbie in Formula One, so I'm well aware of the famous Ecclestone 'carrot and stick' treatment!
I know Bernie well and I have enormous respect for him. What he's achieved - converting a daredevil pastime practised half a dozen times a year by a handful of gentleman racers shortly after World War Two into the global sporting extravaganza that 21st-century Formula One is today - is without equal in terms of one man's contribution to his sport. As such we should all be in awe of Bernie, and massively grateful to him too.
I can't imagine he'll retire - he just isn't the retiring kind - so I'm as interested as everyone else is to see what he spends his next few years doing. But you can bet your life he won't be pruning his roses in his garden or watching TV quiz shows on his sofa. Look, just last week he was on the ski slopes in Kitzbuhel with his 30-something wife Fabiana. At 86! Respect.
Q: New F1 owners Liberty Media are an American media conglomerate who are now running what has traditionally been a very European-based race series - even if it is a world championship. You are American and found your way around in this environment - what potential pitfalls did you come across? Sports are run pretty differently over here and over there…
ZB: Good question. I'm American and proud of it - born in the USA to quote Bruce Springsteen, Los Angeles to be precise. But I now live in Oxshott, Surrey, just a 20-minute drive from the McLaren Technology Centre in Woking, and I love it. The UK has been my home, and my family's home, for quite a while now, and, although I travel a hell of a lot on business, England is now my base. I've never learned to like Marmite though, and I prefer my beer cold!
Seriously, though, the Liberty Media people are world-class operators with a truly global focus. They won't be daunted by taking on a sport whose principal players are all Europe-based, and they shouldn't be.
Also, Chase Carey, the guy whom Liberty Media has appointed as Chairman and CEO of the Formula One Group, is a seriously smart guy. And he's already hired two more seriously smart guys - Sean Bratches, whom I know well, as MD of Commercial Operations, and Ross Brawn, who can hardly be accused of being unused to the culture of Europe-based Formula One, as MD of Motor Sports.
Finally, although the way Bernie has taken Formula One into the Middle East and Asia has been brilliant - we now race in Bahrain, Abu Dhabi, Azerbaijan, China, Malaysia, Singapore and Japan - we shouldn't ignore the United States. In fact I believe the US represents something of an untapped territory as far as Formula One is concerned, from a fan-engagement point of view as well as from a commercial point of view. And I think Liberty Media will spearhead that US-focused fan-engagement and commercial effort, and as an American myself I'm very keen to make sure that McLaren is at the forefront when it comes to reaching out to fans and sponsors across the pond. And of course we really need another Grand Prix on US soil - New York, Miami or Las Vegas would be fantastic.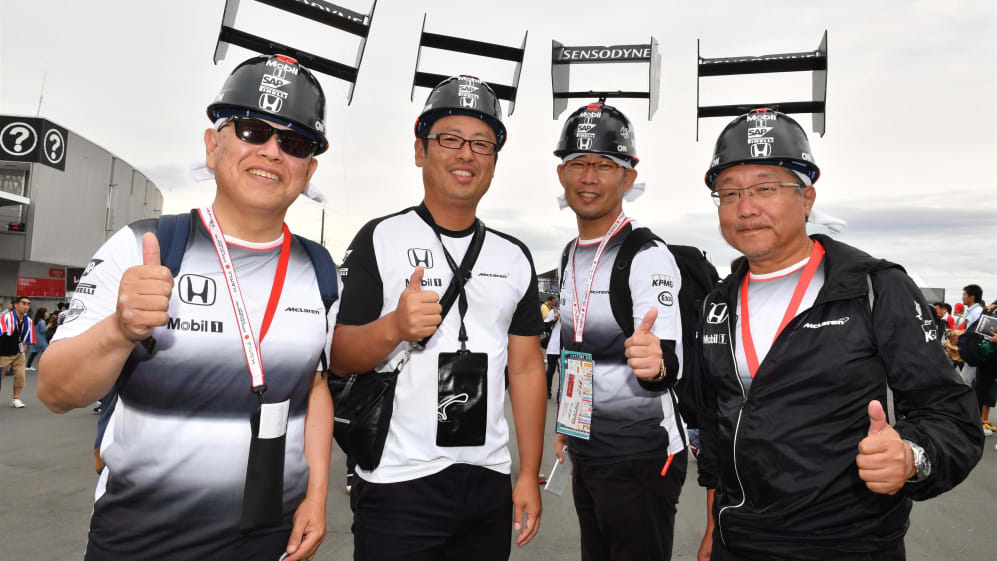 McLaren's fans are the best in the world, I firmly believe that
Q: You are a marketing man: what would your plan be for marketing Formula One racing?
ZB: Ha ha ha! If you think I'm going to reveal my entire marketing philosophy to you, you're mistaken! Formula One teams guard their commercial and marketing secrets every bit as closely as they protect their confidential engineering and technology, and rightly so.
But what I'll gladly share with you is that we at McLaren regard fan engagement as the most important aspect of modern marketing. Without the fans, without the bums on seats in grandstands or indeed on sofas in front of TVs at home - iPads and iPhones at hand increasingly often too these days - Formula One couldn't exist. It's crucial that we all remember that.
The biggest change in sports marketing in recent years has been the arrival and widespread adoption by sports fans of social and digital media. McLaren's digital and social media platforms are busy, vibrant, popular and successful, and we have almost seven million social media followers now. I'm active on social media myself, as is Eric, as are both Fernando and Stoffel. It's important - but it's also fun.
McLaren's fans are the best in the world, I firmly believe that. The past few seasons have been a bit disappointing for them, I realise that, but their loyalty has never wavered. And, guess what, we reward that kind of loyalty. Just last week we invited a couple of dozen McLaren 'super fans', if I can call them that, to the McLaren Technology Centre, and I met every one of them. I follow every one of them on Twitter now too. They met Stoffel as well - and every one of them got to race him around Monaco in a mini version of our simulator. Stoffel was the quickest of course, as you'd expect, but some of them were pretty quick too. We really enjoyed hosting them, and we'll do it again.
Q: Liberty Media have announced a triumvirate management model. McLaren's is a bit more modest - a dual leadership structure with you and Jonathan Neale. Is the time of single leadership over? Has F1 racing become too complex for only one person?
ZB: Jonathan and I have already developed a really good working relationship, and our dual leadership model, to use your phrase, is working well. But don't forget that we report to the Executive Committee, which comprises Sheikh Mohammed of the Bahrain Mumtalakat Holding Company and Mansour Ojjeh of TAG Holdings.
McLaren consists of 3,300 people these days. The majority of them work for McLaren Automotive, run by Mike [Flewitt] outside my directorial remit, which is now building some of the finest sports cars in the world today - my 675LT is absolutely fantastic - but roughly 1,000 of them work for McLaren Racing, McLaren Marketing and McLaren Applied Technologies, and I've been incredibly impressed by those people's passion and commitment in the short time I've been working with them.
So your question is a bit of a misnomer, because there are brilliant business leaders throughout McLaren, and the workforce is excellent from top to bottom. So, to answer your question precisely, therefore, the sport has always been too complex for only one man, because Formula One has always been a team sport, is now, and always will be. And we've got a great team.
Q: So far everybody can only guess as to who will be hot and who not on the 2017 grid. What would satisfy Zak Brown at the end of the season?
ZB: I'll be satisfied if we're making progress, on track and off, technically and commercially. And we will be.