Zhou recounts stunning Monaco save while Bottas buoyed by another points finish
Zhou Guanyu pulled off an incredible save to stop himself careering into the barriers – or another car – in chase of Yuki Tsunoda at Monaco. While he didn't score points, his Alfa Romeo team mate Valtteri Bottas was pleased to recover from P12 to P9 on a challenging weekend.
Carlos Sainz wasn't the only driver to rescue his car in a spectacular show of reflexes on Sunday, as Zhou was forced to pull off a similarly stunning move as he hurtled towards the Nouvelle Chicane and the AlphaTauri of Tsunoda late in the Monte Carlo race. Afterwards, Zhou joked on the radio that he needed "new pants" – no surprise, given the close call…
READ MORE: 'We need to see how we move forward from here' – Steiner unhappy over Schumacher's Monaco crash
"It was a very scary moment," said the rookie afterwards, "but I was trying so hard every lap trying to get there, and that lap I think was the closest ever I had got to him – but obviously there is not much of slipstream you can gain in the tunnel, so I did a dive bomb on the inside and he moved a little in the last minute.
"So, I to avoid a little bit, and there was a wet patch, so I lost the whole rear on the initial peak, and I was I think lucky to catch it and after that the tyre was pretty bad for a few laps so I couldn't do much afterwards."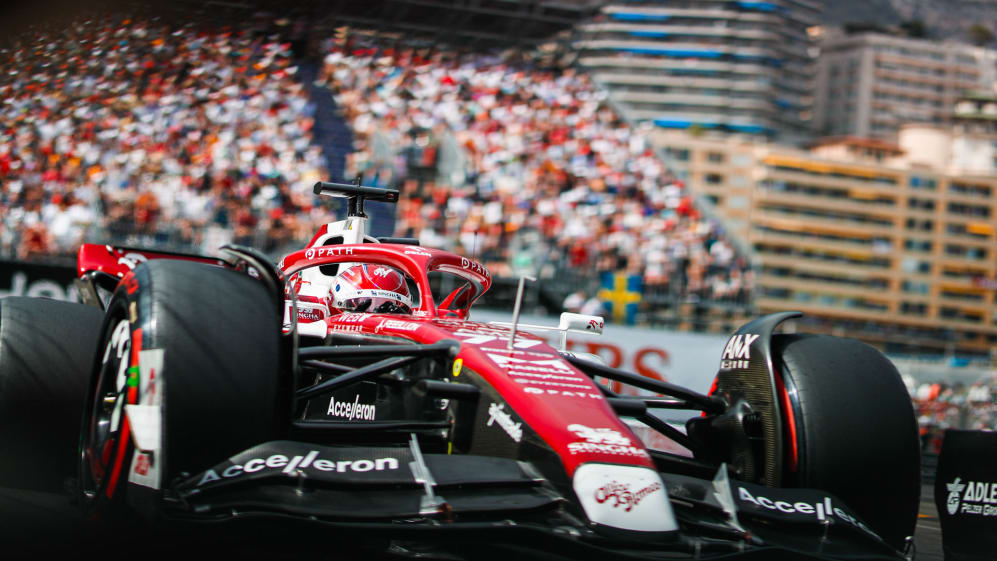 Late mistakes from Tsunoda saw Zhou finish ahead of him in 16th, yet the Alfa Romeo driver was pleased to gain some valuable experience – having started 20th.
"I'm happy I kept the car on track and overall, the pace was quite good, progress [too] and obviously maybe matching the guys ahead as well, so yes, I think it's a good learning curve. But obviously starting in last, there was not much I [could do to] really move ahead."
READ MORE: The Red Bull strategy calls that wrong-footed Ferrari after Perez's crucial qualifying crash in Monaco
Bottas also made up a few places, starting 12th and finishing ninth – extending to five his run of consecutive points finishes and keeping Alfa Romeo fifth in the constructors' championship ahead of the Azerbaijan Grand Prix. Was he pleased?
"Yes, absolutely," replied Bottas. "And also, yesterday's qualifying position, it was expected to be tricky, out of the top 10, but we made it to ninth eventually, so that's a good day in Monaco if you can make up a few places, so we will definitely take the points.
"In the race it felt a bit better than how it felt in the qualifying in terms of the feeling. Very changeable conditions but I'm glad we made all the right calls today and ended up in the points."