'We need to see how we move forward from here' – Steiner unhappy over Schumacher's Monaco crash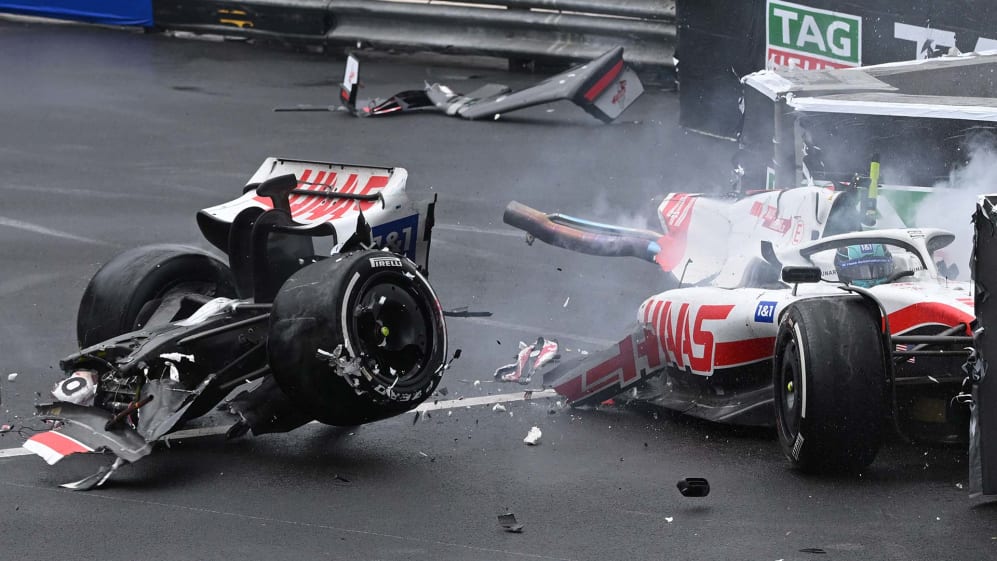 It was a relief for race fans to see Mick Schumacher walk away unharmed from a big Lap 27 crash at the 2022 Monaco Grand Prix. But although the German driver labelled the accident "very annoying", Team Principal Guenther Steiner was more critical about his driver's second major shunt of the season...
Running outside the points, Schumacher was chasing the Alfa Romeo of Zhou Guanyu through the Swimming Pool complex when he lost the rear of his Haas VF-22, spearing right into the barriers before sliding heavily into the Tecpros – ending up in the same spot as Daniel Ricciardo's FP2 crash on Friday.
READ MORE: Perez wins a captivating wet-dry Monaco Grand Prix as Leclerc falls from pole to P4
With the rear of the car ripped from the main chassis and coming to rest alongside Schumacher, the German was able to extract himself from the cockpit before being checked over by the medical staff – and then speaking with the media, where he called the crash "very annoying".
"I'm feeling alright," said Schumacher. "Obviously it's very annoying. I think in terms of pace we were definitely there, it's just a matter of keeping it on track, and unfortunately I wasn't able to do that.
"The pace felt strong, and it felt like we were able to attack and push. We just ended up being a little too wide, which is maybe a matter of 10cm at the end, and that was enough to lose all grip that you thought you had. And unfortunately the result is as it happened."
With team mate Kevin Magnussen retiring just prior to Schumacher's incident with a power unit issue, Team Principal Guenther Steiner was spotted storming through the paddock, as Haas's 100% finishing record in Monaco came dramatically undone.
But with Schumacher having also suffered a major crash in qualifying for the Saudi Arabian Grand Prix – which forced him to miss the race – Steiner issued a curt warning to his sophomore driver after the Grand Prix.
READ MORE: Leclerc brands Monaco race 'a freaking disaster' after dropping from pole to P4 in first finish at home
"With Mick we obviously saw what happened," said Steiner. "It's not very satisfactory having a big crash again. We need to see how we move forward from here."
Haas's Monaco result means the team have now failed to score in the last three Grands Prix, as they remain eighth out of 10 teams in the constructors' standings.