2005 - Round 17 of 19
BEFORE  -  1. Alonso, 111 pts; 2. Raikkonen, 86 pts
AFTER  -   1. Alonso, 117 pts; 2. Raikkonen, 94 pts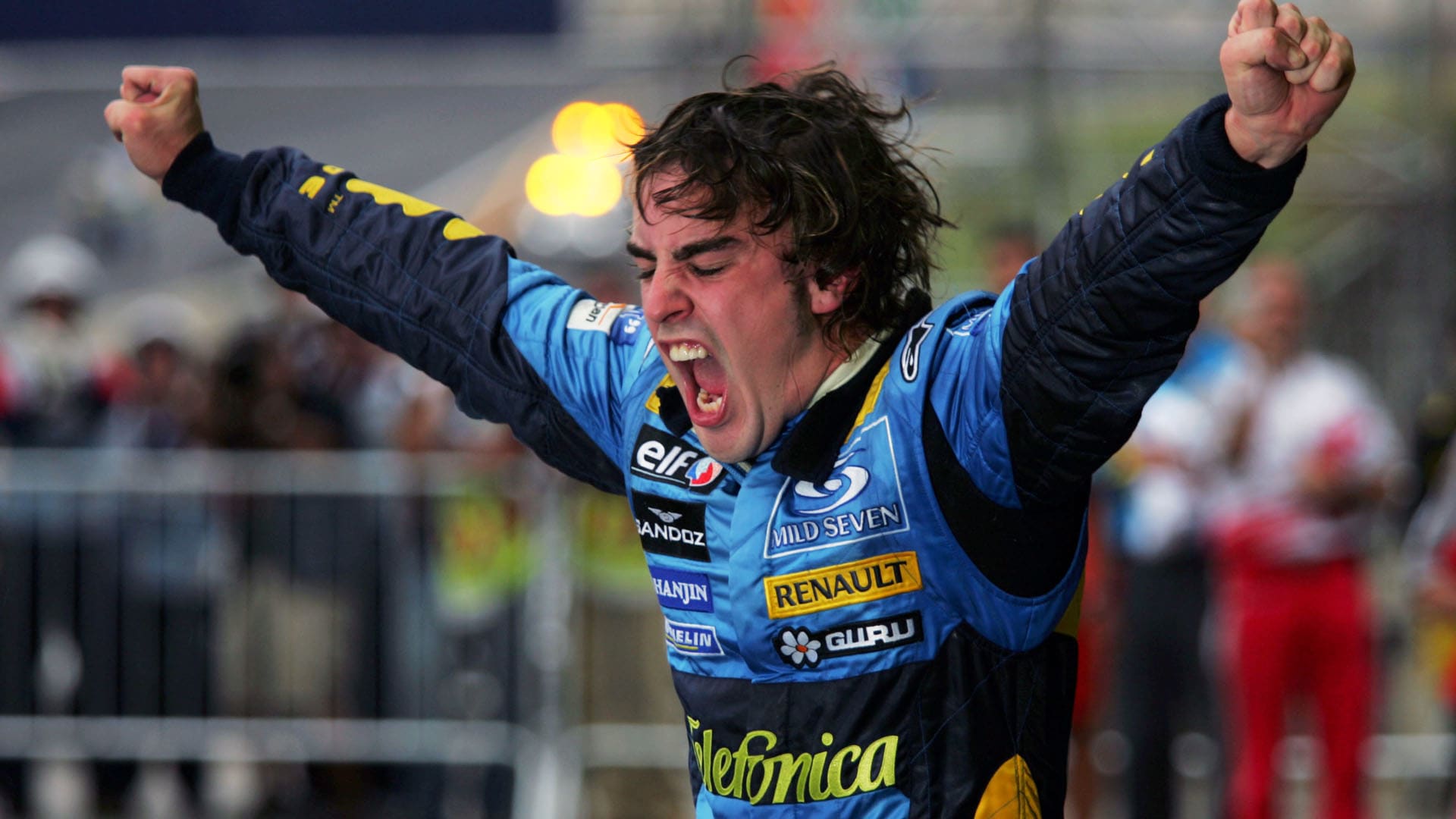 After five years of Ferrari dominance, it was Renault's Fernando Alonso who grabbed the 2005 championship by the scruff of the neck with victories in three of the first four races catapulting him into an early lead. McLaren, though, soon came to the fore, the superlative pace of the MP4-20 undermined only by suspect reliability. Kimi Raikkonen led the fightback, and by Belgium, Round 16, the Finn had six triumphs to his name - the same as Alonso. Even so, the Renault man was in a commanding position, his unerring consistency earning a 25-point advantage heading into Interlagos. Raikkonen's slim hopes of keeping the title alive dwindled as Alonso took pole, with the McLaren man lining up fifth. By the flag Raikkonen had fought through to second, behind team mate Juan Pablo Montoya - but there was no stopping Alonso. Third gave the Spaniard an unassailable points lead - and therefore a first world championship crown.
 
2006 - Round 18 of 18
BEFORE  -  1. Alonso, 126 pts; 2. Schumacher, 116 pts
AFTER  -   1. Alonso, 134 pts; 2. Schumacher, 121 pts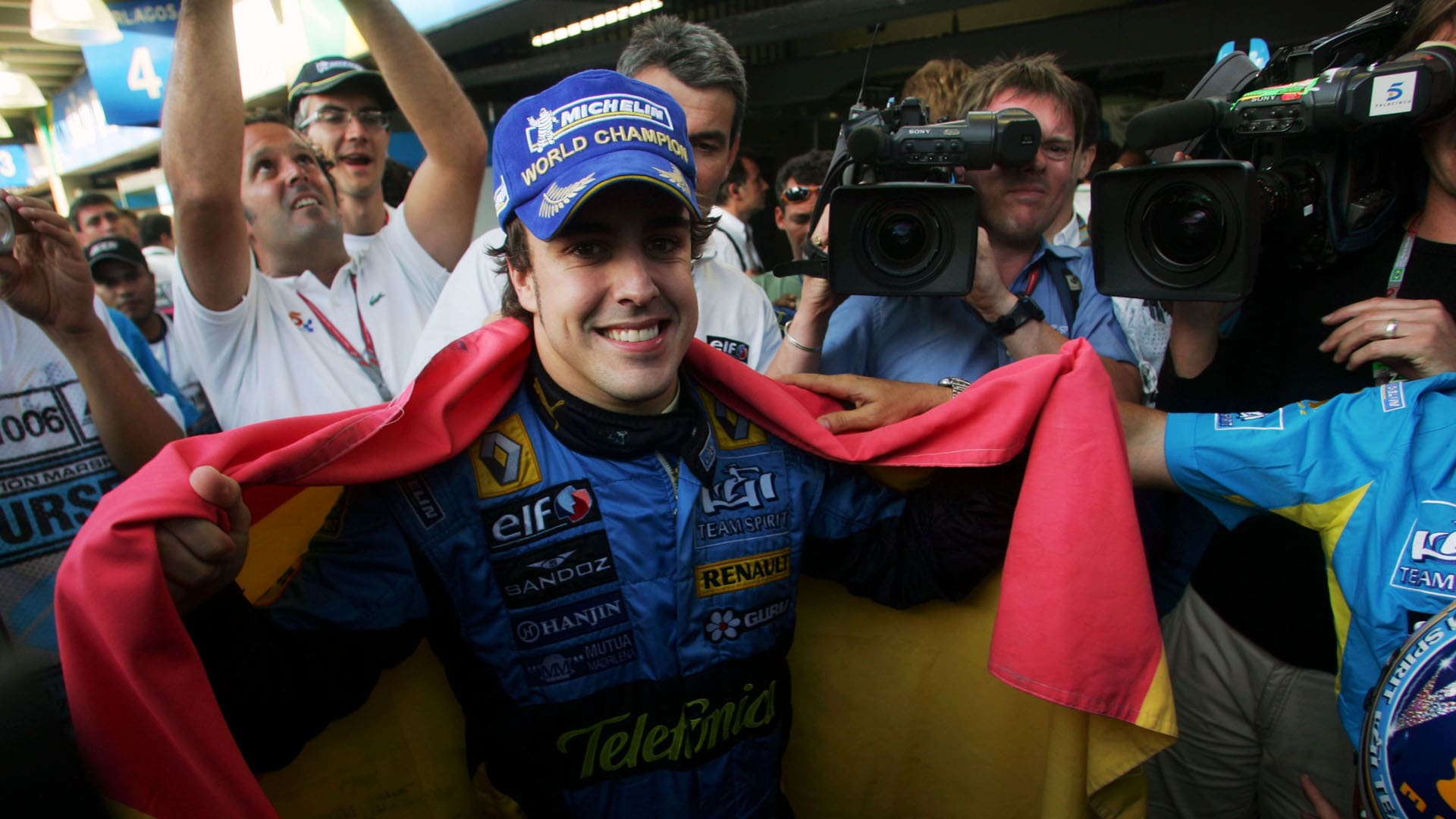 One year on, and Alonso was involved in another championship scrap - although this one went down to the wire. Seven-time world champion Michael Schumacher was the adversary, with the German's somewhat surprise retirement announcement - and Alonso's decision to switch to McLaren - adding yet more intrigue to a tense, and at times heated, rivalry. Ferrari and Renault dominated throughout, winning all but one race. It was Alonso who held sway for much of the season, but with two races to go Schumacher wrested the championship lead from the Spaniard, level on points but ahead on countback. Disaster struck in Japan, however - Schumacher's engine blew while he was leading, handing Alonso a victory that moved him 10 points clear. With the title on the line in Brazil, Schumacher suffered more misfortune: a glitch in qualifying left him 10th, while he also suffered an early puncture in the race itself. He fought back valiantly to finish fourth - but could do nothing to derail Alonso, who enjoyed a comparatively smooth route to second on the road, and a second championship crown.

2007 - Round 17 of 17
BEFORE  -  1. Hamilton, 107 pts; 2. Alonso, 103 pts; 3. Raikkonen, 100 pts
AFTER  -   1. Raikkonen, 110 pts; 2. Hamilton, 109 pts; 3. Alonso, 109 pts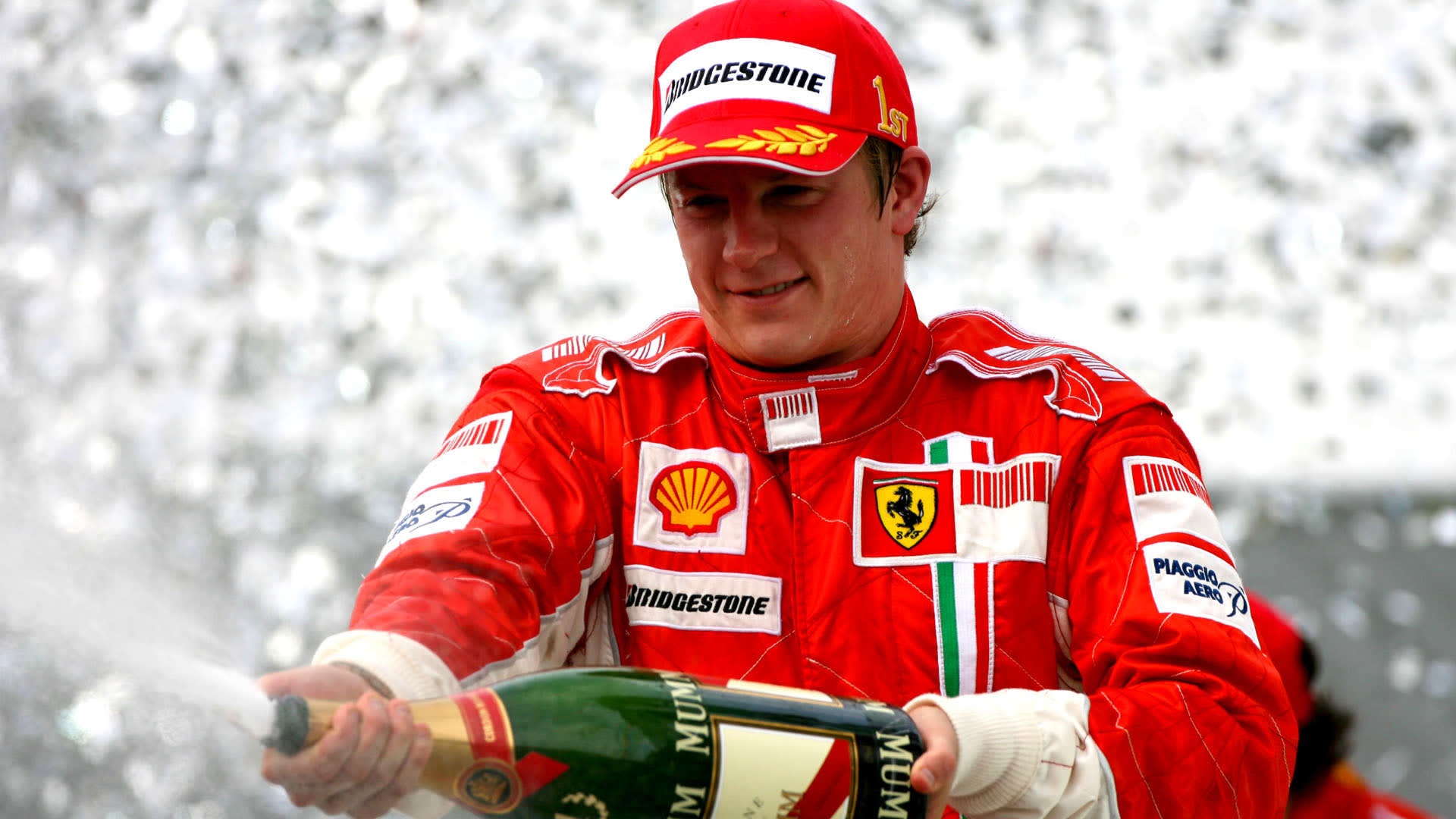 Three men headed into Brazil in with a shout of the title in 2007 – and it was Kimi Raikkonen who came from furthest back to snatch the ultimate prize. For much of the season the Finn had appeared an outside bet for the crown, with McLaren's new signing Fernando Alonso or rookie starlet Lewis Hamilton looking more likely champions. But as tensions frayed - and mistakes crept in - within the McLaren camp, Raikkonen racked up the points. Six straight podiums kept him within mathematical touching distance going into Brazil, but even so the title was Hamilton's to lose. The Briton's four-point cushion quickly became a deficit, however: an error on the opening lap, coupled with a gearbox problem, limited him to seventh at the flag. Alonso, meanwhile, was third, but it wasn't enough: Raikkonen, ceded first by Ferrari team mate Felipe Massa, had prevailed on the road and in the title race, overturning a 17-point deficit in the final two races.

2008 - Round 18 of 18
BEFORE  -  1. Hamilton, 94 pts; 2. Massa, 87 pts
AFTER  -   1. Hamilton, 98 pts; 2. Massa, 97 pts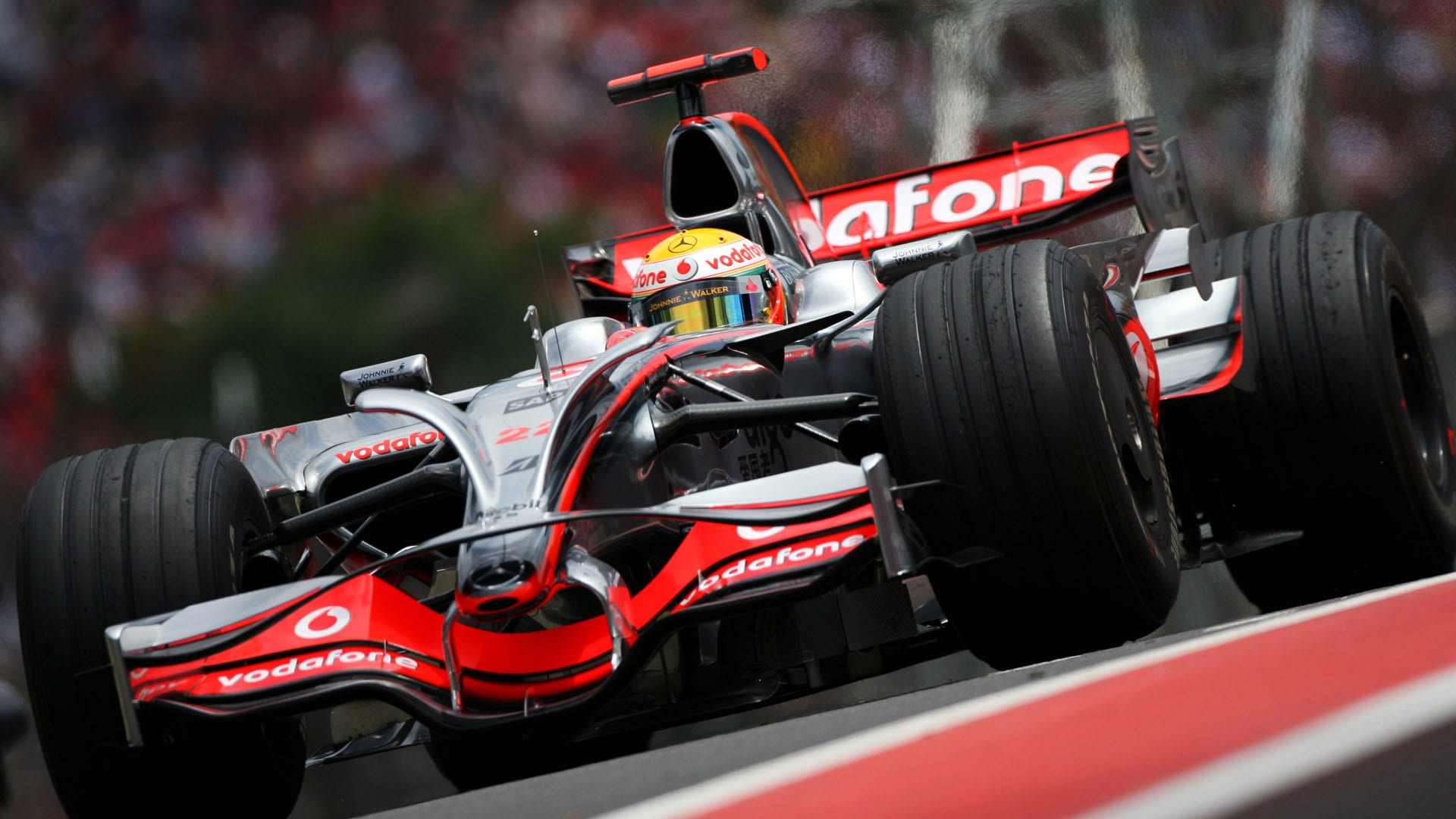 No season finale can match the drama of 2008 as Lewis Hamilton and Felipe Massa laid on the finest of sporting theatre. The pair had duelled ferociously all season, momentum swinging constantly as brilliance, mistakes and misfortune came thick and fast. By China, the penultimate round, Hamilton had gained the upper hand in terms of points, although both he and Massa sat level on five wins. It all came down to Interlagos. Massa claimed pole, and led as the lights eventually went out following a 10-minute rain delay. Hamilton, meanwhile, looked secure, needing only to finish in the top five to clinch the title. There was a twist in the tale though: the rain returned and, as drivers pursued differing strategies, Hamilton was suddenly bumped to sixth. He was still in that position when Massa crossed the line, and a partisan home crowd erupted in celebration. Fortune had one more card to play though: into the last corners of the last lap, Hamilton, on intermediate tyres, picked off Toyota's slick-shod Timo Glock. The title - by one point - was his.

2009 - Round 16 of 17
BEFORE  -  1. Button, 85 pts; 2. Barrichello, 71 pts; 3. Vettel, 69 pts
AFTER  -   1. Button, 89 pts; 2. Vettel, 74 pts; 3. Barrichello, 72 pts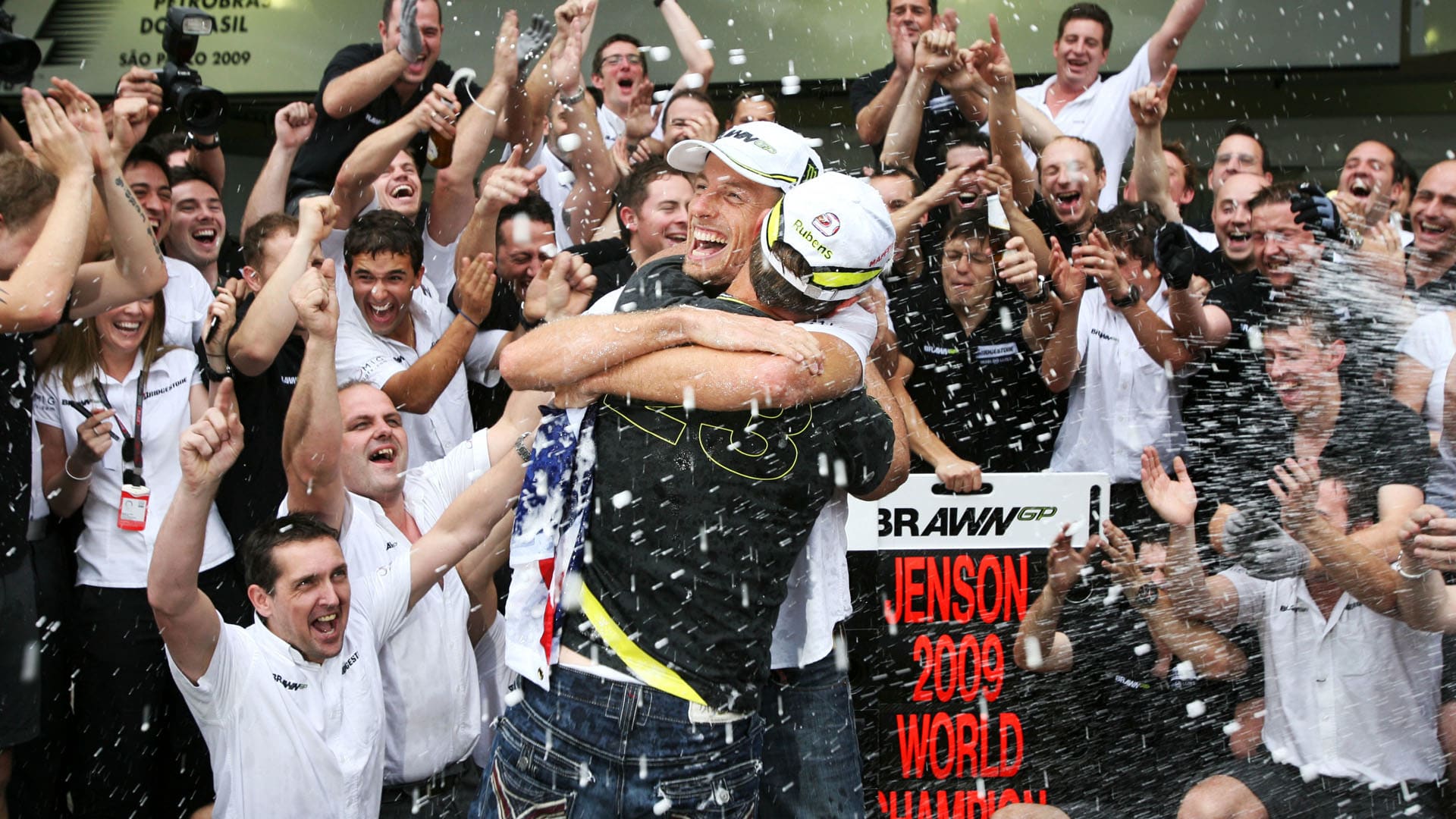 After 2008's epic denouement came 2009's fairytale, as the Brawn team emerged from the ashes of Honda's withdrawal to take the season by storm. Jenson Button was at the forefront, winning six of the opening seven races to build a comprehensive championship lead. But a subsequent fallow period, during which the field closed Brawn's early technical advantage, allowed team mate Rubens Barrichello and Red Bull's Sebastian Vettel to close. A much-needed podium in Italy gave Button breathing room, and meant he arrived at Interlagos - now hosting the penultimate round of the season - 14 points clear. Qualifying ramped up the tension - as the heavens opened Barrichello claimed pole, while Button and Vettel were mired down in 14th and 15th respectively. The Brazilian led in the early stages, but fortune chose not to smile on him: his race unravelled and he eventually fell away to finish eighth. At the same time Vettel and Button surged forward - and while Vettel beat the Briton to fourth, Button had done enough to clinch a first world championship crown.

2012 - Round 20 of 20
BEFORE  -  1. Vettel, 273 pts; 2. Alonso, 260 pts
AFTER  -   1. Vettel, 281 pts; 2. Alonso, 278 pts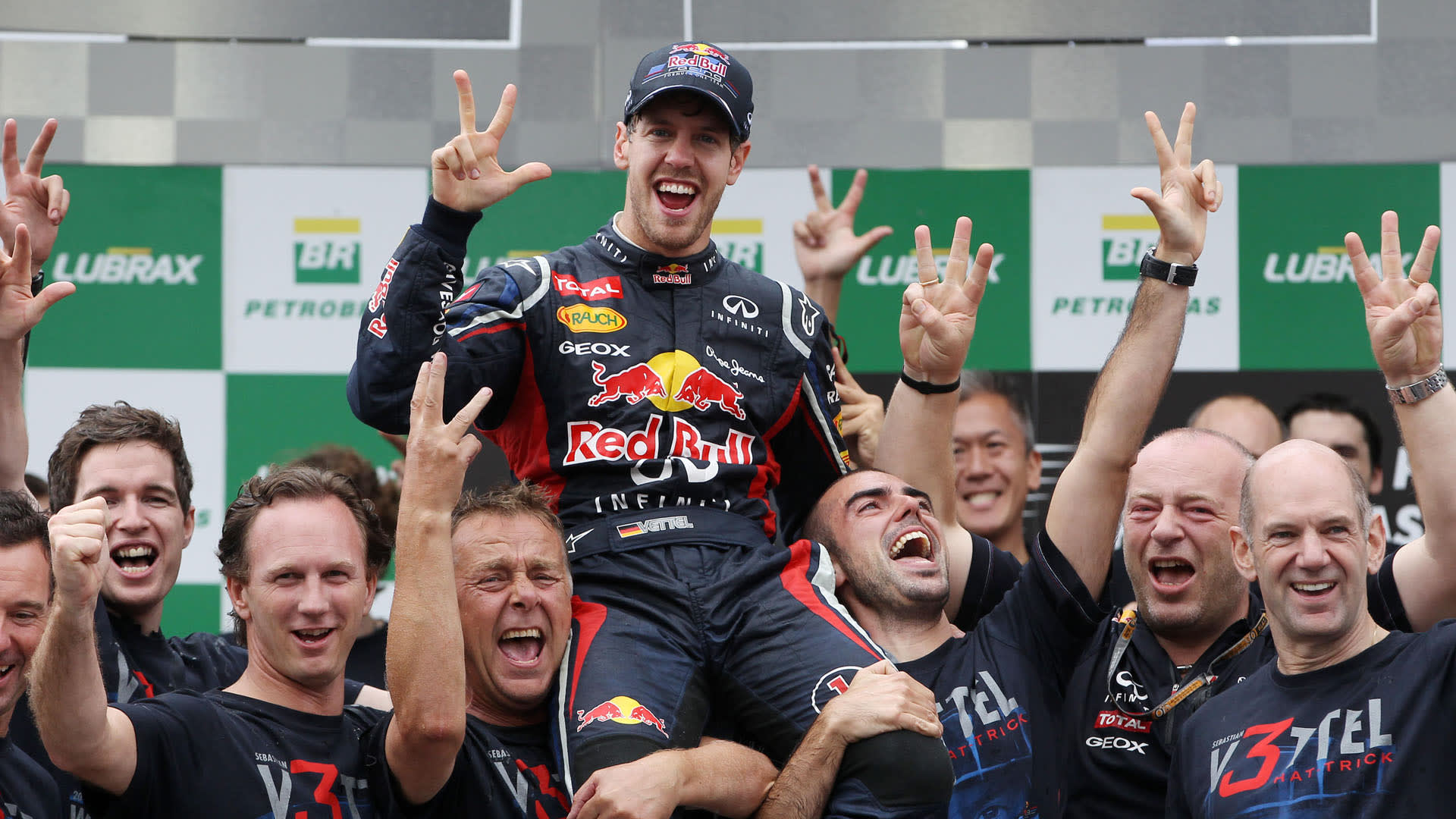 New records were set as seven different drivers triumphed in the opening seven races of 2012 - but by mid-season one driver had managed to pull clear of the pack: Fernando Alonso. In what was arguably his finest season to date, the Spaniard was 34 points ahead at the mid-point of the year, and 29 points clear heading into the final stretch. Defending champion Sebastian Vettel began to hit back though: victory in consecutive races in Singapore, Japan, Korea and India moved the German ahead, and by the USA, the penultimate round, the Red Bull man led Alonso by 13 points. It all came down to Brazil - and once again Interlagos delivered a stunning climax. The drama centred around the opening lap - Vettel got a poor getaway from fourth, and was then tagged by Bruno Senna at Turn 4. Suddenly facing the wrong way amidst a charging throng of cars, Vettel somehow emerged unscathed and without serious damage. Advantage Alonso - but Vettel wasn't giving up. Despite a slow stop, and a large crack opening up on the floor of his car, the German began to fight his way back up the order. The decisive move came 14 laps from the end, as Vettel recaptured seventh - enough to make him champion if he made it to the flag. He went one better: Michael Schumacher's generosity gave him sixth, and with it a third world title. 

2016 - Two races to go
GOING INTO BRAZIL - 1. Rosberg, 349 pts; 2. Hamilton, 330 pts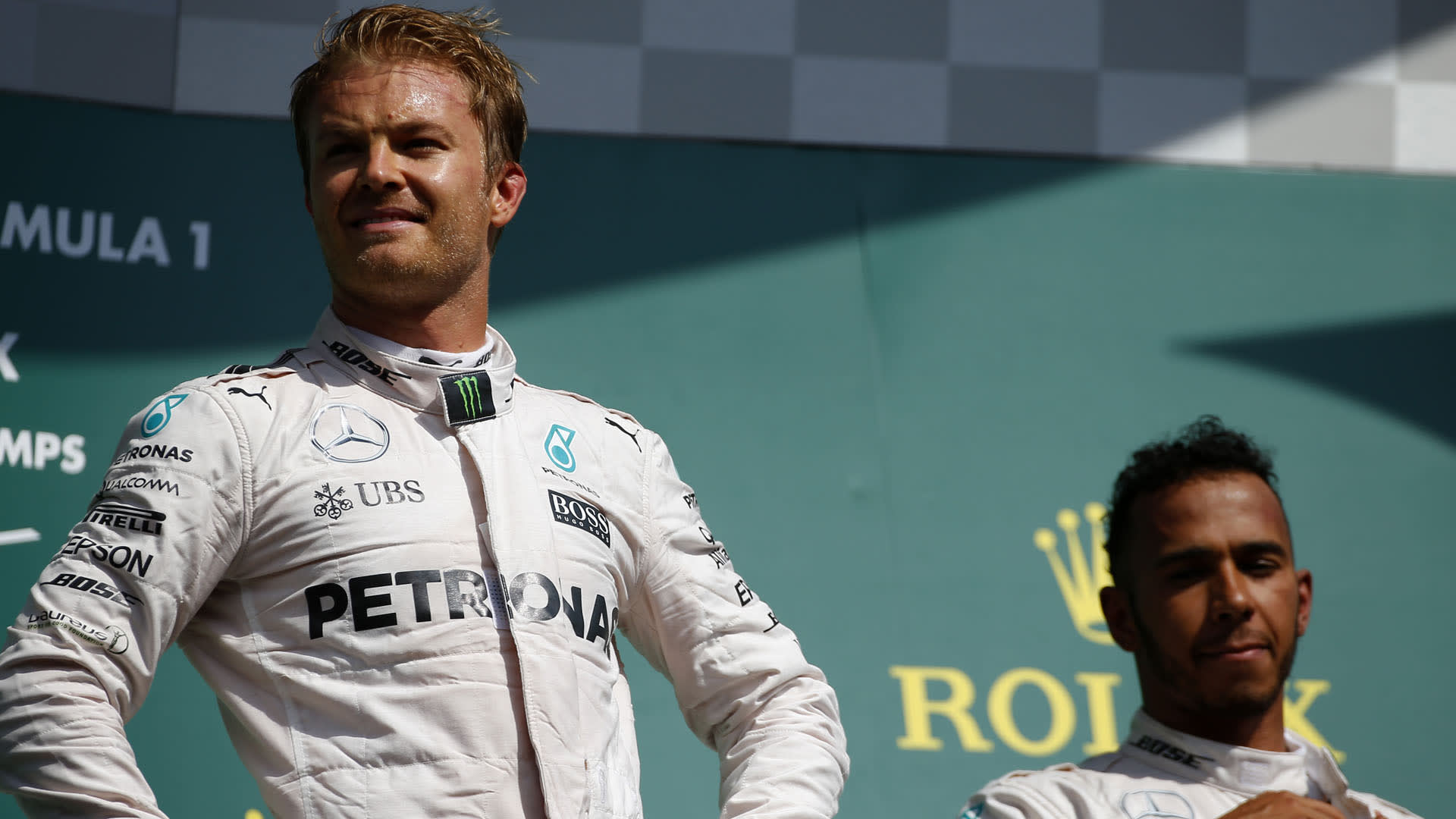 After two years of being bested by his team mate, Nico Rosberg has the opportunity to strike back next weekend in Brazil. Momentum has swung between the pair over a fiercely contested season, but the basic equation is now simple. Win, and a first championship crown will be his. Having prevailed at Interlagos for the last two seasons, does history beckon for Rosberg in 2016?