THE RECORD BREAKERS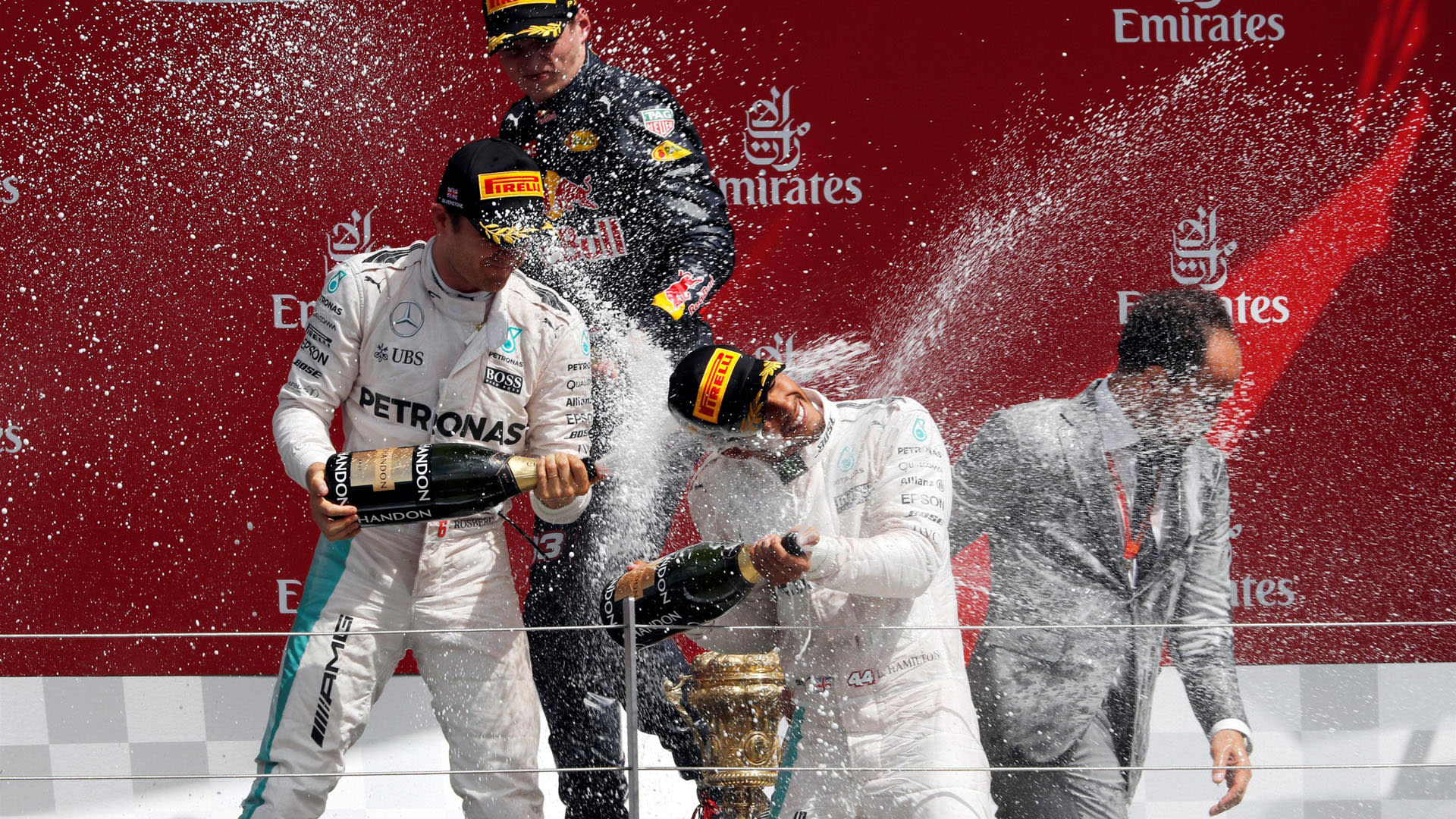 Where to start other than with Max Verstappen? The Dutchman became F1's youngest winner when he triumphed in Spain at the age of 18 years, 7 months and 15 days. The previous record belonged to Sebastian Vettel, who was 21 years, 2 months and 11 days old when he won at Monza in 2008.


In the same race Verstappen also became the youngest driver in history to lead a Grand Prix, and to finish on the podium. He added to those records later in the season: in Belgium he became the youngest driver to qualify on the front row, while in Brazil he became the youngest to set a fastest lap in F1. Oh, and he's also the first man from the Netherlands to ever win in F1.


Lewis Hamilton also made a habit of breaking records in 2016. He moved into second in the all-time wins list with 53 victories, overhauling Alain Prost on 51 - only Michael Schumacher, on 91, now sits above the Briton.


Hamilton also became only the third driver in history, after Schumacher and Prost, to reach 100 Grand Prix podiums (he ended the year on 104, with Prost on 106 and Schumacher on 155). In Austria, Hamilton scored Great Britain's 250th Grand Prix win - the first nation to reach that mark. In Spa, he became the first driver in history to have claimed three podiums from 20th on the grid or lower. And in Brazil, he triumphed on a 24th different F1 circuit - a record no other driver in history can match.


Great Britain had another record breaker in the form of Jenson Button, who broke through 300 Grand Prix starts in 2016. Only two other drivers have done likewise - Schumacher on 306 (one ahead of Button's end-of-year tally) and Rubens Barrichello, on 322.


Hamilton, however, ended the year with one unwanted record: no other driver in history has won 10 times in a single season and not been crowned champion (the previous record was seven).


With Nico Rosberg scoring nine wins, Mercedes ended the year with 19 wins in total - a new record over a single season. That broke the Silver Arrows' own record of 16, set in 2014 and '15.


And speaking of Nico Rosberg, the German followed father Keke in becoming an F1 world champion. That has only ever happened once before - Graham and Damon Hill, who account for three world championships in total (1962, '68 and '96).


THE DRIVERS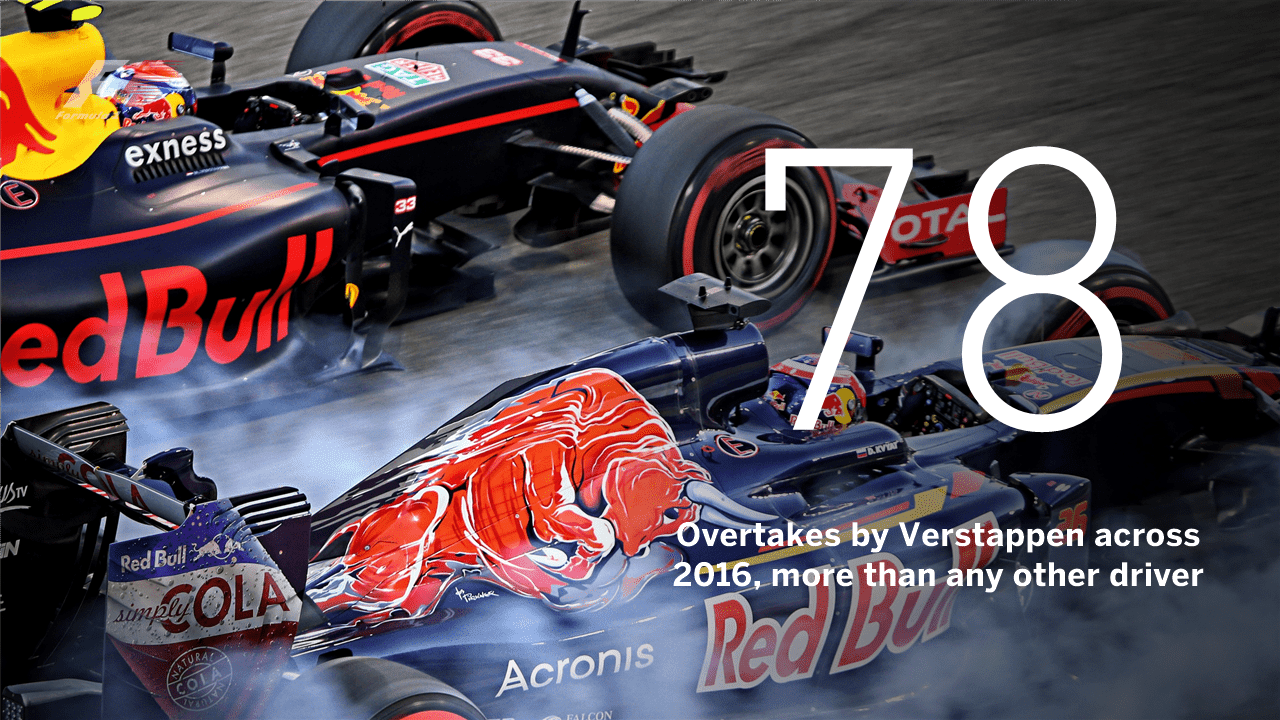 Most wins: 10 - Lewis Hamilton; 9 - Nico Rosberg; 1 - Max Verstappen, Daniel Ricciardo


Most poles: 12 - Lewis Hamilton*; 8 - Nico Rosberg; 1 - Daniel Ricciardo
* This is a new career high for Hamilton, whose previous best came last year, with 11


Most podiums: 17 - Lewis Hamilton; 16 - Nico Rosberg; 8 - Daniel Ricciardo; 7 - Max Verstappen, Sebastian Vettel; 4 - Kimi Raikkonen; 2 - Sergio Perez; 1 - Daniil Kvyat, Valtteri Bottas


Laps led: 566 - Lewis Hamilton; 489 - Nico Rosberg; 90 - Sebastian Vettel; 74 - Daniel Ricciardo; 42 - Max Verstappen; 7 - Kimi Raikkonen


Front-row starts: 20 - Nico Rosberg; 15 - Lewis Hamilton; 4 - Daniel Ricciardo; 1 - Valtteri Bottas, Nico Hulkenberg, Max Verstappen


Total distance raced (all drivers combined): 123,536km - or roughly three times the circumference of Earth


Most laps completed: Daniel Ricciardo (1267); Sergio Perez (1260); Nico Rosberg (1202)


Fewest laps completed*: Jolyon Palmer (961); Daniil Kvyat (969); Romain Grosjean (1030)
* Only from drivers who completed a full season 


Most overtakes: 78 - Max Verstappen; 61 - Daniel Ricciardo; 56 - Sergio Perez; 52 - Fernando Alonso; 49 - Valtteri Bottas
Incidentally, Sebastian Vettel was only subjected to one 'successful' overtake - by Verstappen in Brazil


Total overtakes: 866, just four shy of 2012's record


Best team mate head-to-head record: Carlos Sainz beat Daniil Kvyat 9-2 in races, 11-6 in qualifying, and outscored the Russian 42 points to four during their time together at Toro Rosso.


And finally, Rosberg's championship success means Sir Stirling Moss regains his 'crown' as the driver to have won the most F1 races (16) without being champion.


THE TEAMS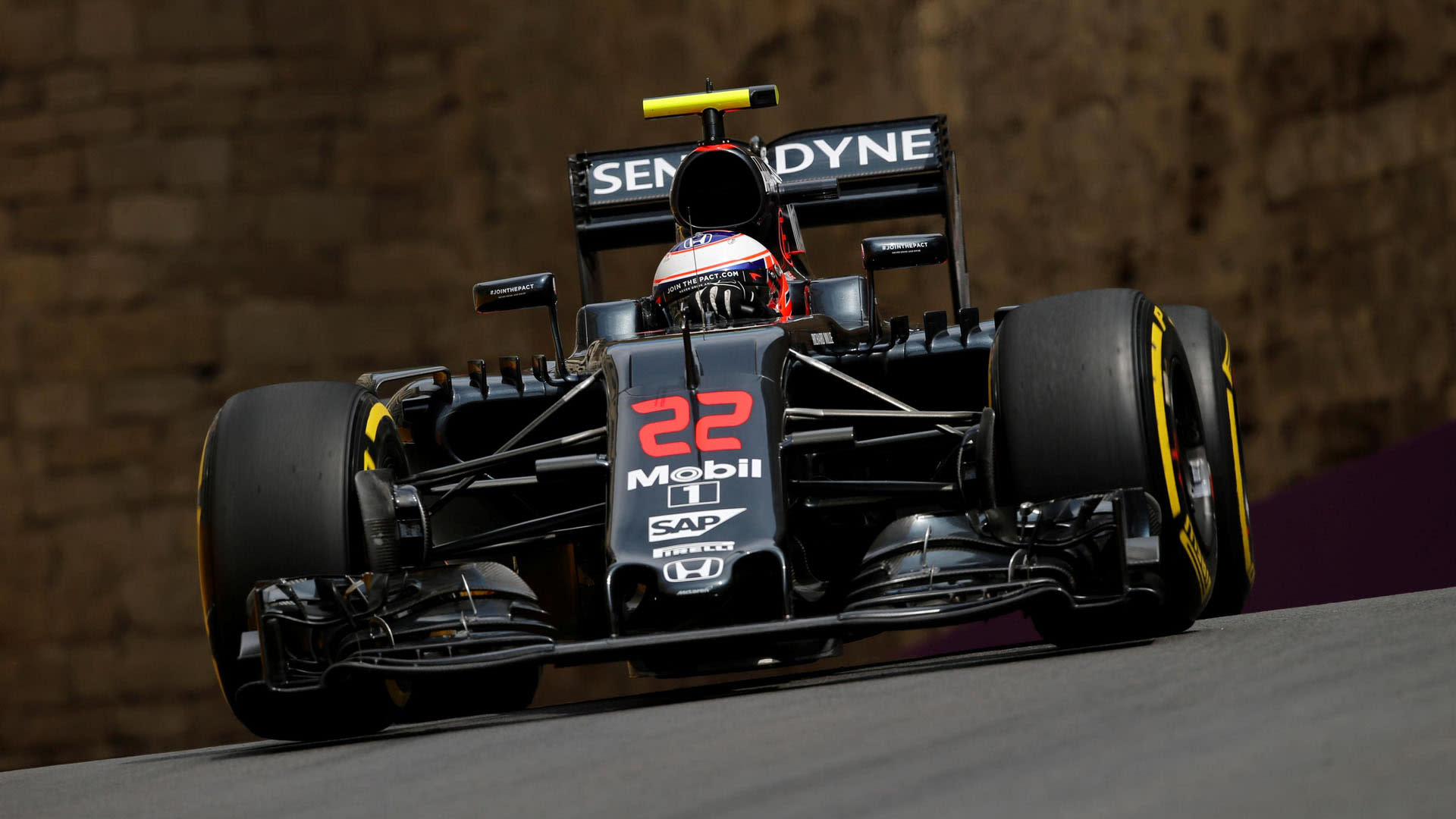 Aside from their record wins (19) and poles (20), Mercedes also claimed 35 front-row starts in total, from a possible 42 (a conversion rate of 83 percent). Red Bull scored five front rows, while Williams and Force India secured one apiece.


Mercedes also overtook Red Bull in the all-time wins count. The Silver Arrows now have 64 wins in total, if you include their success in the 1950s - lifting them above Red Bull (52) and into fifth in the all-time list.


Red Bull, though, led the way for total laps raced, on 2,404 - 16 ahead of Mercedes. Renault were bottom of the pile, with 2,038 laps completed.


McLaren, meanwhile, reached 801 Grand Prix starts in 2016. Ferrari (929) are the only other team to have surpassed the 800-race mark.


Haas enjoyed a very successful start to life in F1 - in fact their return of 29 points represents the best maiden season by any team this century. They are also the first team to score points on debut since Toyota in 2002 - and the first US-based team to score points since 1986.


Most podiums: 33 - Mercedes; 16 - Red Bull; 11 - Ferrari; 2 - Force India; 1 - Williams


Off track, Williams were unstoppable. They accounted for the fastest pit stop at 14 of this year's 21 races (next up were Red Bull and Mercedes with three each). Not only that, but Williams posted a stop of 1.92s in Baku, matching Red Bul''s unofficial all-time record.


Williams were also top of the speed charts in 2016 - Valtteri Bottas clocked a staggering, near-record 372.5km/h on the straights of Mexico.


THE RACES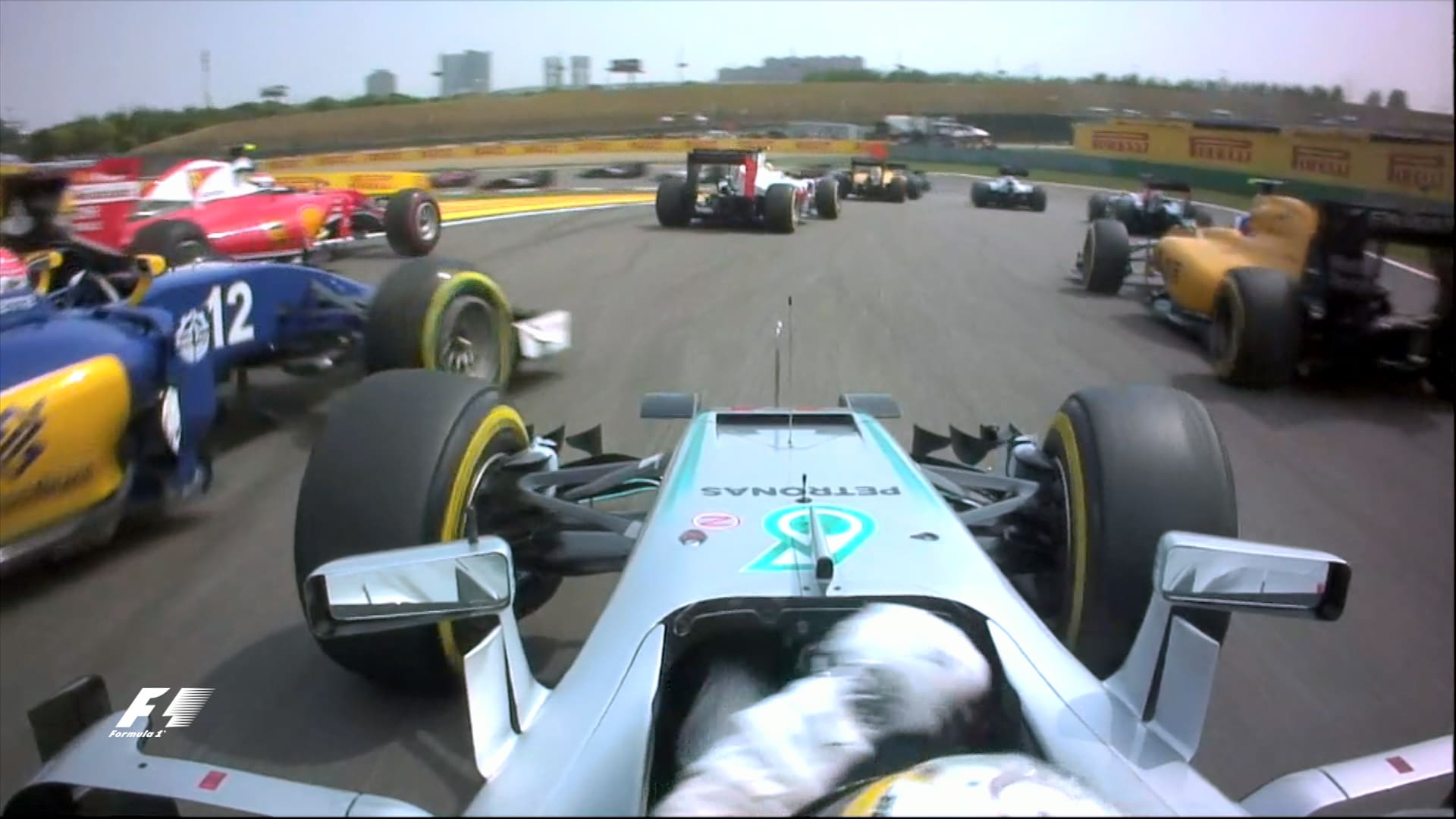 China set a new record after featuring a total of 128 overtakes - a new all-time record for a single race, surpassing the 112 set in Brazil in 2012.


Longest race: Brazil, at 3h 01m 01.335s.


Shortest race: Italy, at 1h 17m 28.089s.


Number of wins from pole: 13 from 21 (62 percent)


Lowest winning grid position: 4th (Max Verstappen in Spain and Daniel Ricciardo in Malaysia)


Biggest winning margin: 37.776s (Nico Rosberg over Sebastian Vettel, China)


Smallest winning margin: 0.439s (Lewis Hamilton over Nico Rosberg, Abu Dhabi)
Singapore also featured a winning margin of less than half a second


Most changes of lead: Eight (Spain)


Most different leaders: Five (Austria) - Nico Rosberg, Lewis Hamilton, Max Verstappen, Sebastian Vettel and Kimi Raikkonen all had spells at the front of the field.