The most closely matched...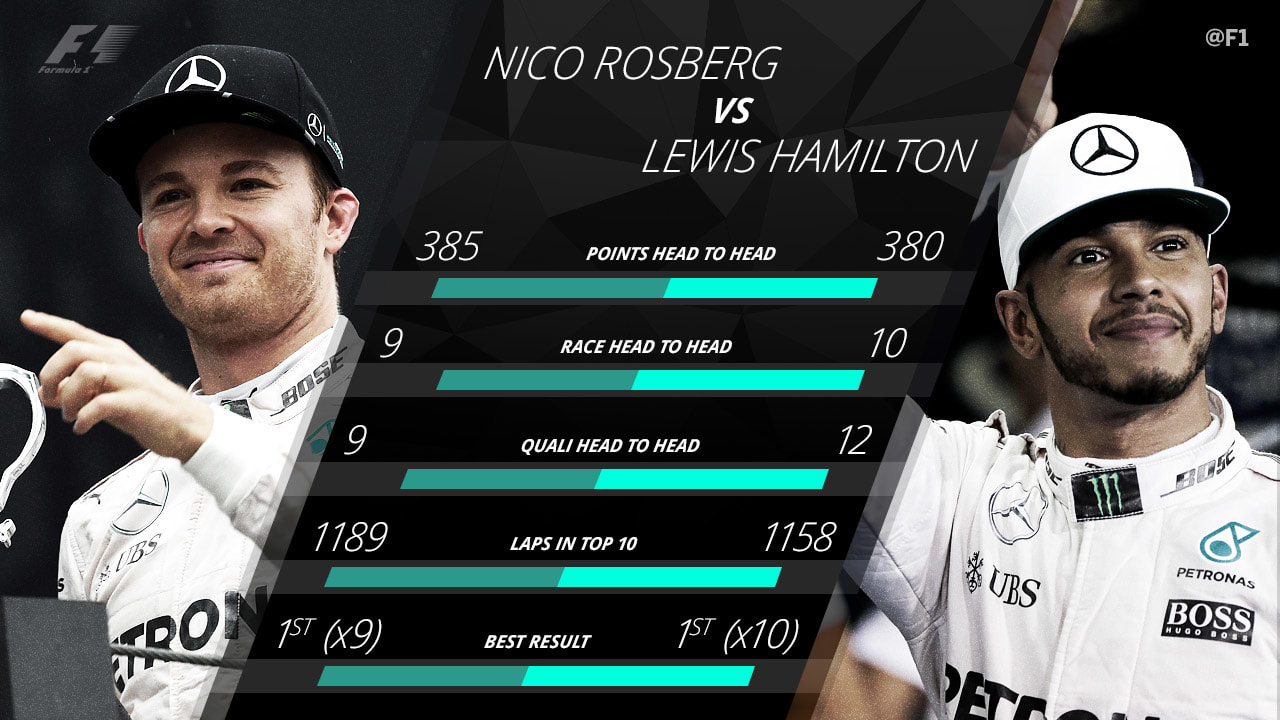 Fittingly given their intense title battle, there was practically nothing to choose between Nico Rosberg and Lewis Hamilton come the end of the season. Hamilton led the way in the direct head to head on both Saturday and Sunday - but Rosberg spent more time inside the top 10 (both men's tallies were hurt equally by their first-lap collision in Spain) and, of course, emerged five points ahead of the Briton at the end of the season. The title was his - although the statistics underline just how hard he was pushed by his now former team mate. Can his replacement - whoever that might be - match up to Hamilton in the same way in 2017?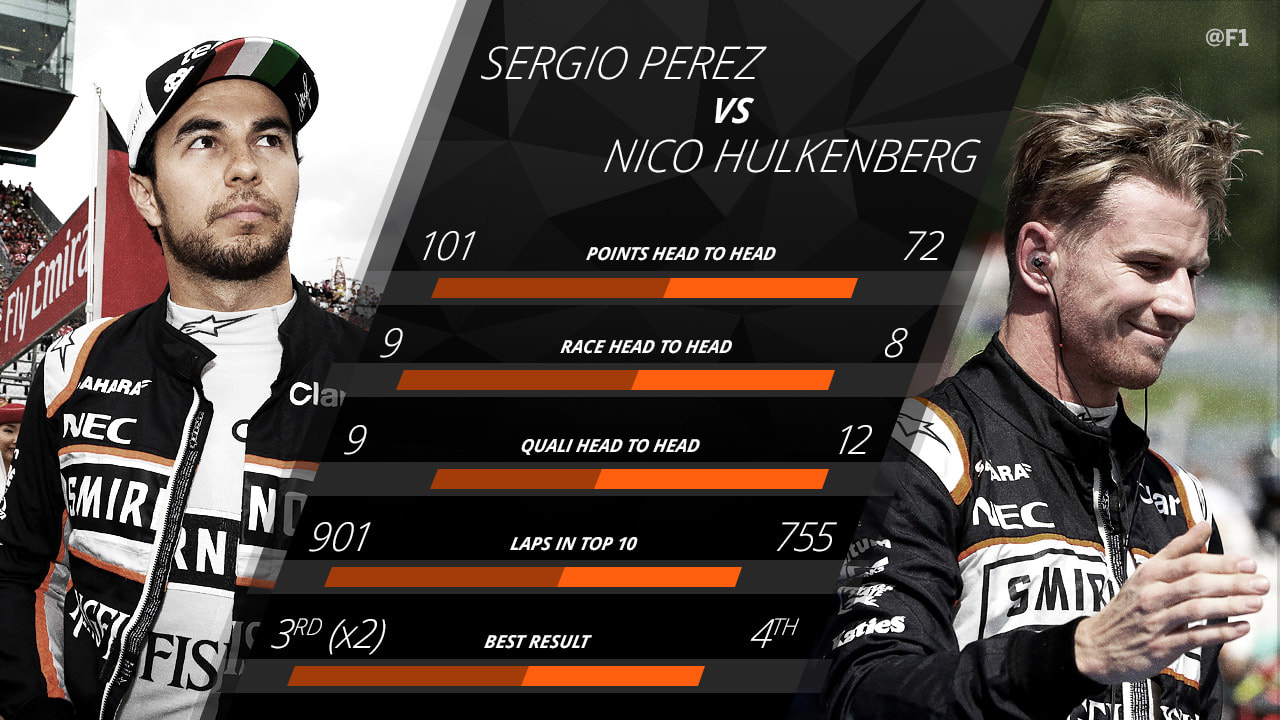 Judging on the above statistics, the second closest fight of 2016 came at Force India. Sergio Perez had the upper hand over Nico Hulkenberg in terms of points - and indeed also spent more time in the top 10, and just about had the edge on Sundays. He also had a significant reward in the form of two podiums, taking his career total to seven - while Hulkenberg's wait for a maiden rostrum continues. The German did have a clear advantage on Saturdays this year, however, edging Perez on 12 occasions - including a sensational front-row start in Austria. A works drive with Renault awaits - while Perez stays with the team for another year.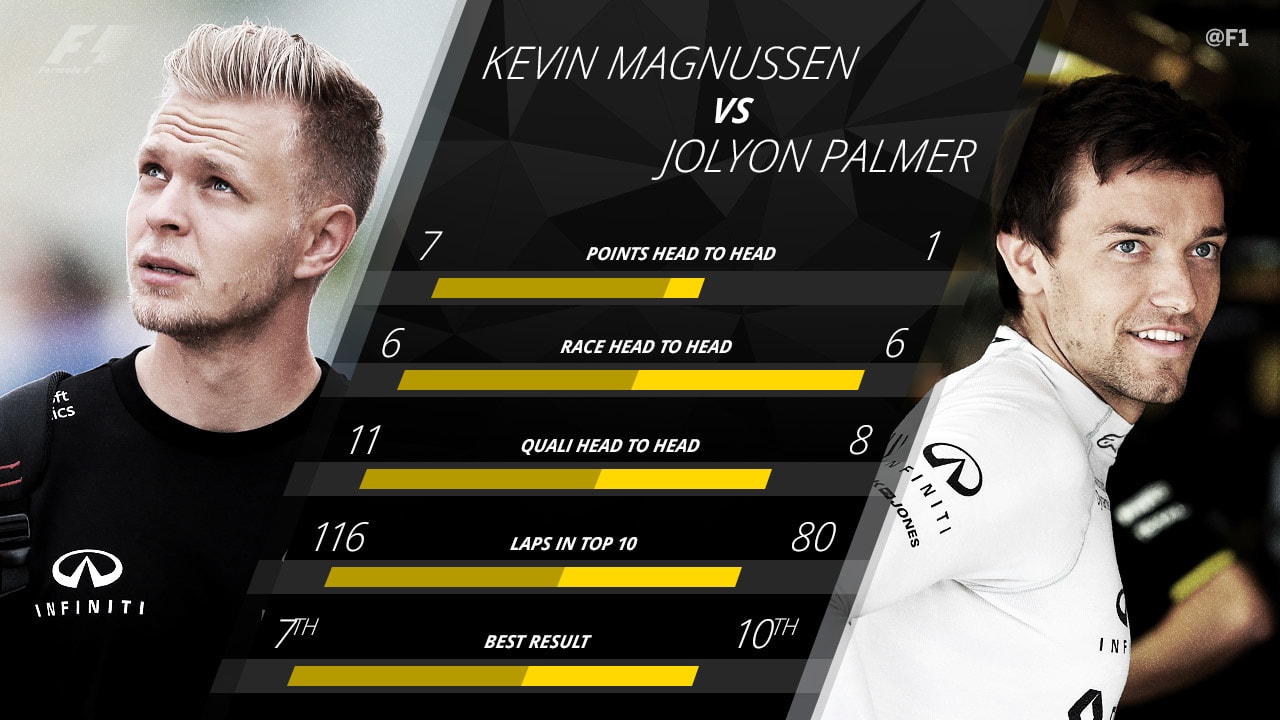 This was a battle that had a very different look to it three quarters of the way into the season, with Kevin Magnussen 11-4 up on his Renault team mate in qualifying, for example, heading into Japan. But with the pressure on it was Jolyon Palmer who hit his stride, scoring points in Malaysia, edging the Dane 3-1 in the final six races (DNFs are discounted), and also out-qualifying him in four of the last five events - the only exception being Mexico, where Palmer was unable to compete. The Briton's form helped win him a second season with Renault, while Magnussen was snapped up by Haas, where he will partner Romain Grosjean next year.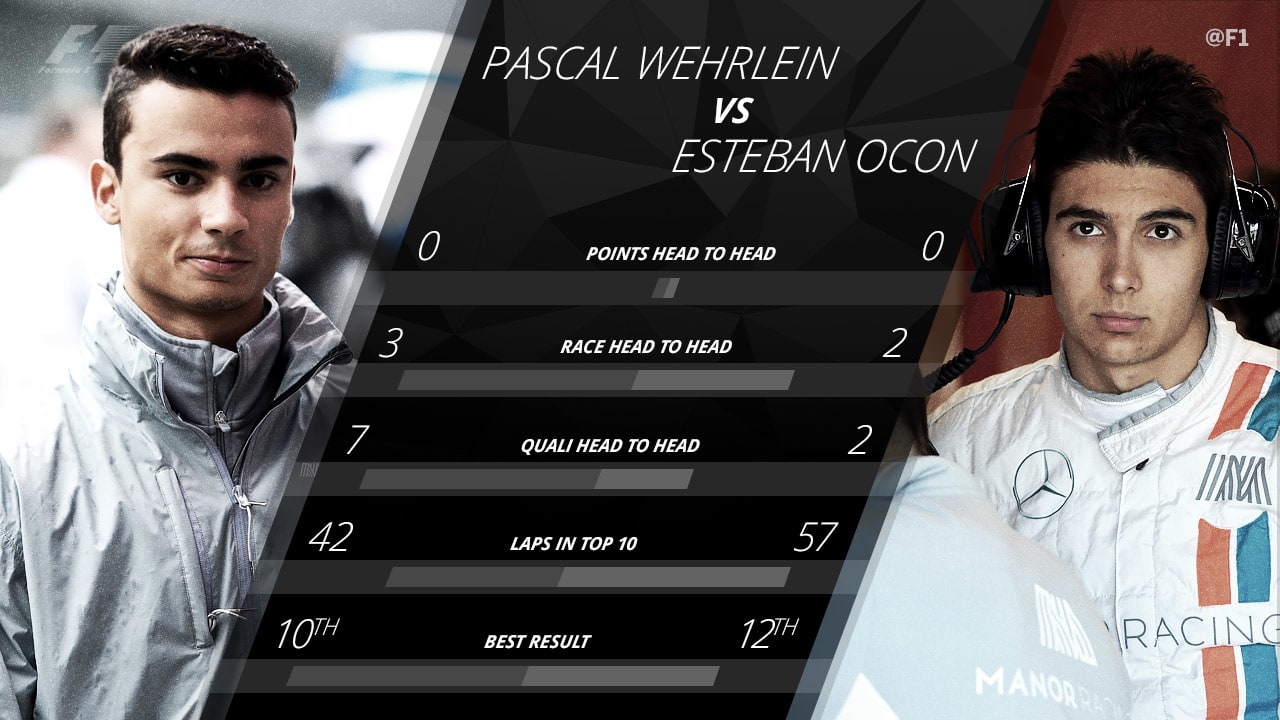 Brought in by Manor mid-season to replace Rio Haryanto, Esteban Ocon's underlying stats are testament to the speed with which he adapted to the task. Perhaps most impressive is the 57 laps he spent inside the top 10 during his bit-season - over the same time period, Wehrlein had just 16 laps in points-scoring positions. Neither managed a point while team mates - Wehrlein's 10th-place finish came in Austria, before Ocon's arrival - but both were well matched on Sundays, with Wehrlein enjoying a slight edge on single-lap pace. Ocon heads to Force India for 2017, while Wehrlein will be hoping to step into Nico Rosberg's shoes at Mercedes.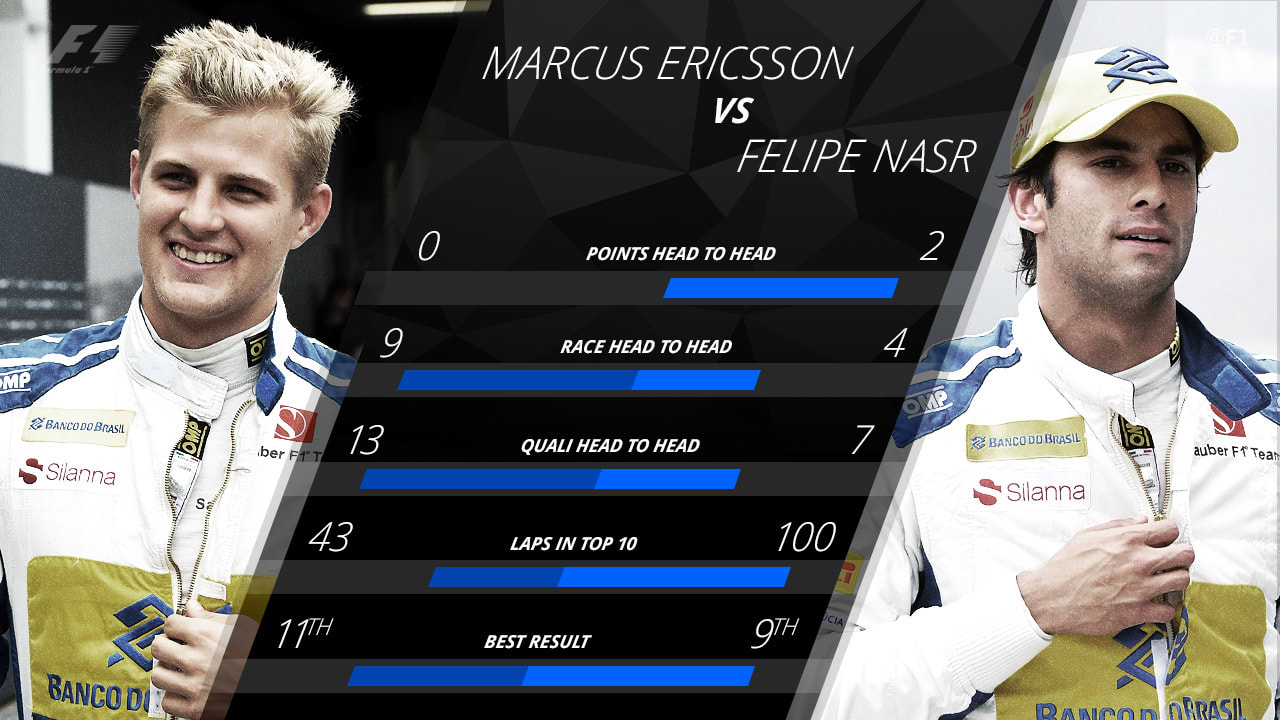 Of all the 2016 driver pairings, the fight at Sauber between Marcus Ericsson and Felipe Nasr is perhaps the most varied. It was Ericsson who led the head-to-head for both qualifying and the races - but oddly enough Nasr spent more than double the time the Swede did inside the top 10. It was Nasr too who earned the team's only points of the season, following a superb ninth place on home soil at a sodden Interlagos. His future, though, remains uncertain, as only Ericsson has thus far been reconfirmed by the Swiss squad for next year.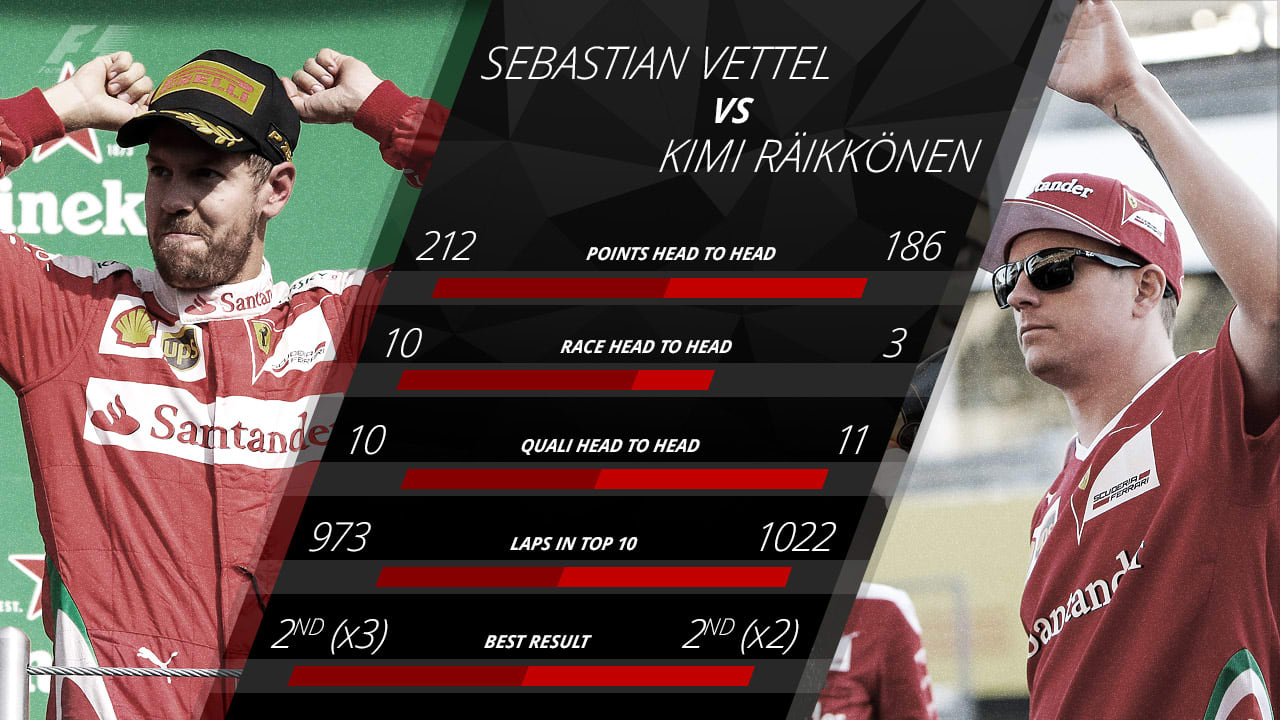 Was 2016 the year the Iceman returned to his best? It has certainly been a while since the Finn out-qualified his team mate - and to do so against the calibre of a multiple champion like Sebastian Vettel speaks volumes. He also spent more time overall inside the top 10, at 1022 laps to 973. Even so, Vettel had the edge over the season as a whole - he outscored Raikkonen, took seven podiums to the Finn's four, and comfortably won their race head-to-head. As Vettel's form waned, talk suggested he was using practice sessions to prioritise techniques for 2017 - which could stand both him and Raikkonen in good stead next year...
 
And the more one-sided...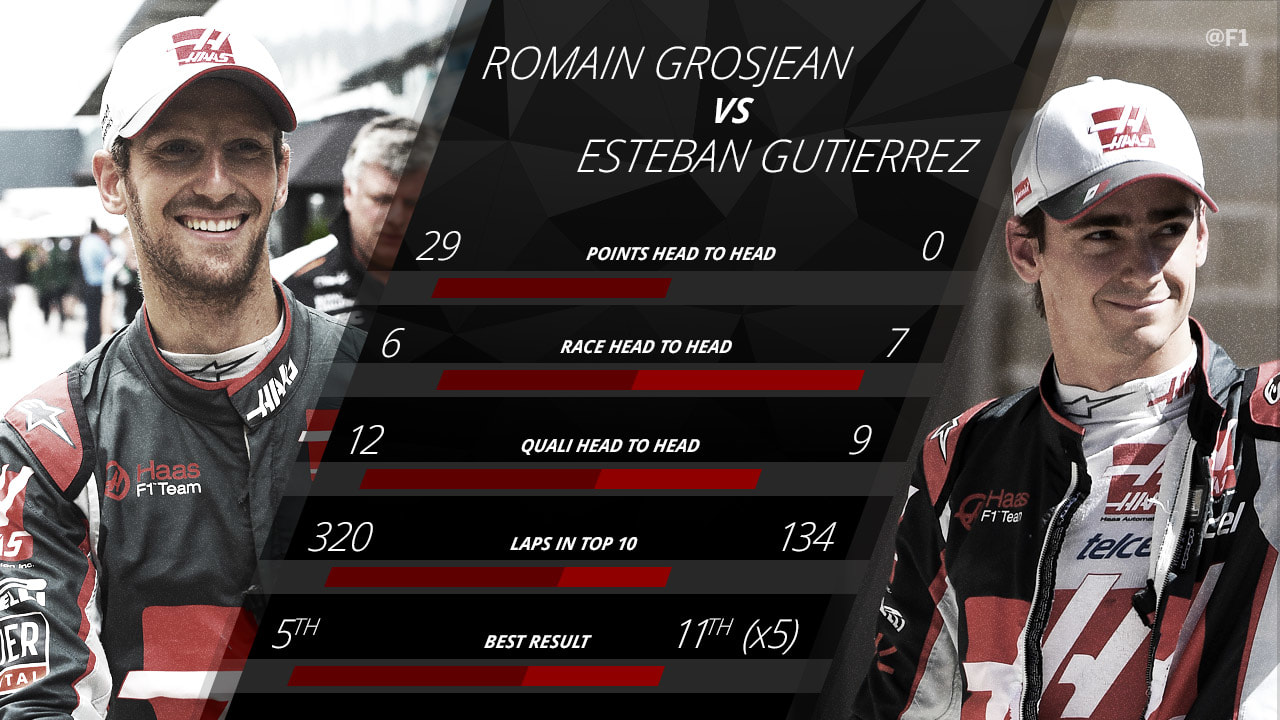 With Haas comes a move to more skewed fights between team mates. Various reliability issues cloud the picture on Sundays slightly, with Romain Grosjean and Esteban Gutierrez both reaching the chequered flag on only 13 occasions - and on that score, Gutierrez has the slight edge. On every other count, though, he trailed his team mate - Grosjean scored 29 points to 0 for Gutierrez, out-qualified the Mexican 12-9, and spent nearly three times as many laps inside the top 10. The Frenchman stays on at Haas for 2017 as a result, while Gutierrez makes way for Renault's Kevin Magnussen.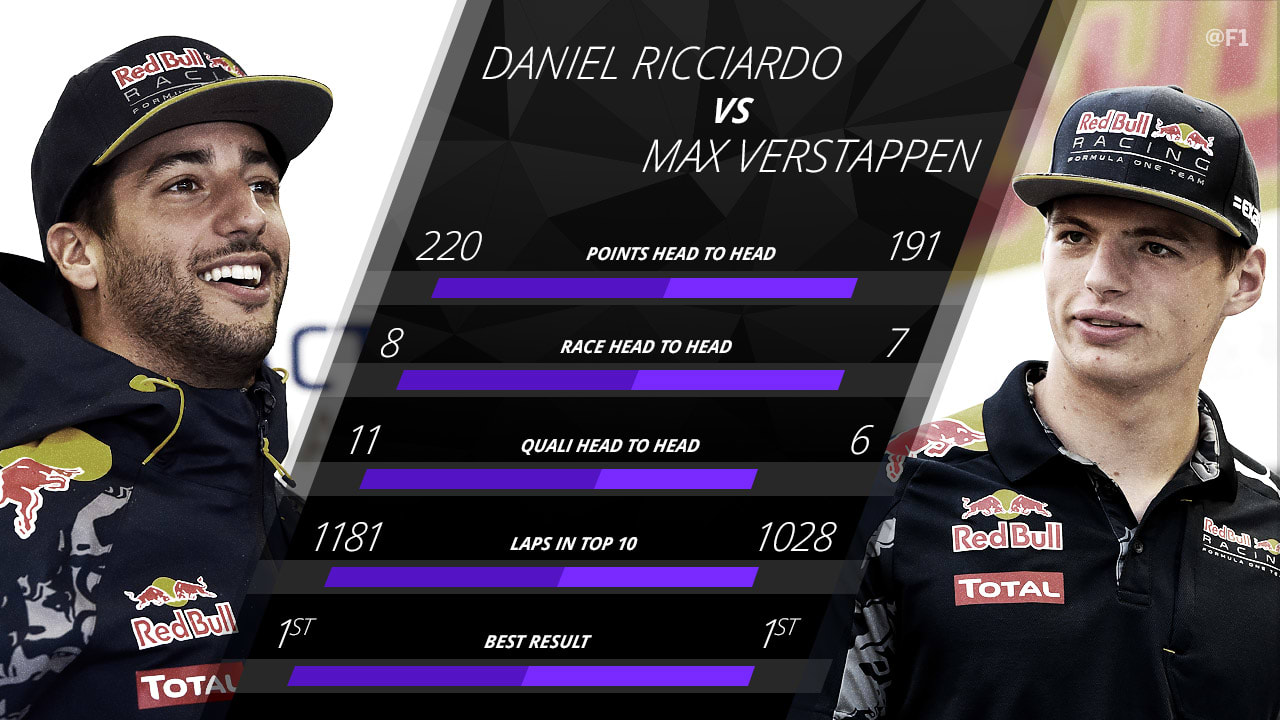 Max Verstappen couldn't have dreamt of a better start to life at Red Bull, after astounding the watching world by winning on debut in Spain - and breaking all manner of records in the process. The Dutchman also turned in several superlative drives, most notably in Brazil, to capture the imagination and secure his reputation as a future great in waiting. And while the statistics back up that assertion, they also show just how brilliant Daniel Ricciardo is. The Australian beat Verstappen more often than not on Saturdays, and had a slight edge too over race distances. He also spent more laps inside the top 10, and out-scored his team mate by 29 points during their time together. With Nico Rosberg departing Mercedes, do Red Bull now have the most exciting line-up in F1?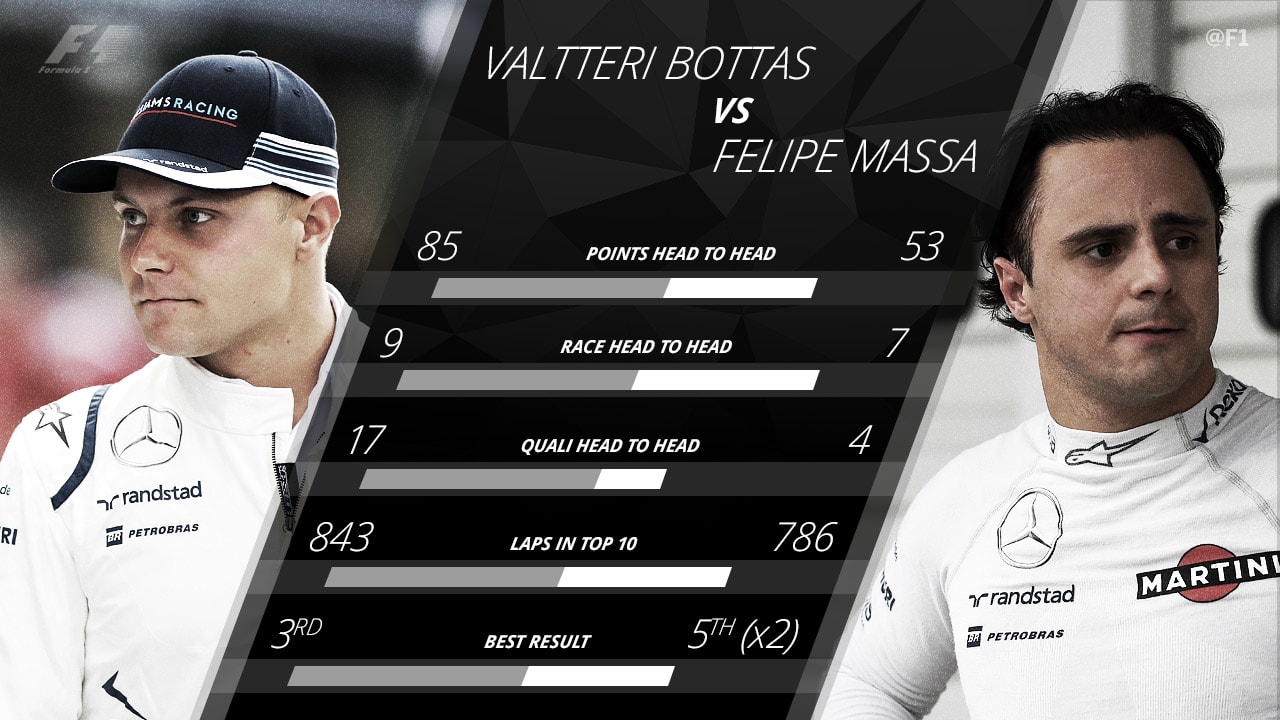 Felipe Massa bade an emotional goodbye to Formula One racing in 2016, and after a season in which he was decidely bettered by Williams team mate Valtteri Bottas. The Finn was ahead on every count over the year: he took the team's only podium, clearly shaded Massa on Sundays, and dominated in qualifying - the head-to-head of 17-4 is the most one-sided of any partnership in 2016. Small wonder that Bottas has been linked with the Mercedes seat vacated by Nico Rosberg...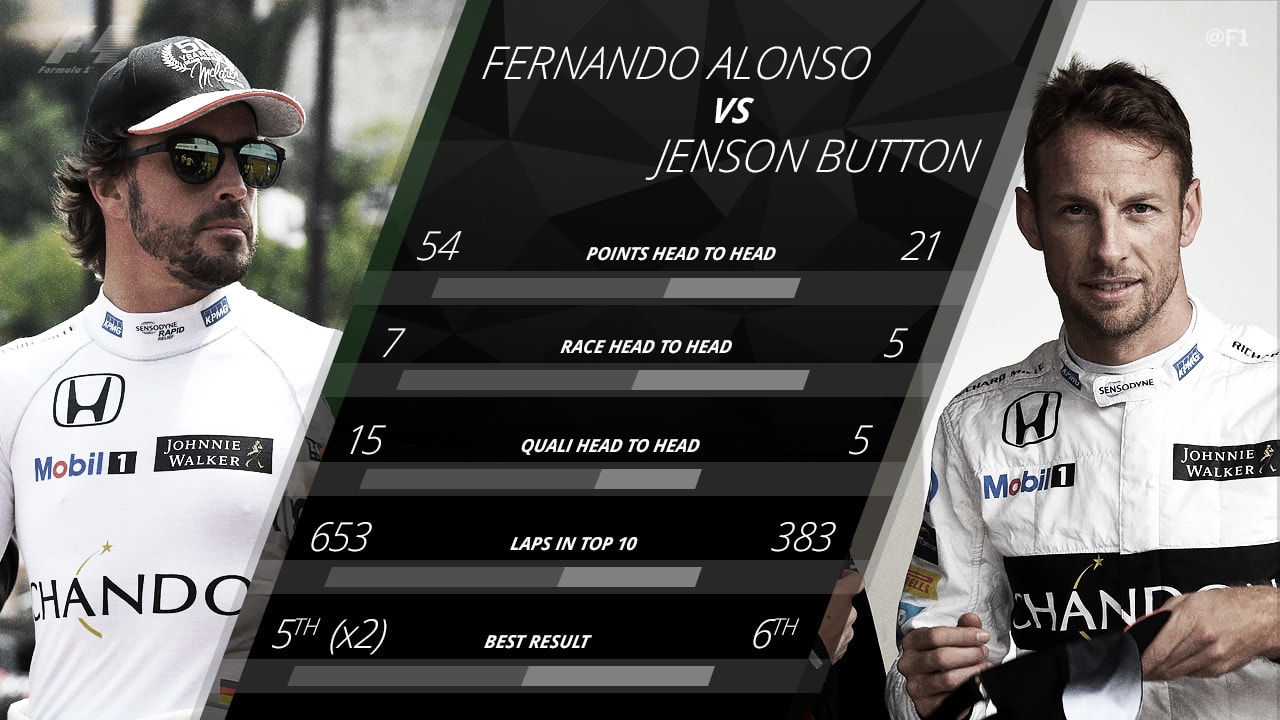 As a measure of just how good McLaren's Fernando Alonso was in 2016, this year goes down as one of Jenson Button's worse from his 17-season career - indeed only 2001 against Giancarlo Fisichella, and 2008 against Rubens Barrichello, compare. The 2009 world champion scored less than half the points of his team mate; spent almost half the amount of time in the top 10, and lost out in both the qualifying and race day head-to-heads, and by some margin in the former. In his defence, Button's decision to step back at the end of the year may have been a factor, but that should take nothing away from how magnificent Alonso was.
 

Carlos Sainz's performances might have fallen slightly under the radar as Toro Rosso struggled for competitiveness, but statistically he was one of 2016's most impressive performers. The Spaniard scored 42 of his total 46 points during his spell partnering Daniil Kvyat - during the same period, the Russian picked up just four points. In the qualifying and race head-to-heads Sainz was similarly dominant, while he ended the year with 602 laps inside the top 10 - more than double the Russian's tally. There is a caveat, of course, with Kvyat's form sliding after his switch from Red Bull to Toro Rosso, and only rebounding in the latter stages of the year - but even so, this was a season to underline Sainz's immense talent and promise.