Shared success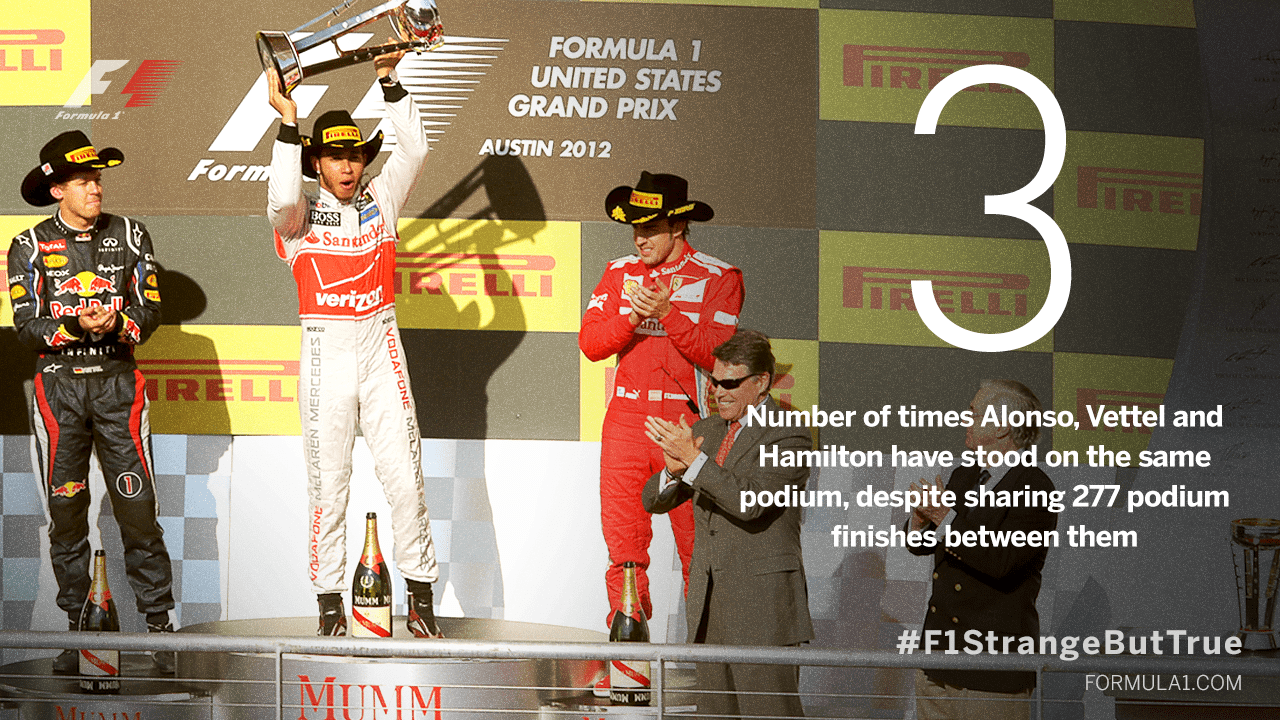 The three most decorated drivers of their generation, Fernando Alonso, Sebastian Vettel and Lewis Hamilton have competed against each other in 167 races (and counting), and scored a combined 226 podiums in that time. Somehow, though, the trio have only ended up on the same podium on three occasions. The first came in the United States in 2012 (pictured), with Hamilton prevailing ahead of Vettel and Alonso. In 2013, meanwhile, Vettel was followed home by Alonso and Hamilton in both Canada and Belgium.

An unwanted hat-trick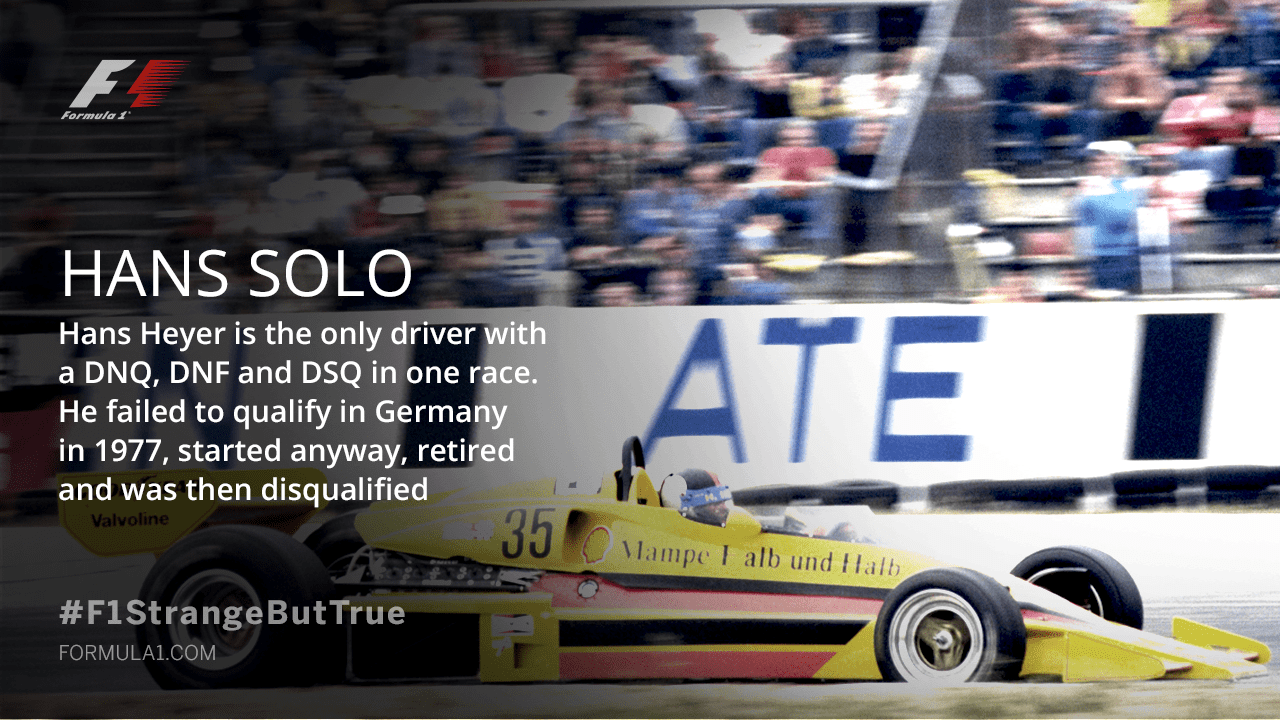 Despite the unfortunate record above, German driver Hans Heyer was no slouch, boasting considerable success in touring cars, and later sportscars, in the 1960s, '70s and '80s. Few stories are stranger than his ill-fated foray into Formula One racing, however. Heyer entered his home Grand Prix at Hockenheim in the second Penske of new German team ATS. With precious little single-seater experience, and in a team struggling for pace, Heyer - along with several others - failed to qualify. Heyer was first reserve, though, meaning he was ready to go should any drivers drop out before the race started. Although none did, Heyer decided he had already come so far and, when the race got underway, he was part of it. The 'illegal' outing didn't last long, though - his gearbox let go and he retired after nine laps, although he was also black-flagged, meaning he failed to finish and was disqualified from a race he was not even meant to be part of.

Three drivers 'on pole'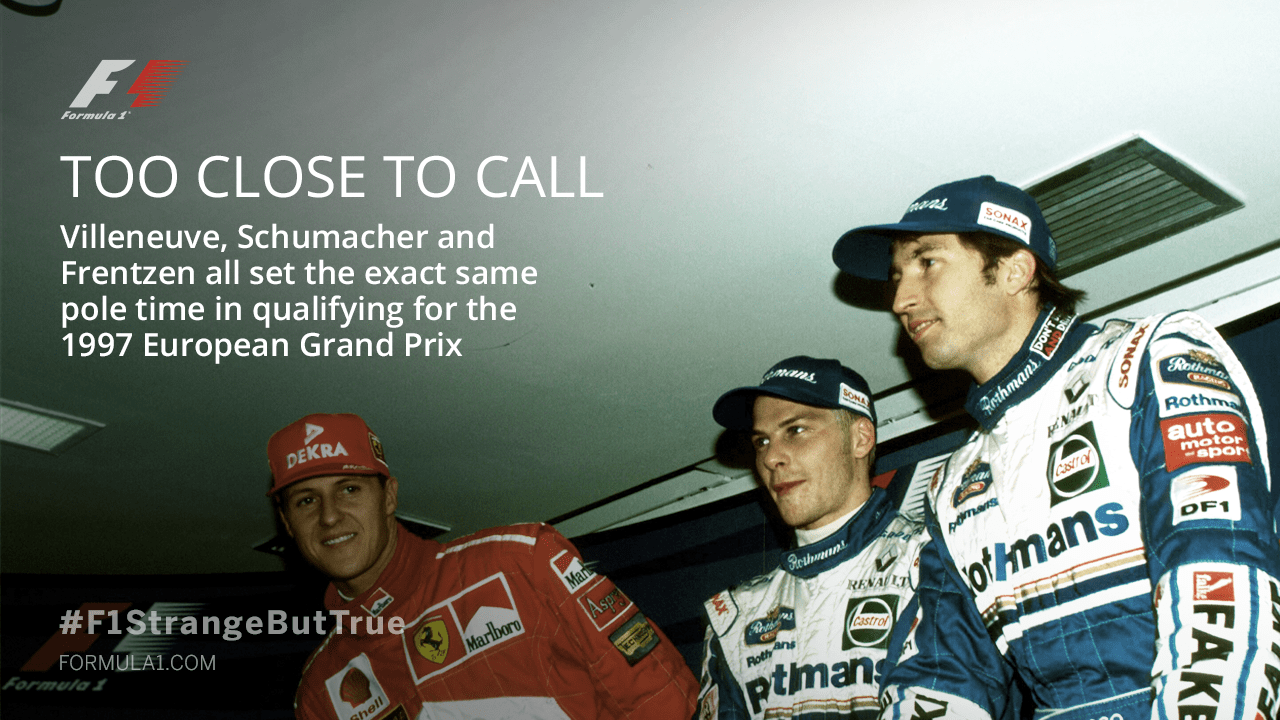 Few records in F1 are truly unbeatable, but it is hard to imagine any immediate threat to the 1997 European Grand Prix's claim to the closest qualifying session in history. And while the season finale itself is remembered for Michael Schumacher's infamous collision with title rival Jacques Villeneuve, Saturday saw an equally astonishing turn of events. Villeneuve and Schumacher were both involved: first the Canadian, then the German, and then finally Heinz-Harald Frentzen, all lapped the 4.4km circuit in exactly 1m 21.072s. Damon Hill almost got in on the act too, qualifying just 0.058s down the road in fourth. With 0.000s covering the top three, the order was set by who registered their lap first - putting Villeneuve on pole.

Clark blows his rivals away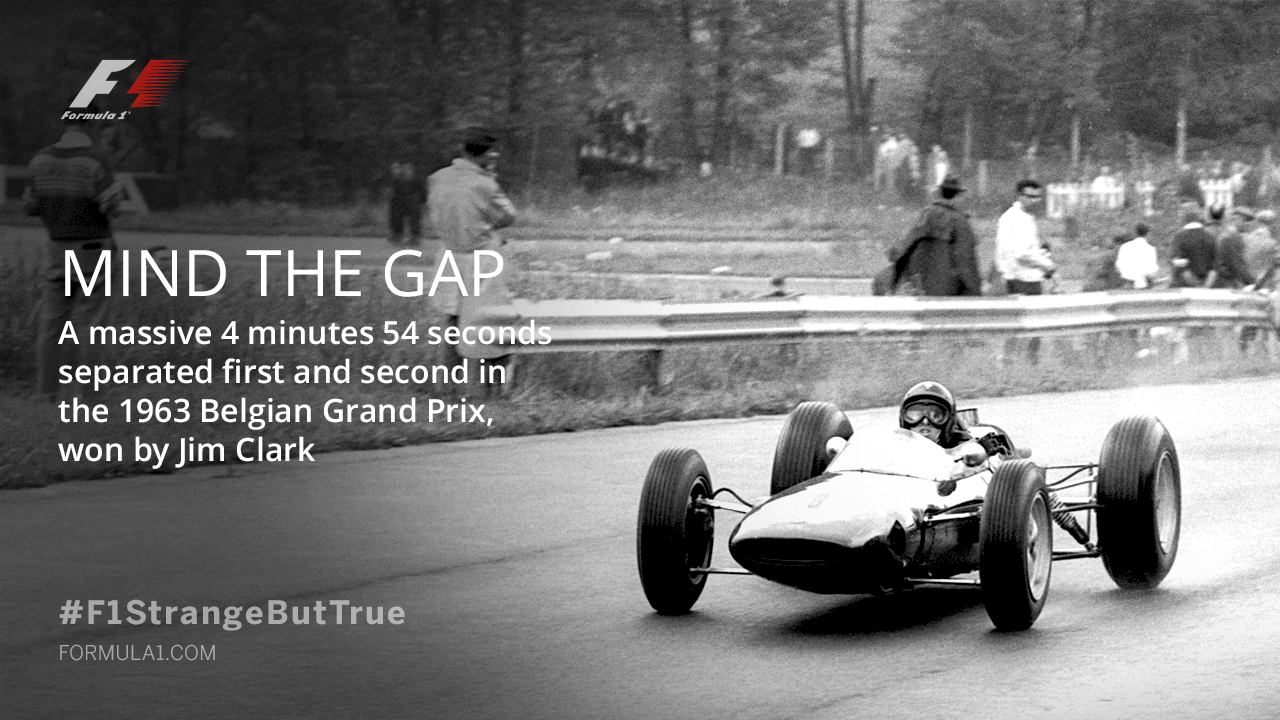 Jim Clark was at his exhilarating best in the extreme wet of the 1963 Belgian Grand Prix, leading every lap and lapping everyone bar Bruce McLaren in second. The Spa of the 1960s was very different to today's - nine miles long, and with an average speed of over 130mph, it was frighteningly challenging. Clark, though, could dance the knife edge between triumph and disaster with something approaching perfection - and perhaps never more so than in 1963, which stands as one of the greatest drives not only of his career but in the history of F1. Having started eighth, Clark quickly jumped into the lead and was irrepressible thereafter. Only McLaren was able to stay on the same lap - but by the flag he was nearly five minutes down.
Three is the magic number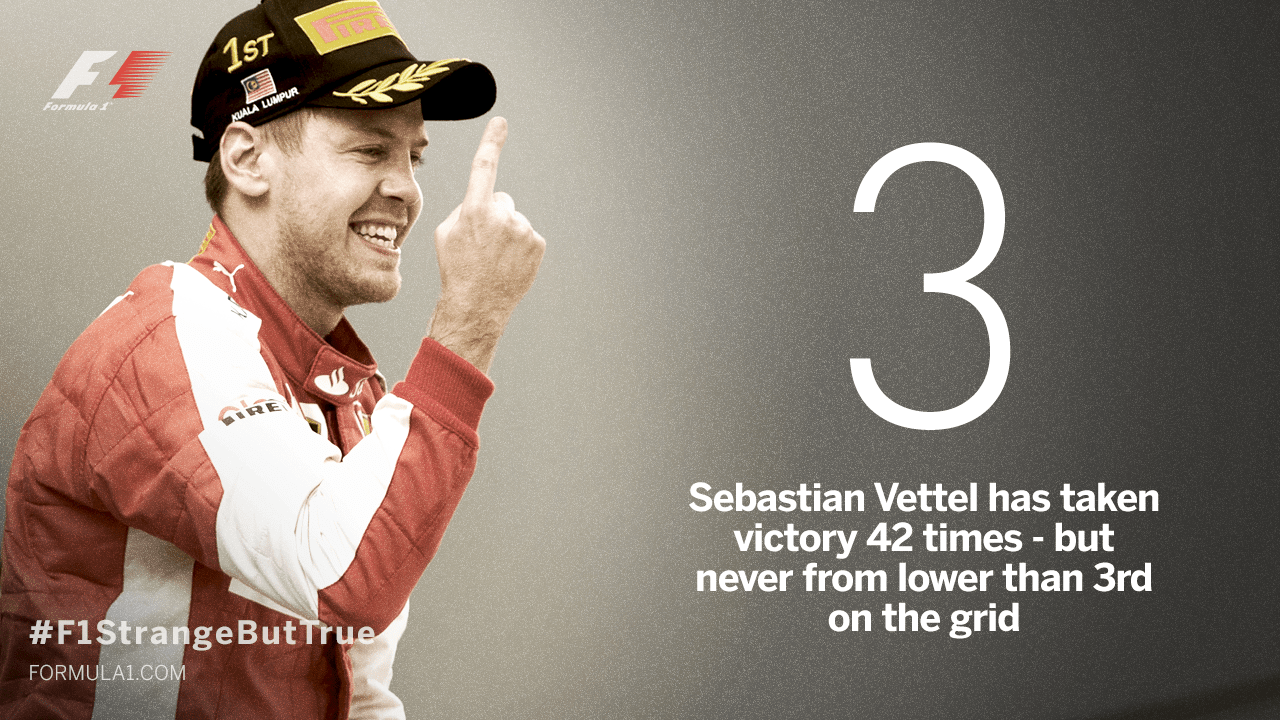 There are only three multiple-champions in history to have never triumphed from lower than third on the grid - and only one of those didn't race in the 1950s. Step forward Sebastian Vettel, whose tally of 42 Grand Prix victories puts him fourth in history. Vettel is perhaps a victim of his own success in this regard, given his ability to produce when it matters in qualifying as well as on race day. But his record of only winning from inside the top three remains something of a quirk: he is the first multiple champion to boast that record since Juan Manuel Fangio.

Pole isn't everything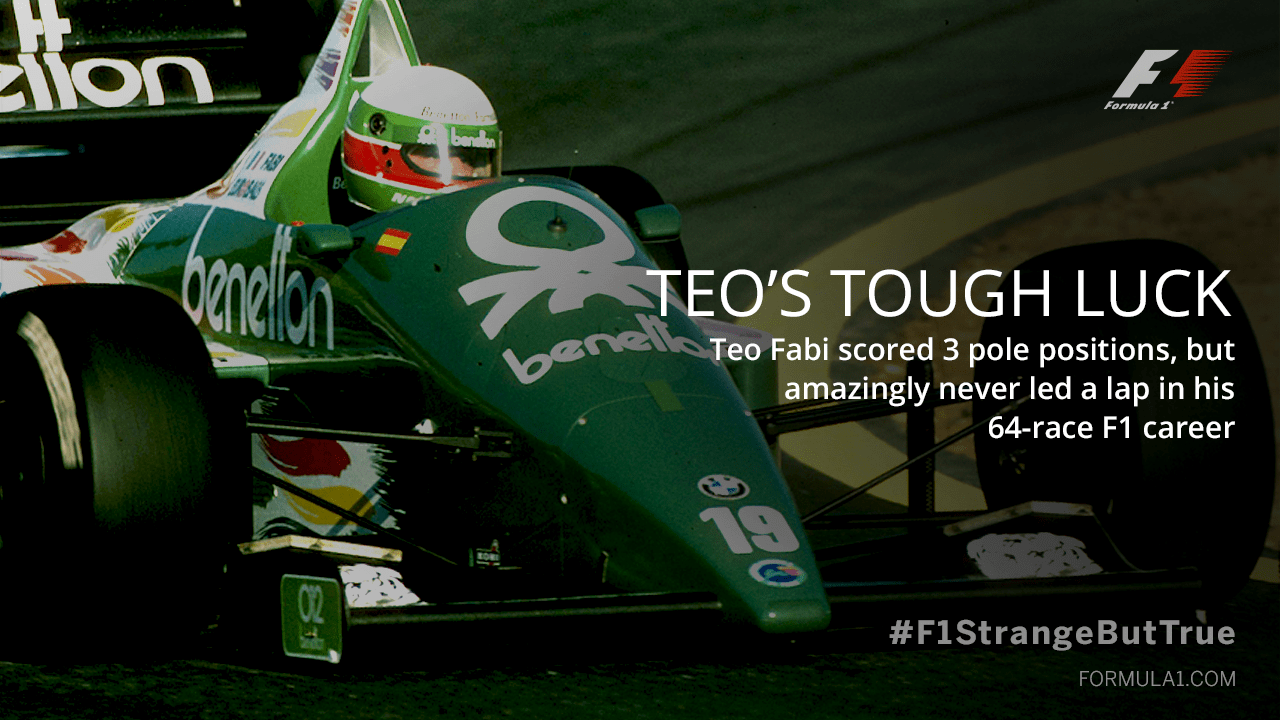 A small slice of - perhaps unwanted - F1 history belongs to Teo Fabi, who has the distinction of being the only driver to score multiple poles and yet never lead a single lap. The Italian's first breakthrough came in Germany in 1985, where a superb lap for Toleman saw him capture pole by more than 1.1s, only for a very poor start to undo his brilliance. He joined Benetton in 1986 and captured two further poles, in Austria and Italy, but again neither race went his way. Austria was perhaps the most heart-breaking: Fabi beat team mate Gerhard Berger to pole by 0.194s, lost out to the Austrian at the start, but then retook the lead at one-third distance - only for his engine to fail before he officially completed the lap. He struck back with pole at Monza in the next round, but hit trouble before the lights went out and was duly forced to start from the back of the field. Fabi stayed in F1 for just one more season, clinching a first podium in Austria. He ended his career having spent 56 laps in second, but never once in the lead.

Like father, like son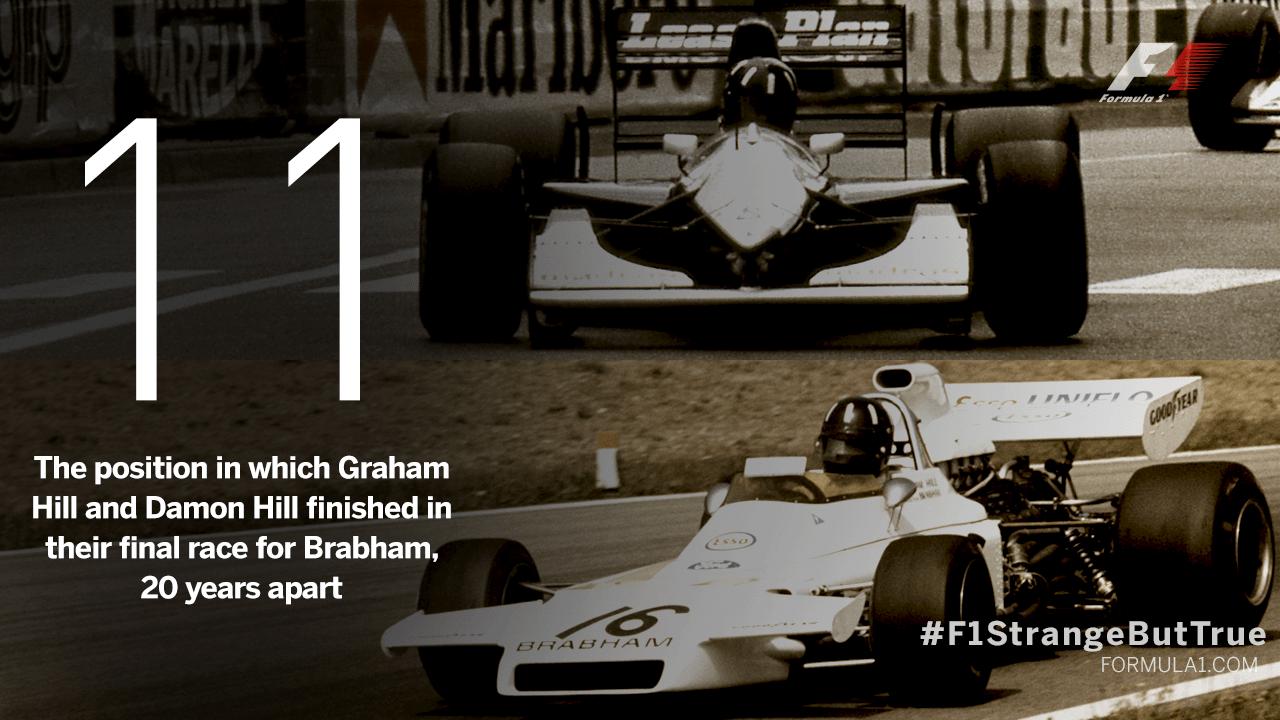 Of the 12 father-and-son duos to compete in Formula One racing, the Hills have enjoyed the greatest success. They were the first to both win races, and remain the only ones to have both clinched world championship crowns. Father Graham tragically died in a plane crash before Damon began his own career, but luckily Hill junior proved a chip off the old block and, like his dad before him, doggedly battled his way up the racing ladder and into F1. In doing so, Damon's path took him to Brabham, where he emulated his father in more ways than one. Racing with the same helmet design, Damon signed off his final race with the team by coming home 11th - exactly where Graham had finished in his own final race for the team some 20 years earlier.

Going round in circles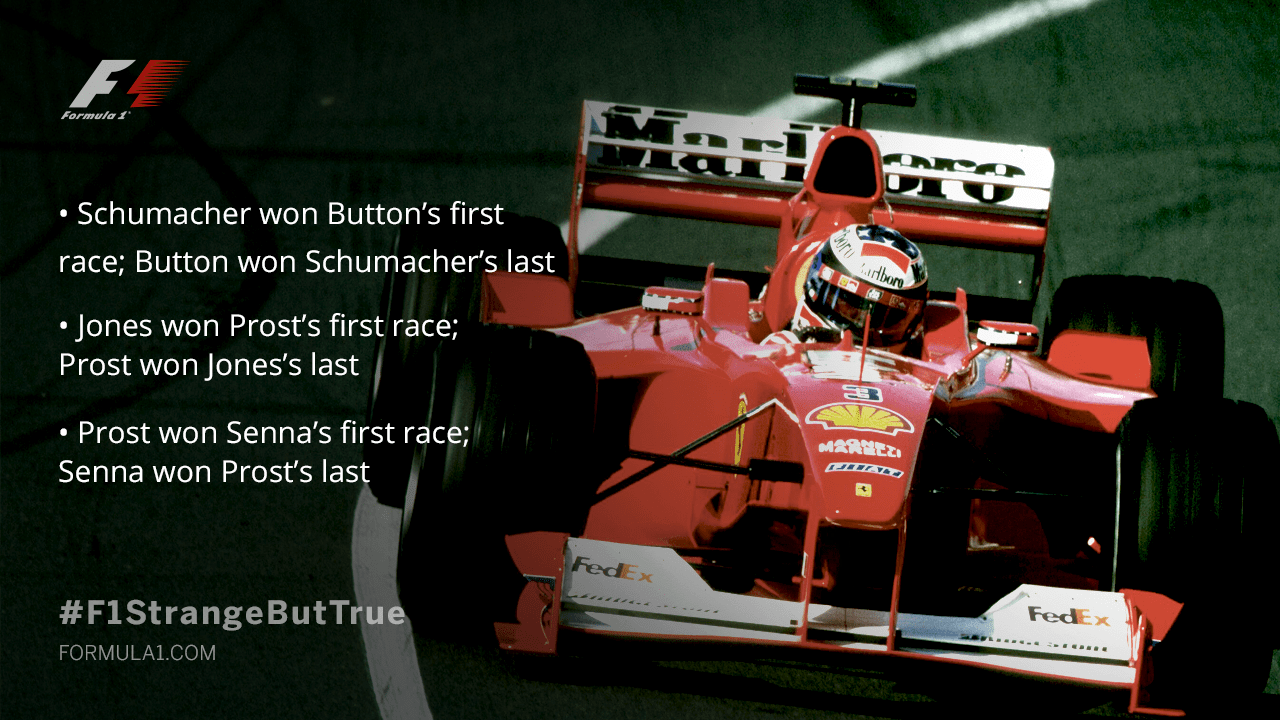 Alain Prost versus Ayrton Senna remains arguably the greatest rivalry to have graced F1, with both men spurred to new heights by the discovery of - and battle against - a true equal. It seems fitting then that Prost won Senna's first race, and Senna won Prost's last - thereby ensuring their competition ran for the entire time both men were in the sport. They are not the only men to share such a distinction: Alan Jones won Prost's first race, with Prost returning the favour in Jones's home-soil farewell in 1986. Michael Schumacher and Jenson Button are similarly linked, while several other current pairings could enjoy the same connection. Kimi Raikkonen won Lewis Hamilton's first race, for example, while Fernando Alonso triumphed on Nico Rosberg's F1 debut...

Last man standing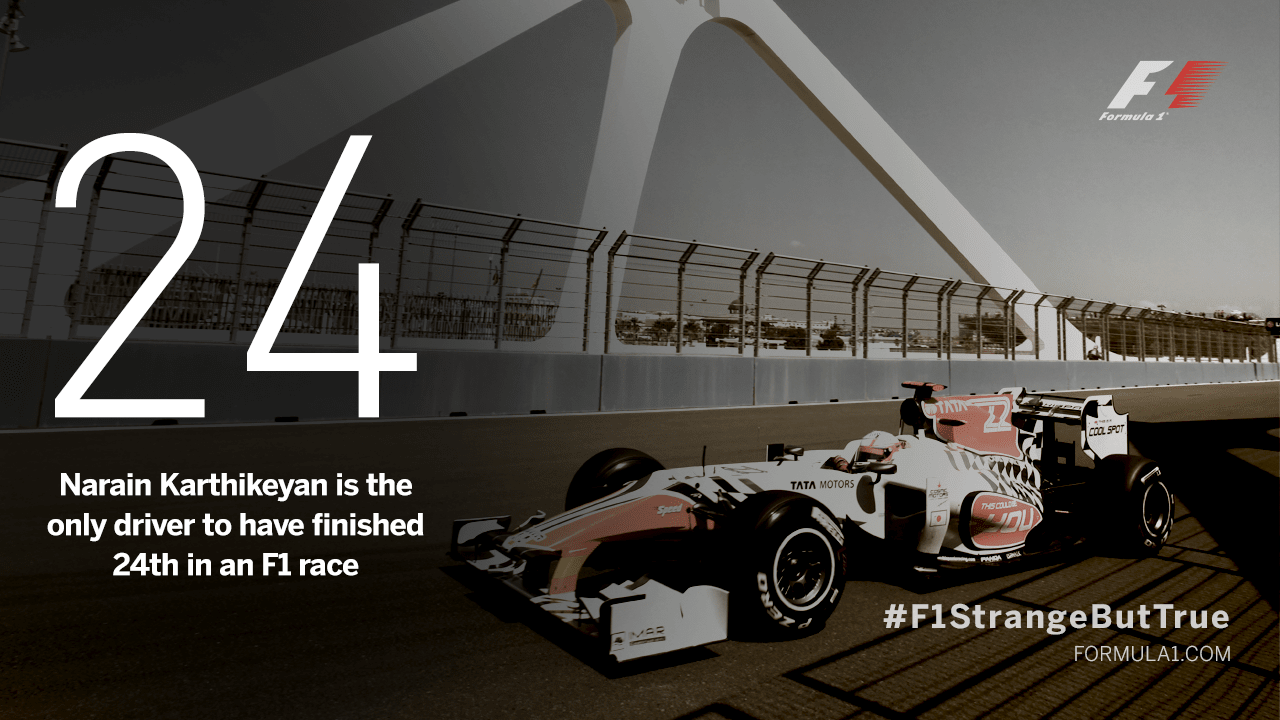 The 2011 European Grand Prix didn't feature the greatest number of cars - in fact that particular record still dates back to 1953, when 34 cars lined up for the German Grand Prix - but the 2011 race on the Valencia Street Circuit was notable for a record number of finishers. Of the 24 cars that started, all 24 were running at the chequered flag. The 'honour' of bringing up the rear fell to Narain Karthikeyan - whose 24th place remains the lowest finish in F1 history.

Senna makes short work of it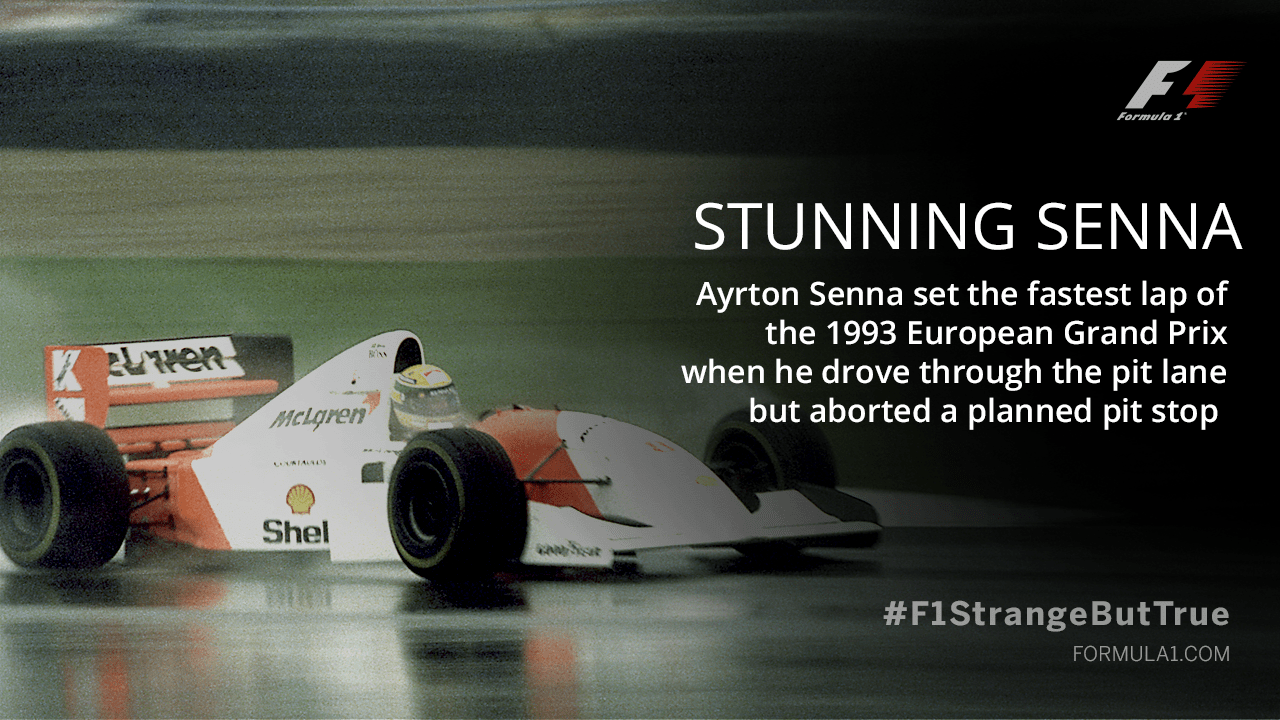 Ayrton Senna held the watching world mesmerised at Donington Park in 1993 with a drive so spellbinding, so commanding, that it has gone down as one of the finest in history. The Brazilian's surge from fourth on the grid to first at the end of the first lap has passed into legend, as has the fact that he went on to lap all but Damon Hill in second place, the Briton finishing almost 90s down at the flag. Senna's dominance was underlined by him setting the fastest lap on nine occasions during the Grand Prix, including the outright best on lap 57. The circumstances were highly unusual, however - Senna came into the pits but, with his crew not ready, floored the accelerator once more. At the time there was no pit-lane speed limit, meaning it effectively served as a shortcut, helping Senna set a lap 1.350s faster than anyone else was able to manage on the day.

A young man's game
The physical and mental demands of modern F1 machinery mean it is highly unusual for drivers to continue into their 40s - but the first years of the world championship were a very different affair. The oldest podium in history came in the inaugural season, as Nino Farina, Luigi Fagioli and Louis Rosier booked out the top three at Bremgarten in Switzerland. Their combined age? 140 years and 93 days - or an average of 46 years and 9 months per driver. In contrast, the most recent podium - at Hockenheim - featured Lewis Hamilton, Daniel Ricciardo and Max Verstappen, who boast an average age of just 25 years and 10 months.

The best of rivals?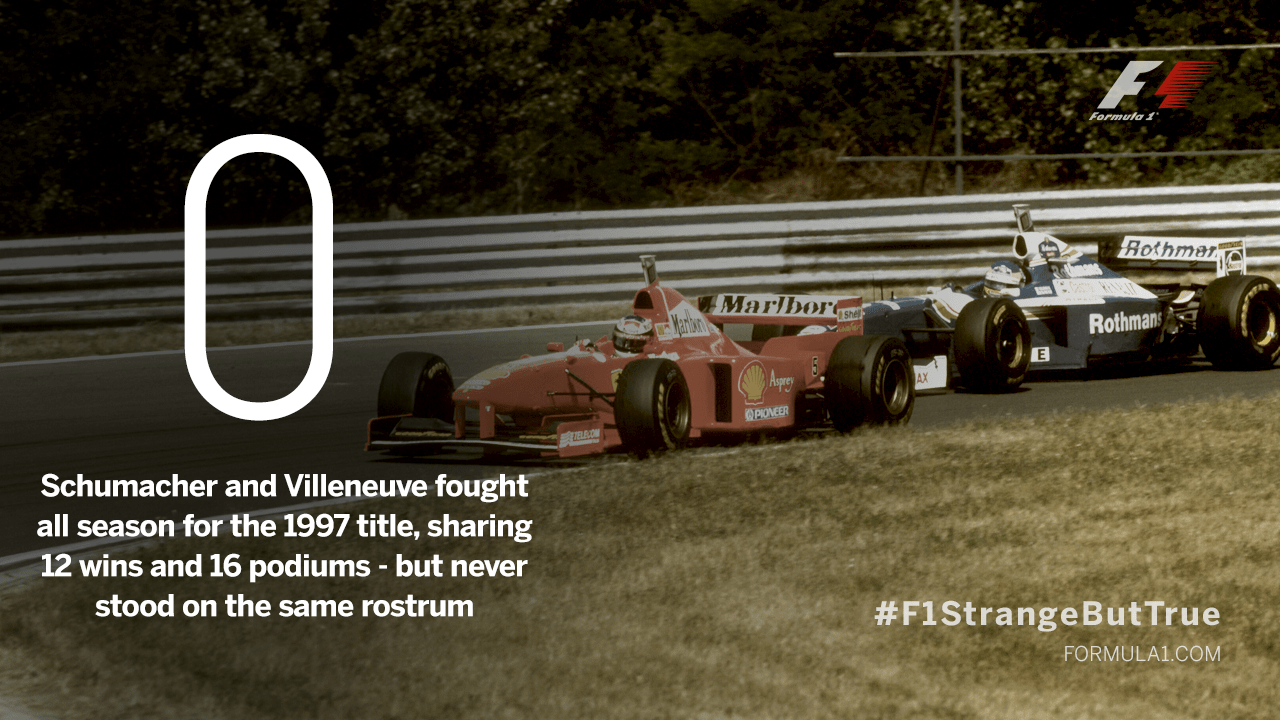 Michael Schumacher versus Jacques Villeneuve proved a rivalry for the ages in 1997. Their fierce competition for the world championship crown raged all season, and counted for a combined 12 wins - seven to Villeneuve, five to Schumacher - from the 17 races. They claimed 13 collective poles too (10 to Villeneuve) and 16 combined podiums (eight apiece). But despite such emphatic success, a stunning whim of fate meant the pair did not actually share a podium once during the season. There is only one other instance of the championship's top two protagonists not featuring together on a podium - back in 1950, when Nino Farina and Juan Manuel Fangio contested six races.