2017 FORMULA 1 JAPANESE GRAND PRIX
Suzuka
Suzuka International Racing Course
Lap
Record
1:30.983 by Lewis Hamilton (2019)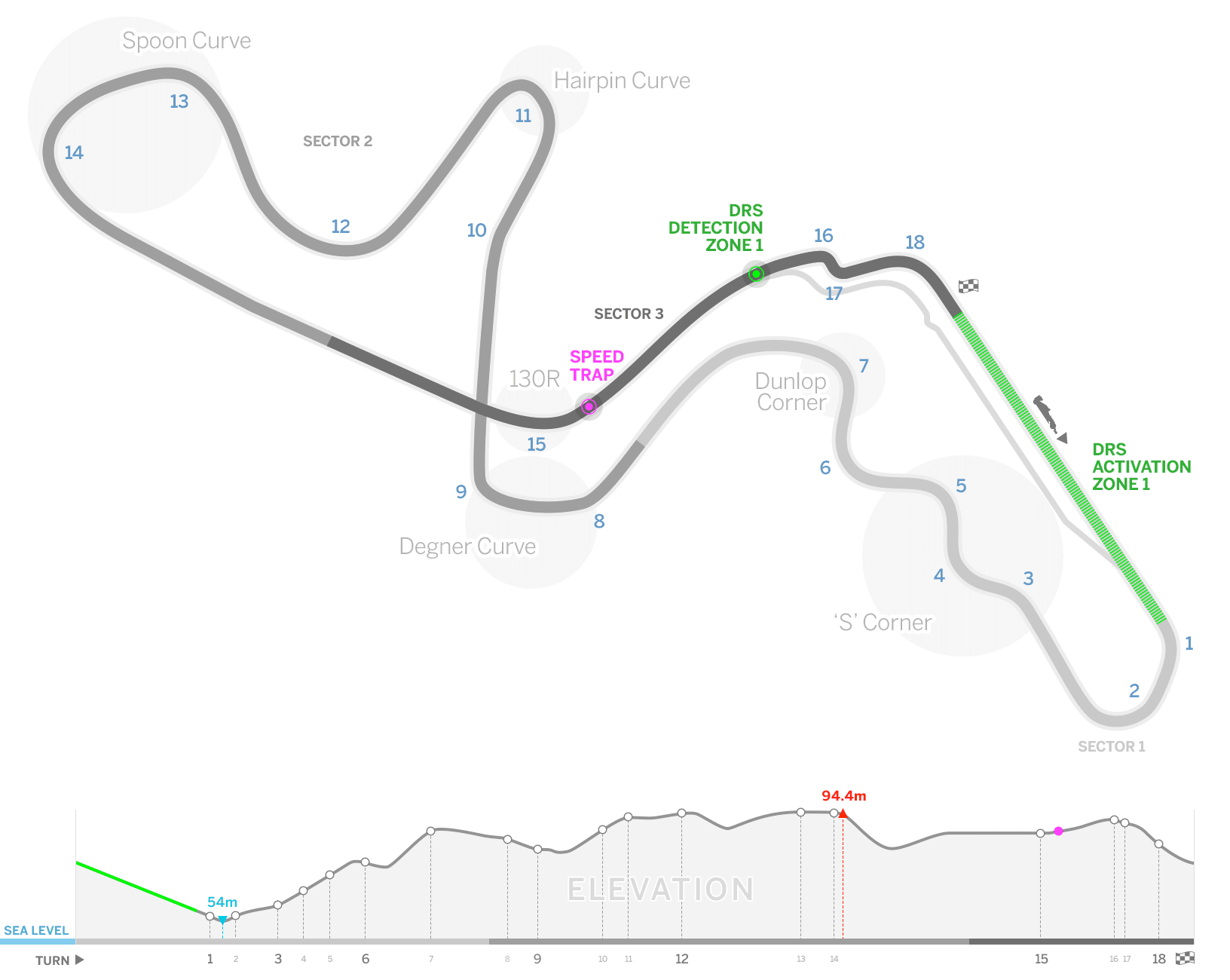 Fri 06 Oct – Sun 08 Oct 2017
Practice 1

TBC
TBC – TBC

Practice 2

TBC
TBC – TBC

Practice 3

TBC
TBC – TBC

Qualifying

TBC
TBC – TBC

Race

TBC
TBC – TBC
Practice 1

TBC
TBC – TBC

Practice 3

TBC
TBC – TBC

Race

TBC
TBC – TBC
Practice 2

TBC
TBC – TBC

Qualifying

TBC
TBC – TBC
Japan
Suzuka
One of the greatest tracks used in Formula One racing today, Japan's Suzuka circuit is a massive test of car and driver ability.
Built by Honda as a test facility in 1962, the track was designed by Dutchman John Hugenholz, the Hermann Tilke of his day. A huge theme park was also constructed at the track, including the famous big wheel which dominates the Suzuka skyline.
In 1987, having hosted various sportscar and F2 races, and having lost out initially to Fuji in the race to host the Japanese Grand Prix, Honda's influence finally prevailed and the Grand Prix had a new Japanese home. And - 2007/8 aside - at Suzuka the race has stayed ever since, providing the scene for many nail-biting end-of-season deciders, including the now infamous collisions involving Alain Prost and Ayrton Senna. 
Such moments only added to Suzuka's appeal with fans, with the Grand Prix now attracting some of the most passionate and knowledgeable crowds in F1 racing.
The track has also become a favourite with drivers, featuring some of the F1 calendar's most challenging corners. Among the most popular are the high-speed 130R and the famous Spoon Curve. On top of this the circuit's figure-of-eight layout makes it unique in F1 racing.