2017 FORMULA 1 UNITED STATES GRAND PRIX
Austin
Lap
Record
1:36.169 by Charles Leclerc (2019)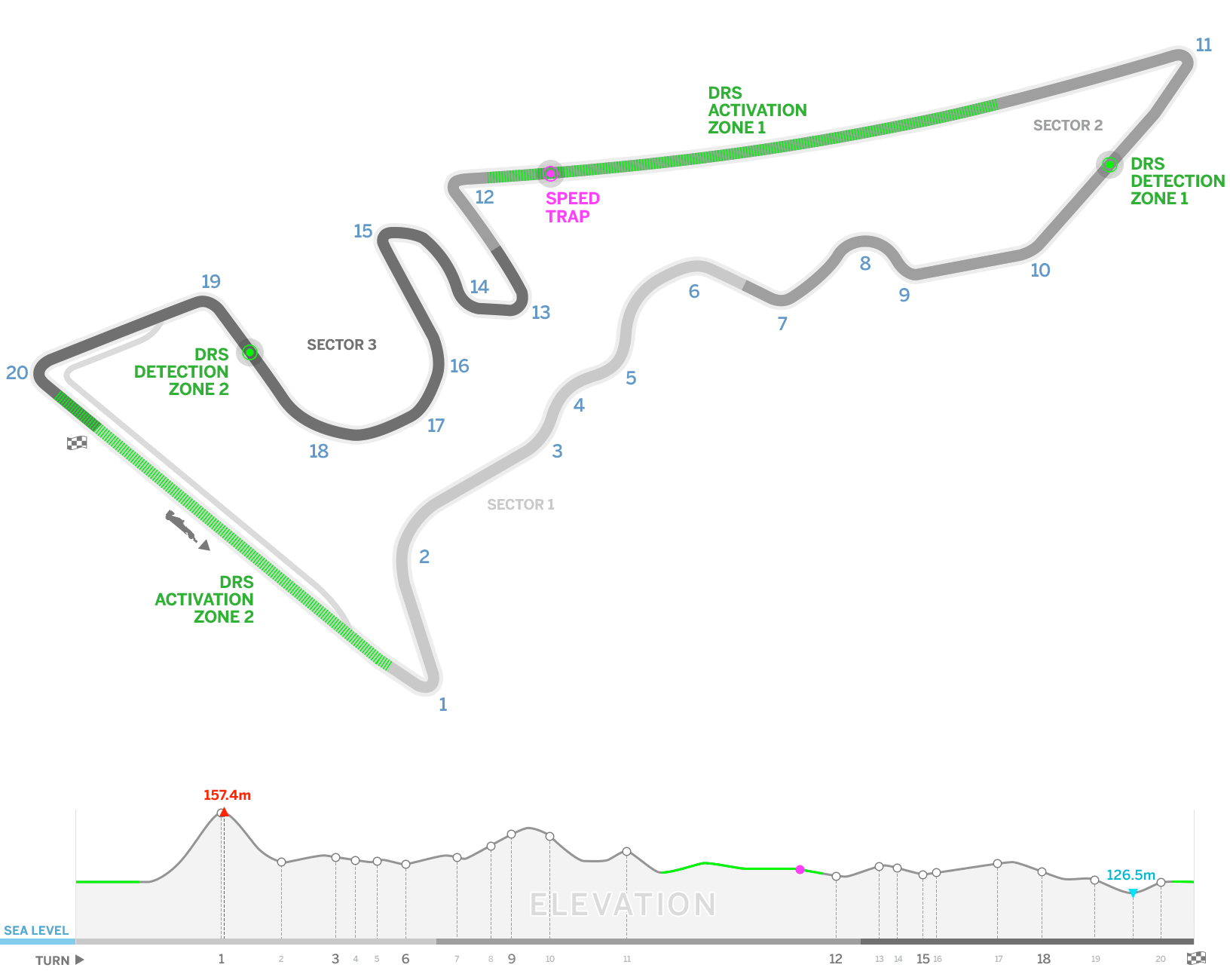 Fri 20 Oct – Sun 22 Oct 2017
Practice 1

TBC
TBC – TBC

Practice 2

TBC
TBC – TBC

Practice 3

TBC
TBC – TBC

Qualifying

TBC
TBC – TBC

Race

TBC
TBC – TBC
Practice 1

TBC
TBC – TBC

Practice 3

TBC
TBC – TBC

Race

TBC
TBC – TBC
Practice 2

TBC
TBC – TBC

Qualifying

TBC
TBC – TBC
United States
Austin
The 2012 season saw Formula One racing return to the United States for the first time since 2007 with an all-new venue in Austin, Texas. The Circuit of The Americas (COTA) is the first purpose-built F1 facility in the US designed for any and all classes of racing and was officially opened on October 21, 2012 by COTA ambassador and 1978 F1 world champion, Mario Andretti.
Its signature element is a 5.5-kilometre (3.4-mile) Grand Prix circuit, located southeast of the Texan capital, and designed by Hermann Tilke in collaboration with American architectural firm HKS.
The 20-turn, anticlockwise track, construction of which began in January 2011, draws inspiration from the best circuits around the world, as well as taking advantage of the site's natural topography to include dramatic elevation changes of up to 40 metres.
There is a steep, uphill run into the hairpin Turn One, which instantly became the venue's signature corner. Turns Three through Six look not dissimilar to Silverstone's high-speed Maggotts/Becketts; Turns 12 through 15 give a nod to Hockenheim's stadium section; and Turns 16 through 18 mirror the famous, multi-apex Turn Eight at Istanbul Park.
The grandstands, semi-permanent stands and natural seating areas enable over 120,000 fans to attend the Grand Prix, but the circuit is only one part of the multi-functional 900-acre site.
Support buildings include a medical facility, 14 executive meeting suites, a conference centre and a banquet hall, as well as an expansive outdoor live music space. Future proposed amenities include a driving/riding experience, a motorsports driving club, kart track, grand plaza event centre and tower, and a trackside recreational vehicle park.