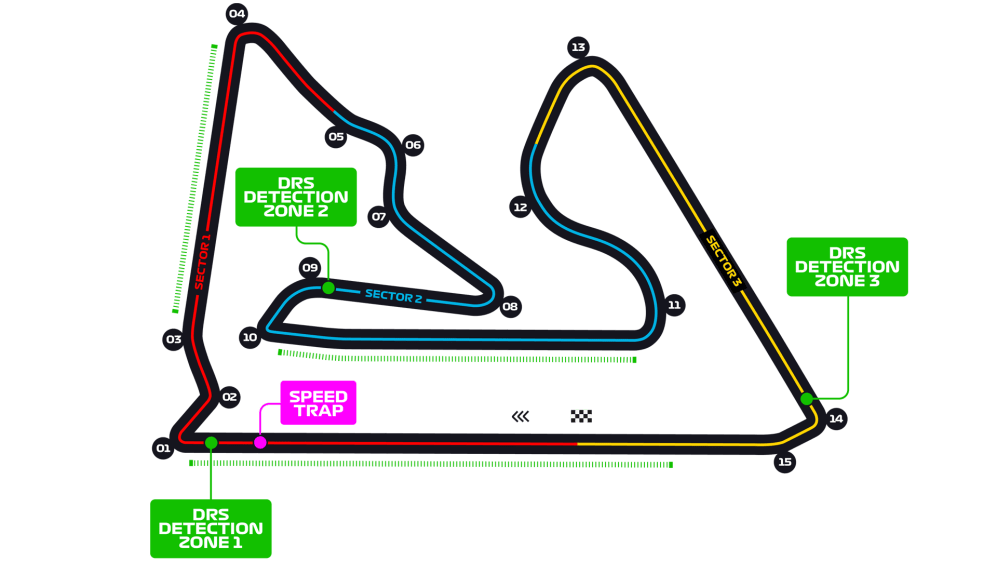 Bahrain International Circuit
| First Grand Prix | 2004 |
| --- | --- |
| Circuit length | 5.412 km |
| Number of laps | 57 |
| Race distance | 308.238 km |
| Lap record | 1:31.447 - De la Rosa (2005) |
When was the track built?
Ground was broken for the Bahrain International Circuit in December 2002. Like the Yas Marina Circuit in Abu Dhabi, the developers had a blank, sandy canvas to work with, and with that fashioned the technical, 5.4km track designed by Hermann Tilke.
When was its first Grand Prix?
It was 2004 when the drivers first lined up under an unusually cloudy sky for the inaugural Bahrain Grand Prix. The race was dominated (like many in 2004) by the two Ferraris, with Michael Schumacher winning out from Rubens Barrichello, while the crowds were also treated to a fantastic dog-fight between the Jaguar of Mark Webber and the Renault of Fernando Alonso.
More on the Bahrain Grand Prix
What's the circuit like?
You can usually expect great racing and decent amounts of overtaking in Bahrain, while the drivers have to contend with wind, racing under floodlights and the difficulty of finding a decent set-up with the wide temperature fluctuations between sessions. The track's most challenging point is the tight, downhill, off-camber Turn 10 left-hander, while the fast run through Turn 12 is another highlight, allowing the racers to really feel their cars coming alive.
Why go?
Given the nature of the track, race-goers in Bahrain have always got a decent chance of being treated to a 'duel in the desert' or three. Away from the race track, Bahrain, as you might expect, is a great place to catch some rays, with the 33-island archipelago kingdom featuring some jaw-dropping resorts. And if you want to do some racing yourself, the Bahrain International Karting Circuit, located right next to the track, is one of the world's top karting facilities.
Where is the best place to watch?
Your options are slightly limited in Bahrain, given that the organisers understandably don't want loads of fans having to traipse out into the middle of a hot desert to watch the action! We reckon your best bet is to get a place in the Batelco grandstand, giving you a great view of cars charging into Turn 8, hammering through 9 and 10 and then passing you on the run down to the short-apex Turn 11.