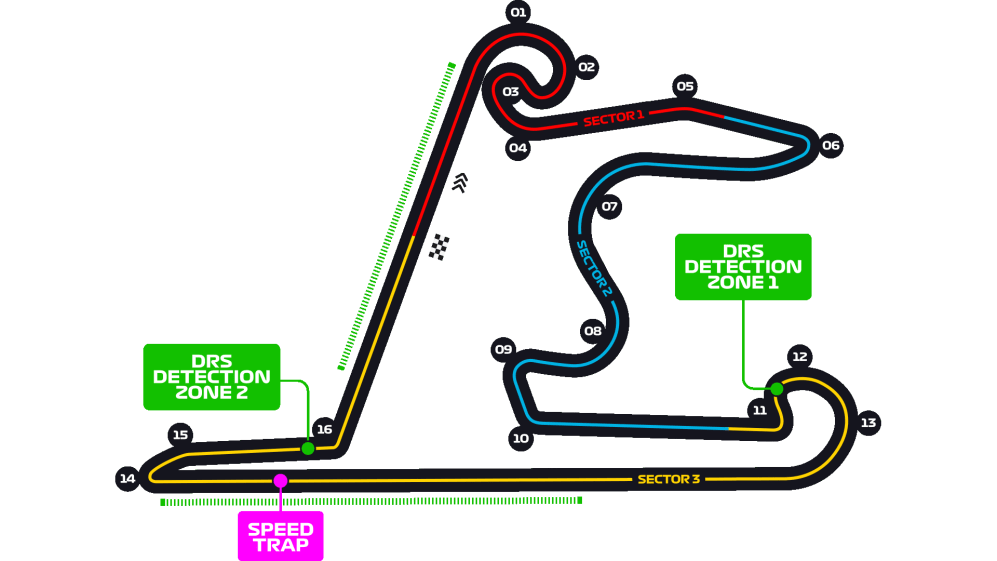 Shanghai International Circuit
| First Grand Prix | 2004 |
| --- | --- |
| Circuit length | 5.451 km |
| Number of laps | 56 |
| Race distance | 305.066 km |
| Lap record | 1:32.238 - M Schumacher (2004) |
When was the track built?
In April 2003, a marshland in the Jiading District of Shanghai was earmarked for Formula 1 greatness. Eighteen months and around $450 million later, the state-of-the-art Shanghai International Circuit was complete.
When was its first Grand Prix?
The 2004 season featured two new races, one of which was the Chinese Grand Prix (the other was Bahrain). If either were added to try and stop Ferrari from winning everything, however, it didn't work – Schumacher won in Bahrain, while Rubens Barrichello triumphed in China.
More on the Chinese Grand Prix
What's the circuit like?
The circuit's pleasing form when seen from the air – it's designed to look like the Chinese symbol for 'shang', meaning upwards – is equally pleasing to the drivers on terra firma. There's a unique start to the lap as the drivers fly into the ever-tightening Turns 1 and 2, before they dart left through 3 and 4. The super-high g force Turns 7 and 8 are loved by the drivers, while the circuit also features one of the longest straights on the calendar, the 1.2km stretch that separates Turns 13-14.
Why go?
Shanghai has expanded itself into one of the world's most dynamic and lively cities since the start of the millennium, making it an awesome F1 tourist stop. The sprawling Pudong district is chock full of hip bars and amazing restaurants. Then when it's time to go racing, just hop on the Shanghai Metro's Line 11 and get off at the Shanghai Circuit stop 60 minutes later.
Where is the best place to watch?
We're going to recommend Grandstand K, overlooking the Turn 14-15 hairpin, where you'll be in the best seats to watch all the overtaking. Alternatively, head for Turn 6, the track's other best passing spot, where Daniel Ricciardo sealed his 2018 win with a brave move on Valtteri Bottas.