'Each lap was a new adventure' – Perez on German GP
A survivor. That's how Sergio Perez felt after the Force India driver overcame a number of setbacks at the German Grand Prix to come home in a respectable seventh, the first time he has scored three points finishes in a row this year…
When the rain came out to play in Hockenheim, Force India and their Formula 1 rivals were forced to rethink their strategies. Fortunately for Perez, his team seemingly got it spot-on, allowing the Mexican to head to the next round in Hungary with some crucial momentum.
But it wasn't as straightforward as Perez would have liked. He suffered a late spin in the wet before getting overtaken by Haas' Romain Grosjean on the last lap, and he breathed a sigh of relief when he crossed the finishing line.
"When you come away from such a crazy afternoon with some good points, you have to be happy," said Perez. "The whole race was very busy and I was always in the middle of the pack fighting the cars around me.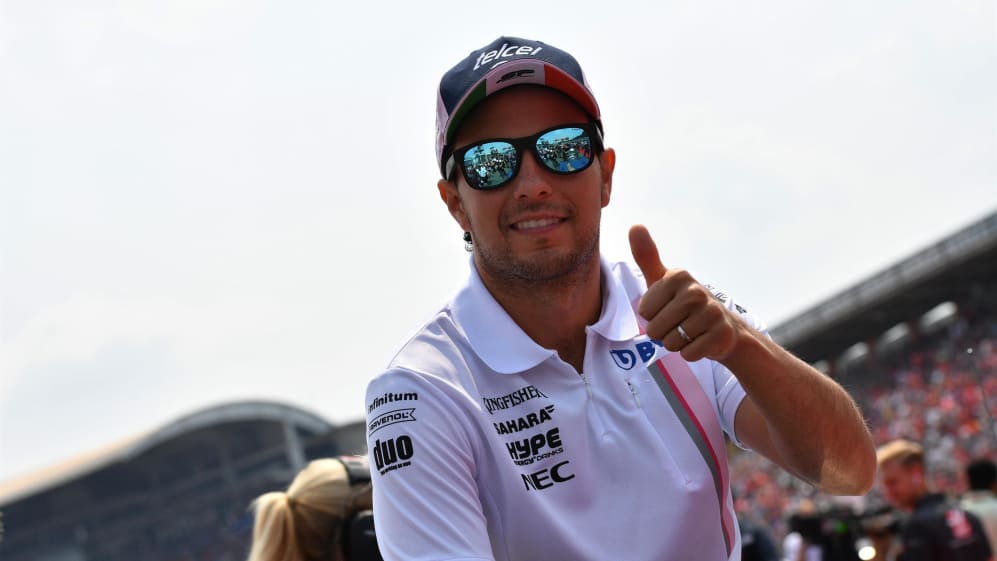 "I had a mega first stint, but we were unlucky with the slow pit stop, which cost us a few seconds. Then, when the rain arrived, it was very tricky and each lap was a new adventure. I spun while I was lapping Leclerc – I don't think he saw me and I just lost the rear end.
"To survive all these things and finish seventh is a good achievement. It's just a shame I lost a position to Grosjean on the final lap, but we did all we could today."
It was also a good day for his team mate Esteban Ocon. The Frenchman started 15th on the grid following a hugely disappointing qualifying, but made up several positions on the opening lap.
Amid the late-race chaos in the rain, Ocon then battled his way to finish in eighth, capping off a good day all round for a resurgent Force India.
"It's a great result for us after yesterday's disappointment," said Ocon. "I made a good start and gained a few places in the opening laps, but besides that the first stint was pretty boring.
"It's only after the pit stop, when it started raining, that Sergio and I truly made the difference. We gained a few positions on slicks under the rain and it was really good fun.
"I had to evaluate the situation lap by lap, based on how much rain I could see on my visor and picking my braking points accordingly, but we never really had any doubt about staying out.
"To get in the points after a tough Saturday is a great result: we stayed solid, we believed in our strategy and in the end it paid off."
Perez currently occupies 10th place in the drivers' standings, one place and one point above Ocon.