'I'm sure we had the speed to win' – Vettel left regretting Ricciardo clash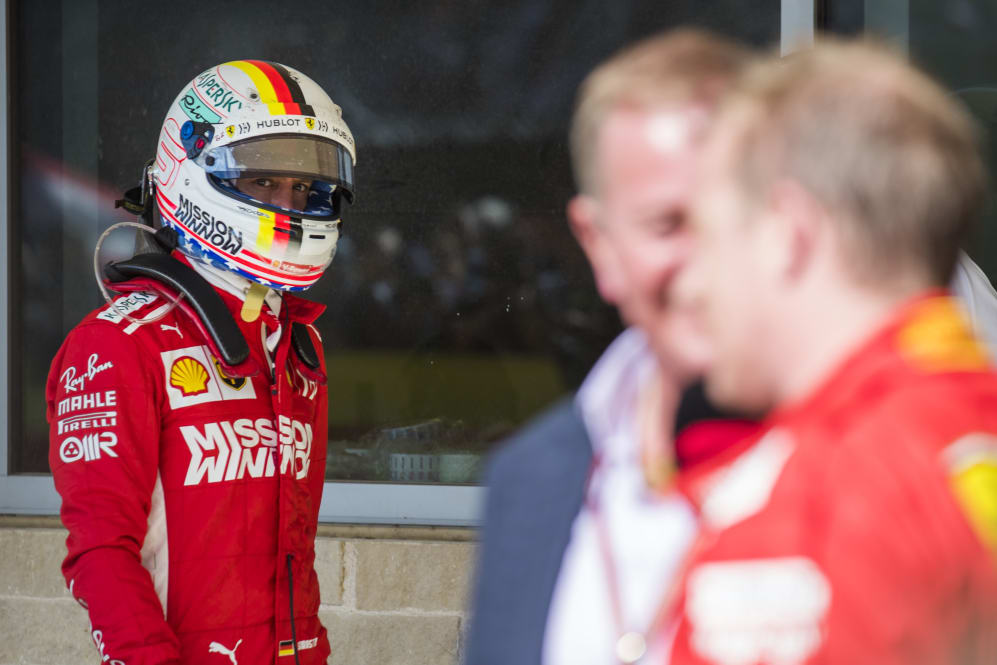 Sebastian Vettel is getting worryingly good at executing the post-clash donut to get himself facing the right way after contact with another driver. He deployed it at Monza after banging wheels with Lewis Hamilton, at Suzuka after contact with Max Verstappen, and he repeated the manoeuvre at the Circuit of The Americas (COTA) after a first-lap touch with Daniel Ricciardo. But had he not been forced to go all 'Ken Block' in Austin, Vettel is convinced that he would have had the pace to match the exploits of his race-winning team mate Kimi Raikkonen.
Vettel had out-dragged Ricciardo for fourth place down COTA's long back straight on lap one, but a small wobble for Vettel under braking allowed Ricciardo to make up ground on him at the exit to Turn 12. As they headed side-by-side into Turn 13, Vettel again had to correct going into the corner, the movement making his Ferrari drift to the outside of the turn and into the path of Ricciardo's car. The pair's tyres kissed and Ricciardo was sent into the run-off, while Vettel was spun around and forced, once again, into his Gymkhana routine.
It was a case of bad-to-worse for Vettel, with the German having already incurred a three-place grid penalty – which dropped him from a very creditable P2 in qualifying down to P5 – for failing to slow sufficiently under red flags in Free Practice 1.
And although Vettel ultimately finished in the fourth place that he'd been battling Ricciardo for, he didn't get there until the race's penultimate lap after profiting from a mistake from Valtteri Bottas, on a day where his team mate Raikkonen claimed his first win since 2013 – starting from the P2 position on the grid that Vettel would have occupied had he not received his penalty.
"It was unfortunate," said Vettel, who finished the race 18 seconds behind Raikkonen, "[but it] fits our scheme to spin… I had the inside, I think [Daniel] didn't see me so we went side-by-side. Then it was quite clear, he tried to go around the outside and we touched pretty much wheels on. After the touch, I lost the car and spun.
"After that, we had a good speed, good recovery… If we had stayed fourth or fifth after the first lap, we would have been a lot closer. I don't know if everybody is doing the same things but I'm sure we had the speed to win."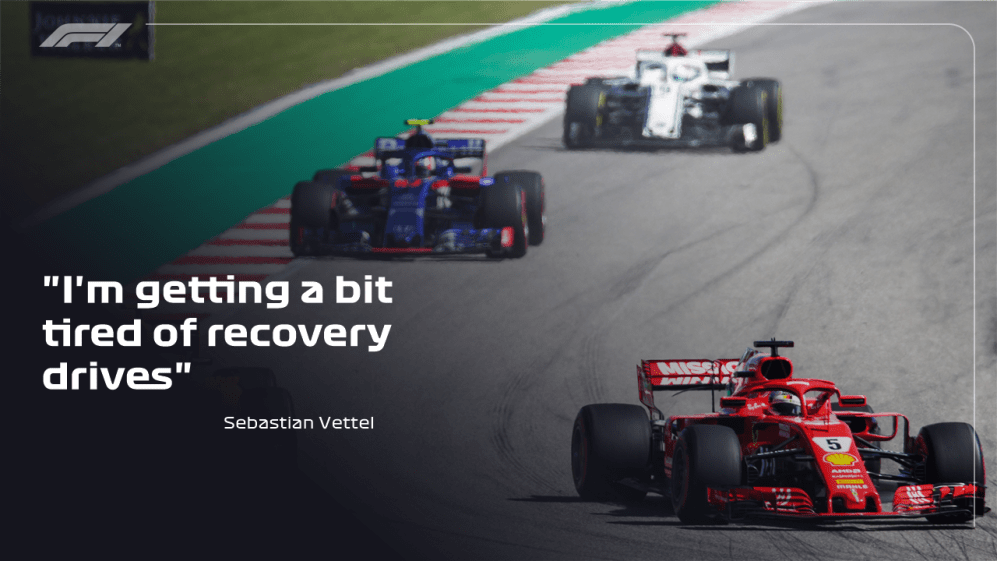 The good news for Vettel was that, by finishing fourth to Hamilton's third, he managed to keep his title hopes alive. The bad news was that, by finishing fourth to Hamilton's third, Hamilton also increased his already-sizeable lead over Vettel by three points to a full 70. And with the Mercedes driver now needing to outscore Vettel by just five more points at any of the three remaining races to be crowned a five-time world champion, Vettel knows that his own chances of claiming a fifth title have now dwindled to almost nothing.
"Getting slimmer," was Vettel's view of the championship situation post-Austin, "but we will try to head to Mexico and get the best out of our car. Maybe there are some elements we can improve.
"Probably the last four or five [races], we haven't done so well," he added. "Obviously the last couple of months haven't been good for us, in many regards. I had another recovery drive, but I'm getting a bit tired of recovery drives. It's fun to race but I'm pretty sure at that some point the coin might flip to the other side."