Many things to improve on 2019 Mercedes, says Bottas
'A diva' was how Mercedes Team Principal Toto Wolff famously described the squad's 2017 challenger, the W08. But although Mercedes' Finnish star Valtteri Bottas admits that his latest 2019-spec W10 is far from perfect, having spent the last two weeks sampling it in Barcelona pre-season testing, he isn't expecting it to be quite as precocious as its 2017 ancestor this season.
Mercedes have enjoyed a solid pre-season test in Barcelona, the team appearing to eschew chasing lap times in favour of gathering crucial data on the new W10 while rivals Ferrari grabbed the headlines. But Bottas tempered any claims of the team sandbagging with some potentially ominous comments about the balance of his new charge.
Lewis Hamilton - 'We're just digging deep'
"Definitely we have some kind of balance issues we still need to solve," said Bottas, who also lost time on Day 1 of Test 2 when his car suffered an oil leak. "Many things in the car we can still improve. I have faith in the team. We've been in difficult situations before with the car, we've had race weekends where we've been underperforming with the car, so any obstacle I feel is possible to overcome.
"Again, it's all about hard work and working together as a team for that. I trust everyone in the factory and the race team is really making sure that the starting point we have to the season, we are going to be in the best possible shape for Melbourne. If it's going to be enough to win races, that's completely unknown at this point – time will show. But for sure we will try everything we can for that."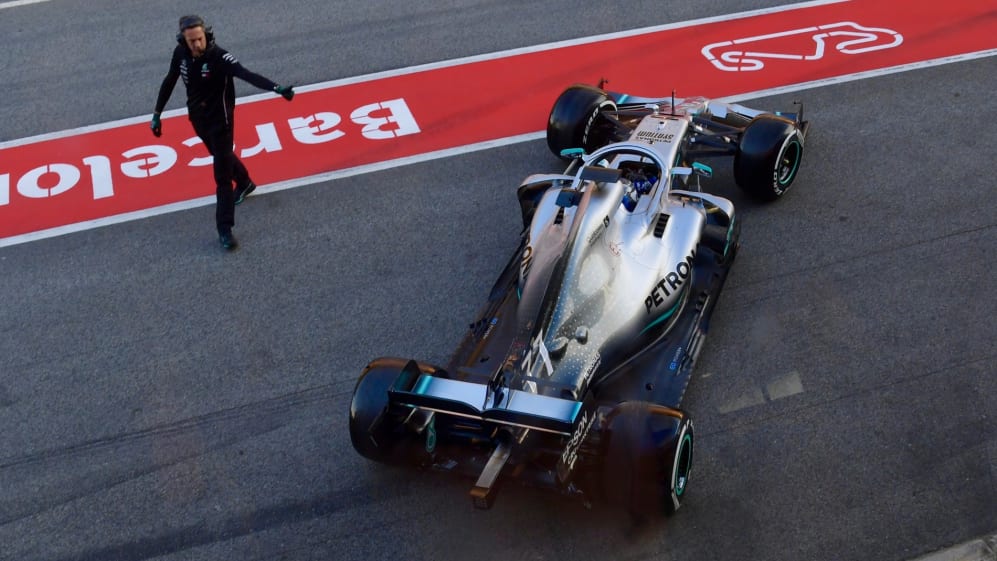 Mercedes brought a heavily updated aerodynamics package to the second week of pre-season testing, with the team seemingly set to run a parallel development programme to optimise their chances of taking the fight to rivals Ferrari – whose driver Charles Leclerc set the fastest time ever seen in pre-season testing in Barcelona on Day 3 of Test 2 with a 1m 16.231s. But despite having sounded a cautious note, Bottas did admit that the W10 he drove in the second week of testing was already heavily improved over its first week iteration.
"From last week to this week, we've been definitively able to improve the overall balance of the car," he said. "I think one big [issue] has been the stability of the car in higher speeds, but I think we've made some good progress on slower speeds.
Mercedes: Analysing the world champions' new aero package for Test 2
"We've been able to improve the overall grip, downforce and stability, but in those areas that I've mentioned we can still do better. It's not a perfect car yet, but I definitively feel the potential is there. Maybe it's another car that has a very narrow sweet spot but once we hit it, I'm sure it can be very quick.
"We've learned massively every day, I feel it has been a good step every time I jump in the car – it always feels better. Hopefully I can feel… an even bigger step in Melbourne. That's why we do testing."