Interview
Exclusive interview - Toto Wolff's 2017 takeaways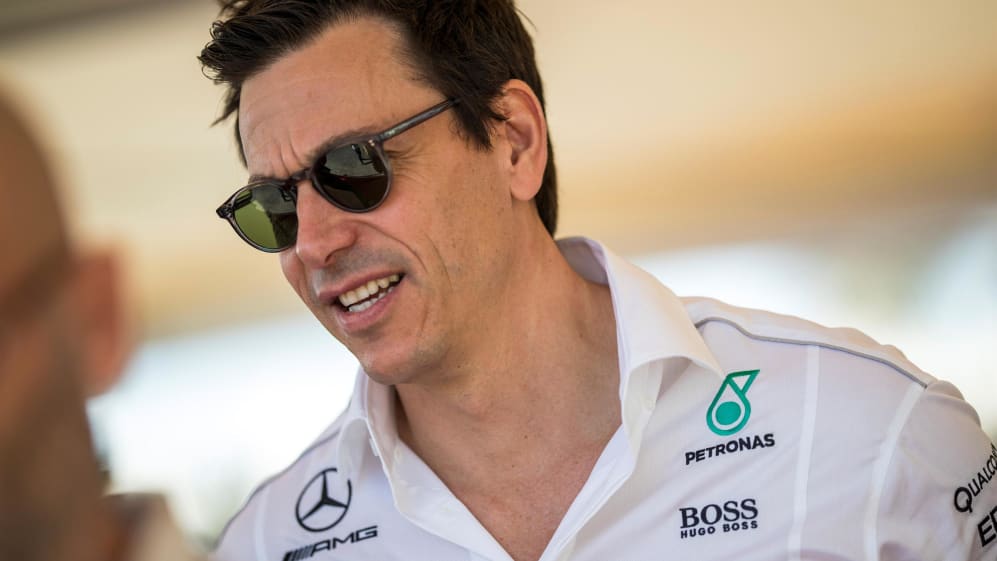 Head of Mercedes-Benz Motorsport Toto Wolff looks back on another triumphant season – one in which he led his team to a fourth successive championship double, including a fourth title for star driver Lewis Hamilton…
Q: Toto, let's go back 12 months. Abu Dhabi 2016: Nico Rosberg has just won the championship – and Lewis was not exactly the life and soul of the Mercedes garage. Can you talk us through the 2017 season starting from there?
Toto Wolff: Ha, every driver has the right to be upset when you lose a championship. You could not expect him to be all cheery when his team mate has just walked away with the title! Another factor, of course, was that the relationship between the two was not great. Frustration had built up over the season on Lewis's side, but not on the team side. Some of it was for very right reasons, but there are always two perspectives. Where it all changed for me was that meeting in the winter.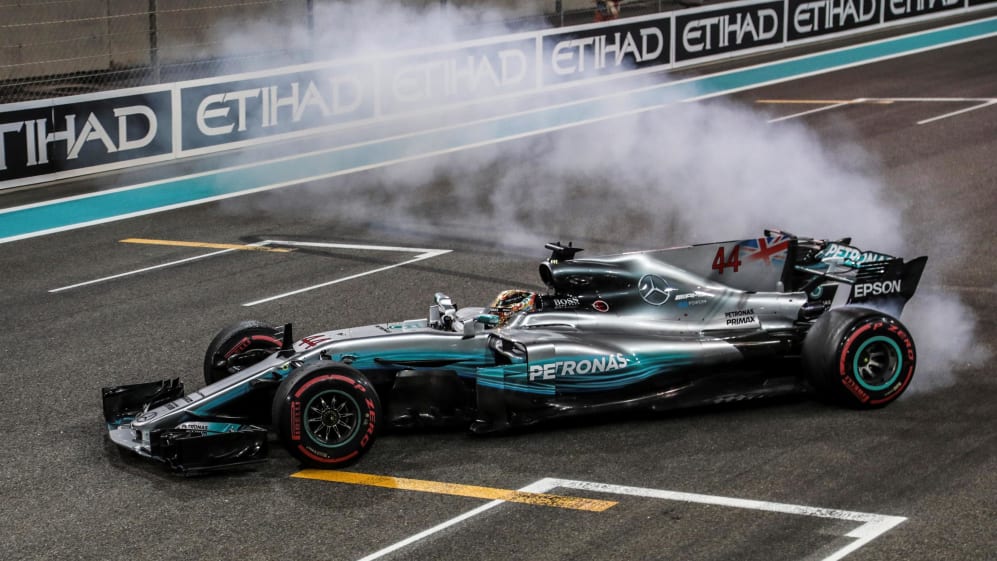 We provide the best car on the grid and he provides the strongest driving
Q: Yes - your now famous 'kitchen meeting' with Lewis! But in reality, there was surely no other option – on both sides – than to smooth things over?
TW: Well, that sounds like a negative spin, but in fact it was a very positive thing. Yes, it was not an easy discussion, but since then we've grown stronger together. And no doubt it is a perfect match: we provide the best car on the grid and he provides the strongest driving. So yes, it works for both of us.
Q: So that sounds as though at the start of your meeting it was already clear that there would be a positive outcome…
TW: We always honoured each other's performances. At every stage we were aware of the potential this alliance has. So yes, you might say that we knew that we wanted to make it work.
Q: How did you both approach those talks? Are you – and is Lewis – an easy forgiver?
TW: It's nothing about forgiving. It is about accepting that somebody else has a different perspective and different opinion. So sometimes all it takes is to agree that you disagree. And then move on. In any functioning relationship of mine it is never plain sailing. You grow in difficult moments – and that goes for him and myself.
Q: Are you closer now than you have been before?
TW: A million times closer.
Q: The on-track action then started rather slowly and the first half of the season saw Sebastian Vettel in the lead. Was there ever the fear that Mercedes could lose the title this year?
TW: Ferrari had a very strong start of the season. Their car was very fast from the get-go. We on the other hand started with a vicious diva and had to transform it into a diva that we could control. In the end we've won 12 races and Ferrari only five – so the diva is under control!
Q: Do you get kind of religious when you're looking at the data during a race? Praying that the car, the tyres, the driver will last?
__TW: __Funny that you bring up that matter up. One of the least religious people I know is Niki (Lauda), but sometimes in tricky situations he would pray in the garage: 'Dear Lord, please help us!' He is praying for the two of us. I sometimes tell him then: 'You are such an opportunist!' (Laughs)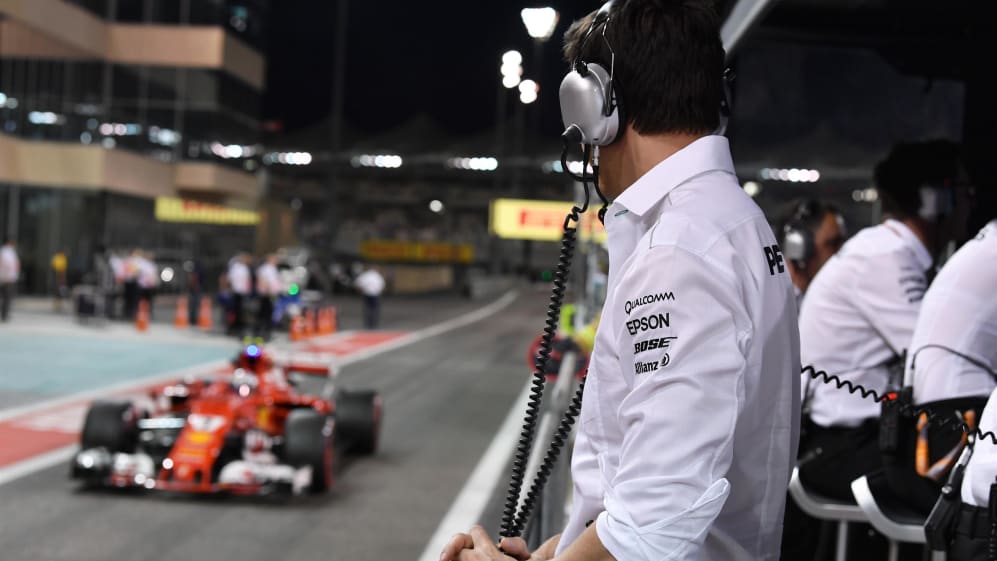 2018? I guess we will see a fight between Mercedes, Ferrari and Red Bull. And maybe McLaren-Renault too...
Q: Lewis said not too long ago that at the first negotiations with Mercedes he told you that sooner or later you'd have to fight Ferrari – and then you would need him. Did he say that? And did you believe it back then?
TW: Yes, he said that and I thought: 'He might be right!' And here we go: he was right! Because the years 2014 to 2016 were outliers – you cannot sustain such dominance forever in a sport that is as competitive as Formula One.
Q: You have surely achieved everything an F1 team principal could hope for: Eight title wins in a row, equalling Red Bull Racing – only Ferrari are ahead with 11 in a row (six constructors' and five drivers'). Is that the next box you want to tick?
TW: I have great respect for what Jean Todt achieved [with Ferrari, from 1999 to 2004]. And yes, it is an interesting objective. To achieve something like that, it is team effort – setting the right objectives. Such a success is never a single man's achievement. Yes, we have set objectives for the team and we are motivated to achieve them.
Q: If Lewis is the 'rock star' at Mercedes and Niki the 'warhorse', how do you see yourself? As the 'workhorse'?
TW: Ask Niki or Lewis! I cannot find a synonym that works for me. And to be honest – and I am sorry to say it – I am no workhorse! (Laughs)
Q: Could it be that you are the diplomat who brings everyone together?
TW: No such big word! You have to learn to understand the strengths and weaknesses of your team. Be like a professional football team that lets the ball play and not like a football team of six-year-olds who all run behind the same ball. It is about understanding your position and playing to the best of your abilities.
Q: 2018 – the same procedure as the last four years?
TW: Winning becomes more difficult with every single year. I guess we will see a fight between Mercedes, Ferrari and Red Bull Racing – and maybe McLaren-Renault will join us in the title fight. That is an exciting outlook for the fans. But, of course, we want to make the right calls over the winter. Minimize your mistakes – and then go racing. And if you win you know that you have done a good job! (Laughs)