'Mighty' Ricciardo pole 'came from nowhere' – Horner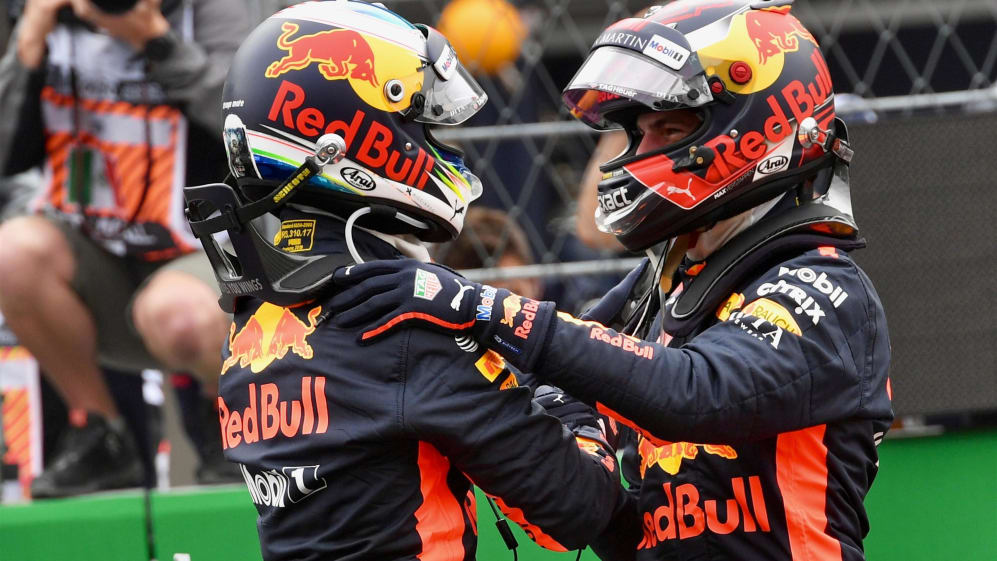 Red Bull have looked quick – very quick – this weekend in Mexico City, but it was Max Verstappen rather than Daniel Ricciardo who'd looked best-placed to take an unlikely pole. Ricciardo didn't read the script, though, as the Australian pulled out a stunning lap – and one which surprised even his boss…
Having dominated Friday practice, Red Bull picked up where they left off in Free Practice 3, with Verstappen making it a clean sweep of pace-setting times. The Dutchman was even on provisional pole after the first runs in qualifying, but he and the rest of the field were blindsided by Ricciardo's last-gasp effort.
"A mighty last lap from [Daniel]," said Red Bull Team Principal Christian Horner. "The second sector and third sector, he just nailed it. It sort of came from nowhere really.
"He has been a couple of tenths off all weekend and then suddenly on that last set of tyres – boom. It's just absolutely perfect. You could hear how happy he was on the slow-down lap. I'm really pleased for him."
Ricciardo's effort marked his first career pole position at a circuit other than Monaco, having achieved the feat in the Principality twice before, and the Australian was ecstatic on team radio – understandable, given his recent run of five retirements in 10 races.
"I knew [that lap] was there somewhere," said Ricciardo. "We hadn't had the cleanest laps in practice and I just knew putting the laps together would be crucial, as always.
"I knew the pace was in the car as Max had shown all weekend from start to finish, so I knew it was all about putting a clean lap together at the end. I still wasn't convinced as it wasn't the cleanest but putting it on pole, I can relax now.
"I'm just super happy. It's been a while since pole. It's been a while since we had a pretty good weekend in general and we've been quick all weekend."
This was the first time since the 2013 United States Grand Prix that Red Bull have locked out the front row, with Max Verstappen qualifying second ahead of Mercedes' championship leader Lewis Hamilton.
Does Ricciardo reckon it will be a fight between the two Red Bull drivers for victory? "I think it's probably too early to say it's just going to be a race between each other – as nice as that would be," he said. "You never know on Sunday.
"It's a long run down as well to Turn 1, and even in general, once you get going, tyre wear's been pretty significant here this weekend. So I think if you are a quicker car, I think you can still overtake.
"Hopefully we are the quicker car all day. So yeah, I would say we're in a good position, for sure, but we'll keep it chilled for now and just do what we've got to do tomorrow."
Ricciardo and Verstappen came together with disastrous consequences in the Baku earlier this year but the Australian wasn't anticipating giving Horner a 'heart attack' on the pit wall by repeating the feat this weekend.
"No one wants to fight like Baku so hopefully no heart attacks tomorrow," he said. "Maybe heart attacks of celebration and joy."
Ricciardo has only previously converted one of his two pole positions into a race win – at the Monaco Grand Prix earlier this year. And having not appeared on an F1 podium since that race, the Australian will be super keen for a repeat of his Monaco antics at the Autodromo Hermanos Rodriguez, as he looks to end his career at Red Bull on a high.