'Our job is to challenge the impossible' – Arrivabene talks Ferrari's fading title hopes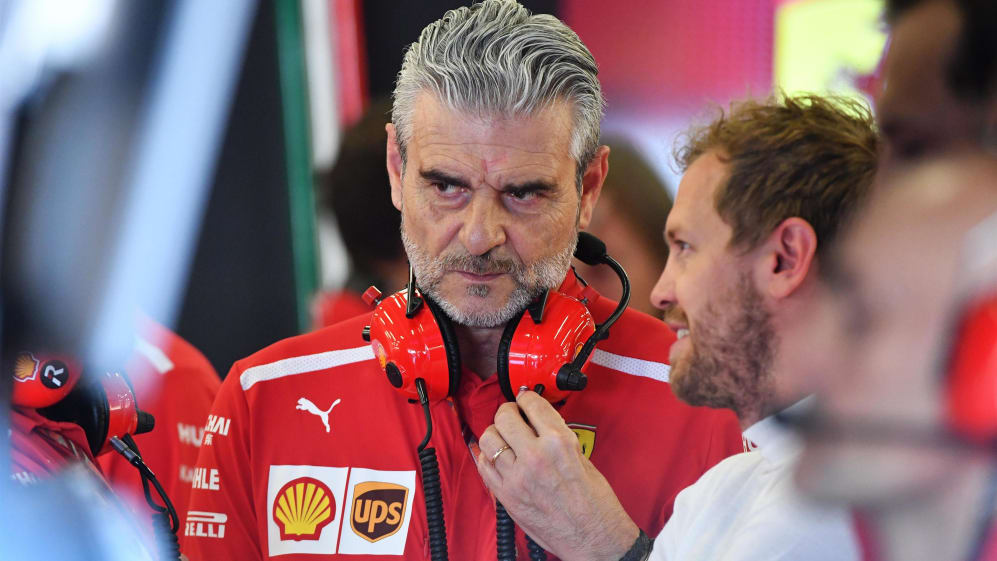 There are a few grim statistics floating around Ferrari currently. But the one that will be causing Maranello's personnel the most sleepless nights is Lewis Hamilton's current win tally. From the last seven Grands Prix, Hamilton has won six of them, meaning that outscoring Sebastian Vettel by eight points at the next one will see Hamilton claim his fifth world title.
The one of those seven that Hamilton didn't win was the Belgian Grand Prix. The first race back after the summer break, Mercedes watched aghast as Vettel sailed past Hamilton for a comfortable victory. It seemed the tone had been set for the rest of the season, while Ferrari's front-row lock-out at the following Grand Prix in Monza appeared to confirm that.
But then Hamilton won the race, while an impetuous first-lap move by Vettel saw him fall down the order before recovering to fourth. From then on, Mercedes have soared as Ferrari have faltered, with Hamilton winning every race since to head Vettel by 67 points in the drivers' standings, while Mercedes' advantage in the constructors' is up at 78.
So does Team Principal Maurizio Arrivabene have an impossible task on his hands to guide Ferrari to their first title since their 2008 constructors' triumph? Perhaps… but it's all part of the job description, apparently.
"I know that the situation looks impossible," said Arrivabene following Hamilton's Japanese Grand Prix victory in which Vettel could only finish sixth. "But our job sometimes is to challenge the impossible. And this is what we're going to do and trying to do for the future races.
"We win and we lose together and I'm the final responsible [person]. But I have to say that concerning [the race in Japan], the team and the drivers, they reacted very well. We had circumstances during the race that impeded us to achieve the podium. But at least the podium was in our hands today and the cars, even if damaged… were going quite well."
Ferrari's chances of victory in Japan had been hurt after they sent Vettel and team mate Kimi Raikkonen out for the final segment of qualifying on intermediate tyres, the team anticipating rain that, unfortunately for them, only fell after Hamilton had set a time on slick supersoft tyres that was good enough for his 80th pole. Vettel's error on the only flying lap he could manage after he'd changed to supersofts, meanwhile, saw him set the ninth-fastest time.
Starting from eighth on the grid after Esteban Ocon had been docked three places for failing to slow sufficiently under red flags in Free Practice 3, Vettel made great progress in the early part of the race and was challenging Max Verstappen for third at Spoon corner on Lap 8 when the pair touched, leaving Vettel once again facing an afternoon of climbing back through the order – although unlike Monza, this time he could only make it as far as sixth.
Asked if Vettel had made a mistake going for the move on Verstappen, given that the Dutchman had yet to serve a five-second penalty for a collision with the sister Ferrari of Kimi Raikkonen on Lap 1, Arrivabene responded angrily.
"Why we have to talk [about it]? It's not a mistake," he said. "If you look, we have the news about the penalty very, very late, Sebastian was doing his job and as far as I know, his car was inside so then if you want to talk about race incidents, I accept this version but the fact is that we were not able to exploit all our potential."
If Hamilton wins the next race at the United States Grand Prix and Vettel finishes lower than second, Hamilton will become world champion with three rounds to go. And with that in mind, here's one more statistic that will likely be dominating Ferrari's thoughts as they get ready to head to Austin: since 2014, Hamilton is the only driver who's won at the Circuit of The Americas. It's most definitely time for Ferrari to start challenging the impossible.