Opinion
130R, Blanchimont and the Wall of Champions – our writers on the trickiest corners in Formula 1 history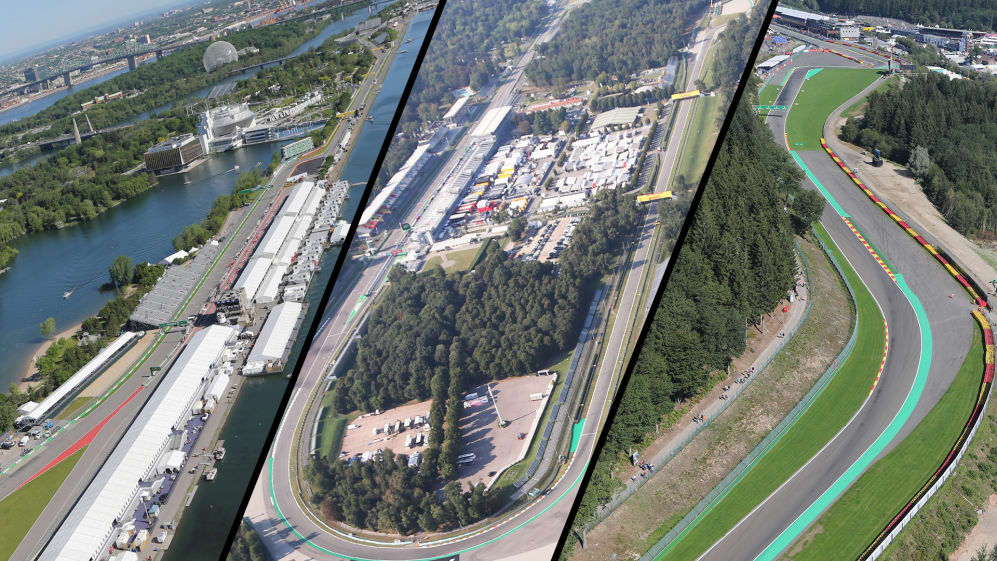 With Azerbaijan and Canada back-to-back once again, both circuits including two of the most challenging corners ever tackled in an F1 car, we asked our contributors for the toughest turns in Formula 1 history...
130R, Suzuka
Suzuka's 130R, so named because of its metric radius, is a left-hander that follows a long drag from the Spoon Curve and is approached at close to 320 km/h in eighth gear. In its heyday in the 80s and 90s it was a very fast and bumpy test of a driver's mettle, the scene of some very committed and dramatic overtaking, and regularly bit the unwary. Following Allan McNish's hefty accident in 2002, it was modified with a tarmac run-off area and like Eau Rouge is now generally taken flat in today's high-downforce F1 cars, though absolute precision is still as essential as a heavy right foot.
David Tremayne, Hall of Fame F1 Journalist
Wall of Champions, Circuit Gilles-Villeneuve
There are so many incredible, iconic corners on the F1 calendar, but what I love about Turns 13 and 14 – the final chicane – in Montreal is their simplicity. A long straight into a big braking zone, tough kerbs and a wall just waiting to punish any mistakes.
It might not look thrilling on paper, but when it has claimed the likes of Michael Schumacher, Damon Hill and Jacques Villeneuve in the same race weekend, it's clearly a challenge.
That weekend in 1999 left me feeling like any driver could end up getting it wrong at any time, with the enduring temptation to try and carry that bit more speed onto the pit straight to end a lap.
Chris Medland, Special Contributor
Curva Alboreto, Monza
The fast, famous, final corner at Monza, formerly known as the Parabolica; one that requires complete commitment and skill to finish a lap of the ultimate low-downforce circuit, where the cars are notoriously skittish. In the past it used to be skirted by gravel and to get the lap time you had to run around the outside as the speed builds, just millimetres from the gravel and then walls beyond, squeezing on the power as early as possible for the long drag to the line.
Somewhat sedated now by asphalt runoff, and renamed the Curva Alboreto last year, it's still a challenge, but the absolute peril of the corner is maybe reduced from the days of old.
Jolyon Palmer, Special Contributor and former F1 driver
Paddock Hill Bend, Brands Hatch
It's a bit of an anachronism, given it hasn't appeared on the F1 calendar since 1986, but for me, Brands Hatch's Paddock Hill Bend remains one of F1 and motorsport's most magical, unique corners. The joy of track days means I've had the pleasure of experiencing Paddock Hill Bend myself, and even in a Volkswagen Golf, I can confirm that it was terrifying. What it must have been like in a mid-80s turbocharged F1 car on qualifying tyres and full boost is beyond my ken.
Greg Stuart, Senior Editor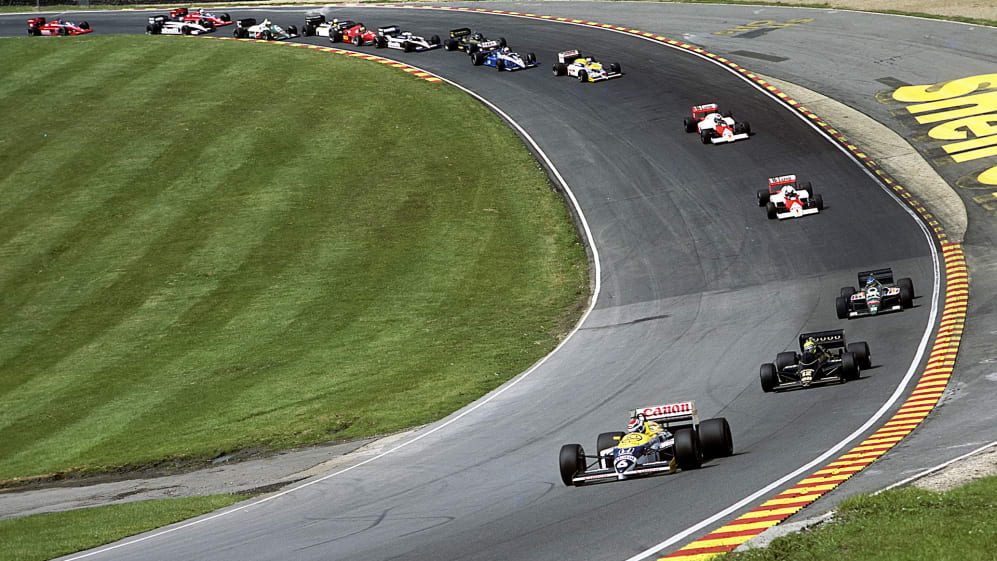 Blanchimont, Spa-Francorchamps
Spa-Francorchamps is home to a plethora of extraordinary corners, but one of the most daunting is Blanchimont. It's a ruthless double-left, taken at very high speed (possibly flat-out depending on the quality of your car) and there's very little run-off. It demands bravery and utter commitment. It is an absolute beast. Max Verstappen tamed it beautifully in his rookie year in 2015, hanging his Toro Rosso around the outside of Felipe Nasr's Sauber to complete one of the all-time great overtakes. Remarkably, he revealed after the race that he'd practised and successfully pulled off that exact move in a sim race the previous week.
Lawrence Barretto, F1 Correspondent and Presenter
Degner 1 & 2, Suzuka
Toughest corners are difficult to split from those we consider the best or the most iconic. For me they have to represent the mightiest challenge. The change of direction at Maggots and Becketts deserves note here, so too that downhill switchback at 11 in Bahrain. The Singapore Sling always caught people out in the early days and Turn 14 could be notoriously tough at Sepang. You could write an entire article on the Nordschleife, but particularly challenging turns were Schwedenkreuz, Bergwerk, Aremberg and Pflanzgarten II.
I've rarely been more impressed, however, than standing on the hill on the inside of Degner at Suzuka. The commitment required is huge and each of the turns is unique. Slightly different camber, slightly different angle, and go in too hot to either and you're done. Key to a great lap, undoer of legends, a magnificent challenge at a magnificent track.
Will Buxton, F1 Digital Presenter
Turn 8, Baku City Circuit
I admit there may be an amount of recency bias in my choice, but nothing beats the cramped and unsighted nature of Turn 8 at Baku, and the accuracy it requires. It's fairly new to the eyes of F1 fans and drivers, so calling it iconic is a touch premature, but for a corner that allows for zero overtaking, could it be any more entertaining? It demands perfect commitment, but is unforgiving, and punishes those who take it either an inch too far or don't take the extra inch. Just ask Charles Leclerc, Sergio Perez, or our own Jolyon Palmer.
Nadim Bart-Williams, Junior Staff Writer
Turn 8, Istanbul Park
Take a deep breath, pin the throttle amid crosswinds and get ready to enter Istanbul's Turn 8, a triple-apex left-hander that spans about 640 metres. Entering at around 260 km/h, one would hope to exit at around 280km/h – the challenge being to keep the steering wheel at a constant angle throughout and ignore the changes in camber that only beg to throw you off course. It's a physical challenge as much as a mental one – drivers having to sustain 4.5G throughout the turn – and then once you exit, the crosswinds hit you again, threatening to undo eight seconds of hard work.
Samarth Kanal, Staff Writer