'A lot of positives' for Ferrari despite FP2-ending crash, says Leclerc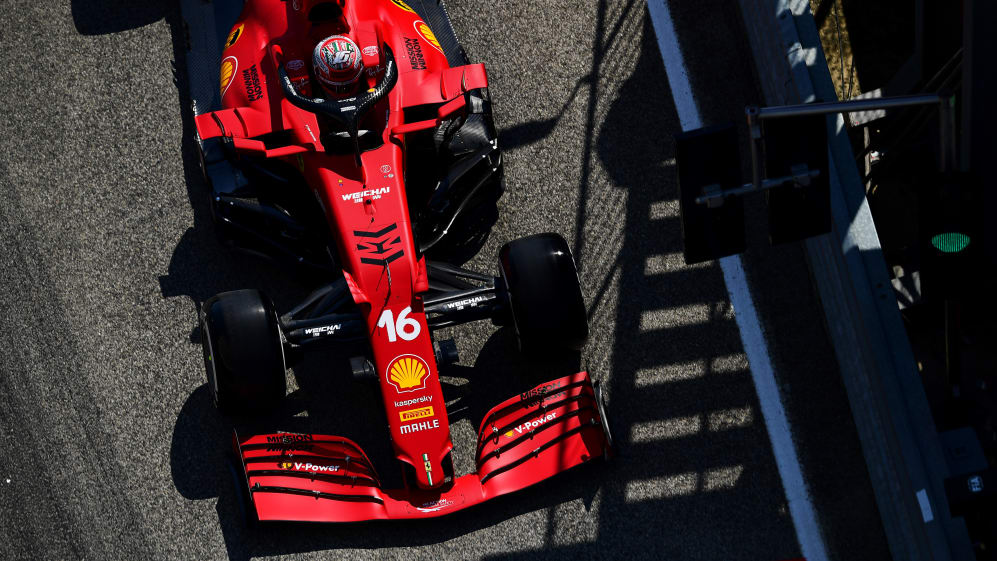 Charles Leclerc ended FP2 with his Ferrari in the wall of the final corner at Imola, yet the Monegasque driver was filled with optimism over Ferrari's pace as they made great strides on home soil.
Having finished fifth in FP2 and fourth in FP1, Leclerc's day was running relatively smoothly until he went off at Rivazza on Friday afternoon to end FP2 early. Yet the Ferrari ace saw "great" performance in his SF21, which was backed up by team mate Carlos Sainz finishing in P6 and P4 in the respective sessions.
READ MORE: Well-oiled Ferrari 'just about runs by itself' says Binotto, as he reveals plan to skip more races in 2021
"Actually there are a lot of positives today," Leclerc said. "It has not been an easy day on my side but the performance has been great for me today. Unfortunately we didn't do the first part of FP1 for a small problem but then the car felt good.
"And then in FP2 it was very competitive; we got our lap time deleted for very small margins in Turn 9 but yeah, most important is not to do the same in quali, but the performance was there too. Also, in the race pace, it was good, and then I did a mistake in the last corner then went into the wall, but yeah, better do it now than in the race," he explained.
Leclerc finished a brilliant fifth in last year's Imola's race and this year he said Ferrari are in a far better position to bag another strong result.
"I like the balance… compared to last year, it felt much better this weekend; the grip is good, the balance is good, and I have quite a bit of confidence in the car so yeah, I'm looking forward to tomorrow," continued Leclerc.
READ MORE: Verstappen says Mercedes Imola pace 'no surprise', as he reveals cause of FP2 failure
"It felt better than last year, then we have to wait and see for tomorrow whenever we are all pushing in qualifying because for now it's difficult to believe we are so close to the top teams and I am pretty sure they have more to come for tomorrow, so let's wait and see," he surmised.
Team mate Carlos Sainz meanwhile was also happy, hailing an "important day" for himself trying a contemporary Ferrari for the first time somewhere other than Bahrain.
"I had a positive feeling today," said the Spaniard. "I think the car, particularly in these temperatures, looked to be working much better. On this kind of tarmac, I don't know what it is, but you can feel some more grip and I'm enjoying it out there.
"I'm still not exploiting it fully because I still don't know yet where the limit is – I haven't reached it. But for that we have practice and we have tomorrow to little by little get closer to it."
With Ferrari in the mix towards the top of the grid, the jury is out on which midfield team will reign supreme in Saturday's qualifying – and whether any of them can threaten the expected leading teams of Red Bull or Mercedes.