Albon admits he had flashbacks to previous clashes as he completed decisive pass for maiden podium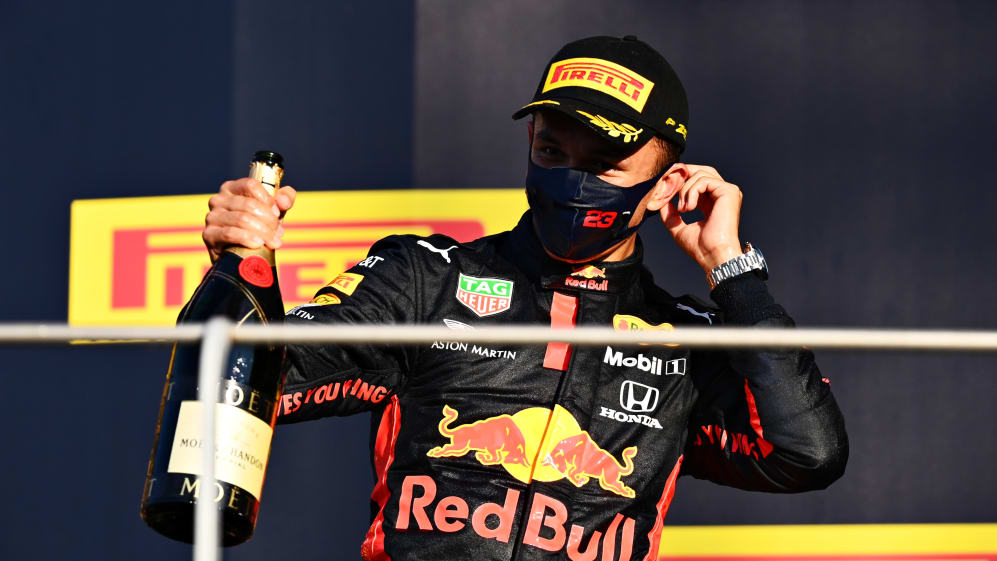 Pierre Gasly's shock first victory for Red Bull's junior team AlphaTauri last time out an Monza heaped extra pressure on Alex Albon, who was still searching for his first rostrum for the senior squad he joined at Gasly's expense last season. But the British-born Thai driver absorbed it brilliantly in a chaotic Tuscan Grand Prix to finally bag that long awaited podium - though he admits he "had to work for it"…
READ MORE: Hamilton beats Bottas to win crazy Tuscan GP, as Albon secures maiden podium
With team mate Max Verstappen forced out when caught in a collision on lap one, Albon carried Red Bull's hopes on a Mugello track where they had emerged as the second strongest package. And despite struggling to get off the line at the start – and the subsequent two restarts – which dropped him back, he was able to recover each time.
"It was tricky out there," he said. "We had to work for it. It was nice to finally get that podium, under the circumstances as well. We weren't good off the line, so a lot of the overtakes had to come on track.
"When you lose positions at the start, you always feel it will be more hard work, but you never doubt you can get back up there. The first stint, I used a lot of my tyres to overtake, I think, two cars.
READ MORE: 'We shouldn't have been in that position' – Verstappen rues power problems that led to lap 1 crash
"On the mediums, we were strong, so I knew the pace was there, but I was a bit afraid with another red flag as I was happy to be in that position. The Renault was strong at starts, Racing Point, too. It fired me up when we lost another position off the start, but I knew we had the pace.
"It was more about patience during the race, and making sure you don't use the tyres too early so you had something for overtakes later on."
His pass on Renault's Daniel Ricciardo for third was impressive, particularly because the last two times he was fighting for a podium - with Lewis Hamilton in Brazil last year, and again with Hamilton in Austria earlier this season - he tried similar moves around the outside and came to blows. This time though, it worked out perfectly.
"We have been good in the last corner, good in last sector, this weekend which is good on a circuit where there is only one place to overtake - at Turn 1," he added. "I didn't catch the Renault's as much as I thought, so it was a last minute dive on outside.
"Of course I was a little worried, but I left enough space. When you send it round the outside, you're hopeful, and you have flashbacks to previous times when fighting for podiums, but we managed to get through unscathed."
Albon became the first Thai driver to secure a podium in F1 history, and is the first driver other than Verstappen to score a rostrum for the team since Ricciardo, when he won the 2018 Monaco Grand Prix.