Report
Hamilton beats Bottas to win crazy Tuscan GP, as Albon secures maiden podium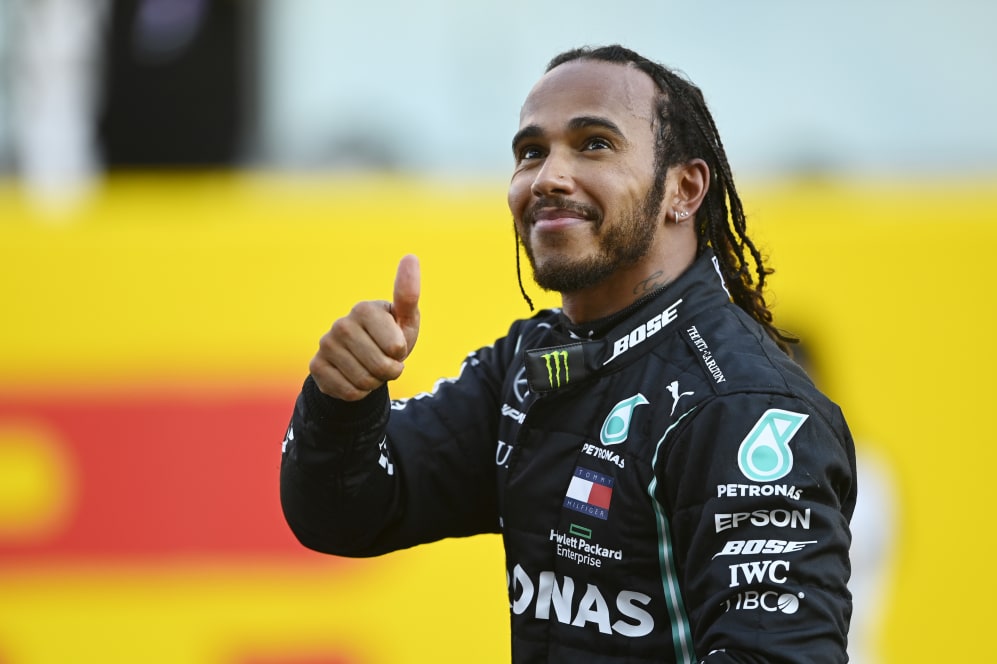 Mugello served up an absolute thriller in its first ever Grand Prix, with Lewis Hamilton taking victory from Mercedes team mate Valtteri Bottas in an action-packed race that saw two dramatic multi-car crashes within the first nine laps, two red flag stoppages and an exciting finale that culminated in Alex Albon scoring his first F1 podium.
A late red flag, the second of the race – after Racing Point's Lance Stroll went off at Arrabbiata 2 while holding fourth place – set up a dramatic finish to the first Grand Prix to be held at Mugello, with Hamilton holding on to take his 90th career win from Bottas, as behind, Albon pulled off a fantastic move on Renault's Daniel Ricciardo to claim an important third with eight laps of the race to go.
Ricciardo was left to come home fourth, tantalisingly close to his first podium with Renault, as Sergio Perez finished fifth for Racing Point. With just 12 runners classified at the finish, Lando Norris was sixth for McLaren, ahead of the AlphaTauri of Daniil Kvyat, with Ferrari's Charles Leclerc classified eighth at the team's 1,000th Grand Prix.
Alfa Romeo's Kimi Raikkonen was ninth after receiving a five-second race penalty, with the second Ferrari of Sebastian Vettel rounding out the top 10. That left Williams' George Russell 11th, agonisingly close to the team's first points of the year, while Haas' Romain Grosjean finished 12th of 12.
Max Verstappen and Monza winner Pierre Gasly's Tuscan Grands Prix lasted just two corners, with both caught up in a melee at Turn 2 – Verstappen having already suffered a power unit issue that saw him fall down the order before getting punted off, with Gasly caught up in the incident as well.
A resultant Safety Car then led to a huge accident at the Lap 7 race restart, with Carlos Sainz, Antonio Giovinazzi, Kevin Magnussen and Nicholas Latifi all taken out of the race – thankfully without serious injury, with the race red flagged while the debris was cleared up, before the second red flag came on Lap 45 after Stroll's accident, making for a first race at Mugello that won't be soon forgotten.
FORMULA 1 PIRELLI GRAN PREMIO DELLA TOSCANA FERRARI 1000 2020
Italy
2020
Race results
POSITION
TIME
POINTS

1

Lewis

Hamilton HAM

Mercedes

2:19:35.060

26

2

Valtteri

Bottas BOT

Mercedes

+4.880s

18

3

Alexander

Albon ALB

Red Bull Racing

+8.064s

15

4

Daniel

Ricciardo RIC

Renault

+10.417s

12

5

Sergio

Perez PER

Racing Point

+15.650s

10

6

Lando

Norris NOR

McLaren

+18.883s

8

7

Daniil

Kvyat KVY

AlphaTauri

+21.756s

6

8

Charles

Leclerc LEC

Ferrari

+28.345s

4

9

Kimi

Räikkönen RAI

Alfa Romeo Racing

+29.770s

2

10

Sebastian

Vettel VET

Ferrari

+29.983s

1
AS IT HAPPENED
Bottas was incisive off the line, immediately launching from P2 on the grid into the lead past Hamilton, who bogged down in the initial launch phase before having to defend from the fast-starting Verstappen and Leclerc.
But that fast start came to naught for Verstappen, who – having complained of power unit issues on his laps to the grid – was then seen to plummet down the order before he'd even arrived at Turn 1. And it was about to get even worse for the Red Bull driver…
As the pack roared through the banked Turn 1 and up to Turn 2, Bottas led from Hamilton, Leclerc and Albon. Behind, Sainz had got a great start from P9 to get ahead of Lance Stroll, but appeared to lose the back end in Turn 2 and spun around, with Sebastian Vettel collecting him and damaging his front wing.
Further back, last week's race winner Gasly found himself in a Kimi Raikkonen and Romain Grosjean sandwich approaching the Turn 2 chaos. The three cars squeezed together, lifting Gasly into the air, as Raikkonen hit the rear of Verstappen, cannoning the Dutchman into the gravel and out of the race, as Gasly followed suit and also retired, with Raikkonen and Grosjean managing to skip through the carnage – with the Finn and Vettel both then forced to pit.
READ MORE: 'We shouldn't have been in that position' – Verstappen rues power problems that led to lap 1 crash
The special red-liveried Mercedes Safety Car was brought out as the cars were removed, with the race resuming on Lap 7. Bottas at the head of the pack weaved his way slowly down the pit straight, leaving it until the last moment to ping the throttle, and immediately gapping Hamilton.
It was a supremely effective restart. Behind, though, there were horrific scenes as a handful of drivers at the rear of the field appeared to pre-empt Bottas and accelerated before the middle of the pack had got up to speed. Alfa Romeo's Antonio Giovinazzi slammed into the rear of Kevin Magnussen's Haas, setting off a chain of crashes that saw those two drivers, along with Nicholas Latifi and Carlos Sainz, wiped out of the race, but fortunately without serious injury.
"That was really scary," said Sainz, who was seen clutching his wrist after the crash but declared himself fit, while Grosjean had harsher words, calling the incident "****ing stupid". With the amount of debris on the track, the stewards had no choice but to bring out the second red flag in as many races, with the drivers involved handed warnings by the stewards after the race.
READ MORE: 'I saw some space... it didn't work out' – Gasly says no one to blame for first-lap crash
After the 25-minute red flag stoppage, the race resumed with a standing start on Lap 10, the new top 10 of the 'grid' made up of: Bottas, Hamilton, Leclerc, Albon, Stroll, Ricciardo, Perez, Norris, Kvyat and George Russell – Red Bull changing Albon's front wing during the red flag period, while Renault retired Esteban Ocon from 10th during the stoppage due to overheating brakes, leaving just 13 runners, all of whom had changed their tyres.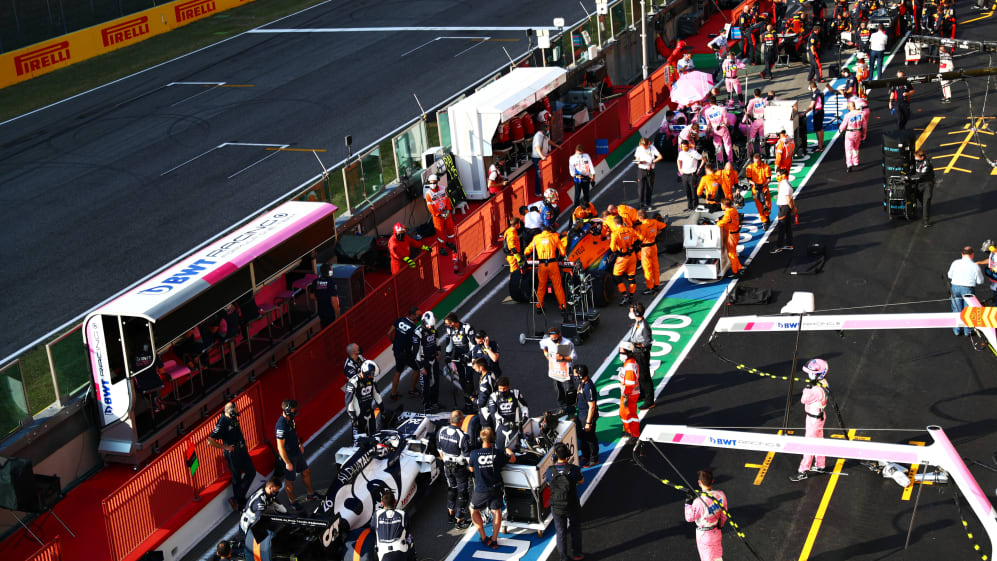 Bottas, having now aced an initial standing start and a Safety Car restart, was once again impeccable off the line. But Hamilton, whose brakes had been seen smoking dramatically on the grid, equalled his team mate, cutting in front of Leclerc and nipping into Bottas' slipstream.
As they steamed towards Turn 1, Hamilton pulled out of his team mate's wake and launched a pitch-perfect sweep around the outside of Bottas through Turn 1, leaning on the corner's banked camber to take the lead with the sweetest of moves. Behind, Albon lost a golden opportunity to attack the leaders by suffering a poor start, dropping from fourth to seventh, while Russell briefly lost out to Raikkonen before repassing the Finn for P10.
As the Mercedes pair of Hamilton and Bottas streaked away at the front, on Lap 18, Stroll, who'd been sharking around the third-placed Ferrari of Charles Leclerc for a number of laps, pulled off a 'Hamilton' on the Monegasque into Turn 1 to move up into the podium places, while Ricciardo, Albon and Perez followed suit on consecutive laps, to demote Leclerc to seventh by Lap 21. Leclerc duly took on hard tyres on Lap 21, emerging 13th and last.
By Lap 31, Bottas was complaining of vibrations on his medium tyres – and after telling Mercedes that he wanted to be put on whatever tyre Hamilton didn't take, Mercedes gave the Finn a set of hards. But a lap later, the team overruled Bottas, bringing Hamilton in for his own hard tyres – while with Bottas having been held up in traffic, the Finn then saw the gap to Hamilton grow from 4s to 7s after the stops.
WATCH: Carlos Sainz happy that drivers are safe after 'big crash' at Mugello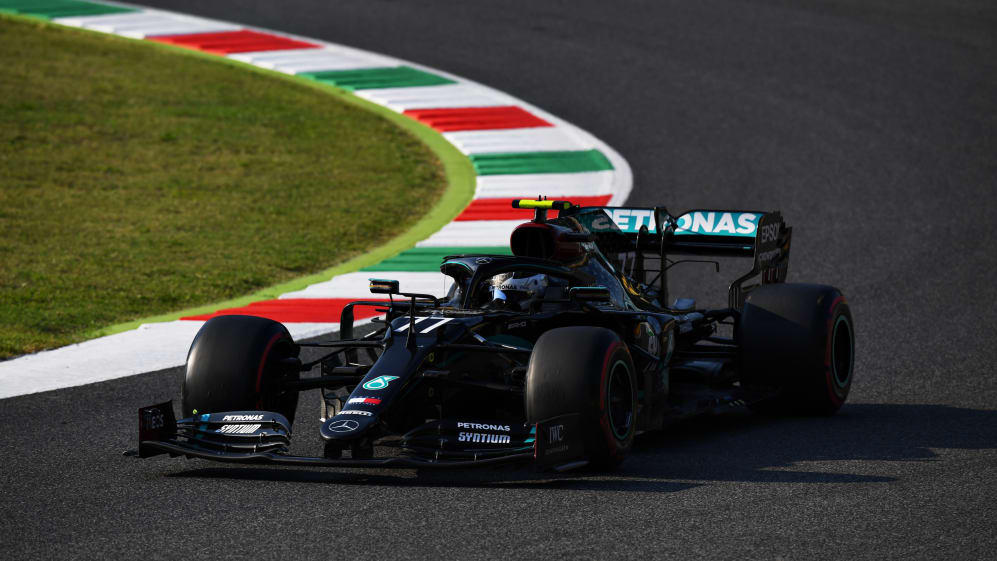 Once the second round of stops were complete on Lap 34, then, it was Hamilton from Bottas, who was 15s clear of Ricciardo – the Australian having undercut Stroll in the pits, after struggling to pass on-track – with Stroll P4 ahead of Albon, then Perez, Norris, Leclerc, Kvyat and Russell completing the top 10, Russell holding off the Ferrari of Vettel in P11.
Leclerc would then drop behind his team mate to P11 four laps later, after abandoning his hard tyres and taking a set of mediums instead.
Despite the Mercedes' comfortable lead, there were worries in the Silver Arrows camp, with Hamilton and Bottas ordered to stay off the kerbs. Now well behind Hamilton, and having effectively been told to hold station in P2, Bottas radioed in to the team on Lap 39: "A Safety Car would be nice right now."
Four laps later, he got his wish, as Stroll appeared to suffer a tyre issue at Arrabbiata 2, spinning hard into the barriers but fortunately without injury – with the resultant Safety Car quickly replaced by the race's second red flag stoppage as the RP20 was extracted and the barrier repaired.
That meant that Lap 47 marked the start of effectively a 12-lap sprint race to the chequered flag, the order now Hamilton, Bottas, Ricciardo, Albon, Perez, Norris, Kvyat, Leclerc, Russell, Vettel, Raikkonen and Grosjean – and the field now just 12 runners.
This was now Bottas' best chance to attack Hamilton and go for the win – but his start was poor, as Ricciardo surged past the Finn. Albon too looked to have had another bad restart, losing fourth to Perez, before brilliantly repassing the Mexican around the outside of Turn 3 and setting off after Ricciardo – who'd been passed by Bottas into Turn 1 on Lap 48.
Albon looked to have better pace than the Renault ahead of him, and pulled off a sublime move around the tough-but-fair Ricciardo on Lap 51 to take P3 – with engineer Simon Rennie then egging his driver on to get after Valtteri Bottas in front.
WATCH: Albon passes Ricciardo to grab maiden F1 podium
Ultimately, though, the Mercedes duo had the pace in hand, with Hamilton holding on to secure his 90th Grand Prix win, leaving him just one victory off the great Michael Schumacher's record, on a day when Schumacher's son Mick had demonstrated his father's Ferrari F2004 around Mugello. Boy, though, had Hamilton had to work for it. Meanwhile, having led early on, an understandably disappointed Bottas had to come home second, ruing another punishing loss to his team mate.
But if Bottas was disappointed, a hyper Alex Albon was a mixture of elated and relieved, having done exactly the job Red Bull needed of him to take his first ever podium and silence his critics – even if Christian Horner told him over team radio that he'd "done it the hard way".
Cyril Abiteboul probably had mixed feelings, as he avoided having to get a tattoo for Ricciardo claiming Renault's first podium since their return to F1 in 2016 – the current wager the Renault Team Principal has with the Australian – although it may well have been a sacrifice Abiteboul would have been prepared to make, as Ricciardo took his third P4 of the year.
WATCH: Nicholas Latifi 'couldn't avoid' Tuscan GP restart crash
Sergio Perez completed the top five, on a day when he'd never really looked like threatening for his own ninth rostrum appearance, ahead of Norris and Kvyat, who'd also spent the majority of the afternoon plugging away in the lower half of the top 10. Following two score-less weekends, a double-points finish for Ferrari at their 1,000th Grand Prix will have been welcome news for the Italian team at a Mugello track they own, as Leclerc took eighth and Vettel 10th.
Meanwhile Kimi Raikkonen was ninth for Alfa Romeo, taking his first points of the year at the circuit where he first tested an F1 car back in 2000, the Finn having received a five-second penalty for crossing the grass to dive into the pit lane, dropping him behind Leclerc at the finish.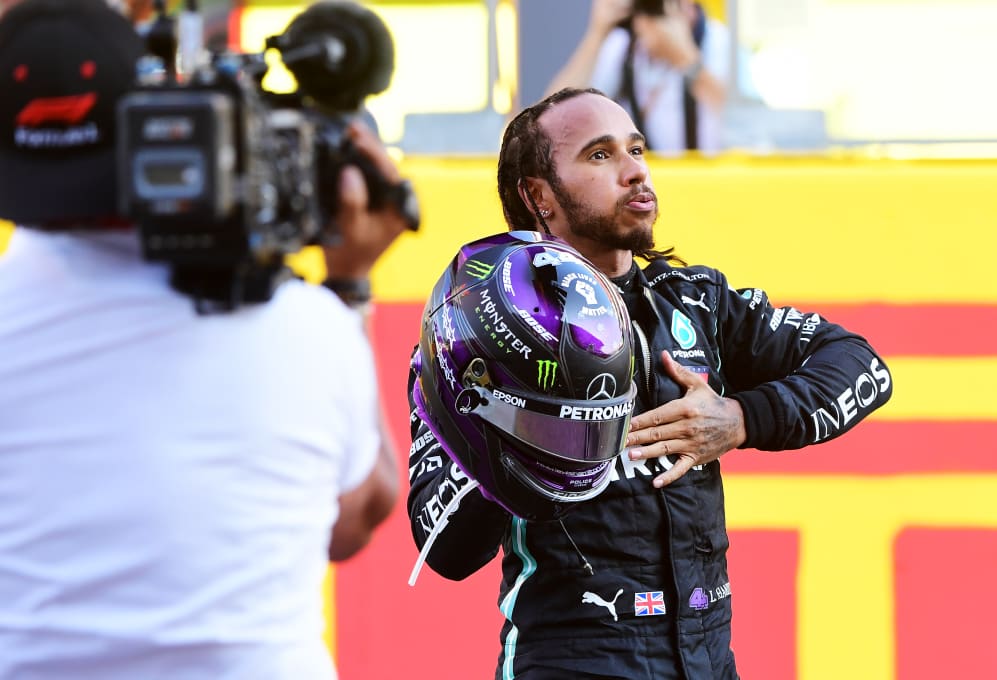 Only two drivers finished out of the points, and sadly for the still point-less in his F1 career George Russell, he was one of them, despite "driving [his] ****s off" in the final laps to try and chase down Vettel, before settling for 11th, ahead of Grosjean in 12th.
So, that's what Formula 1 racing is like at Mugello. But after an unbelievable, crazy race, the outcome was similar, with Hamilton taking the full gamut of 26 points (yep, he got Fastest Lap too) to move 55 points clear of Bottas in the title race after a memorable Tuscan Grand Prix.
The key quote
"It was all a bit of a daze, it's like three races in one day! Just incredibly tough today... This track is phenomenal and obviously the heat, keeping Valtteri behind – he's been quick all weekend – was not easy and I was behind at the beginning. All those restarts, the total focus that's needed during that time, it was really, really hard" – Lewis Hamilton, Mercedes
What's next?
At the end of another triple header, Formula 1 now takes a quick breather, before the championship returns at Sochi for the Russian Grand Prix on September 25-27, for round 10 of this incredible 2020 season.