Hamilton accepts penalty for Albon clash as he admits he 'can't believe it happened again'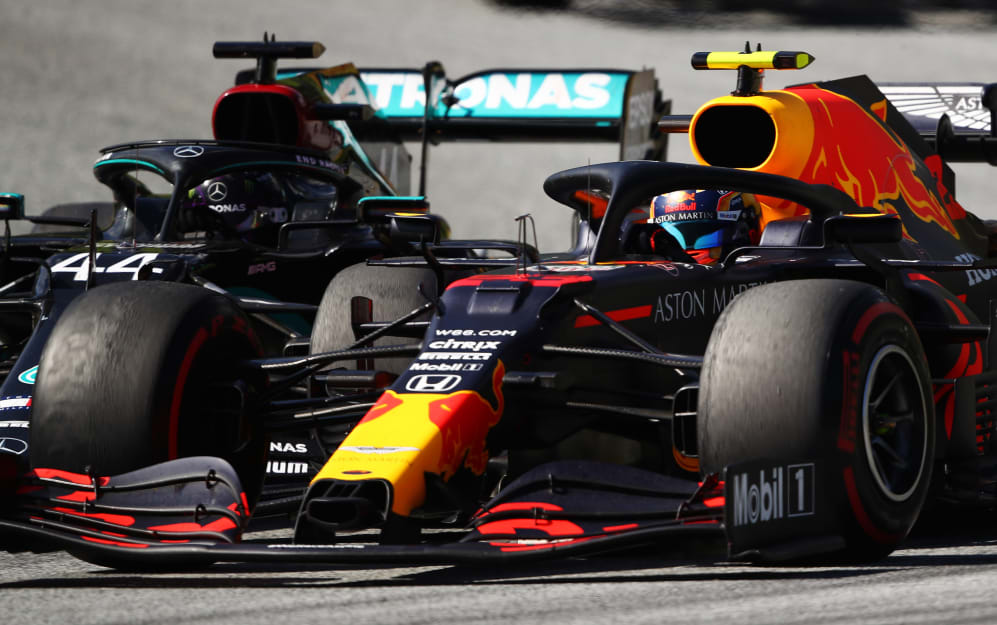 For the second time in three races, Lewis Hamilton and Alexander Albon touched wheels, with the Red Bull driver once again losing a potential podium, and the Mercedes driver once again accepting the penalty and taking a time penalty in the season-opening Austrian Grand Prix.
With Hamilton being told, along with team mate Valtteri Bottas, to stay off the kerbs, the British driver found himself under pressure from Albon after the third and final Safety Car restart, with the Red Bull driver on fresh softs versus Hamilton's hards, courtesy of opting to pit while the race was neutralised.
The Thai driver launched an attack around the outside of Turn 4 with 10 laps to go and nudged almost a car length ahead when there was contact between his right-rear and Hamilton's front left. That tipped Albon into a spin, while Hamilton continued but was penalised five seconds, dropping him from second at the line to fourth on the final classification.
It came after Hamilton tipped Albon into a spin late in the race in Brazil last year, when the duo were fighting for a podium.
READ MORE: Horner calls for Hamilton apology as Albon says he could have won in Austria without collision
"Of course it's not been a great weekend for me, and yesterday was entirely my fault," said Hamilton, who was handed a three-pace grid penalty, dropping him from P2 to P5, around an hour before the race started for failing to slow for yellow flags in qualifying.
"It was a bit odd today, to all of a sudden get the [grid] penalty but that didn't destabilise me, it just encouraged me to go out and drive as best I could - and I feel like I did.
"Obviously I had great pace to catch up with Valtteri and then a really unfortunate situation with Alex. I can't believe we came together again. It really felt like a racing incident. But either way I'll take whatever penalty they feel I deserve and move forward."
Mercedes had concerns over their gearbox during the race, forcing the team to request the drivers stay clear of the kerbs, including the red and white rumble strips, because the situation was, as they described, "critical".
Hamilton admitted he wasn't sure whether the team would have enough time to fix the problems before F1 races in Austria for the second time next weekend.
"I really don't know what all the problems are, obviously," said Hamilton. "They told us to stay off the kerbs, I don't know whether they're going to be able to fix it in three days or four days but I wouldn't put it past my team, they're such intelligent and hard-working people.
"I'm sure they're already working right now on a solution. Whether they're going to be able to bring it to the next one we'll wait and see."
Hamilton's fourth-place broke his own all-time scoring record with a 34th finish in the points but meant he failed to finish on the podium for the fourth consecutive year in Austria. He'll be hoping to remedy that statistic in seven days' time.