Albon collision 'annoying' says Gasly after Hockenheim retirement
Fans of symbolism were rewarded at the German Grand Prix, as Red Bull's under-pressure Pierre Gasly collided with the Toro Rosso of Alex Albon – a driver in contention to be promoted to the senior Red Bull team in the future. Albon carried on to secure sixth, his strongest career finish, while Gasly retired.
Gasly had already endured an up-and-down weekend at Hockenheim, suffering a heavy shunt in FP2 on Friday, before taking his best-ever grid slot after qualifying fourth on Saturday. But having suffered wheelspin at the start of the race that dropped him down the order along with a slow a pit stop, on Lap 48, Gasly then suffered the ignominy of being overtaken by Albon, driving the supposedly 'junior' Toro Rosso car to Gasly's Red Bull, in the changeable conditions.
Two laps from the end, Gasly was looking to right the wrong and move up to sixth place when he got a good run on Albon out of Hockenheim's hairpin. But as he pulled to the right to overtake, Albon edged his car over to cover, the two making contact that sent Gasly skittering off into the run-off area, with expletives pouring from his mouth after yet another setback in what's been a difficult 2019 season so far.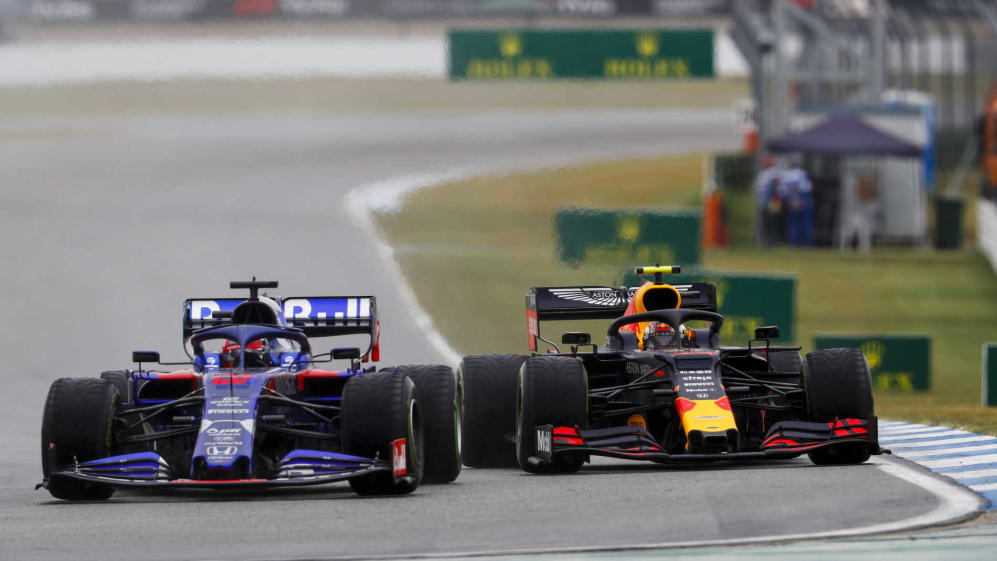 "Towards the end, I was fighting with Alex during the last few laps," said Gasly after the race. "We made contact which took my front wing off and gave me a puncture, so I had to stop the car. I don't know what to say but it's annoying not to score points when you have a race like this."
As Albon saw it, Gasly "had a good run on me coming out of the hairpin. I went to defend and it was one of those things where I jinked to the right.
"I didn't want to go more than I did. But the closing speed was quite big, and we both got caught out. That is my initial feeling, because I've not seen the video."
One interested observer in the incident was Gasly's team boss Christian Horner, a man who will have a say in deciding whether or not to continue with Gasly at Red Bull in 2020 and beyond, or whether he looks to a driver such as Albon.