Albon learning from Verstappen's example in Red Bull briefings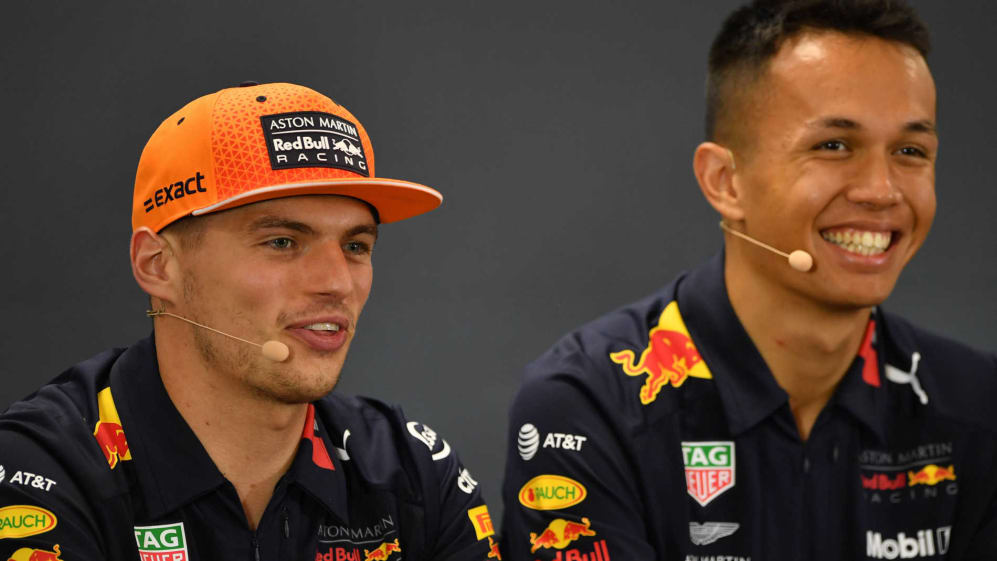 Alex Albon may be two years older than Max Verstappen, but it's the Dutchman who has the edge in the experience stakes, having started 81 races more than his team mate. And Albon admits that he's hoovering up as much information from the seven-time Grand Prix winner as possible as he gets acquainted at Red Bull.
The British-born Thai driver, who joined the Milton Keynes squad in place of Pierre Gasly during the 2019 mid-season break, discussed how he's learning from new team mate Verstappen in the latest episode of F1's official podcast, Beyond The Grid.
"It's not like Max is like, 'Alex, come over here, let me show you how to take this corner'," he explained. "It's more like he will go first in briefings and stuff like this. I'll listen to his comments, I'll listen to how he interprets the car and what he wants to go quicker, and even just listening to how he speaks to the team and how they communicate."
Red Bull's home in Milton Keynes, UK, is a far cry from Toro Rosso's base in Italy, so even though the two teams share some DNA there are still major differences in how their personnel communicate.
"There's a different vocabulary in each team really, especially say Red Bull – it's a very British team there's a lot of British people inside; Toro Rosso was Italian, there was a very big mix. Just the way you communicate, you have different words," continued Albon.
I was the experienced one, the Red Bull-backed driver who had it all going for me in that sense, and Max was the young gun
"So that's where the learning comes from, more fly on the wall stuff rather than yeah asking Max, 'Max what do you do round this corner I need to understand because you're very quick around there?'"
He said it would be "dangerous" to share advice on how to take a specific corner, as an example, as two rival team mates could give each other misleading information.
"That's why you never ask, at the same time you never give back advice," he said.
The pair have history, Verstappen and Albon having competed against one another in karting categories. And when Albon first encountered his now team mate – a decade ago – he says that the Dutchman was too young to race at the time.
"You'd see this guy coming to the track with his dad. He'd be very quick, but he'd go home on Thursday because he wasn't allowed to race. In 2010 it was my second year in KF3, the karting series.
"I was the experienced one, the Red Bull-backed driver who had it all going for me in that sense, and Max was the young gun and we fought pretty much the whole year. We had some crashes, some fights, all good stuff though. He beat me to the WSK Championship, and then I won the World Championship, so you could say I got the better of him…"
Now, says Albon, there's a sense of mutual respect between the two – "no games or anything like that" - something that Red Bull will be hoping helps them turnaround an 85-point deficit to Ferrari in the battle for second in the constructors' standings.
To make sure you never miss an episode, subscribe to Beyond The Grid via Apple Podcasts, Spotify or your favourite podcast app and you'll have a new episode delivered to your device every Wednesday.