Albon says 'an extra few tenths' will see Williams scoring regularly in 2022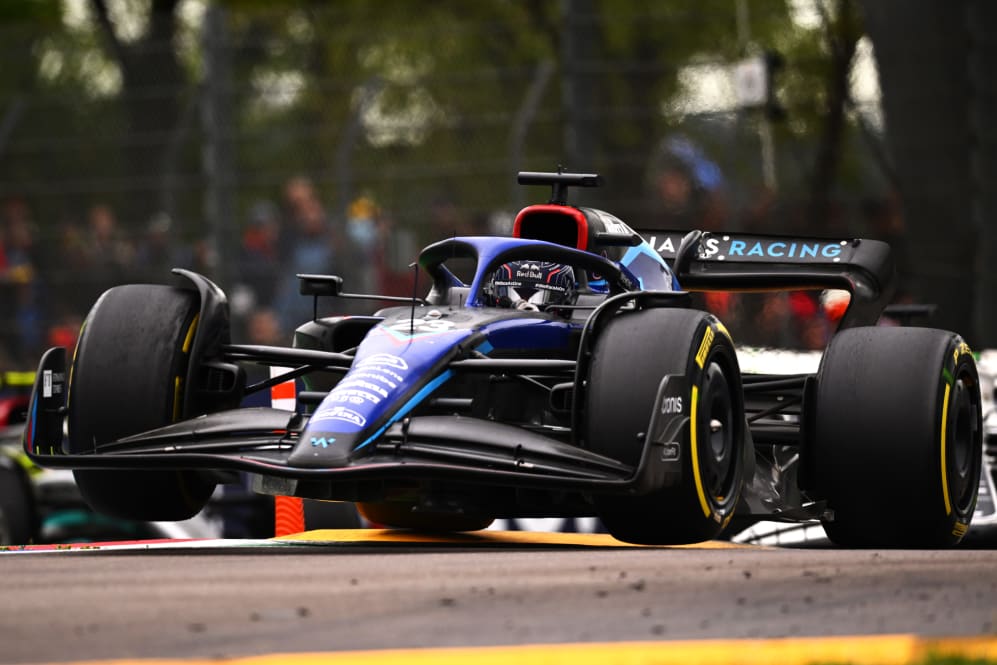 Despite missing out on points at Imola, Alex Albon left the Italian track with a smile as he reflected on the pace and potential of his Williams FW44, in which he finished 11th on Sunday.
A brake fire (below) put Albon at the back for the Sprint, in which he finished 18th. On Sunday he recovered, taking four places early on. The Thai driver then pitted earlier than most, on Lap 17, the undercut helping him lead a train of cars from P12 backwards and gain an extra place when Esteban Ocon was handed a five-second penalty.
READ MORE: Ricciardo apologises for Sainz crash at Imola as he opens up on 'painful' Emilia Romagna GP
"It feels good. I feel like the race went just as well as Melbourne to some extent," he said, referencing the last race in Australia, where he scored Williams' first point of the year. "We didn't have the tyre advantage or the pace advantage that we did over there, but we still made the most of our opportunities and we got the undercut, we overtook a couple of cars on track, and I felt like... if we'd had DRS available a bit earlier, we could have made a few more steps forward.
"It feels very good. I think we're not quite there on car pace, but we seem to be making the most of our opportunities. If we can find an extra few tenths, I see us scoring points on a regular basis."
Furthermore, Albon also passed the AlphaTauri of Pierre Gasly on Lap 20 – keeping the Frenchman, plus Lewis Hamilton, behind all the way until the chequered flag on Lap 63.
"Once everyone found their rhythm, that was it really. I was kind of holding pace, I was trying to keep Pierre behind me – I'm sure he was sick of me!
"We definitely went for the low-downforce [set-up] this weekend and I could feel that in the corners. But it is a raceable car. We don't do it for no reason – we can overtake when we're quick and we can defend when we're slow.
TECH TUESDAY: A look at Red Bull and Mercedes' Imola upgrades as the development race kicks off
"We're in a good position; I feel we've done the best we can do. Hopefully once updates get on the car, we can get more points."
Albon may have taken his first point of the season in Australia, but Williams are back at the bottom of the table heading to Miami, after Aston Martin enjoyed a double-points score at Imola.