Ricciardo apologises for Sainz crash at Imola as he opens up on 'painful' Emilia Romagna GP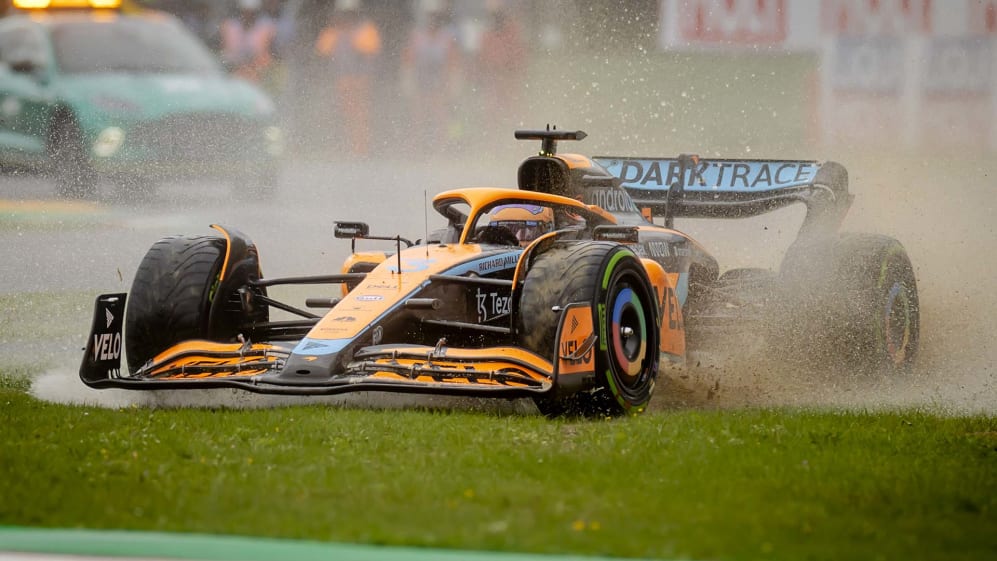 After a breakthrough performance in Australia for McLaren, spirits were high heading into Imola – buoyed further when both their drivers ended up with third row starting slots for the Grand Prix. But while Lando Norris used that to spring forward and take home the team's first podium of the season, Daniel Ricciardo's day was marred by a costly first-lap incident.
The Australian initially had a great getaway from the less grippy side of the grid, running alongside Carlos Sainz in a battle for fifth. The McLaren man had the inside line into the first corner but as the Ferrari pulled ahead, Ricciardo got on the greasy, wet kerb and veered across the track. He tapped the Ferrari into a spin, which wound up ending Sainz's race – and seriously hampering his own.
READ MORE: 'I paid for Ricciardo's mistake' says Sainz, after ending second straight race in gravel trap
"I think I got onto the kerb just to try and buy myself a bit more space, because I know at some point it's going to bottle up," said Ricciardo. "But I think once I got on the kerb, I just slid off it and then started to slide up into him.
"Obviously intentions were, in a way, good to try and, let's say, leave some room. But in those conditions, obviously I didn't have the grip I was hopeful for, slid up into him and ruined his race as well.
"Obviously not the way I wanted Sunday to go. A painful one and obviously not the way I want to affect someone else's race."
Ricciardo was left carrying damage both from the initial contact, and a subsequent collision between the two as both slid off into the gravel. The Australian at least had enough momentum to escape and return to the track, but carrying damage and running last left him with a difficult afternoon – Ricciardo eventually coming home P18 and last.
"Lap 1 incidents are the worst, especially when you keep going," he said. "Sometimes in a way it's easier when [the race is] just done. I know that sounds really negative but we were at the back and just slow. Obviously, we try and gather some data but we'll see what the damage was and how much it hurt us.
"It was a painful 60 laps," he added. "[I'll] just try and move on for Miami."
READ MORE: Why Sainz's qualifying crash had ramifications that stretched across the whole weekend
Team Princial Andreas Seidl, meanwhile, was left to reflect on a bittersweet weekend for McLaren, after Lando Norris took P3 to Ricciardo's P18, Seidl telling the media: "P3 for Lando today comes as the result of hard work and a well-managed strategy. He drove a great race today.
"Unfortunately Daniel had a first lap collision with Carlos which damaged the car and his race was pretty much over, but he was able to provide useful information to the team to maximise our result.