Albon says 'no big issues' during first day in Singapore as he returns to cockpit after recovery from respiratory failure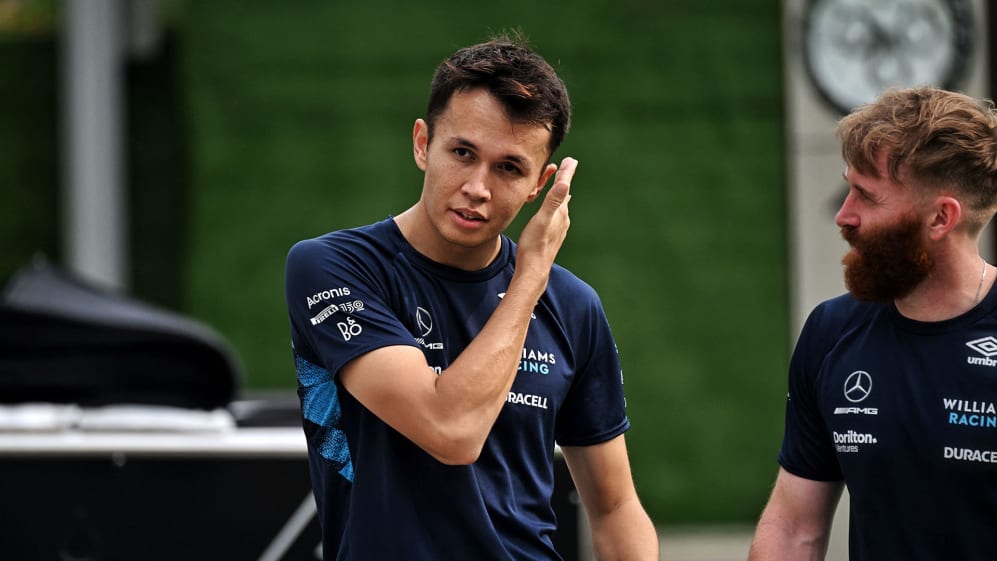 Singapore's Marina Bay Street Circuit is a towering physical challenge for F1 drivers at the best of times. But despite suffering appendicitis and subsequent respiratory failure just a few weeks ago, Alex Albon admitted that his Friday running had been "better than expected" as he returned to action.
Albon was ruled out of the Italian Grand Prix back at the start of September after being diagnosed with appendicitis – with the Thai driver then suffering respiratory failure that resulted in him being intubated and treated in an Intensive Care Unit in Italy.
READ MORE: 'We treated it like a 9 to 5 job' – Albon details how he recovered in time for the Singapore Grand Prix
Despite his preparations for Singapore being disrupted, Albon bravely returned to the car on Friday in Singapore – but admitted that he had been feeling some after-effects, despite taking a commendable P16 in both Free Practice 1 and 2.
Asked how his Friday had been from a physical point of view, Albon smiled: "Okay. I'd leave it at okay!
"We knew it was going to be difficult, but I feel like I'm coping better than I expected. We've had a good amount of long runs. It's still a quarter of what we'd be doing come race day on Sunday, but I've still got a day to rest tomorrow and of course, just it being one race and one block of driving, it should hopefully be not too bad.
"It feels okay when I'm in the car, generally speaking. It's more just the heat! When you get out, you can feel that it's obviously physical. But I feel like there's no big issues so I'm feeling pretty good."
Away from the physical challenge, however, Albon admitted that Williams had expected to struggle in Singapore – and that making it out of Q1 on Saturday would be a result in and of itself.
FP2: Sainz leads Leclerc as Ferrari post 1-2 in second practice at Marina Bay
"It feels like we know where we're struggling, that's the main thing," said Albon. "It feels like the car's got a little bit more potential in it. We knew that coming here, we were, let's say, a little bit more behind than we were in Monza. The circuit doesn't tend to go in our favour; this is a very downforce efficient circuit – it's 22, 23, corners around here, not many straight lines to get that lap time back.
"We're doing what we can. I feel like there's definitely lap time to be had, I'm still getting into the rhythm and getting closer to the walls, that's what it's about. So we'll do our research, homework tonight, we'll come back stronger and Q2 would be a really big success for us this weekend."
Team mate Nicholas Latifi – who Williams announced ahead of Singapore would not be continuing with the team in 2023 – was making his debut at the Marina Bay Street Circuit, and said he'd need to work up his confidence after finishing last in both of Friday's Free Practice sessions.
READ MORE: 'I'd have loved to continue the journey' – Latifi disappointed to be parting ways with Williams
"It was a bit of a messy day," said Latifi. "We had a telemetry issue in FP1 which cost quite a bit of track time and kind of offset our runs, so kind of on the back foot there, then FP2 had another issue as well with my seat belt, so I had to come in and it put everything a bit off sequence.
"So there's definitely still a lot to come – but I definitely felt better in FP1 than I did in FP2, so definitely some things we tried that didn't go in the right direction there, so obviously we can always come back. Tomorrow is what's important for qualifying, but still a lot to improve on from my side as well."