Alfa's Giovinazzi delighted after points finish at home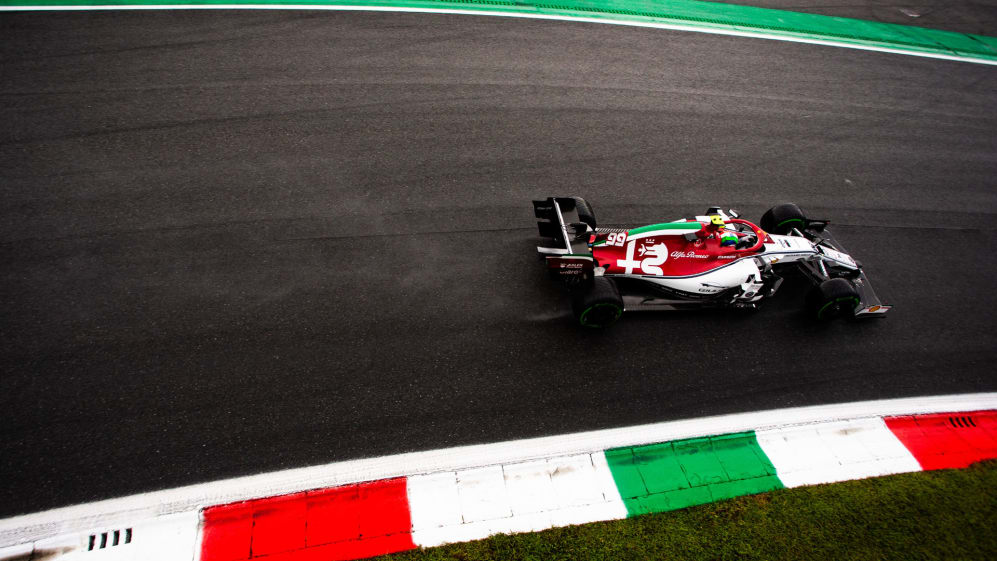 The only Italian driver at the Italian Grand Prix, Antonio Giovinazzi called it an "unbelievable" weekend after securing his second points finish of the season, with P9 in front of his home fans. Team mate Kimi Raikkonen, on the other hand, was far less enthused after trailing home 15th.
"I think it was a great day, I think for Italy in general, with the Ferrari victory and my ninth place," said Giovinazzi after the race.
The Alfa Romeo driver took his best career finish in Italy, starting in the top 10 on the grid for only the third time as a number of drivers took grid penalties at Monza. It was a performance easily overlooked, but Giovinazzi had plenty of support at the track.
Looking forward to Singapore, as it can't get worse
"I have to say thanks to them because I had full support from Wednesday [at Ferrari's 90th anniversary celebrations] in Milan until today, a lot of my friends and family were here. A great weekend and we have to keep working as the car is doing a fantastic job and still achieve a good result."
In the sister C38, Raikkonen's race was a stark contrast to Giovinazzi's, the Finn starting last after his qualifying crash and then taking a 10-second stop/go penalty for commencing the Grand Prix on the wrong tyres. He offered an inimitably terse summary of events.
"Well that was a sh** weekend," said the Iceman. "First my mistake in qualifying, which unfortunately meant that we had to change gearbox. Then we decided to also change engine and start from the pit lane, but we had the wrong tyres on and with the penalty my race was more or less over. Looking forward to Singapore, as it can't get worse."
Giovinazzi was also enthusiastic about the next round, saying his car was "not too bad on high-downforce levels, so I'm positive also that we can have a good result in Singapore."
So with those two points keeping Alfa Romeo ahead of Haas in the standings, has the Italian done enough to keep his seat for 2020?
"You know, I don't want to focus too much," he said. "I think if I am doing well, nobody can take my seat. I think what happened in Spa, until the last lap I was P9, now yet again P9, we need to just be on the points in every race. Singapore will be a completely different, high-downforce street track, so we need to see how the car will perform there but I'm sure we can also have a good result there."
The team formerly known as Sauber have scored points on a number of occasions in Singapore, most recently through Italian GP winner Charles Leclerc's drive to P9 in 2018.
For Giovinazzi, this will be a journey into the unknown for his first race on the island, and Raikkonen has had mixed results here. He crashed out spectacularly in 2017 and finished fifth in 2018.