'All this weekend will do is add fire to our championship fight' says Horner after Verstappen crash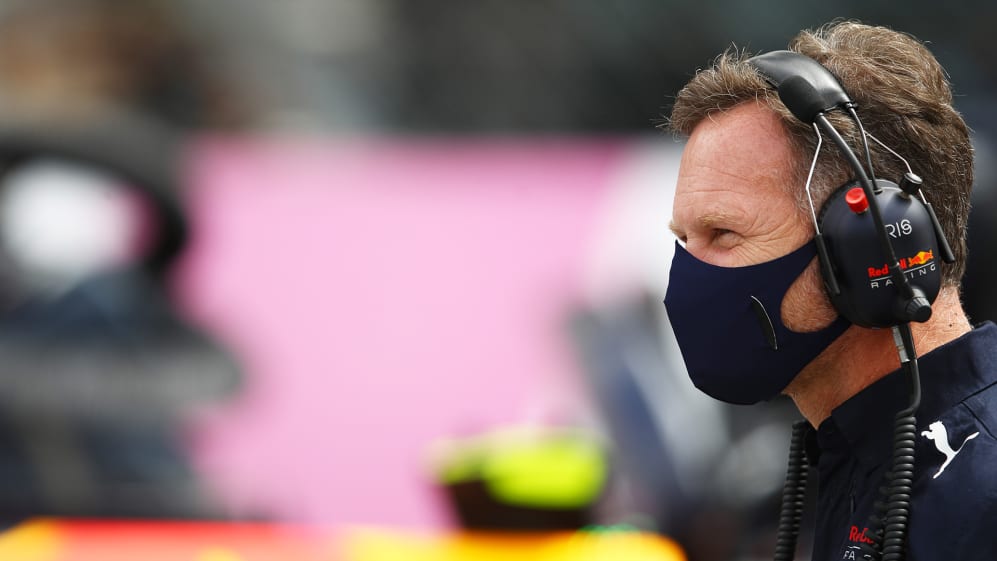 Christian Horner was left livid after his championship leader Max Verstappen was sent crashing out of the British Grand Prix following a Lap 1 skirmish with title rival Lewis Hamilton on Sunday. But after the race the Red Bull boss insisted Verstappen's DNF would only motivate the team to give their all in their championship battle with Mercedes.
Verstappen was sent to hospital for precautionary checks after that Lap 1, high-speed crash that, according to Horner, measured 51G as he hit the barriers out of Copse Corner. The Dutchman was released from hospital at 2200 local time on Sunday without any major injuries.
READ MORE: Damage from Verstappen clash would have forced Hamilton DNF without red flag, say Mercedes
"This is an incredibly difficult way to end the British Grand Prix weekend and it goes without saying that we are all just thankful Max was able to walk away from the car, despite later being taken to hospital for precautionary checks," said Horner after the race.
"We come away with a slim lead in both championships and you can be sure that once we have had time to reflect on today, all this weekend will do is add fire to our championship fight," he added.
Horner also shone light on Verstappen's state after the crash, when asked by Sky Sports F1 whether the driver lost consciousness.
READ MORE: How Hamilton and Mercedes negated the impact of 10s penalty to win at Silverstone
"No, he wasn't knocked out, he was conscious throughout; very heavily winded. It was a hell of a shunt – probably the biggest of his career – and totally unnecessary," said Horner. "Thankfully he got out of the car unaided and he's battered and bruised but yes he's thankfully OK. That's the biggest result today," he reiterated.
Mercedes Team Principal Toto Wolff offered his own statement of intent, with the Silver Arrows now sitting just four points behind Red Bull and Hamilton only eight behind Verstappen after the race at Silverstone.
He said: "This championship was always very intense, because we are fighting with everything we have in order to hold onto this championship while knowing we are not performing as [well as] Red Bull and Honda.
"Therefore we've had big points losses in the past and, today, we scored big points, so that is always balancing itself out.
READ MORE: Masi backs stewards on Hamilton penalty, adding that decisions are always based on incident alone not outcome
"A win is a win and a third is a third and we've scored big points today, and that's it. Put it on the scorecard and move on to the next one," he added.
Ten rounds into the 2021 championship fight and tensions are running high, with battle set to recommence at the Hungaroring on July 30.