Damage from Verstappen clash would have forced Hamilton DNF without red flag, say Mercedes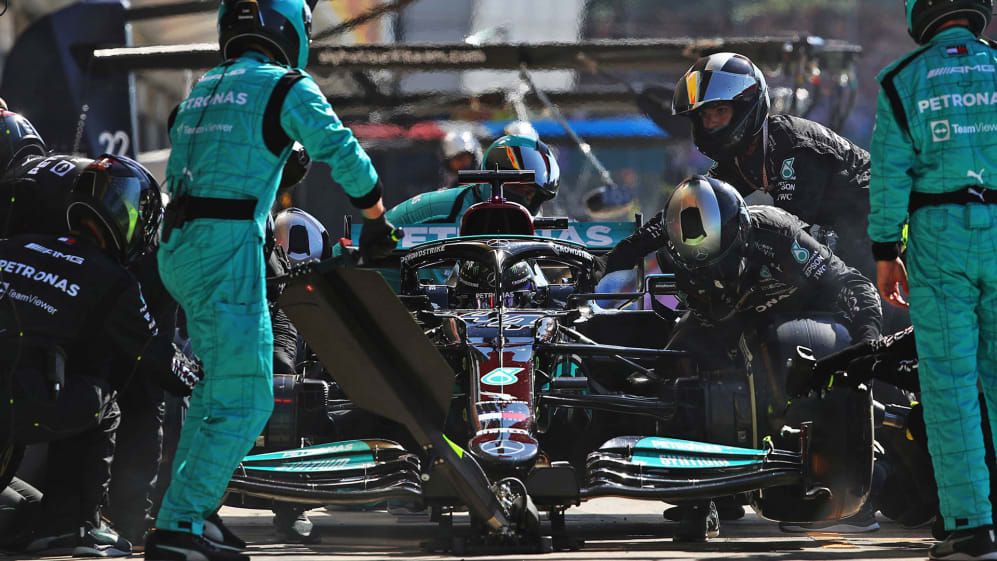 Lewis Hamilton and Max Verstappen's controversial contact on Lap 1 of the British Grand Prix garnered plenty of headlines in the aftermath of the race. But according to Mercedes, Hamilton's eventual victory wouldn't have been possible without the resultant red flag from that crash, after the seven-time champion suffered damage to his wheel rim.
Hamilton and Verstappen were duelling on the first lap of the British Grand Prix when Hamilton attempted an audacious move down the inside of the fast Copse right-hander, with he and Verstappen making contact that sent the Dutchman into the barriers.
READ MORE: Hamilton vs Verstappen – We round up all the opinions after their controversial British GP clash
Following a red flag as those barriers were fixed, Hamilton then put in a remarkable recovery drive after receiving a 10-second penalty for the incident, catching Charles Leclerc with two laps to go and passing for victory. But Mercedes revealed after the race how close Hamilton had been to retirement after the Verstappen contact.
"We'd failed the rim where we'd had the contact on the front-left," said the team's trackside engineering director Andrew Shovlin, "so that would have been a DNF had it not been red-flagged.
"The rest of the damage was actually remarkably little," he added. "It was a tyre temperature sensor that had got knocked loose, so it was waggling around, but amazingly, it's the least important part on the front wing – and it was the only one that broke."
READ MORE: Bottas reveals he raced in 30C heat with no drinks system, as he helped Hamilton to victory in British GP
Reflecting on Hamilton's victory, meanwhile, Shovlin said it had been "really nice" to be able to watch the Mercedes driver reel in and eventually pass Leclerc on Lap 50 of 52, as he praised Hamilton's efforts in taking his eighth British Grand Prix win.
"From our planners' view in the race, who were forecasting it live, we were looking at catching [Charles] up two laps to go," said Shovlin.
"When we thought it was on I'd say was five laps into that [push]. You normally see the drop on the tyres, but you could just see Lewis holding this eight-tenths advantage to Charles every lap and Lewis just wasn't dropping off and the balance was happy.
READ MORE: Leclerc '50% happy, 50% frustrated' after narrowly missing out on first Ferrari win since 2019
"And to be honest with Lewis, you can hear it in his voice and in what he's saying on the radio; you just get this switch where he knows in his head he's going to do it today. To be honest, it was really nice sitting on the pit wall just watching that final stint unfold, because it was a great win and a well-deserved win for Lewis."
That win put Hamilton just eight points behind Verstappen in the drivers' standings, with Mercedes now only four points adrift of Red Bull in the constructors'.