Alonso: 2019 McLaren a step forward – but not enough to tempt me back
Fernando Alonso may have stepped away from Formula 1 at the end of 2018. But just four months into 2019, he was already back in an F1 car – and having sampled McLaren's current-spec MCL34 during testing in Bahrain, the Spaniard appeared impressed with the work the team had done.
"Obviously it's a step forward in every aspect of the car," said Alonso after his two days of running at Sakhir. "I think the car has more grip, the car is less draggy on the straights. The engine is a bigger step better as well. Overall, as a package, I think the car is on the right direction.
READ MORE: George Russell fastest for Mercedes as Mick Schumacher samples Alfa Romeo on Day 2 of Bahrain test
"I think this year there is a good baseline and good programme of development, and I think it's going to be a much better season. I'm happy. Especially last year, it was a good start, but then we stopped the development probably in May or June, so that was painful until Abu Dhabi. I knew that it was my final season as well, so to run with the same car from Barcelona to Abu Dhabi was painful.
"Obviously we saw in the first two races [of 2019] there is still another step to do if you want to compete with the top three teams. But as a first step I think, [to be the] fourth team or leading the midfield together with Haas, that's the target. I felt that on the car as well."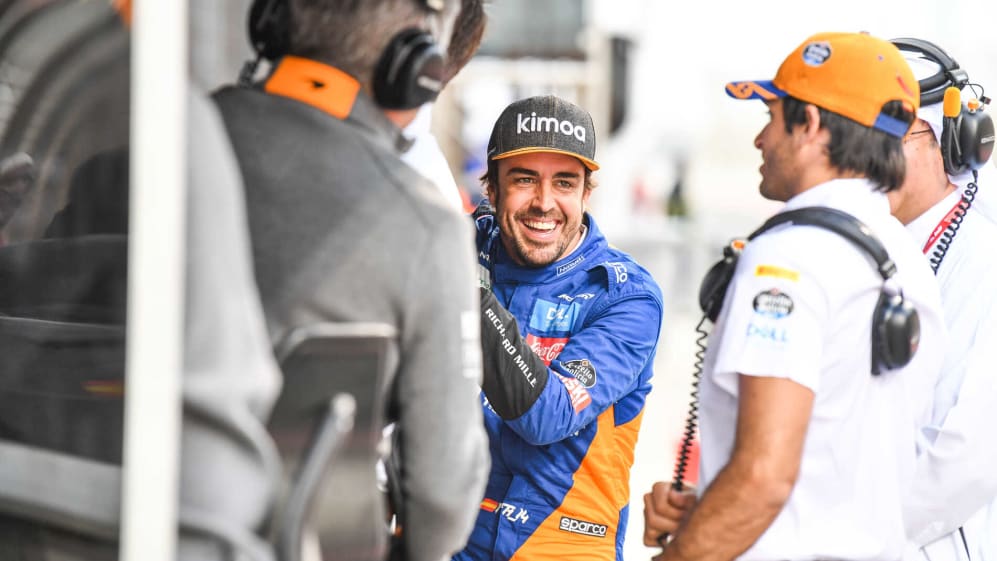 You'll notice we didn't say that Alonso 'retired' from Formula 1, with the Spaniard cunningly leaving the door open when he announced his departure from the sport to allow a possible return if the mood took him further down the line. So had driving McLaren's 2019 offering provided the impetus for the two-time champion to consider a comeback?
"Not really," said Alonso, who will now switch his attention to making his second attempt at the Indianapolis 500 in May. "I think what I had to achieve in Formula 1... it was achieved already in the past. No regrets.
"If one day I come back in Formula 1 – which I doubt because my decision is firm to stop Formula 1 – it's if I win a world championship. That possibility is tempting for any driver. But to finish seventh or sixth, or even fourth, it's not tempting still."
Current McLaren drivers Carlos Sainz and Lando Norris can rest easy, then…