Alonso explains why race starts have been his 'strongest point for 20 years' after P8 in French GP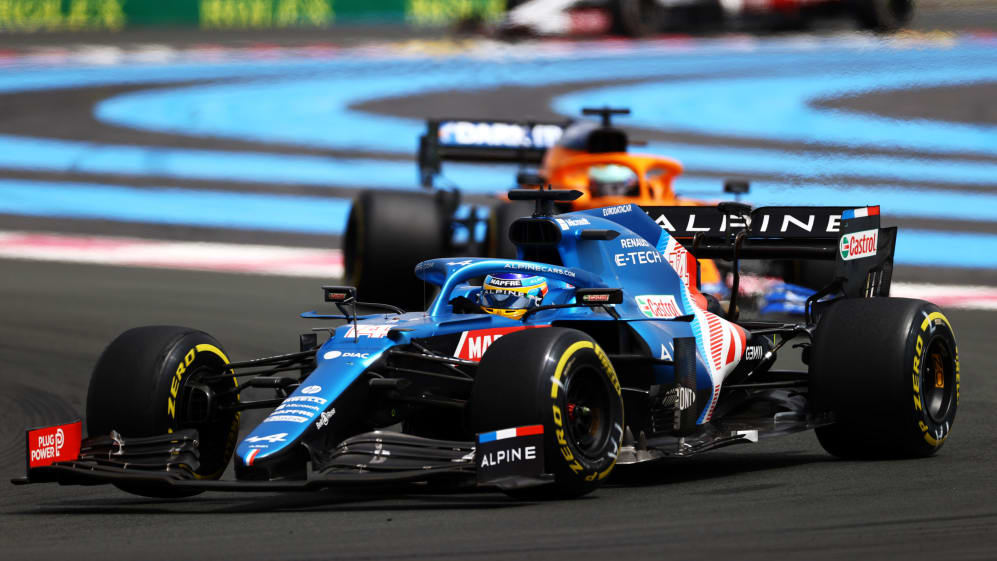 A strong start and a strong finish were the cornerstones of Fernando Alonso's eighth place at Paul Ricard, and after the race the double world champion explained how race starts have always been one of the strongest parts of his armoury as a driver.
The Spaniard started from ninth on the grid but made a good start to run eighth on the opening lap, overtaking Lando Norris. While he faded from there before his first pit stop, he came back into the point-scoring mix in the second half of the race and ended up eighth, right behind Daniel Ricciardo and Pierre Gasly.
RACE REPORT: Verstappen triumphs over Hamilton after late pass in scintillating French Grand Prix
"It has been my strongest point for 20 years, so why not still now?!" Alonso said of his opening laps. "The starts are that moment in the race that you need to improvise a little bit, you need to be creative, there is no tyre performance, there is no car performance, it's just yourself and your instinct, so I'm enjoying those kind of laps. Always the first lap has been a strong point and now I'm more comfortable with the car, with the start procedures, with the tyres as well.
"So I'm happy with the starts but slowly in the race you fall to your deserved position and today was around 10th or 11th in the first stint, and then in the second stint it was around eighth or ninth. So I'm happy with eighth. Things to improve for sure but it was a strong weekend, from all the free practices, qualifying and the race.
"In Baku we were in Q3 and finished P6, in Paul Ricard we were in Q3, finished P8, so I think we are getting better and better and I'm happy."
Although he finished sixth in Azerbaijan, Alonso admits there were a few question marks creeping in after a strong run of Alpine form was interrupted by some difficult races, and he was relieved to see the team still have the ability to fight at the front of the midfield.
"I'm happy and I'm happier every race. I think already in Portugal and Barcelona we did a step forward in terms of competitiveness and happiness with the car.
RACE HIGHLIGHTS: See all the best action from the French GP as Verstappen charges to victory
"After Barcelona unfortunately Monaco and Baku – the two street circuits – came and put some doubts in everybody because we were uncompetitive and were struggling to warm-up the tyres. We were not lost but we had some other problems than the car or adaptation, it was just putting heat in the tyres.
"Now coming back to a conventional circuit it was a relief in a way to see that we are performing well and we are fighting in the top ten regularly. So this was good news and I think for the rest of the championship we will be up and down a little bit – it depends on the circuit characteristics – but I'm happy we can extract the maximum from the car."