Alonso labels Russell 'future world champion' in helmet swap message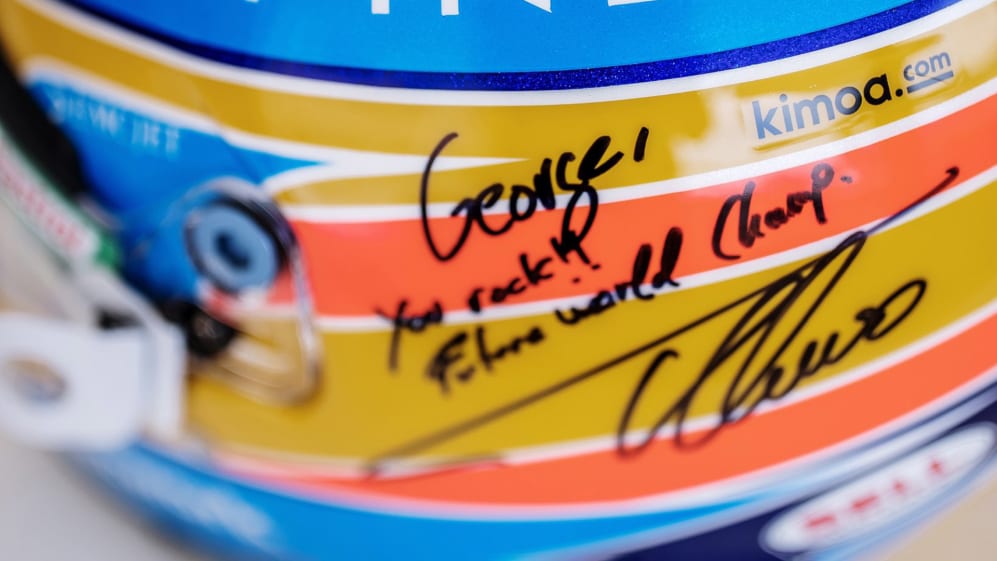 Fernando Alonso has two Formula 1 World Championship titles to his name, and after the Monaco Grand Prix he tipped a young driver who has yet to score his first podium to join him as a champion one day.
Alonso swapped helmets with Williams' George Russell, and the Spaniard dubbed the Briton a world champion to-be with a message written on the side of his lid.
"George, you rock!! Future World Champ", read the message from Alonso as he gifted his Alpine helmet to the young Williams driver.
In return, Russell gave the double-Monaco Grand Prix winner a red-and-blue Williams helmet of his own, after Williams completed their 750th Grand Prix in Monte Carlo.
READ MORE: Grosjean explains why Russell was 'the right guy' to replace him in GPDA, as he calls for US approach to track limits in F1
Oops! Error retrieving Twitter post
That's not the first time Alonso has backed Russell for future success, having said – before returning to Formula 1 for 2021 – that Russell is the young driver who often impresses him.
READ MORE: 'There might be a chance to keep him' – Capito keen to extend Russell's stay at Williams
"George Russell is the one that surprises me every weekend," he said. "How he's driving the Williams and zero mistakes and I'm really surprised about his natural speed. So if I have to say one name, Russell, for the future, is going to be my pick," said Alonso of Russell in 2020.
Russell was clearly thrilled with the helmet and the message, posting the image on Twitter with the caption: "This one means a lot. Gracias, legend".