Feature
ANALYSIS: Why Red Bull made their latest blockbuster driver swap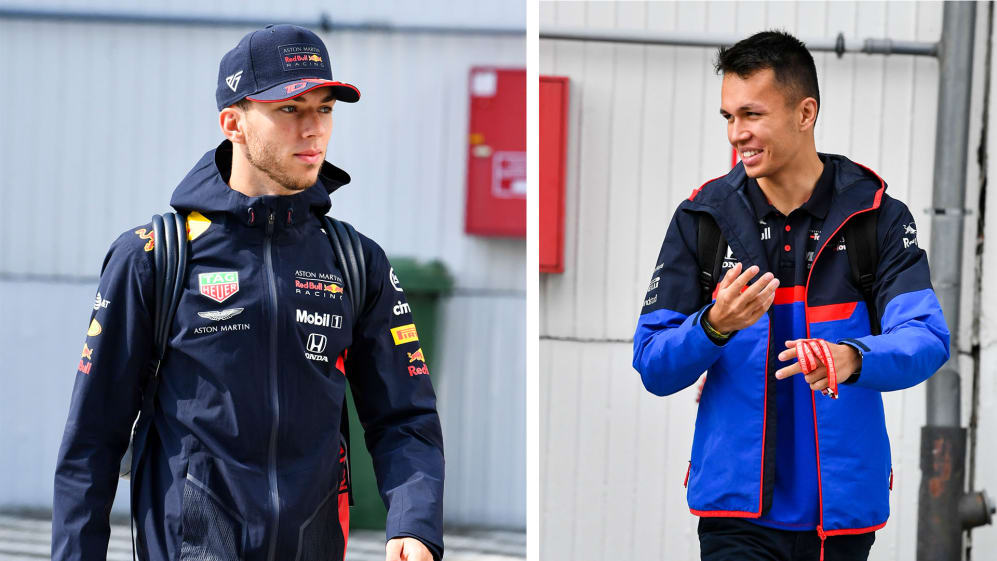 Red Bull boss Christian Horner gave a tough assessment of Pierre Gasly's form on Sunday in Hungary but said it was the team's "intention" to leave him in the car until the end of the year. So what changed in the last eight days?
We shouldn't be surprised that Red Bull have made a driver change during the season. They do, after all, have form. In 2016, they demoted Daniil Kvyat to Toro Rosso, swapping him with Max Verstappen – and that turned out rather well, eh? And at the back end of the 2017 season, Brendon Hartley and Gasly made appearances in place of Daniil Kvyat, with the duo going on to form the Red Bull junior team's full-time line-up for the following campaign.
As they said in making the announcement, the energy drinks firm is in the "unique" position of having four drivers under contract and four seats across two teams available to them. So they can chop and change whenever they like.
READ MORE: Albon vs Gasly - The Road to Red Bull's driver swap
Gasly impressed at Toro Rosso last year, having finished fourth in the second race of the season and scored 29 points overall, 25 more than Hartley. The Frenchman hasn't suddenly got worse overnight. He just hasn't adapted quickly enough for Red Bull, who - under the watchful eye of motorsport boss Helmut Marko - are notorious for having very little patience.
He hasn't been helped by Verstappen's sensational form. The Dutchman has been on an immense run that started at the Japanese Grand Prix last year, but arguably can be traced back to his reaction to his crash in Monaco last May. This year, he has scored 181 points, which included two wins and three other podiums, and is just seven shy of Valtteri Bottas in the class-leading Mercedes. In the same period, Gasly has managed just a third of those points.
Had Verstappen started this season at race nine of the World Championship – four races ago – he would still have more points than Gasly currently has. Equally, if you take away all five of Verstappen's podiums he would also still be ahead.
Then there's the constructors' championship to consider. Red Bull are just 44 points shy of Ferrari in the battle for second. And that's with just one of their drivers operating at such a high level. Just think what they could have done had they managed to persuade Daniel Ricciardo to stay for another year. Red Bull will fancy their chances of at least second this year, so swapping Gasly out and giving Alexander Albon a shot is a risk they reckon is worth taking.
If Verstappen and championship leader Lewis Hamilton have been the two standout drivers of the campaign so far, Carlos Sainz – part of the Red Bull junior programme until the end of last year – has been good enough to join them in the top three. After three tough opening races with McLaren, Sainz hasn't put a foot wrong. Eight points finishes out of nine have followed and he is deservedly in the best-of-the-rest slot, seventh in the drivers' standings, 27 points clear of the field and just five behind Gasly.
While Red Bull are unlikely to admit they made an error letting Sainz go, it won't be lost on them that his form in a midfield car has been so good, he finished ahead of their man Gasly last time out in Hungary and is on the verge of passing him in the drivers' standings.
Those factors combined with Albon's brilliant debut at Toro Rosso have made a case good enough for Red Bull to blink now. Had Verstappen or Sainz not been so impressive, or Ferrari been closer to Mercedes and therefore out of reach of Red Bull, Gasly would more than likely have had more time to get comfortable with the team and a car that he was struggling to set-up in a way that gives him confidence.
You could say that he got longer than most, courtesy of the lack of Red Bull juniors chomping at his heels. It's nonetheless a shame not to see him get longer to prove he has the speed but this does open the door for a youngster who wasn't really a contender for F1.
Albon was dropped from Red Bull's driver programme in 2012 but has since worked hard to realise his potential, finishing third in a competitive Formula 2 campaign last year. With Red Bull's reserves pretty barren, they gave him a shot at Toro Rosso – and he grasped it with both hands. The London-born Thai driver scored points in only his second race and has added four more top-10 finishes, leaving him just one point shy of experienced Renault driver Nico Hulkenberg.
In an ideal world, Red Bull would have preferred to keep him at Toro Rosso for the rest of the season, and then promote him to race alongside Verstappen next year so that he could get some more experience under his belt without the pressure of racing for one of the top teams.
But they clearly feel it's worth risking putting the 23-year-old in the car now. One thing in his favour is he seems to be able to adapt to new machinery quickly. If he takes time to get up to speed but scores consistently, that will be considered understandable as he arrives with no prior testing of the car. But if he impresses from the off, he and Red Bull will look like geniuses.
The danger, of course, is that the pressure gets to him and he struggles as much or more than Gasly. Then Red Bull will be in a quandary as that will leave only Kvyat as a driver to turn to with F1 experience. And while he has shown a newfound maturity this year, having had a year out, and has been a capable Toro Rosso driver, the fact he has been overlooked here suggests Red Bull are not convinced he's up to a return.
Red Bull do not need to worry about that now, though. This has bought them some breathing space. If it works out, they will have a strong line-up to tackle the next couple of years and a decent couple of drivers at Toro Rosso. Suddenly, it'll be Ricciardo who? Gasly who? Sainz who?
They've certainly rolled the dice. It'll be exciting to see how they land.