Aston Martin hit out at 'reckless' Tsunoda for Turn 1 collision that ended Stroll's race
Lance Stroll slammed AlphaTauri's Yuki Tsunoda for a Turn 1 collision in Brazil that eventually saw the Aston Martin driver having to retire – while Tsunoda hit back at the 10-second penalty he received, calling it "ridiculous".
It was on Lap 4 of the Sao Paulo Grand Prix when Tsunoda attempted to pass Stroll into the opening esses of Interlagos, instead slamming into the left side of his rival's car, having locked up. The stewards called it an "optimistic manoeuvre" in the penalty document they issued after giving the rookie a 10-second time penalty and two penalty points. Stroll had similar words to offer.
READ MORE: We've taken 'many punches in the face this weekend' says Wolff as he brands Verstappen's Lap 48 defence 'over the line'
"After making up some ground yesterday, I think we had a good chance to score points today," he began. "After a strong start, [Yuki] Tsunoda made contact with me in Turn 1. I think he started on softs, he's got a really quick car, so in the first couple of laps he was going to be super quick.
"I think he's off the pace and he's super-desperate to make a move. Just [from] too far back, I don't know what he was doing. I guess he's just desperate and just way too optimistic.
"That contact damaged my car and from there more pieces were falling off, which meant that the pace got worse, and we were just going backwards. I think it started off with 25 points [of downforce lost] and then it was 45 points; pieces falling off the car onto the track. We were just going backwards."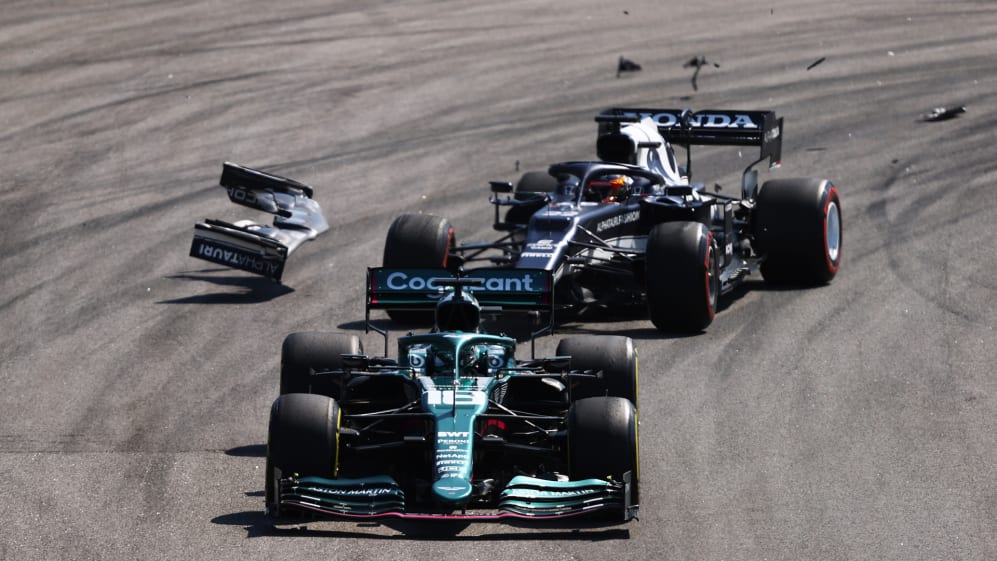 Team boss Otmar Szafnauer also criticised Tsunoda, saying the Japanese driver "recklessly hurled his car down the inside of Lance's at Turn 1, causing a collision, for which clumsiness he was rightly given a 10-second penalty."
But Tsunoda defended himself by saying that Stroll was "not looking at all" in his mirrors into Turn 1 and added that the 10-second penalty was too harsh.
"Tyre choice for me was OK, yes," he said. "Just everything ruined in the collision with Lance Stroll. Just, he was not looking at all the back mirror, definitely, he just drove normal line and even I [admit] – it was a risky move – but still, I didn't have any lock-up in the first bit and I had a little bit of lock-up because I released that he was not looking at all.
READ MORE: 'It was a good battle' – Verstappen gives his take on his Lap 48 defence from Hamilton in Brazil
"And a 10-second penalty is absolutely-I mean, OK, five-seconds, still harsh, but OK, 10 seconds is really ridiculous for me. So yes, it is what it is, and I have to improve next time. So it's a shame and that move was there, it was fine, so just. It's just a shame. But I have to be strong, be back to a strong next race," he said.
AlphaTauri are on 112 points, level with Alpine in the fight for P5 in the constructors' standings, while Aston Martin are on 68 points heading to the first-ever Qatar Grand Prix.