We've taken 'many punches in the face this weekend' says Wolff as he brands Verstappen's Lap 48 defence 'over the line'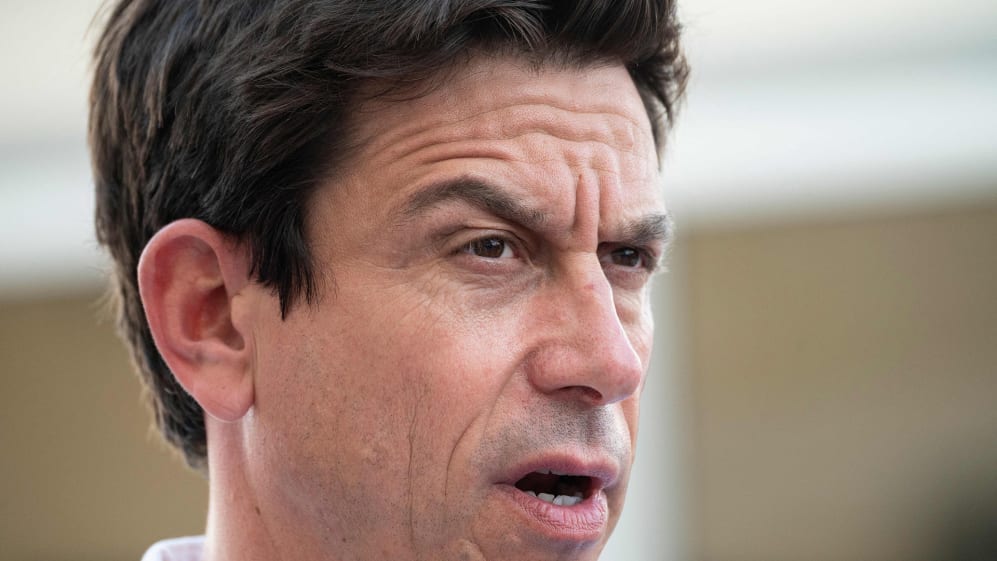 Mercedes Team Principal Toto Wolff was left incensed by the decisions that he felt were "punches in the face" towards his team this weekend – and pulled no punches himself as he unpacked a race meeting that saw Lewis Hamilton go from last to first in Brazil.
Hamilton was disqualified from qualifying after an issue was found with his rear wing, but the Briton made it from last to fifth in the Sprint on Saturday. A five-place grid penalty, for taking a new engine, was on the cards for Sunday. But what followed in the Grand Prix was a sensational drive from P10 to victory with Hamilton taking the lead from Max Verstappen on Lap 59.
Ten laps before that, there was another contentious moment when Hamilton attempted to pass his rival around the outside of Turn 4, the pair of them running wide. After reviewing it, the stewards decided not to investigate.
READ MORE: Hamilton takes victory in Brazil after stunning drive from P10 and pass on Verstappen
And that left Wolff making the following conclusion from the Sao Paulo Grand Prix: "I think we've just had many, many punches in the face this weekend with decisions that could have swung either side against us or for us… it's just something that I'm just angry about and I will defend my team, my drivers to what comes. I've been always very diplomatic in how I discuss things, but diplomacy has ended today.
"I mean the whole weekend went against us," he explained. "We had a broken part on our rear wing which we couldn't look at, couldn't analyse… and after [we were] disqualified – very harsh. And after you see Red Bull repair three times on the rear wing whilst being in Parc Ferme, with no consequence. That's one thing and obviously that really peaked when the decision in the race, which was, I mean, really… strong defence from Max.
"Absolutely an inch over the limit, but he needed to defend, but Lewis just managed it even more brilliantly by avoiding the contact and end the race that way. That was just over the line – should have been a five second penalty at least – and probably Max knew that. Just brushing it under the carpet is just the tip of the iceberg. I mean, it's laughable," said Wolff.
However, the Mercedes chief extended his sympathy towards the race stewards, adding that they "are only there to lose" in regards to making decisions that would benefit one party and frustrate the other.
"Well I don't want to claim anything on the stewards; I think they have a difficult life anyway and they are only there to lose. Whatever decision, one team is going to be grumpy. In that respect, I don't want to be in this chair, but in a certain way when you're taking punches all weekend and you have such a situation on top of everything, you're just losing faith in a way," he said.
READ MORE: 'I don't remember another weekend like this' says Hamilton after sensational last-to-first comeback in Brazil
The weekend, however, means that Mercedes leave Brazil and head to Qatar with an 11-point constructors' championship advantage while Hamilton is now 14 points behind Verstappen in the drivers' table. And Wolff said the off-track decisions took nothing away from what he called one of Hamilton's "best-ever performances".
"Yes. I think you need to put the whole weekend together," he said. "He was on [P1] on Friday then climbed back from P20 to P5 in a 24-lap race, and then today from P10 to P1, and overall, I think definitely rate that among the best-ever performances I have ever seen from him," added Wolff.