Australia crowned F1 in Schools World Champions 2018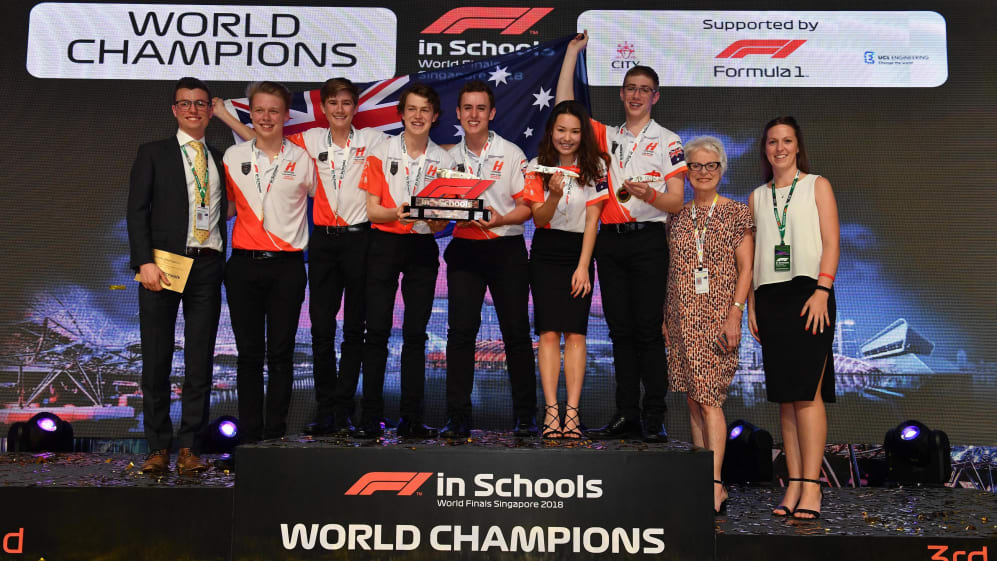 Horizon, a team of students from Brighton Secondary School, Adelaide, were crowned F1 in Schools World Champions 2018 on Wednesday at the 14th F1 in Schools World Finals, held this year at Resorts World Sentosa, Singapore.
Irish team, CCJ Autovinco from St. Brigid's College, Loughrea, County Galway were runners-up, with Perspective, a USA team representing Palmetto High School, from Bradenton, Florida in third place.
F1 in Schools challenges students to create their own Formula 1 team, which is commissioned to design, construct and race the fastest miniature Formula 1 Car of the Future; a 21cm long scale model built from the F1 in Schools model block and powered by a compressed air cylinder.
Chase Carey, Executive Chairman, CEO, Formula One Group, and Andrew Denford, Founder and Chairman, F1 in Schools, presented the new Formula 1 F1 in Schools World Champions Trophy to Horizon at the Institution of Engineering and Technology (IET) supported Awards Celebration Gala Dinner, attended by Formula 1 team representatives and invited guests.
The glittering awards extravaganza, attended by over 600 people including guest of honour, Peter Ong, Chairman, Enterprise Singapore, the 50 World Finals teams, teachers, dignitaries and key Formula 1 paddock personnel celebrated the achievements of the F1 in Schools World Finalists, the future Engineers and professionals of the Formula 1 industry.
The Horizon team with James Gurney (16), Luke Battjes (18), James Lloyd (16), JJ Elliss (16), Tom Lightfoot (15), Luka Moase (15) win scholarships for City, University London and UCL Engineering, as well as being guests of Formula 1 with complimentary four-day paddock access to the Formula 1 2018 Singapore Airlines Singapore Grand Prix and presentation of the new Formula 1 F1 in Schools trophy, in front of the F1 photographers, on the podium at the Marina Bay circuit.
The Australian team also won the Best Engineered Car Award supported by Williams Racing and the Fastest Car Award, supported by Mercedes-AMG Petronas F1 Team, with the team's car clocking a time of 0.977 seconds on the F1 in Schools track, the only team at this year's World Finals to post a sub one-second time. Horizon were also nominated for the Research and Development Award.
Horizon Team Manager, James Gurney, said of winning: "We're feeling on top of the world. We knew there were so many competitive teams around but we knew how much work we had done and were just hoping that we had done enough. For some of us it's been three or four years working on this, but we've had late nights and an amazing journey. Well done to all the other teams too, they've been very special and we're going to have lifelong friends and memories."
Of the team's success he said: "The engineering behind our car was very precise and we were constantly improving and refining it to make the best product possible. We were perfectionists, making sure nothing was half hearted, the effort and dedication we put in, were the key for us. The experience will be something we'll hold for the rest of our lives."
Guest of Honour, Peter Ong, Chairman, Enterprise Singapore raced Chase Carey at the start of the night, with Chase narrowly beating Peter in the 'celebrity race'. Prior to presenting the trophy to the World Champions Chase said, "I want to thank and congratulate tonight's competitors, who are the most impressive group of young people that I have ever met in many years. Your energy and passion are incredible and my hope is that some of you will end up in Formula 1 at some point in the future, but what is clear is the world is yours. You are an incredibly talented group of individuals and all of you have exciting futures ahead of you. If the future of the world is based on our youth, the future of the world is in good hands. I cannot be more impressed with the geographic spread, the diversity, the number of young women that are engaging in this activity, it's just incredible. We couldn't be more excited about the future, we couldn't be more excited about working with F1 in Schools to continue to build on what's in place."
Andrew Denford, Founder and Chairman, F1 in Schools added, "It has been a fantastic World Finals, a real celebration of the outstanding talents of our students from across the globe, but there can only be one World Champion and my congratulations go to Horizon, from a team down under, they're definitely on top now!
"With seven all-girls teams this year and a 40:60 female/male students ratio, we're representing the increasing popularity of STEM with girls, which is great. F1 in Schools is just like Formula 1 in miniature and we hope that we inspire more and more girls to pursue careers in the sport. We are also seeing more and more F1 teams recruit from F1 in Schools and selecting our best students reflects their achievements and excellence. Finally, I would like to thank Chase and Formula 1 for their continued support of our World Finals."