Feature
AUSTRALIA PREVIEW - the stats and info you need to know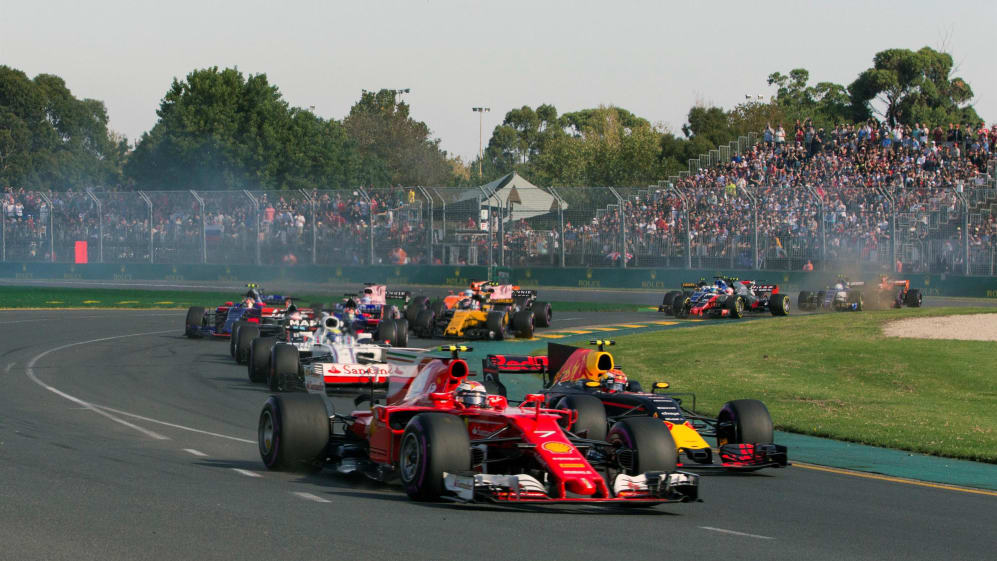 Melbourne's picturesque Albert Park hosts the first act in F1's record-breaking 21-race global tour. With every team set to bring update packages, the pecking order remains unclear. So let's fire up those engines and get this show on the road…
Mercedes have been the dominant force since F1 switched to V6 turbo hybrid engines in 2014, winning four consecutive constructors' and drivers' world titles. Only McLaren, Ferrari and Red Bull have achieved that feat before.
But if the Silver Arrows make it five, that club shrinks to just two with Ferrari and leaves them just one step away from equalling the all-time record. Can they do it? Pre-season testing suggests they're once again the team to beat, even if Mercedes Team Principal Toto Wolff is expecting a three-way battle for the crown.
"Last year, the competition was very close and there was no moment where we could afford to relax," he said. "Ferrari put up a very tough fight and we had a proper battle between silver and red. This year promises to bring an exciting three-way fight between us, Ferrari and Red Bull..."
Will Toto be proved right in Australia?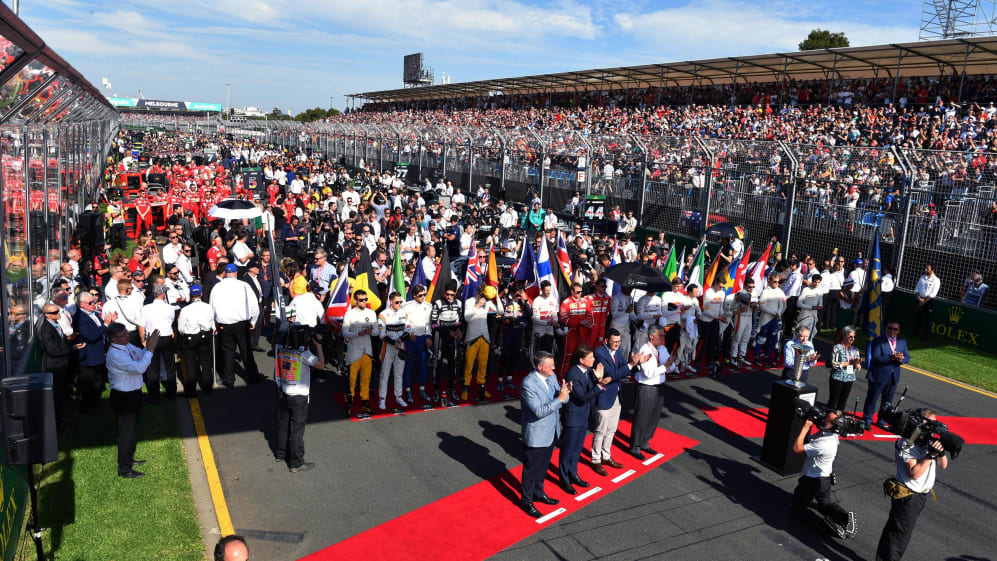 The form book
Most bookies have reigning champion Lewis Hamilton installed as the favourite for Melbourne – and with good reason. Not only has the Briton been imperiously quick there in the past – taking pole six times from 11 attempts – his Mercedes team, ominously quick in pre-season testing, have dominated in recent times. The Silver Arrows have taken four straight poles and won three of the last four races in Melbourne, only failing to achieve a double podium finish once during that spell. But for all that, Hamilton has actually only won in Melbourne twice (in 2008 and 2015)...
If Mercedes are most people's favourites, then Ferrari have to be right behind them. The Prancing Horse topped the times during testing with Sebastian Vettel – the same man who swept aside Mercedes to win in Melbourne 12 months ago. That was Vettel's second win Down Under, and he's taken four other podiums there from 10 attempts.
Of the so-called 'big three' teams, Red Bull are the dark horses. The Milton Keynes-based team finished 2017 very strongly, with two wins from the final six races, but perhaps owing to their recent history of slow starts they've only won in Australia once – back in 2011. Neither Max Verstappen nor Daniel Ricciardo has finished on the podium in Melbourne, with fifth and fourth their respective best results.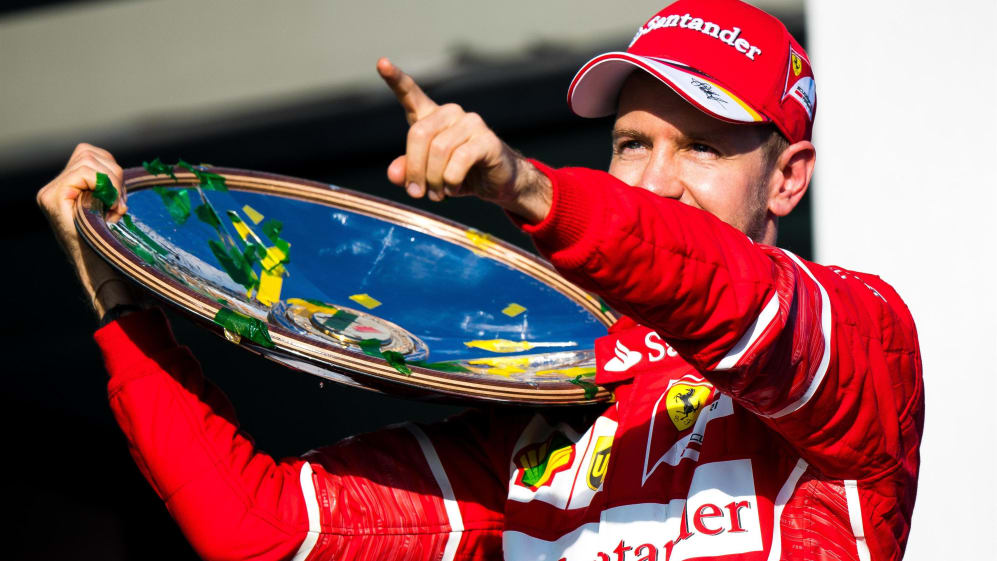 The stats that matter
Hamilton enters the race on a 25-race point-scoring streak – two races shy of Kimi Raikkonen's all-time record. Will he take a step closer to the Finn's mark in Melbourne?

Sebastian Vettel, meanwhile, is looking for a little piece of history of his own. If he finishes on the podium he'll become just the fourth driver in F1 history to collect 100 podium finishes, joining Hamilton, Michael Schumacher and Alain Prost in a very exclusive club.

Speaking of Vettel, the German proved the exception to this rule last year, but for the superstitious out there, the winner in Australia has ended the season as champion on nine occasions since 2002. A one-two is almost certain to bring greater glory, too, as when a team have finished one-two in Melbourne, they have always gone on to clinch the constructors' championship.

Pole position really isn't everything in Melbourne – Eddie Irvine fought his way up from 11th to take victory for Ferrari in 1999. In fact, only two of the last eight races have been won from pole.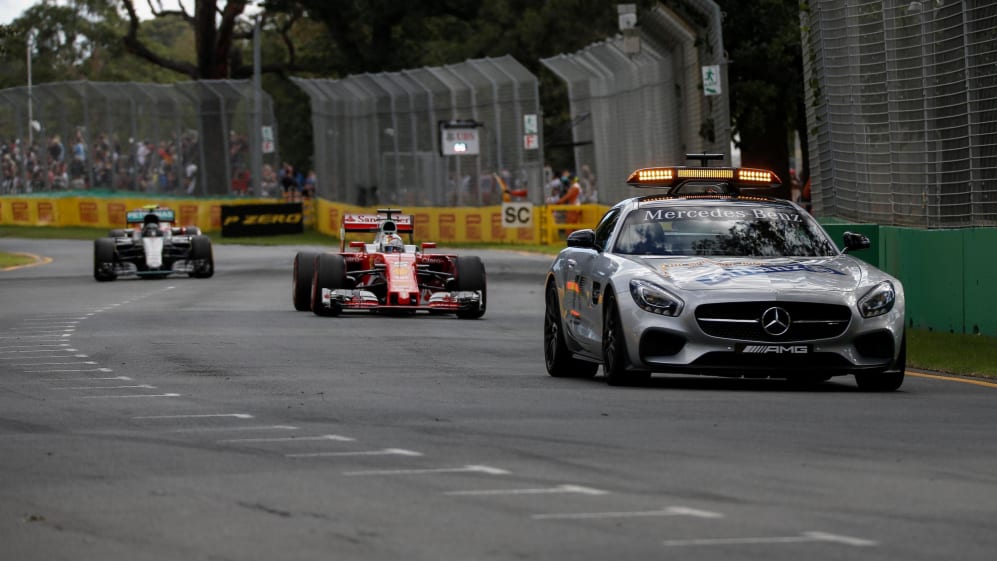 Strategists are usually kept on their toes in Melbourne, with the safety car a familiar sight. In the last 10 races, Bernd Maylander and his Mercedes have be deployed seven times. In the last 12 Australian Grands Prix, the safety car has completed 47 laps, which is almost a race distance (58 laps).

Seven-time world champion Michael Schumacher's lap record for Melbourne – 1m24.125s from 2004 – remains intact despite pre-race predictions that it might fall last year with the introduction of new, faster cars. Will it hold firm again this season?

Valtteri Bottas is targeting a hat-trick of pole positions for the first time in his career. Unfortunately for him, Hamilton hasn't been outqualified by a team-mate in Melbourne since 2010 while Bottas hasn't outqualified one since 2013.

Speaking of 2013, that year's Australian race was the last time Kimi Raikkonen topped an F1 podium...

Since the race's addition to the F1 calendar in 1985, no Australian driver has ever finished on the podium. Daniel Ricciardo came agonisingly close in 2014, crossing the line in second before being disqualified for a fuel flow misdemeanor. Fourth, then, is the best home finish to date, with Mark Webber achieving the feat in 2012 and Ricciardo in 2016.
The circuit
Adelaide was the destination of choice when F1 first hit Australian shores in 1985. But in 1996, Melbourne – the country's second biggest city – stepped up and made the race its own.
The 16-turn 5.303km circuit is only used once a year and takes place on roads that weave their way around the Albert Park lake. That means a low grip level. Slippery conditions are to be expected, particularly in Friday practice, until tyre rubber gets laid down.
The low-grip conditions are one of the factors that make overtaking tricky at Albert Park, though the FIA have tried to offset that this season by adding a third DRS zone. Failed overtaking attempts have led to some spectacular crashes down the years, particularly at Turn 3, which like Turn 1 often sees a bottle-neck on the opening lap.
With a lack of long corners making generating tyre temperature tricky, Pirelli have gone reasonably aggressive with their tyre allocation, bringing the soft, supersoft and ultrasoft compounds to Melbourne.
The question is, who will that favour?
The forecast
The latest weather forecasts suggest a mixed bag of weather for Melbourne. Friday should be mainly sunny, with temperatures in the high 20c range, but on Saturday thunderstorms are poised to sweep over Albert Park ahead of qualifying. Sunday's outlook, meanwhile, promises cooler, overcast conditions.
When does the Australian Grand Prix start?