Bad luck has 'evened out' in title fight asserts Verstappen, as Perez says 'miscommunication' cost him in Baku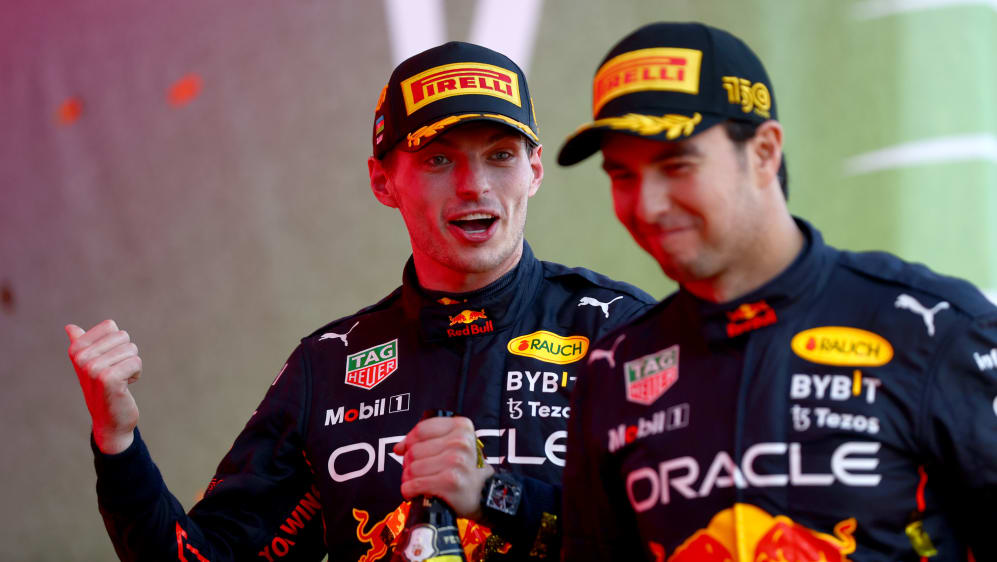 Max Verstappen has built up a 21-point lead in the drivers' standings by winning the 2022 Azerbaijan Grand Prix in a comfortable Red Bull one-two after both Ferraris retired – and the Dutchman gave a typically forthright response when asked about his rivals' misfortune…
Verstappen suffered two DNFs at the start of this season but has now taken four wins in five races, leading a Red Bull one-two at Baku as both Ferraris bowed out of the race with separate reliability problems. The Dutchman has turned what was a 46-point deficit after the first three races to a 21-point lead, with Charles Leclerc having dropped to third in the standings behind Sergio Perez, and 34 points behind Verstappen.
"Of course, we had our misfortune at the beginning of the year so we knew we had to play a bit of catch-up, but it seems like now it's more or less evened out with the bad luck, and yes, you know you have to score points every single weekend if you want to really fight for the championship. Everyone knows that, everyone tries that, but it's not always that easy."
READ MORE: Verstappen leads Red Bull 1-2 as both Leclerc and Sainz retire in Azerbaijan
Asked if he had any sympathy for Leclerc – who has suffered two DNFs in the last three races – Verstappen replied: "I would always say, s*** happens. That's racing, you know? It happened to me, it happened to many people in the past, unfortunately it's happening to Charles.
"Yes, if I would be in the same situation, I would also be disappointed, I think that's very normal, but it's about how you come out of it. You always look at how to improve things – that's what we did at the beginning of the season. You learn from it, you don't like it, you're angry, but we turned it around. You always have to stay on it because something else might happen and you always have to prevent these issues from happening."
READ MORE: 'It hurts' – Leclerc 'more than frustrated' as Ferrari pair lament double Ferrari DNF in Baku
Team mate Sergio Perez finished second with fastest lap, but had taken the lead at the start of the Azerbaijan Grand Prix. Afterwards, he said he was disappointed not to pit during the first Virtual Safety Car on Lap 10, rather than stopping when he did on Lap 16 and again during the second VSC on Lap 33.
"Unfortunately, we missed the Virtual Safety Car stop, there was a miscommunication, and what we wanted, it was a bit too late. We were a bit unlucky there because I would have made up my race, when we were leading.
DRIVER OF THE DAY: Hamilton gets your vote after hard-fought P4 in Baku
"At the restart, I just had too much drag; on the medium tyre, the [degradation] was a lot higher for me, so I need to understand what happened there, because certainly Max was a lot stronger today on that medium stint. So a lot of things we have to review today, but it's still a very good team result."
Perez conceded, however, that the team made the correct strategy call.
"I think it was the right call made by the team, because at that time Max was a bit further ahead, and it was just a good team result, and you know in this place anything can happen, so at the end we managed to do a one-two and that's a great team result."