'It hurts' – Leclerc 'more than frustrated' as Ferrari pair lament double Ferrari DNF in Baku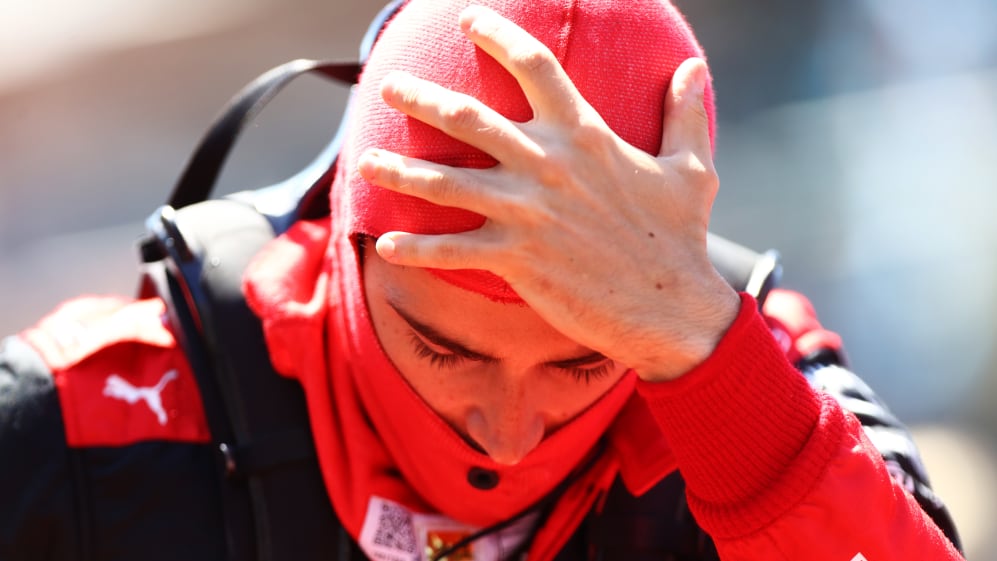 Ferrari suffered a double DNF in the Azerbaijan Grand Prix – as rivals Red Bull secured a one-two to rub salt into their wounds – with first Carlos Sainz and then race leader Charles Leclerc dropping out of the race. And both drivers were understandably frustrated when they faced the media in Baku.
Lap 9 saw Sainz pull up with what transpired to be a hydraulics failure, dropping him out of P4. Pole-sitter Leclerc had lost the lead at the race start to Sergio Perez, but regained it after pitting under a Virtual Safety Car brought out for Sainz's stoppage – only for what appeared to be a second power unit issue in three races to force him to pit into retirement on Lap 20.
READ MORE: Verstappen leads Red Bull 1-2 as both Leclerc and Sainz retire in Azerbaijan
"I am more than frustrated, obviously," said Leclerc. "The first stint in the beginning, we weren't particularly strong, but towards the end of the stint on the medium I was catching back Checo [Perez] and then obviously there was the VSC [Virtual Safety Car], and we decided to take that opportunity to pit, and I think it was the right choice.
"We were in the lead of the race, I was managing the tyres well, we just had to manage the tyres and the race till the end, which I think was… we were definitely in the best position possible to do that. Another DNF – it hurts… We really need to look into that for it to not happen again."
With Leclerc falling from P2 to P3 behind Baku winner Max Verstappen and Perez in the drivers' standings following the Azerbaijan Grand Prix, Leclerc was asked whether the result was significant for the championship, replying: "It's more than a significance. I don't really have the words to be honest, I came straight from the car to here. It is just a huge disappointment and I just hope we can jump back from it, and to be on top of those things."
AS IT HAPPENED: All the action from the Azerbaijan Grand Prix
Sainz echoed his team mate's sentiments – while adding that Ferrari's recent issues were costing him learning behind the wheel of a Ferrari F1-75 that he's struggled to tame at times in 2022.
"The hydraulics went, and that was it," said Sainz. "Even more frustrated to see Charles not finishing the race and having another issue. For sure it's a tough day for Ferrari, a tough day for all of us but we are a team, we will go through different moments in the year, and this one is probably one of the most difficult and frustrating, but we will try and make sure we recover.
"[Apart from] reliability it hasn't been that bad [this year, but] it's getting momentum, and trying to have consecutive races clean this year, it's been impossible," added Sainz.
"Especially the DNF comes in Lap 9 and I'm still looking to get laps, and get knowledge from the car, it is very difficult and so far, the 2022 season has decided to go this way for me and it's frustrating, it's extremely frustrating but we will have to recover this and we will need to stay patient and positive."
With Red Bull scoring a maximum 44 points in Baku, meanwhile, Ferrari have fallen to 80 points behind their rivals in the constructors' standings.