Report
Verstappen leads Red Bull 1-2 as both Leclerc and Sainz retire in Azerbaijan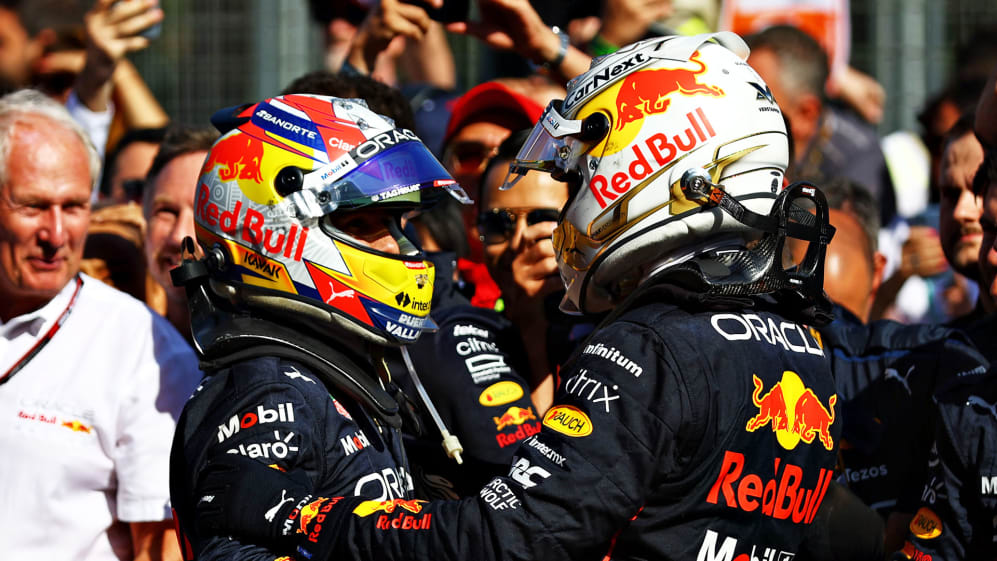 Max Verstappen led a Red Bull one-two in the Azerbaijan Grand Prix after retirements for Ferrari's Charles Leclerc and Carlos Sainz, giving Mercedes' George Russell P3 at Baku.
Pole-sitter Charles Leclerc lost the lead at the start but regained it when the leading Red Bull of Max Verstappen pitted on Lap 19. One lap later, Leclerc's race went up in a puff of smoke and he crawled back to the pits to retire. This would be Ferrari's second retirement of the race as Carlos Sainz stopped with a hydraulic failure on Lap 9.
READ MORE: Bad luck has 'evened out' in title fight asserts Verstappen, as Perez says 'miscommunication' cost him in Baku
Leclerc's DNF left Verstappen ahead of Sergio Perez (who took fastest lap) in a one-two for Red Bull, with Mercedes driver Russell promoted into the final podium place, having started fifth.
Team mate and Driver of the Day Lewis Hamilton started seventh and finished fourth having pitted during the VSC on Lap 10 and the following one on Lap 34, passing Pierre Gasly 10 laps later with the benefit of newer tyres. The AlphaTauri driver finished fifth having started sixth.
Sebastian Vettel took P6 for Aston Martin having begun the race on medium tyres, pitting during the first VSC and finishing the race on hards.
Alpine's Fernando Alonso started 10th but made it up to seventh having begun on medium tyres, going long on his first stint and pitting after 18 laps to finish the race on hard tyres and beat both McLarens to P7.
Daniel Ricciardo finished eighth from 12th, starting on hards to jump Lando Norris (P9). Rounding out the top 10 was Esteban Ocon, who started from 13th on hard tyres and took the final point for Alpine.
Valtteri Bottas missed out on points in P11, the Alfa Romeo driver having begun on hard tyres and, like Ricciardo, pitted during the second VSC of the race.
Alex Albon made it up to P12 for Williams after starting 17th. He finished ahead of Yuki Tsunoda, the AlphaTauri driver dropping from sixth to 13th late on with a DRS issue.
Mick Schumacher took 14th ahead of Nicholas Latifi, 15 seconds-worth of penalties leaving him 15th and last.
Alfa Romeo's Zhou Guanyu was the third retiree of the race, the #24 pulling into the pits on Lap 24. He was joined by Kevin Magnussen, whose stoppage brought out the second VSC of the race, and Lance Stroll, a suspected engine issue stopping the Aston Martin driver three laps from the end.
AS IT HAPPENED
Azerbaijan has hosted high drama in all four of its previous Grands Prix, the Land of Fire always eager to turn the heat up. After Sergio Perez crashed Charles Leclerc and Max Verstappen's party in Monaco, those three drivers entered Baku gunning for maximum points in their chase for the championship.
With Leclerc on pole, Perez would join him on the front row, while Verstappen would start from P3 alongside Ferrari's Carlos Sainz. Behind would be George Russell from P5 and Pierre Gasly – every driver down to Lando Norris, starting 11th, on medium compounds, with Zhou Guanyu, Kevin Magnussen and Alex Albon the three others to begin on yellow tyres.
"Elbows out into Turn 1, it's all to play for" – those were the words in Sergio Perez's ear as the formation lap got under way. And as the lights went out, the Mexican proved he understood the assignment, launching well and scything down the inside of Leclerc, who locked up going into the first left-hander.
Leclerc was therefore sandwiched between the Red Bulls, Verstappen holding P3 ahead of Sainz from P4. By Lap 5, Perez had opened his lead to two seconds while Verstappen was bearing down on Leclerc, stalking his rival through the narrow castle section. Red Bull's race pace was clearly paying dividends.
Other movers at the start included Sebastian Vettel, up to P8 off Yuki Tsunoda, while Albon made up two places up to P15 – but lost a place to Magnussen soon after. As for Nicholas Latifi, he copped a 10-second stop-go penalty after his mechanic touched his car after the 15-second start procedure warning.
Leclerc now had to keep his elbows out as Verstappen's DRS-enabled wing opened on the 1.2-mile straight – and soon after the leader would choose to pit for hard tyres…
It was pain for Ferrari on Lap 9, a Virtual Safety Car deployed as Sainz's hydraulics failed and saw him stop at Turn 4. Leclerc's pit stop for hard tyres under that VSC was slow, and he'd emerge over 10 seconds behind Verstappen in P3. Russell took the opportunity to pit from P4, as did Pierre Gasly from eighth. Red Bull didn't respond, the Virtual Safety Car ending for Perez to begin Lap 11.
"Those who pitted have to do a bad one-stop or convert to a two-stop," sixth place Norris was told on the radio.
With 40 laps remaining, Leclerc faced a 12-second gap to Verstappen, while Perez had the reigning champion two seconds behind.
Verstappen would reel in his team mate and by the end of Lap 14, he was in DRS range, sweeping past with ease down the inside of Turn 1. Meanwhile, Leclerc had turned up his pace with successive fastest laps and was just eight seconds behind Perez.
The Mexican was switched to hard compounds from his starting mediums on Lap 16, a slow stop of 5.7 seconds hurting his race further as he emerged third, 18 seconds behind leader and team mate Verstappen.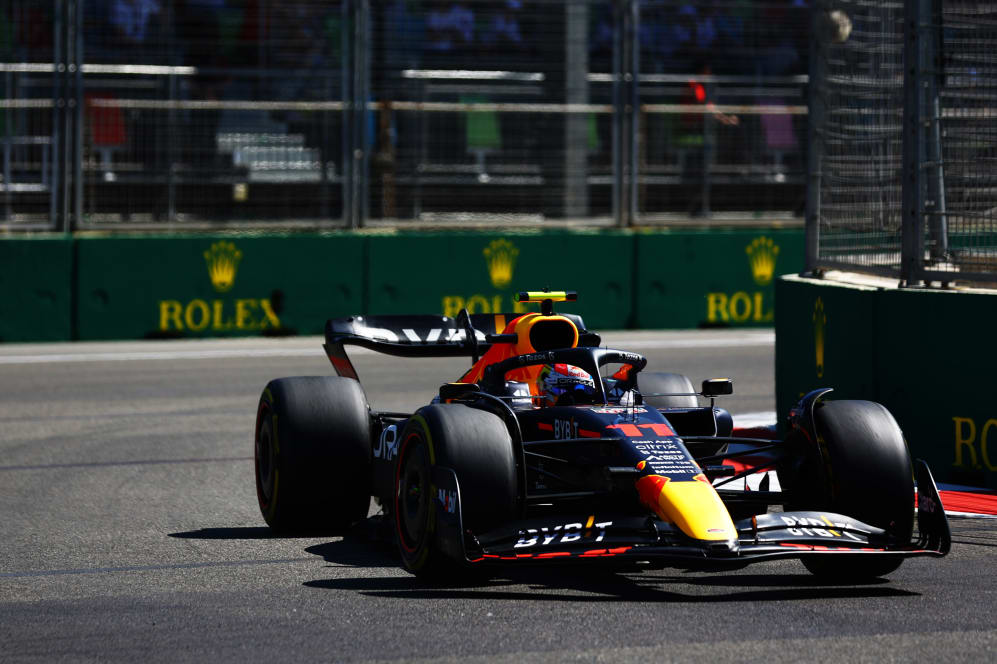 There were two (short-lived) trains in the midfield, both led by Alpine. The first was led by Fernando Alonso from P5 with two McLarens of Norris, Daniel Ricciardo, then Pierre Gasly trailing. The second train was led by hard-tyred starter Esteban Ocon from ninth ahead of Lewis Hamilton and a gaggle of midfielders.
Ocon, still yet to pit, was passed by Hamilton down the inside of Turn 3 on Lap 1, while Alonso would finally pit on Lap 18 to let the McLarens by, the Spaniard emerging 16th. Ricciardo would begin to attack Norris for P5 with Gasly bearing down behind.
The lead would change once again on Lap 18 when Verstappen took his chance to pit, a modest 3.5 seconds seeing him shoot off on hard compounds and emerge second with a 13.5-second deficit to Leclerc ahead.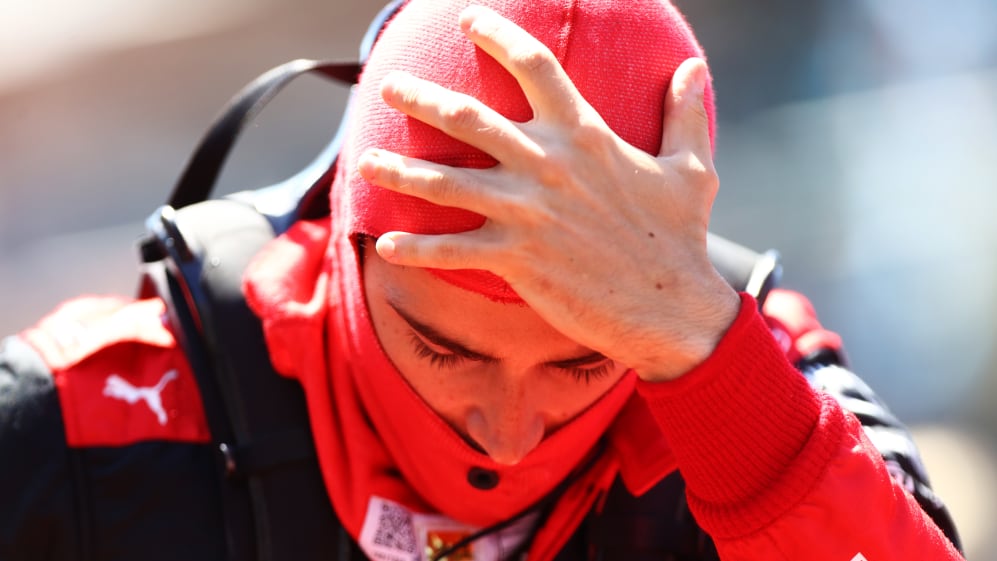 "Problem, problem, engine."
Smoke signalled even more woe for Ferrari on Lap 20; a distraught Leclerc forced to crawl back into the pits in a double retirement for the Scuderia. For the second time in three races, the Monegasque had retired from the lead.
Verstappen now enjoyed a five-second lead over Perez, Russell another nine seconds back and on course for a Mercedes podium.
AlphaTauri's Gasly was also on the pace, his hard tyres (fitted during the VSC) helping him take P4 off Ricciardo on Lap 21. Yuki Tsunoda had also pitted during the VSC and passed Ocon for P7 on the same lap. Both were now chasing a Mercedes.
Hamilton wasn't content with being chased and instead turned the pressure on Ricciardo, still on his starting set of hards, ahead, passing him for P5 on Lap 27 at Turn 3. Fourth place Gasly lay only 3.6s ahead, but porpoising began to cause some pain for the seven-time champion.
Another Ferrari-powered car retired on Lap 33, Haas's Kevin Magnussen bringing out a VSC as he crawled to a halt.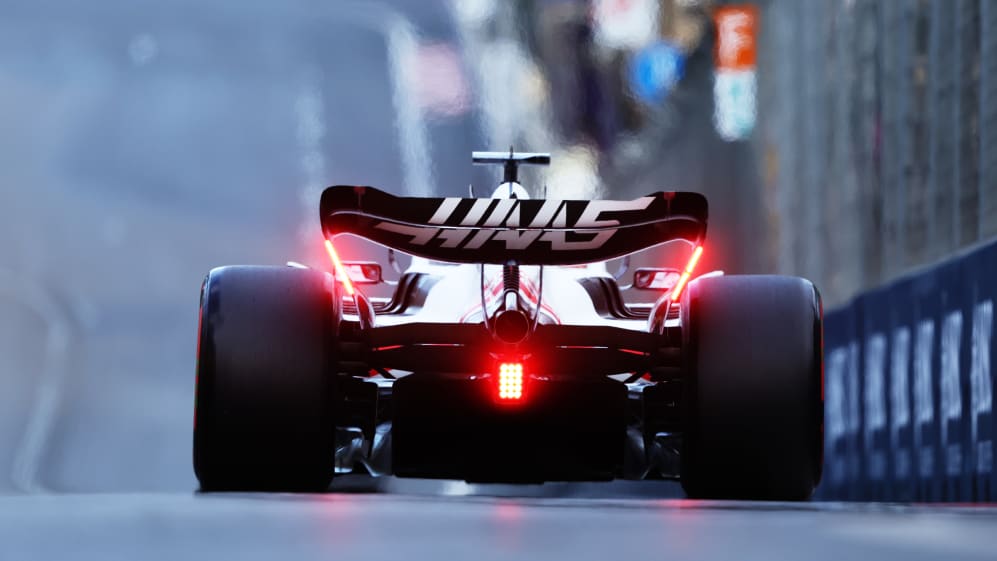 That was the cue for leaders Verstappen, Perez and Russell to take a free pit stop, while Ricciardo and Ocon decided to make their sole stops of the race having begun on hard compounds. Hamilton, in chase of Gasly, made an aggressive gamble to pit for another set of hards to emerge sixth behind a pair of AlphaTauris donned with 25-lap-old hard compounds.
Hamilton made light work of Tsunoda, driving well out of Turn 16 and drafting past the Japanese driver (who seemed to have sprung a DRS issue) to start Lap 36 in P5. Tsunoda was soon forced to pit to fix his malfunctioning rear wing, dashing his hopes of P6 as the mechanics taped down the wing and told him not to use DRS anymore.
Verstappen was told to control his pace up front given the Ferrari retirements, reliability now the concern for Red Bull. He was also told not to use DRS.
Hamilton was within DRS range of Gasly on Lap 43, the Frenchman told to keep it clean over the radio and not lose valuable points for the team. Gasly defended sensibly over the next lap and only lost P4 to Hamilton going into Turn 3 on the following tour.
From then, the top five would remain unchanged, Verstappen taking his fifth win of the season by over 20 seconds with Perez, fastest lap to his name, the runner-up. Russell took the final podium place, taking full advantage of Ferrari's troubles.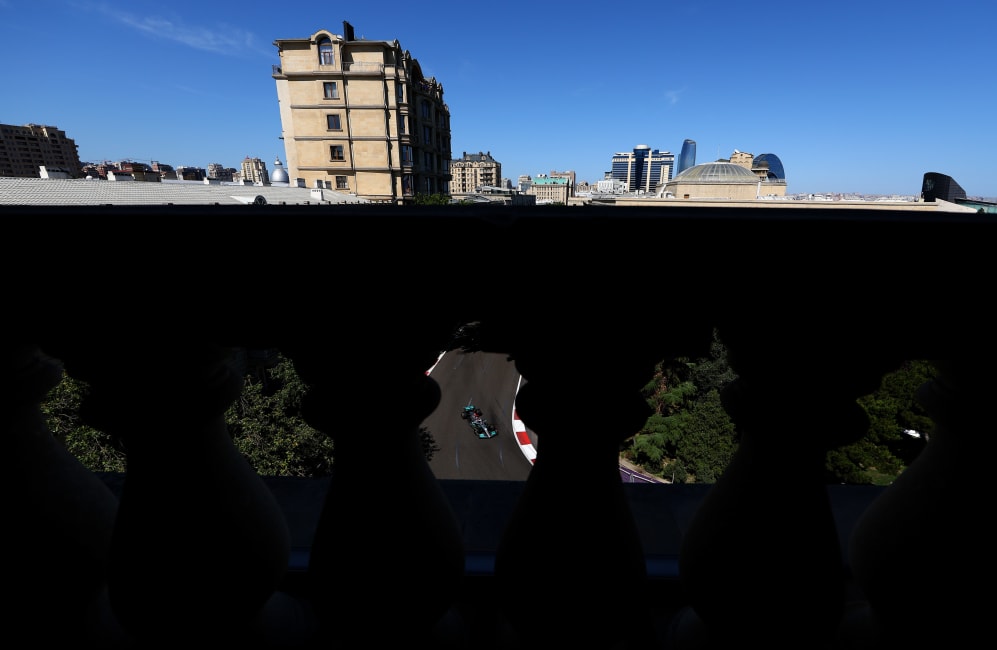 Behind Gasly was Vettel, the four-time champion pitting during the first VSC and shrugging off a mistake soon after, which saw him go off at Turn 3, to finish sixth – inheriting that final place when Tsunoda, 13th, pulled in with his DRS issue.
Alonso managed to hold on for 18 laps on his starting set of mediums, completing – like Gasly and Vettel ahead – a one-stop strategy to beat both McLarens to P7. The Alpine driver was under pressure from Ricciardo late on but held him off by four seconds.
Ricciardo meanwhile only held on to P8 by 0.3s, the Australian benefitting from a stop during the Lap 33 VSC to finish just ahead of team mate Norris, who began on mediums and pitted on Lap 21 to finish the race on hards in an opposite strategy to Ricciardo.
Esteban Ocon mirrored Ricciardo's strategy and took the final point having started 13th.
Alfa Romeo's Valtteri Bottas never seemed to be in contention for points. On the same strategy as Ocon and Ricciardo ahead, he did made it up from 15th but was running behind Zhou Guanyu – before the rookie was forced to retire.
"Are you kidding me, again?" asked an incredulous Zhou when asked to stop his Alfa Romeo on Lap 24. A third DNF in four Grands Prix only compounded the rookie's pain.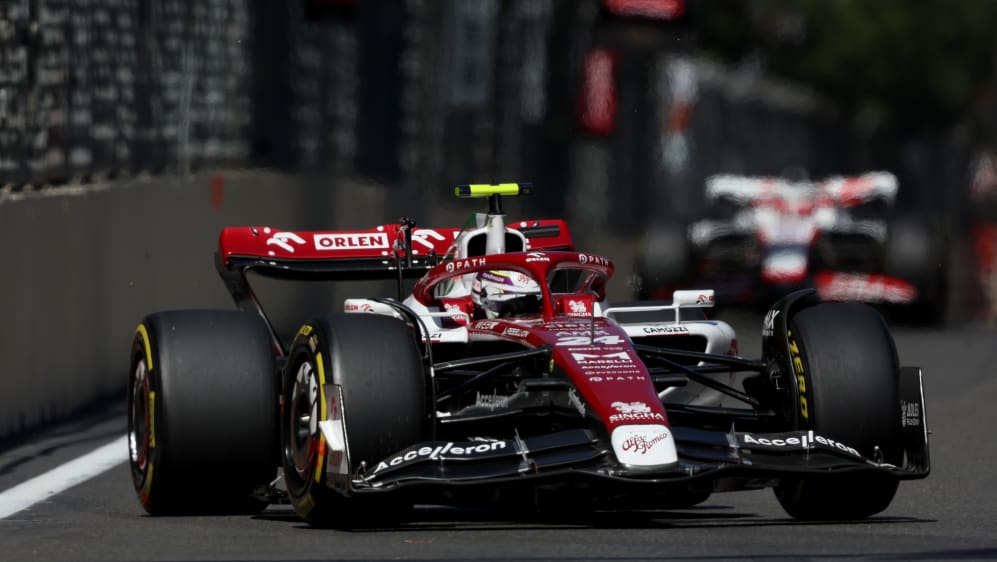 Alex Albon took 12th, pitting during the first VSC and completing a two-stop race. He finished ahead of Tsunoda, the Japanese driver attempting in vain to pry P12 off the Williams with a late swap to soft tyres when he was called in to fix the DRS issue.
Mick Schumacher was next on the board for Haas, finishing well ahead of Nicholas Latifi in the other Williams. Latifi finished last and 15th having taken a 10-second stop-go penalty for his mechanic touching his car after the 15-second warning on the grid, and a subsequent five-second penalty for ignoring blue flags in the Lap 43-44 Hamilton-Gasly battle.
Verstappen therefore leads the drivers' championship by 21 points over Perez as Leclerc has dropped down to third – while Red Bull enjoy an 80-point lead over Ferrari in the constructors' championship heading to Canada.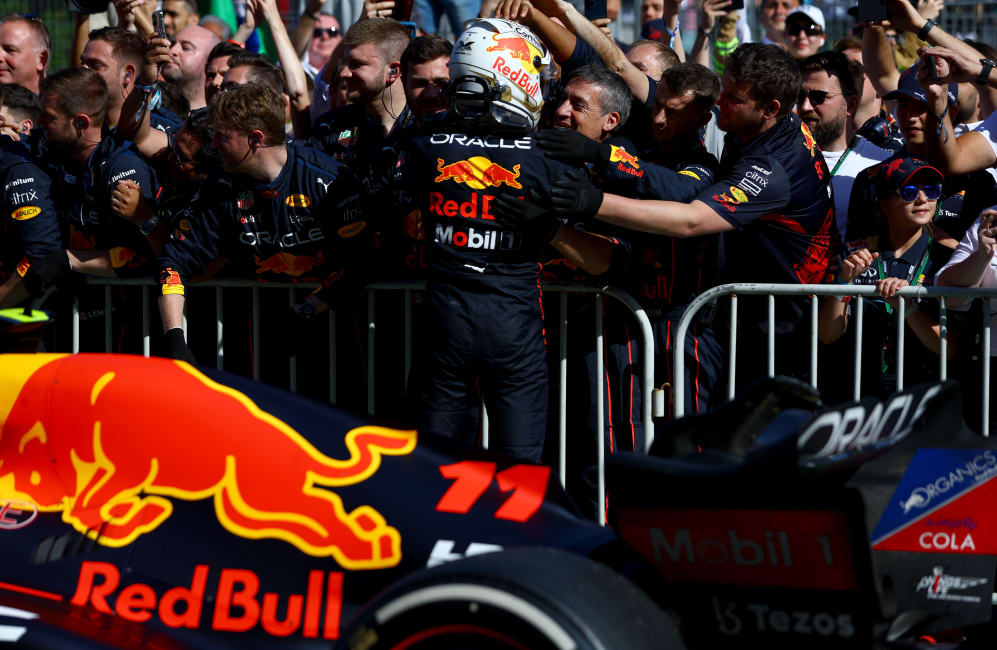 Key quote
"I think today we had incredible pace in the car, we could really look after the tyres and we could chip away at it, pass for the lead," said winner Max Verstappen of Red Bull.
"But obviously also maybe a tiny bit lucky with the retirements, but nevertheless I think our car was really quick today so I could have closed that gap, so then you have a race on your hands, but overall, really happy with the balance of the car today."
What's next?
The Canadian Grand Prix returns next weekend for the first time since 2019, on June 17-19, as Ferrari aim to make up for a run of disappointing races and Red Bull look to continue their winning run.