Report
Bahrain test - Hamilton fastest on first day in Sakhir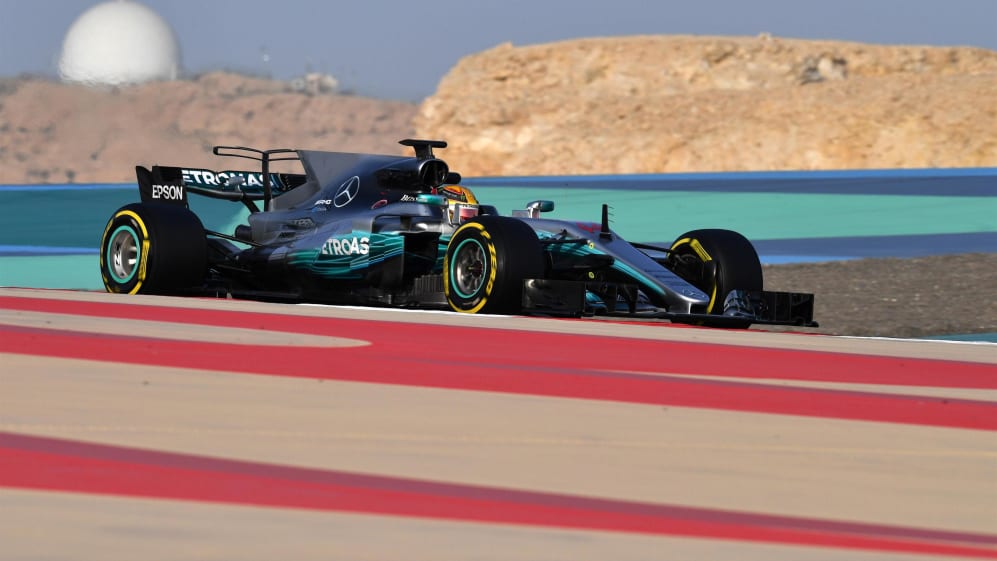 He may have been beaten in Sakhir on Sunday, but it was Mercedes' Lewis Hamilton who clocked the fastest time on Tuesday as the teams commenced a two-day, post-race test at the Bahrain International Circuit. Hamilton finished six-tenths up on his closest rival, Ferrari reserve Antonio Giovinazzi.
Bahrain Grand Prix winner Sebastian Vettel was also in action in his Ferrari, though on behalf of Pirelli rather than the Italian team. The four-time champion was tasked with assisting the F1 tyre supplier with 2018 development work, a responsibility that will be shared by all teams over the course of the year.
Daniel Ricciardo was third for Red Bull, despite Renault power unit issues halting his programme early, just ahead of Romain Grosjean, who clocked up almost twice as many for Haas. Felipe Massa took fifth spot for Williams, who split their running between drivers, with team mate Lance Stroll seventh behind Renault's Nico Hulkenberg.
Indonesian F2 driver Sean Gelael got his first taste of F1 machinery as he secured eighth for Toro Rosso, while Force India tester Alfonso Celis was 10th ahead of Sauber's Marcus Ericcson, the most productive driver of the day in terms of mileage with 106 laps.
By contrast, final runner Oliver Turvey managed just 17 as Honda power unit problems continued to blight McLaren's progress.
The Bahrain test continues on Wednesday - for minute-by-minute timesheet updates from Sakhir, download the Official F1® App and go to Results & Standings > TEST. For more information, click here.
Unofficial Tuesday times from Bahrain:
| Pos | Driver | Team | Best time | Gap | Laps |
| --- | --- | --- | --- | --- | --- |
| 1 | Lewis Hamilton | Mercedes | 1:31.358 | -- | 97 |
| 2 | Antonio Giovinazzi | Ferrari | 1:31.984 | +0.626 | 93 |
| 3 | Daniel Ricciardo | Red Bull | 1:32.349 | +0.991 | 45 |
| 4 | Romain Grosjean | Haas | 1:32.452 | +1.094 | 87 |
| 5 | Felipe Massa | Williams | 1:32.509 | +1.151 | 56 |
| 6 | Nico Hulkenberg | Renault | 1:33.624 | +2.266 | 74 |
| 7 | Lance Stroll | Williams | 1:33.729 | +2.371 | 35 |
| 8 | Sean Gelael | Toro Rosso | 1:33.885 | +2.527 | 78 |
| 9 | Sebastian Vettel* | Ferrari | 1:33.894 | +2.536 | 89 |
| 10 | Alfonso Celis | Force India | 1:33.939 | +2.581 | 71 |
| 11 | Marcus Ericsson | Sauber | 1:34.550 | +3.192 | 106 |
| 12 | Oliver Turvey | McLaren | 1:35.011 | +3.653 | 17 |
__*Vettel was conducting a dedicated 2018 tyre development programme for official suppliers Pirelli, and was granted an additional three hours' testing due to technical difficulties - he therefore continued running alone after all other drivers were shown the chequered flag, hence his data is subject to change. __