Feature
Behind the scenes with Carlos Sainz: Burgers, dogs and birthday brownie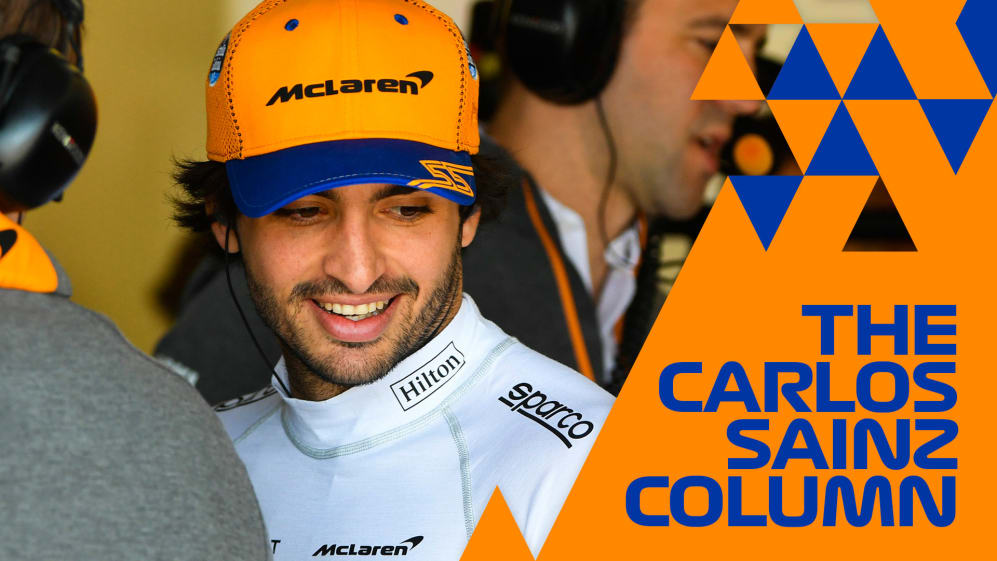 Hi everybody, it's so good to be doing this column on the back of a good result for McLaren and myself. After a tricky first three races, I was looking for a smooth weekend and in Azerbaijan I got it - well almost!
I love travelling to Baku - it's a different and very unique race weekend. It's an unpredictable track and I had good memories from the past. This year, the weekend was going very well up until the second part of qualifying. Kevin Magnussen ran off track in the Haas, causing a yellow flag in front of me. I had to abort my lap and missed out on Q3. It was again very frustrating because in Q1, I had done a time which was three-tenths clear of the cut-off time to progress from Q2. So I knew I had enough pace to go through to the top 10.
I was super frustrated on Saturday night. It was probably the most angry I have been this season. But I managed to go to sleep fairly early, reset the head and go again on Sunday. I knew that in Baku a lot of things can happen so I was trying to stay positive. I started the race from P9 due to penalties. I had a great first stint, where I passed three cars.
I was looking at overtaking Racing Point's Sergio Perez but then he protected his position by pitting, so we tried a different strategy by trying to go long. Unfortunately, the tyres had grained a lot, so we had to pit, which dropped me behind Lando again. I moved back ahead and chased Perez. At that point we had to manage the tyres a lot to try and give me the chance of a run on Perez at the end of the race, as I knew I had good pace and fresher tyres. But under the Virtual Safety Car, Perez had a bit of a revival. He found more pace and, even though I also pushed, it was not enough to put pressure on him. Racing Point was again very strong in Baku, and both their cars had the strongest pace of the midfield to be honest.
In general, it was a cleaner weekend, a clearer race with a dose of bad luck in qualifying but we managed to overcome it nicely. It's a good boost of morale and hopefully it means Spain is finally my first full clean weekend where I will definitely fight for Q3 and points without any issues. We will keep working hard for that.
A lesson in burger making
I had the pleasure of cooking my own hamburger ahead of the Baku weekend. As you guys may know and have seen on my social media, I love hamburgers. They are always my first choice of 'cheat' meal, which I'm allowed once a week. I think I'm a bit of an expert as I've eaten a lot of burgers around the world now.
Thanks to Hilton, they gave me the chance to work with their chef to create my own burger - the CS55, which was put on the menu in the hotel restaurant all weekend. It included cheese, grilled onions, jalapeños, lettuce and my special Carlos Sainz 55 sauce! I think it tasted pretty good and I let everyone in the team know. By the end of Sunday night there were no burgers left. So I think it was a success!
Birthday brownie and Netflix
On Sunday, we celebrated the birthday of Phil McWilliams, who is one of the mechanics of my car and also known as Ches after Chesney Hawkes, with a birthday cake. I went into the garage just before the race with two pieces of the delicious McLaren brownie and a nice little candle to surprise Phil. We sang happy birthday to him I think he appreciated it. He definitely loved the brownie!
The whole Netflix crew were with me that weekend, which makes the races a bit different because it means you have a microphone on most of the time. You're being watched, even in the garage and sometimes inside the engineers' office or in your warm-up routines. But it's a good way of getting the fans closer to F1 and showing things like the great atmosphere we have in the garage even before the tense moments ahead of a race. Hopefully people will enjoy it as much as season one, which I thought was great.
Back in training
On Monday we flew back to the UK on a charter flight that some teams booked together in order to do a direct flight from Luton to Baku. It's funny because you basically recognise every single person on the plane. We were in good spirits and in a positive mind-set so Rupert and myself decided to take the rest of Monday off and then go back to training on Tuesday.
We did a gym session and as you can see we're working quite a lot on my strength. I always do the joke that I'm only working on my strength because summer is coming! "Beach weights" we like calling it! But strength is absolutely crucial in a Formula 1 car, especially the neck and the shoulders.
At the moment, I'm trying to work being able to do a muscle up, which is extremely difficult. It looks easy on the video but it's difficult. I was using a box for assistance, but my objective by the end of the year is to try and do it on my own. I'm also trying to bench 100kg on one rep max. I'm 70kg so to bench 100kg is quite a big target. At the moment I am around 95kg, so I need to gain another 5kg. We're on it and I'll keep working.
Making a new friend
I'm definitely a dog person – We have three in the family back in Madrid (Piñon, Oli and Mati)– but I don't get to see them as much as I would like as I live in the UK. So it was nice to catch up with this guy after my workout on Tuesday!
Fajitas and meeting the team
On Tuesday night my trainer Rupert and I made fajitas. Well, I say we both made them – it didn't quite pan out that way, as you'll see from the video! Then the following day, I went to the McLaren Technology Centre before I headed back to Spain for the weekend. We had a meeting and then I spent some time in the simulator to prepare for the Spanish Grand Prix and prepare the upgrades that we are taking there.
Andreas Seidl, our new Team Principal, was there as well. It was his first day in the office and we had a meeting with everyone at the factory. He is totally switched on and he will for sure make a difference straight away in the team. I'm really looking forward to working together.
We also did a minute of silence for Ayrton Senna, the legendary former McLaren driver who died 25 years ago (the year I was born), before the staff, CEO Zak Brown, Lando, Andreas, Technical Director James Key, Performance Director Andrea Stella and myself had a meeting. It was great for team building and everyone was feeling encouraged. We all know the importance of keeping up the good work at this point of the season. Everybody brings a significant upgrade to Barcelona and we hope ours will be strong.
Next stop is my home GP, held at the Circuit de Barcelona-Catalunya. I've read many stories speculating on the fact that this race might fall off the calendar. I really hope it doesn't, not only because it is my home race, but also for the great moments Barcelona has given to this sport. I really hope we can continue to race there.
That's all for this week. Thanks for reading and for all the great feedback and comments, including about my singing, on my first column. Keep it coming. I can't wait to get going and bringing you videos, photos and behind the scenes insight from the weekend! Have a great week and hope to see many of you at Barcelona!