Feature
Behind the scenes with Carlos Sainz: Cycling, birthdays and that qualifying queue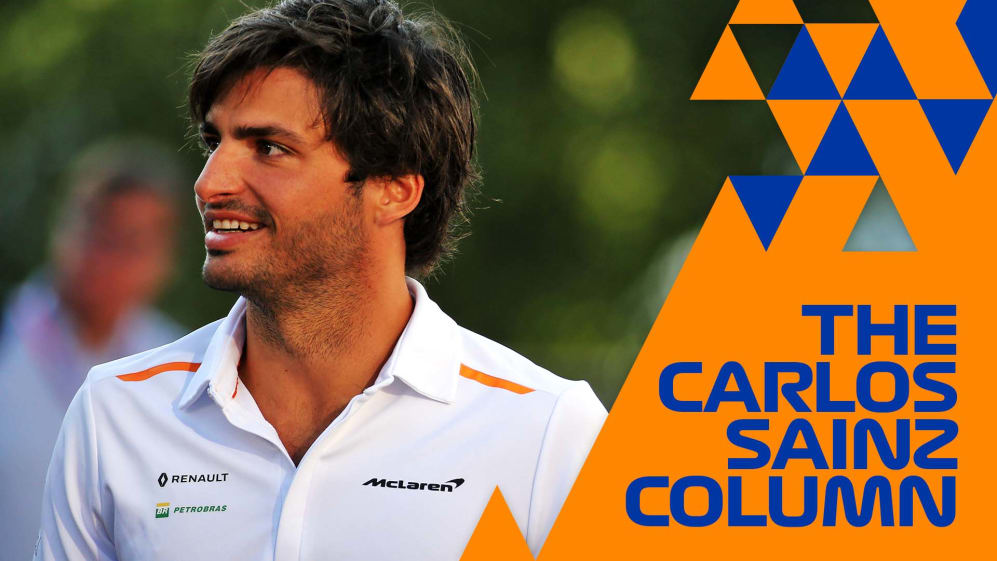 Hi everybody, it was great to have a break over the summer and to see family and friends after a busy first half of the year. But with the batteries recharged, I was anxious to get back racing. The Belgium-Italy back-to-back was challenging for me and the team, but we will keep pushing and come back stronger…
BELGIUM – A difficult weekend
Spa was unfortunately one of the most challenging weekends of the season in terms of car performance. FP1 went quite well, but from FP2, we saw the MCL34 was not that competitive on a low downforce track. It was a compromised weekend as we opted to take the latest Renault upgrade, which triggered grid penalties. It meant our focus had to be race preparation.
We still went into qualifying wanting to compete though, but unfortunately there was a red flag right at the beginning of the session, while I was finishing the first out lap. With the track clear, we decided to head out again on the used set of tyres, leaving a fresh set for last run, but there was another red flag at the end, so we couldn't even try to get a good qualifying lap. It was a shame, because even if we knew we would start towards the back with the penalties, you always want to push to the limit at an iconic circuit like Spa.
In the race, on the laps to the grid, we saw the car was performing a lot better in the cooler temperatures and I felt we could do a good job in the race. Unfortunately, on the formation lap, my engine had problems and I had to retire. It's frustrating, because you always arrive to Spa excited to race after the summer break but, in the end, I didn't try a proper qualifying lap or a proper race lap so I couldn't really compete at Spa at all. These things that happen in motorsport sometimes and with Monza round the corner you just swallow the frustration and move on.
It was a tough weekend for the whole motorsport community. Our racing colleague Anthoine Hubert lost his life in a crash in Formula 2 on Saturday and Juan Manuel Correa was seriously injured. It was an accident that could happen to any of us at any point. It was the toughest reminder that, despite safety being very high in motorsport, it's not 100% safe and it will never be 100% safe. As a driver, I will make sure to try and help the FIA improving the safety as much as we can. Sunday morning was tough for everyone who had to race that day. But I feel racing was the right thing to do, I think it helped the paddock and it was the best way to honour Anthoine and send strength to Juan Manuel.
It was my 25th birthday on Sunday but the celebrations were muted. Our heavy hearts made it difficult to enjoy properly. I went out for dinner on Saturday night and the restaurant owners had prepared a very nice surprise for me and my friends. At the end of the dinner, the lights went out and they gave me a lovely present, in the form of a profiterole cake in the shape of a chilli! The profiteroles were probably the best I've ever had. And as we were in Belgium, you can imagine how good the chocolate was!
ITALY – So close to a good result
We were very fast in FP1 at Monza in mixed conditions, which was nice to see. I had been wanting to go out in the wet ever since Hockenheim, where I saw the car struggled in the rain. I wanted to work again in the wet to improve the set up and get more experience and feeling with this car in those conditions. The changes we introduced seemed to work nicely and I think we are better prepared for a rainy race than before.
It was a positive FP1 and we kept up that pace in the next two practice sessions before reaching Q3. We started P7 in the race, with a very good Q3 lap during a crazy session that has become a big talking point and I want to share my thoughts about it with you all.
On high speed circuits, the tow is extremely important. These cars are super draggy and everyone wants a tow as it gives you three to five tenths of a second, or even more at Monza. Nobody wanted to be in front of the pack punching a hole in the air for the rest, so things got a bit messy.
In Q1, it was already a mess with people jumping the first chicane to avoid towing anyone. In Q2, it got worse and people were driving very slowly on the out laps. Then in Q3, it was the most visible and obvious. There were drivers who had set very good laps on their first run in Q3 and who possibly didn't have an interest in completing a second qualifying lap as they were happy with their position.
When I left the pits for the second and final run, I saw Hulkenberg jumping the first chicane straight out of the pits and then Stroll stopping the car to let me by. When Hulkenberg re-joined the track, we went side by side for a few seconds as no one wanted to be in front. I was the third car to leave the pits but by Turn 3 I knew I had to push. It wasn't ideal for me, but I wanted to beat the Renaults and not settle with what we had.
We were super tight on timing and I preferred to put another lap in. Both Ferraris then overtook me before the second chicane but they soon backed off again. When my engineer told me how tight it really was, I started pushing to the maximum. It was very difficult for me to improve the lap time without the tow, but at least I tried.
Looking back, I was very surprised by drivers who didn't get a lap in at the beginning of Q3 and preferred not to lead the pack and not put a qualifying lap in Q3 at all. It was very frustrating that on Saturday night, the stewards were considering imposing a penalty on me, because I think we were all to blame there and at least I was the one pushing the most.
There's not a rule for these situations and it's been happening all year. What we need to find is a rule to avoid this chaos. I would be happy to discuss this with the FIA to find a solution. People tried to blame me of blocking other drivers on purpose but that is not true. The Ferraris overtook me very early in the lap and then slowed down to let me by again. To be honest, it was very difficult to accept the reprimand. No one broke any rule and we all played a part in it, so for me no reprimand should have been given. If they decided to give reprimands, every driver involved should have received one.
Moving onto the race, I had a good start but had nowhere to go in T1, so I fought to keep my position. Then I was running P6 the whole race until the pit stop. Unfortunately, it went wrong and eventually i had to retire. The front right tyre didn't come on properly, but the green light went on very briefly and I went for it. Then the red light came back on so I stopped, I saw a mechanic on the left side bending over the front wing and I thought that was the problem so when he moved aside, I went out but the right tyre was still loose. An eventful pit stop in a couple of seconds that forced us to retire.
It was disappointing but during the course of a season it can happen. It is nothing to be concerned about. The mechanics have been outstanding with the pit stops and the pit wall has called great strategies, so we've claimed a lot of points thanks to them. We lost between six and eight points that weekend, which would have helped a lot to protect ourselves from Renault but, again, these things happen. We analyse, we learn and we move on.
During the Monza weekend, Lando and I got in our cycling gear to go for a ride with Team Bahrain Merida. As you'll see from the video above, it was quite amusing getting changed into the pro cyclist gear! Even though this season I'm more focused on my strength and boxing sessions, I used to be a pretty decent cyclist! It was nice to go back and it made me rethink if I should start training a bit more with the bike.
That's all from me this week. Thanks for reading and for all your support throughout the year. I can't wait to head to get back in the car for Singapore and then Russia. Keep in touch with me via @CarlosSainz55 and I'll chat to you when I'm back from Sochi!