Feature
Behind the scenes with Carlos Sainz: Football, trophies and plenty of overtaking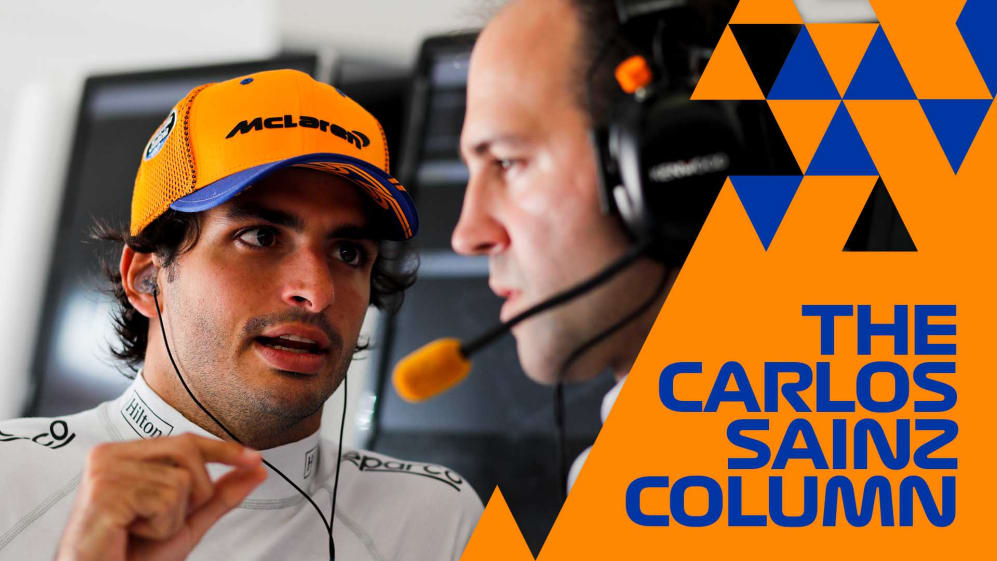 HI everybody, the first back-to-back of the 2019 Formula 1 season is done and dusted and, as you will have seen, they have kept me pretty busy! Sixth in France was a real boost for me and my McLaren team and eighth in Austria was an excellent result considering I started at the back of the grid…
FRANCE – Success in the sunshine
We were treated to some amazing weather in the south of France for the French Grand Prix weekend. Paul Ricard may only have been back on the calendar since last year, but I've got some great memories from there, courtesy of some cracking races on track in junior formulae, so it's always nice to head back there. Also, traffic was better sorted this year, so congrats to the race promoters.
You might be hearing me saying on a Friday that we've been testing some experimental parts. In Canada and France, we were trying to make steps forward on the set-up of the car so I offered to use my Fridays as a bit of a test day. It's important we keep making progress and experimenting because these parts could give us a few tenths of a second in the future. Nowadays we don't have as many proper test days as in the past, so, even if I lose important time to prepare for qualifying, I think it's something we must do if we want to catch the leaders.
Saturday was a good day, with both cars in Q3. We were clearly the fourth fastest car for the first time this year – it's good news, and a good boost to the team to see the car could qualify within thousandths of a Red Bull and just over a second off pole position, on what is quite a long track. It showed we have made gains – and that the hard work is paying off.
On Sunday, I did another good start and even fought closely with a Red Bull for position in lap 1. In the end I had to settle for sixth, but I was happy with our clean race, making no mistakes and controlling the pace to look after the tyres. The only negative of Sunday was that unfortunately Lando didn't get to finish P7 because of a reliability issue. He was fast the whole weekend and it would have been fair for him and the team to finish P7.
AUSTRIA – Fighting back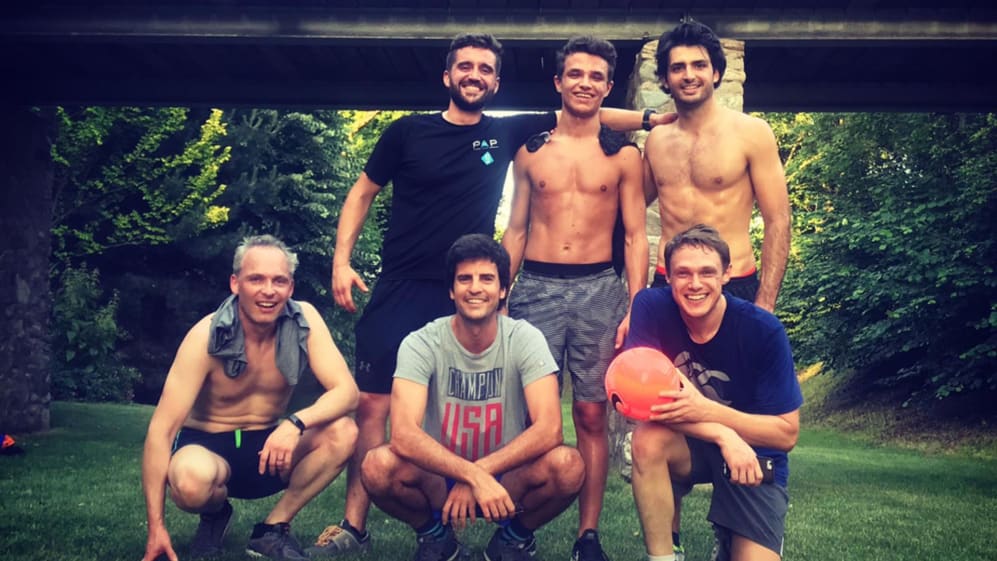 I headed back home briefly after France, before travelling over to Austria. Even if it's not for very long, it's nice to get a bit of downtime at home, especially when the weather is nice in the UK. Back-to-back races are tough on the race team, but great for us drivers because we just want to race!
I arrived there full of motivation after a strong result in France. But before things got serious, there was enough time to get a game of football in with Lando and our teams (managers and trainers). It was a competitive game, it always is! Our hotel in Austria is a former castle, and we played in the pit that surrounds the building. An interesting football pitch and a cool thing to do before the track action got under way. The score was close, but the Spanish magic (we consider my trainer Rupert half-Spanish by now!) arose at the end of the game to give Team CS55 the win by 5-3.
Before practice even started, I knew it was going to be a tough weekend. As a team, we had opted to take Renault's upgraded engine for Austria – and that meant a grid penalty for me given my engine failure from Australia. This compromised pretty much my whole weekend and as it went on I could feel the frustration building up.
When I went fifth fastest in practice, I realised Austria could be even better than France in terms of pace and it was clear we had the fourth fastest car again. I was at risk of missing out on a big points finish for the team due to the penalty and I inevitably started feeling that engine failure in Australia was going to cost me points not only in the first race of the season, but also here in Austria.
I was annoyed and Saturday was not easy either. Qualifying was irrelevant for me given I'd be starting at the back of the grid and I had set up my car for the race, so my only objective was to help the team and help Lando with a tow in Q2. I really enjoy qualifying, I like taking the car to the limit, so it hurt pretty bad. As a professional I accepted I had to work for the team on this occasion. However, my competitiveness as a racing driver made both Friday and Saturday very tough and didn't put me in a good mood. These penalties are difficult to digest because they go against the driver for no fault of his own.
The performance of the car in Austria looked so good, it made it more painful. We had dinner at our hotel after qualifying and there my manager and trainer had a good idea to cheer me up and return to the positive vibes we had ahead of the weekend. We decided to watch the film Borat! It may sound silly, but we had a good laugh watching the movie together and when I went to sleep I was already feeling better. I knew Sunday was going to be different and when I woke up, all the frustration from the previous days was now raw motivation. I felt positive. I knew I had an opportunity to make a good recovery and I was not going to let it slip.
It's amazing how the brain works and how powerful a mindset can become. For me this was just another example of how attitude can be decisive. Attitude was key to do the kind of race that I delivered, making up 11 places on a race with no retirements of any kind (it's not very common to see all 20 cars crossing the finish line!). Every single overtake I did was done on track, not because of a rival's mistake or an accident, which made my race tougher but at the same time more fun.
You guys might be wondering after watching the video above why many of my overtakes happened into Turn 4. Well, let me give you a bit of insight on that. At the beginning of the race I remember losing quite a lot of time trying to overtake Kevin Magnussen on the inside of Turn 3. I felt I was sacrificing too much for the great traction I had on exit. Therefore, I decided to change my strategy and try passing at the following corner.
Instead of losing time fighting into Turn 3, I just tried to get close to the car ahead so they had to watch their mirrors and then benefit from traction. I could overtake around the outside later, braking late into T4 and doing a normal racing line. It was much quicker as a whole. When I put the hard tyre on and made my way to P8 my only focus was on catching Pierre Gasly and Lando up the road. I cooled the tyres for a couple of laps after the previous overtakes and when I started to push again my front wing got damaged.
Austria is always very tough on front wings and given my good pace I think the pieces were just fatigued at the end of the race. I didn't ride over any yellow kerbs or went off track, it was simply damage produced by racing. It was really hard to keep Kimi Raikkonen behind since I had lost a lot of downforce and a pity I couldn't fight for P6 in the end, but I'm still pleased with the job the team and I did to recover the points.
BRITAIN – Downtime before Silverstone
After Austria, I headed over to Spain for some filming and a chance for me to get some more time in a go-kart. Then it was over to our family office in Madrid – and I thought it would be cool to give you a tour of the place. My cousin and manager Caco and I have our own offices, full of my helmets and trophies from over the years - but they are nothing compared to my father's office, that is packed with trophies after a hugely successful career in rallying. It was then time for me to sit down with Caco and get some details sorted so we could finalise my calendar and travel plans for the next few months. As you can sense from the video, my schedule is pretty packed and takes a lot of planning in advance!
Next week, we head to Silverstone, a track I have very good memories from in the past. One of my absolute favourites. The team is doing great and it's a home race for them and Lando, so I'll make sure I don't keep him busy on the simulator in the Brand Centre as he will have plenty of media stuff to do! From my side, it's about keeping the momentum up. It's more important than ever to keep working hard, keep pushing at the track and keep pushing at the factory.
That's all from me this week. Thank you for reading and being so supportive on social media. It's a real motivation and I very much appreciate it. Keep in touch with me via @CarlosSainz55 and I'll chat to you after the British Grand Prix!